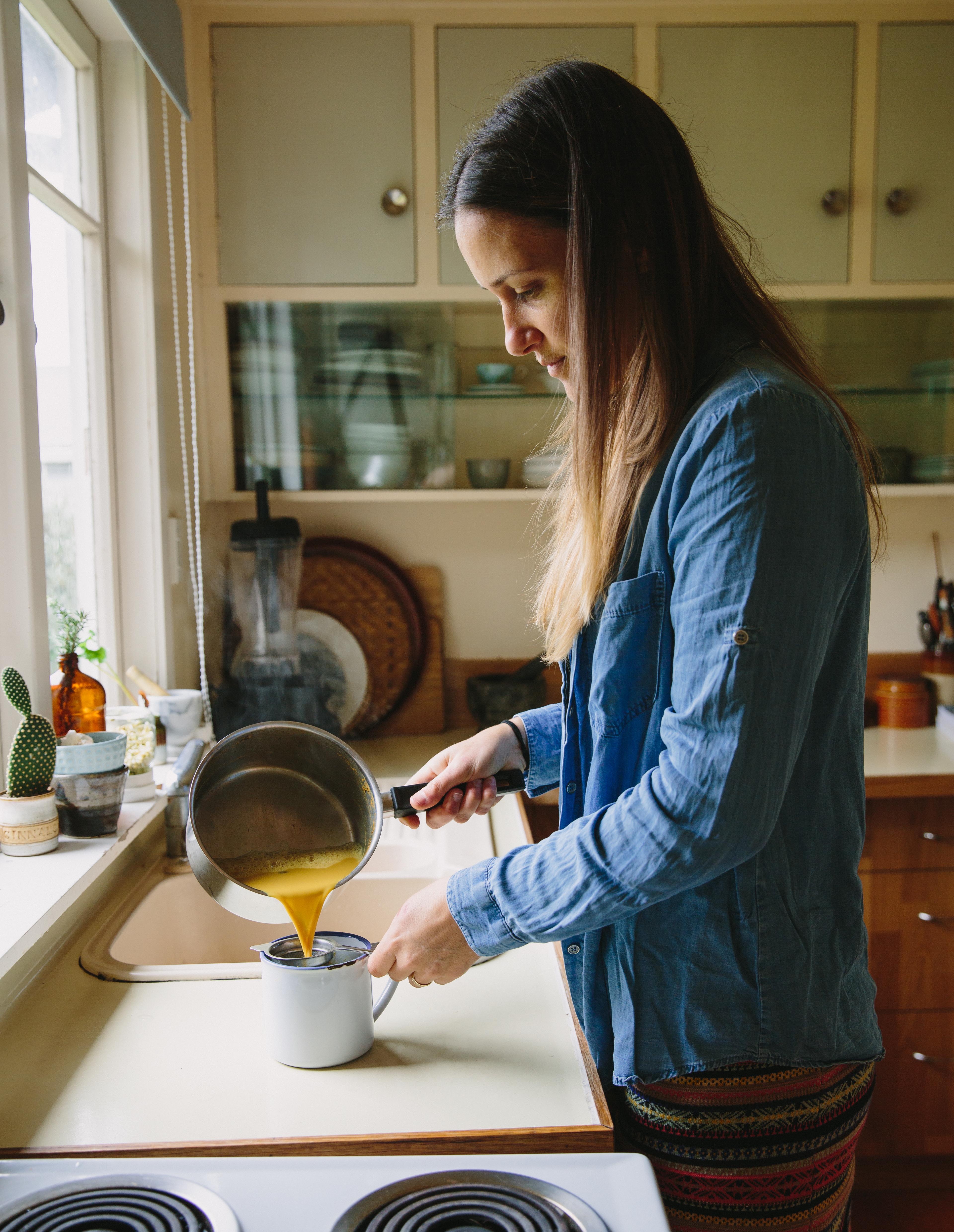 Kia ora, my name is Emma Galloway. Welcome to my little space on the internet where I share all the things I love; food, family, photography and travel.
I grew up in a nature-loving vegetarian family, where much of what we ate was grown by my parents using organic permaculture gardening methods on our large property overlooking the small west coast town of Raglan. Home.
After leaving school I trained as a chef and went on to work in the industry for 8 years, predominantly in the pastry section of cafes and restaurants in New Zealand (where I'm from) and Australia (my adopted home for many years).  When I left the kitchen to take on my new role as a mother I discovered that my children and I suffer from gluten and lactose intolerance...
Having children changes your life. Yes. Having children with yet to be diagnosed food allergies turns your life upside down. Totally, utterly, completely. As a chef I thought I knew what a hard days work was. But when our kids came along, screaming all day and night, cooking no longer seemed so hard. After years of struggling with no answers, allergy tests showed both gluten and dairy to be the problem in not only both of the kids, but for me also. For the next 18 months while I breastfed my youngest, we avoided these strictly and life finally became a whole lot easier. Some foods are fine now (a little dairy), some are still a problem. We don't have Coeliac disease, but my daughter and I still eat a strictly gluten-free diet, my son can handle the odd bit of gluten and my husband eats everything with no issues.
I started My Darling Lemon Thyme way back in July 2010 as a place to share gluten-free vegetarian real food recipes, stories and tips on organic gardening. My aim is to inspire people to take charge of what they put into their bodies by cooking wholefood recipes from scratch, that are as vibrant and beautiful to look at as they are delicious to eat. In April 2014 my first cookbook was published with Harper Collins, you can read all about it here. It's available throughout New Zealand/Australia/U.K and the U.S edition here. My second cookbook, A Year in My Real Food Kitchen was released April, 2016. It's currently available throughout NZ/Australia/UK and online via The Book Depository (with free worldwide postage). You can also buy signed copies of both of my books direct from me here.
These are my stories, life and food. Nau mai, haere mai ki My Darling Lemon Thyme, welcome.
Seen elsewhere
This site won the Best Original recipes blog in the Saveur Best Food Blog Awards 2014.
My work has featured on Oprah.com, Food + Wine, Food 52, The Guardian, The Kitchn, Delicious magazine, Taste.com.au magazine, Taste magazine (NZ), Peppermint magazine, Food Matters and SBS. I write a regular column in Taste magazine (NZ) and contribute regularly to Healthy Food Guide and Nourish Magazine (NZ). Click here for Press links.
Work with me
I work as a freelance recipe developer and food + lifestyle photographer. Please get in touch if you'd like to work with me via the contact form above or email emma(at)mydarlinglemonthyme(dot)com. For a full list of FAQ please click here.
Please note
All content and photos on this site are protected by copyright and cannot be used without permission. If you would like to feature any of my recipes, photos or writing on your site, please contact me for rates and permissions at the above address.