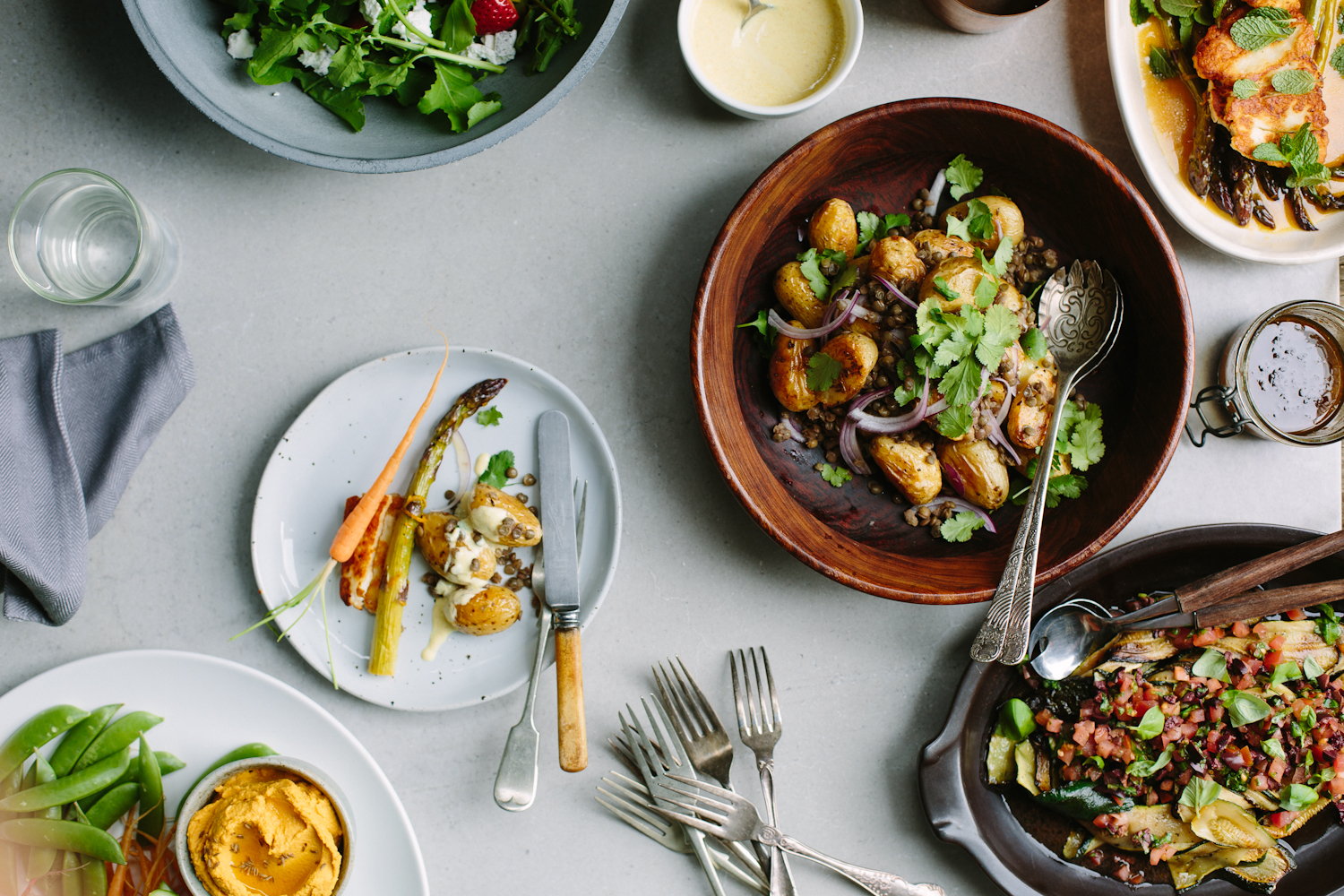 I don't know about you guys, but I still don't have a plan for Christmas this year! In a family who generally likes to be quite organised, we're never that great at organising Christmas celebrations. They tend to be very relaxed last-minute affairs. With just over a week until the big day, no one has even talked food or decided on exact locations as yet! We do have a rough idea… We're likely to spend a good part of the day at our new house, playing cricket on our big flat lawn. But with my sister currently living right on the water's edge, I'd like to think a good part of the day with also be spent in the water too.
The busyness of end of year never ceases to take me by surprise, with school camps, sports days, school prize-giving all squeeze into the final weeks, work deadlines and nerve-wracking (but totally awesome) presentations at kura, lets just say that now that the holidays have finally arrived I'm really looking forward to just chilling out for a bit!
At some stage this week (along with one last photo shoot for the year) I will have to seriously sit down and make a plan for Christmas day though. For those of you reading from the Northern hemisphere, the idea of Christmas in the sunshine, at the beach or playing cricket probably sounds super strange right? Well when I tell you that all I ever feel like eating on Christmas day is salads and Pavlova with cream and fresh berries, you'll think I'm even weirder!
I'm going to try to squeeze in as many recipes as I can before the end of next week from my last years special Christmas column which I did for Taste Magazine. Starting with this roasted new potato number. I like to add lentils for extra protein but if you're not a huge fan you could always leave them out. Or add sprouted lentils in place of cooked for a fresher version!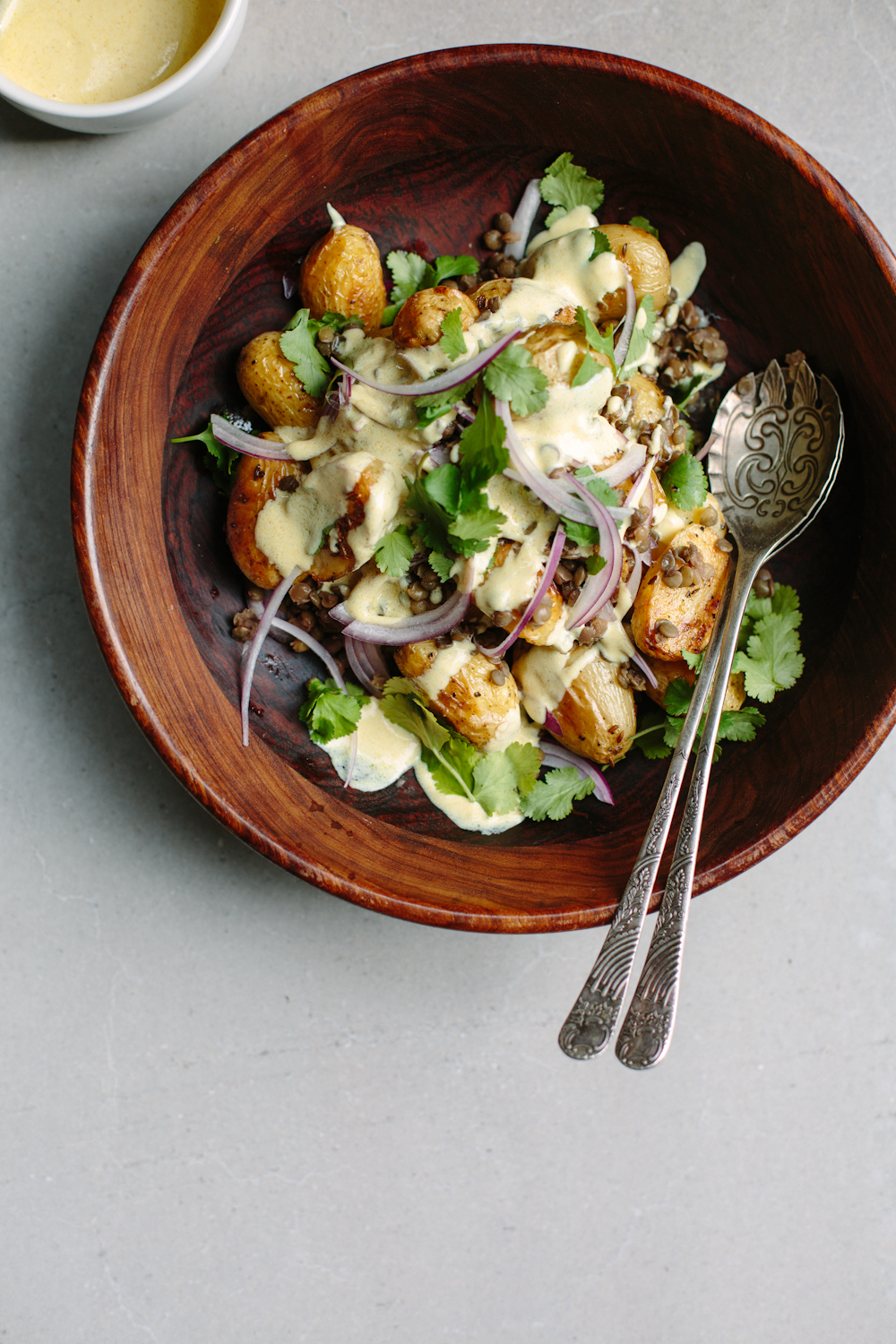 Roasted potato salad with lentils + curried yoghurt dressing
New-season baby potatoes make the perfect base for this simple, flavour-packed salad. I add cooked lentils for added protein. You can use any lentil, but I prefer puy (sometimes known as French-style) or beluga (black) lentils as they tend to hold their shape better than regular brown lentils.
Serves 4-6
700 g baby potatoes
2 tablespoons olive oil
1/2 teaspoon whole cumin seeds
1 cup cooked puy-style lentils* see note
1/4 red onion, finely sliced
Handful coriander leaves, roughly torn
Curried yoghurt dressing
1/2 cup plain unsweetened yoghurt
1 tablespoon extra virgin olive oil
1 1/2 teaspoons lemon juice
1/2 teaspoon curry powder
1 small clove garlic, crushed
1/4 teaspoon fine sea salt
Preheat oven to 200C. Cut any larger potatoes in half so that all of them are roughly the same size. Place onto an oven tray, drizzle with olive oil, scatter over cumin seeds and season with salt and pepper. Roast 30-35 minutes, turning once or twice during cooking, or until golden brown and tender. Remove from the oven and set aside to cool slightly.
Combine all the curried yoghurt dressing ingredients in a small bowl and mix well to combine.
To serve, toss roasted potatoes, lentils, sliced onion and coriander leaves in a large bowl. Drizzle with a little curried yoghurt dressing and serve the rest on the side for people to help themselves to.
Best served slightly warm or at room temperature.
Note: You will need 1/3 cup uncooked puy-style lentils for this recipe. If you have time, soak them overnight in plenty of cold water to improve digestion and speed up the cooking. To cook, drain if soaked and cover with plenty of fresh cold water. Bring to the boil and cook for 10-20 minutes or until just tender, drain and set aside.
This recipe was first created for and featured in Taste Magazine, NZ.