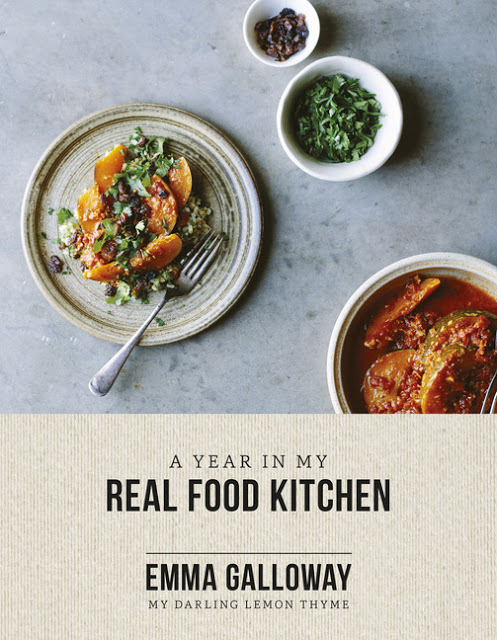 A Year in My Real Food Kitchen (April 2016)
When the opportunity arose to start working on a second book I knew right away that it would be a seasonal book, offering a little glimpse into my kitchen throughout the year. I've also given loads of tips to keep in mind when dealing with fruit or vegetable gluts (especially common at this time of the year!) and you'll find a bunch of staple 'base' recipes that I use regularly at the back of the book as well.
- It's 251 pages long and contains 100 recipes.
- I created, styled and photographed all the recipes in the book. Every recipe has a photo.
- The book is 100% gluten-free, vegetarian and fad-free.
- Each recipe has a little dietary label under the title stating if it's vegan or dairy-free as well. Many recipes that aren't vegan have a 'vegan option' label and then I give options to make it vegan in the head notes of the recipe.
- Around 90% of the recipes in this book are new and have not been seen previously on my blog. I've included a handful of blog favourites and there's a few new-and-improved versions of some of my blog recipes as well (eg a killer update of my most viewed recipe, Black bean brownies, which I've made into a flourless torte).
- The book is set out in seasons, starting with Autumn. Perfectly timed for our current season...
- Many of the recipes are dairy-free and vegan. With many more easily adapted to be.
- Just like in my first cookbook, there's a detailed explanation of all the ingredients that I use, should you not be overly familiar with gluten-free flours etc.
- My recipes use seasonal produce, gluten-free grains, good fats, unrefined sweeteners and both dairy and dairy-free alternatives. I use basic ingredients, nothing too fancy or expensive. You will not have to buy 50 different 'super-food' powders to create my recipes.
- All the food you see in the book was eaten by me and my family (and friends!) after the photos were taken. I don't use stylist tricks or fake food to photograph.
- I've got two handmade pasta recipes in this book, a lovely Beetroot Gnocchi and a Toasted Quinoa Tagliatelle. I've also got a handmade (and even hand cut as I don't own a pasta machine!) Buckwheat Egg Noodle recipe (that's served with a carrot + ginger broth, it's one of my favourite recipes in the book).
- All my recipes are free from guar gum and xanthan gum.
- Each chapter contains both savoury and sweet recipes.
- Some of my favourite recipes are: Saffron Buttered Pumpkin w/ Herbed Brown Rice (the cover dish!), Roasted Kumara, Persimmon + Rocket Salad w/ Jalapeno Dressing, Shiitake, Peanut + Tofu Dumplings, Feijoa + Apple Shortcake, Tamarillo Sponge Pudding w/ Dairy-free Vanilla Custard, Curried Lentil Hand pies, Sauerkraut, Chocolate-dipped Hazelnut Biscuits, Silverbeet + Feta Gozleme, Beetroot Chocolate Cakes, Dairy-free Olive Oil + Chocolate Chunk Ice Cream, Spicy Tofu Noodles, Black Pepper Tofu w/ Cucumber Pickle, Labneh w/ Apricot Puree + Salted Nuts and Dark Chocolate, Pistachio Halva Ice Cream Bites.
Click here for a little glimpse inside the book, including my Plum + Toasted Hazelnut Cake recipe.
It's now available in all good bookstores throughout New Zealand and Australia.
I'm also selling signed copies, which you can order here. I can post worldwide, although if you live outside of NZ you might be best to order from the Book Depository, with free worldwide postage. We don't have confirmation just yet, but I'm hoping there will be a US edition in the works soon too. A few of the big department stores in Australia are now stocking my book, Big W and Myer are two that I'm aware of.
You can also buy online from various online bookstores
New Zealand:
Mighty Ape
Fishpond
My Darling Lemon Thyme (signed copies)
Australia:
Angus & Robertson (Bookworld)
Booktopia
Fishpond
Boffins
ABC Store
UK + the rest of the world
Book Depository
Amazon.uk
Advance praise for A Year in My Real Food Kitchen-

'I love stepping onto the real food kitchen with Emma - it's a delicious universe of healthy, whole recipes that are always simple to make and completely satisfying' -Sarah Britton, author of My New Roots.

'When it comes to healthy, vegetable-focused gluten-free cooking, Emma's delicious recipes are always my first stop. Inspiring, original and truly approachable... A Year in My Real Food Kitchen is brimming with great ideas to keep you and your family nourished through every season' -Amy Chaplin, author of At Home in the Whole Food Kitchen: Celebrating the Art of Eating Well.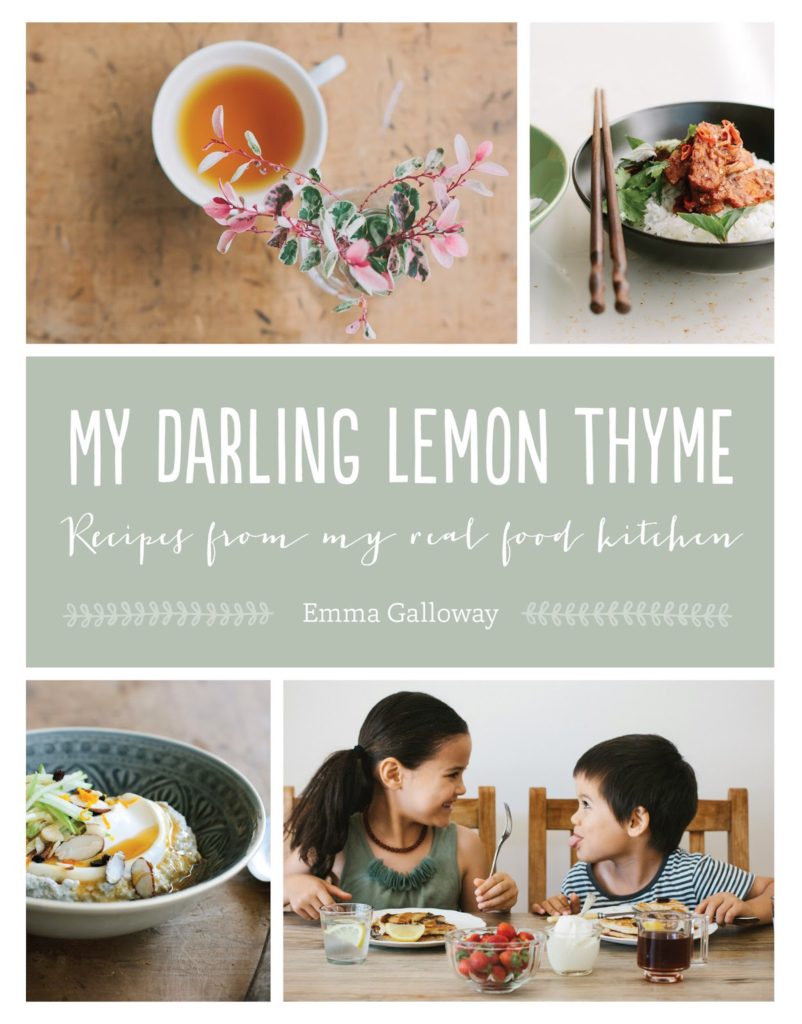 My Darling Lemon Thyme—Recipes from My Real Food Kitchen (Harper Collins, 2014) is a collection of 100 of my favorite recipes (nearly all of which have not been seen previously on my blog), which reflect my philosophy that natural, whole food should be flavoursome, fun and easy to prepare. Its food as it's supposed to be, eaten fresh from the earth to the kitchen, seasonal, nourishing and tasty. But it's more than just recipes, it's my life and stories too. My heart and soul lives between these pages and I couldn't be more proud to finally be sharing it with you. This is a book for anyone who loves great food that is also good for you, the fact that it's 100% vegetarian and gluten-free, well that's just an added bonus!
A few of my favourite recipes in the book are: Quinoa crepes with orange maple syrup, Nut porridge, Kale slaw with honey mustard miso dressing, Chewy cranberry, millet + pistachio bars, Ginger kisses, Dark chocolate coconut bites, Banh xeo, Chickpea, pumpkin + kale stew with chimichurri + quinoa, Pizza with chilli greens, bocconcini + olive salsa, Strawberry + Thai basil sorbet, Chocolate chills, Chocolate avocado tart, Strawberry lemon thyme tarts with honey labneh, Brown rice, millet + chia sourdough bread.
Now available at all good bookstores throughout New Zealand, Australia and the UK.
The US edition published by Roost Books was released Nov 10th 2015. Order here.
International + UK sales (NZ/UK edition):
Book Depository
Amazon
US edition: (It has a slightly different cover + US measurements/wording)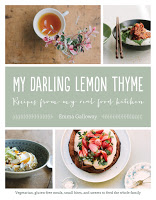 New Zealand online sales:
Fishpond
Australian online sales:
Bookworld
Booktopia
Fishpond
Boffins
ABC
Angus & Robertson
Click here for a sneak peek of the book and all sorts of info about it...
Click here to see some behind the scene shots of making the book...
Praise for My Darling Lemon Thyme...


'Emma does a wonderful job of weaving natural, real foods into a collection of vibrant, flavourful and approachable recipes. It's a beautiful heartfelt book that will inspire many meals' -Heidi Swanson, author of Super Natural Everyday and blogger at 101cookbooks.com.
'I can say without exaggeration that My Darling Lemon Thyme is now my favourite cookbook.This beautiful collection of recipes moves me; the images are gorgeous, the notes are informative, and the dishes are more enticing than any I've seen in a long time.' -Bryant Terry, author of Afro-Vegan and Vegan Soul Kitchen


'My
Darling Lemon Thyme is a beautiful and very special book. It's jam packed with
so many incredibly delicious, nourishing and inspiring recipes for real and
whole food…many of which happen to be dairy free and gluten free. I know this
book will become one of your favourites as it has become one of mine - the
question will be what to cook first?' -Jude
Blereau, natural foods chef, author, food coach, cooking teacher and real food
activist.
'We eat a lot of vegetables at home, but I tend to fall into redundant preparations. Emma's book is exactly what I need when I am looking for something delicious and creative while still being accessible with what I have in the pantry. This book is a must-have for those eating a whole foods diet and filled with great ideas for weekday meals and slow sunday mornings.' -Sara Forte, author of The Sprouted Kitchen.


'Emma has created an inspiring masterpiece! My Darling Lemon Thyme is full of recipes that are vibrant, exciting, and above all, innovative. It's hard to believe that everything is gluten-free and plant-based, as this cuisine has never looked so fresh and flavourful! You can feel Emma's passion for food and family on every page, and spreading the healthy vibes without being preachy. She proves that wholesome is awesome. I cannot wait to cook from this book – the only thing I struggle with is deciding what to make first!' -Sarah Britton, author of My New Roots.
'My Darling Lemon Thyme has quickly become one of our absolute favorite cookbooks. It is filled with real wholefood recipes that are inspiring and well-balanced – healthy without being preachy. All Emma's recipes have intriguing flavour combinations and delicious twists. And they don't feel complicated. This is exactly the kind of food that we love to cook and eat!' -David Frenkiel + Luise Vindahl, author of The Green Kitchen + Green Kitchen Travels
'Emma's blog has long been a favourite for her tantalising recipes, and her cookbook is the same. Filled with punchy dishes that are packed with flavour.'- Ginny Grant, author of The New Zealand Vegetable Cookbook and Deputy Food Editor of Cuisine Magazine
'I love this book! Loads of inspiring ideas and some really great gluten-free recipes from someone who's done the work!' -Niki Bezzant, editor of Healthy Food Guide Magazine.
PLEASE NOTE!!
As embarrassed as I am to admit it, a few typos (some minor, some major) have slipped through the cracks in the current NZ/Australian editions of the book. Please note the following amendments:
* Page 106 Raspberry, Dark Chocolate + Pistachio brownies
The cooking time should read 20-25 minutes, not 50-55 minutes.
* Page 21, Pantry Ingredients
In the first line of the instructions for 'Toasting spices, seeds + nuts' it should read: Toast whole spices and nuts in a dry pan over medium heat....


* The weight of cocoa powder is printed wrong throughout the book. Please change to:
1/4 cup = 15g
1/3 cup = 25g
1/2 cup = 30g
In the US edition published by Roost Books (Nov 2015), please note that potato starch is used throughout my cookbook, not potato flour as listed. (We call it potato flour here in NZ, but it's actually starch!)