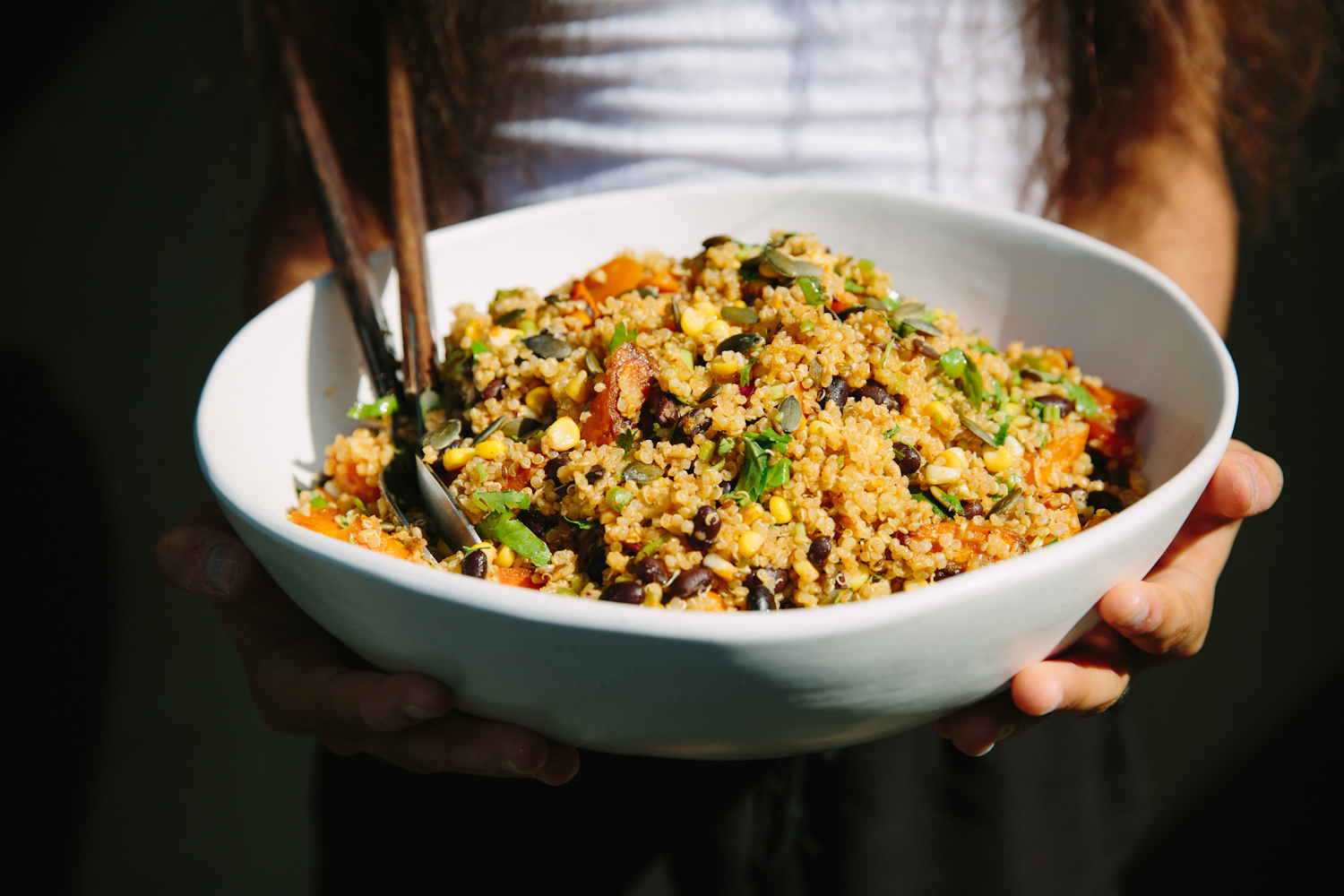 When you get a call at 3.30pm inviting you to a potluck BBQ that evening, and you're a gluten-free vegetarian, this salad might just save you. It saved me.
Knowing I needed to create something substantial enough to pass as dinner (in case it was the only thing my kids and I could eat) I knew the cooked quinoa I had in the fridge would come in handy. With this old favourite in mind I decided to roast up the only vegetable we had hanging around in the fridge (carrots), when they were nearly about to go into the oven I remembered I actually did have some other vegetables, a couple of cobs of sweetcorn. This made me veer towards a slight Mexican vibe, so I spiced up the carrots before roasting, then threw in a (drained) tin of black beans from the pantry (I prefer to cook my own, but there are times like this when tinned beans are a real life saver, so I always have a couple of cans), a bunch of coriander, some red onion and whipped up my jalapeno lime dressing to bring it altogether. Thinking a little crunch might be nice, I sprinkled over  some toasted pumpkin seeds (pepitas) at the last seconds. In the time it took my family to get ready to go out, I had dinner sorted.
This makes a decent amount, which is always great when heading to a pot-luck. There was more than enough for the kids and I to eat a generous portion each and still have plenty left for the carnivorous eaters amongst the group to have a little alongside their BBQ. That said, if you're making this to eat at home, any leftovers will happily store in the fridge in a covered container for 2-3 days.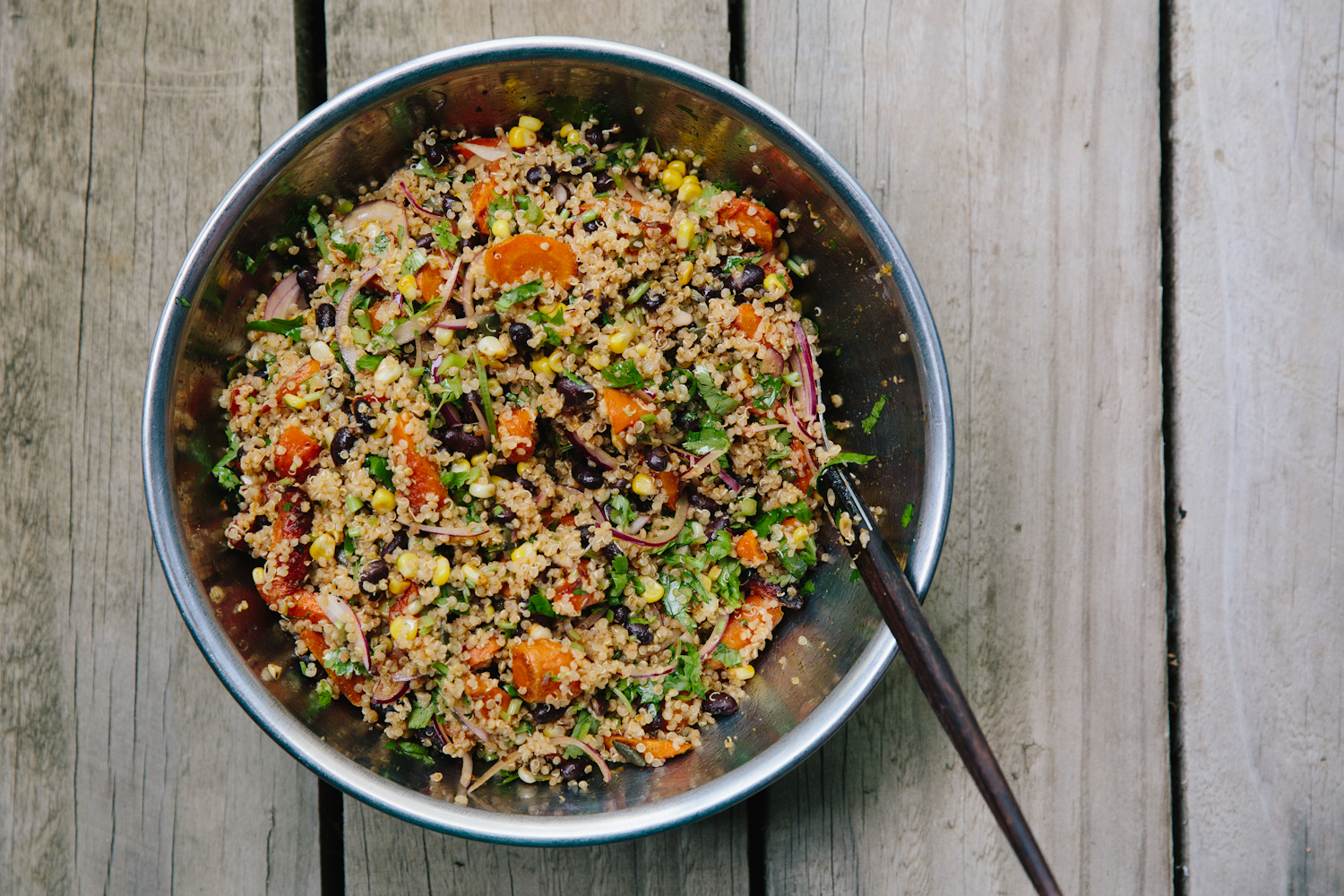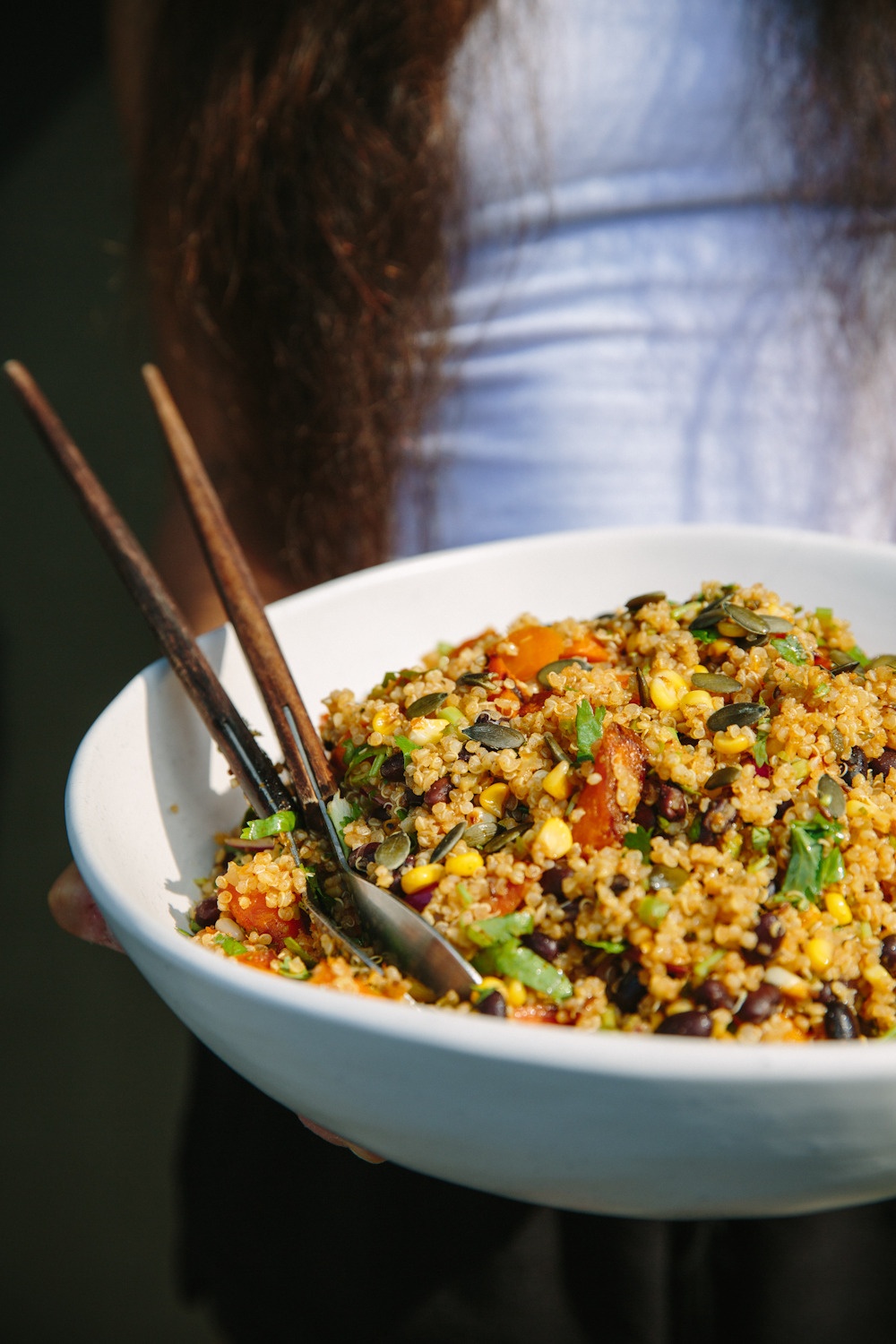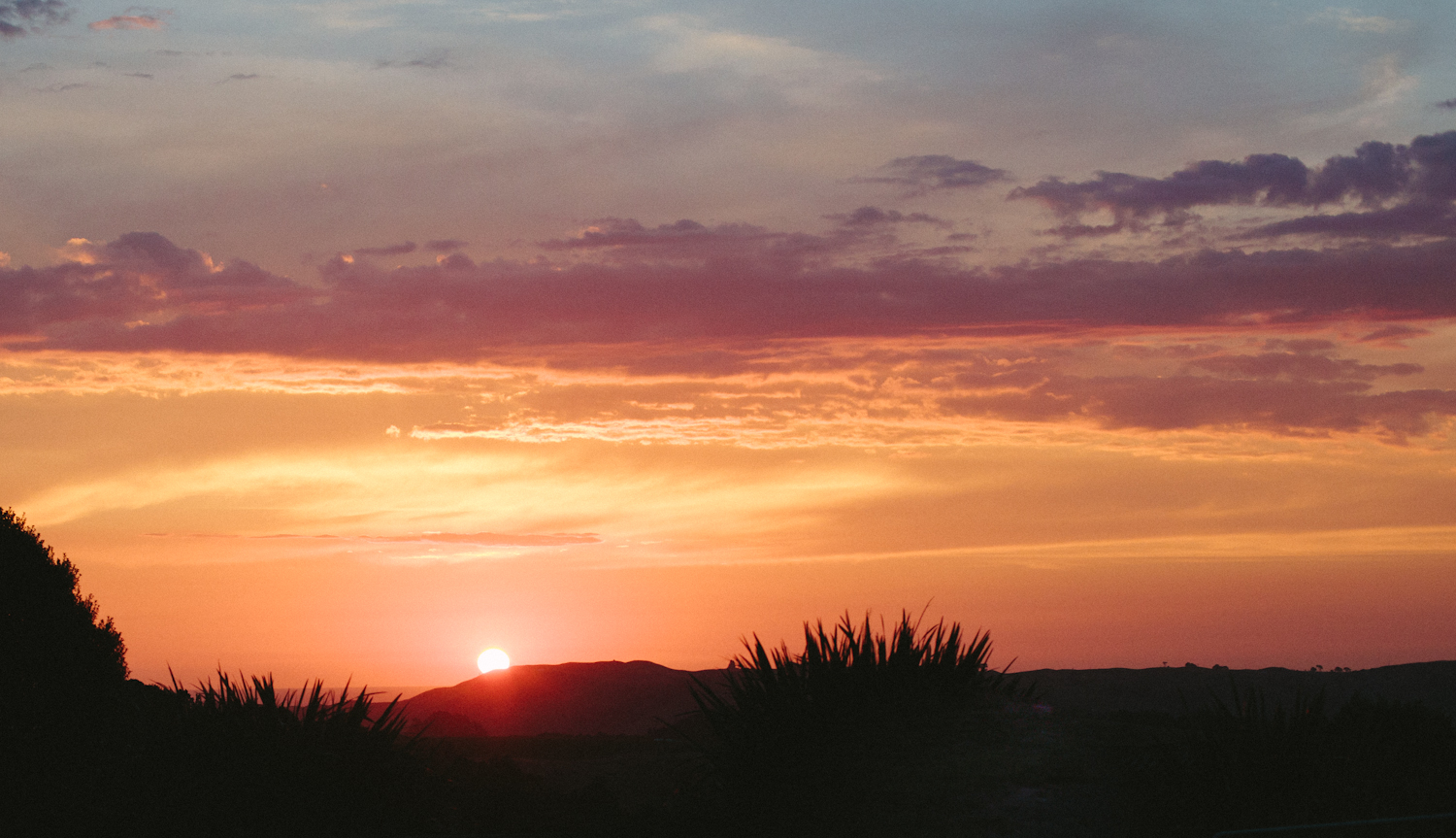 Roasted carrot, quinoa + corn salad with jalapeno lime dressing (vegan + gluten-free)
If you have planned ahead, soak the quinoa overnight to make it easier to digest. To do this, soak 1 cup quinoa in plenty of cold water, adding a little apple cider vinegar or whey if you have some at hand. Adding an acid to the soaking water helps reduce phytic acid (an anti-nutrient that can stop the body absorbs nutrients) and activates phytase (an enzyme which helps our bodies digest phytic acid). The following day, drain quinoa in a sieve and run under cold water. Drain well. Bring 1 cup (250 ml) water to the boil, add quinoa, cover with a lid and reduce heat to a gentle simmer. Cook 10-12 minutes or until tender and all the water has been absorbed. Remove from heat and set aside 5 minutes with the lid on. Fluff up quinoa with a fork. If you haven't had time to soak the quinoa, give it a good rinse and cook as above, increasing water amount to 1 1/2 (375 ml). I kept this vegan but if you eat dairy, a little crumbling of feta cheese over the top would be lovely.
Serves 6-8 as part of a larger meal or 4 dinner sized portions
3 cups cooked quinoa (see head notes above for cooking instructions)
6-8 medium carrots, ends trimmed + cut into bite-sized pieces
2 tablespoons olive oil
1 teaspoon paprika
1/2 teaspoon cumin seeds
1/2 teaspoon dried oregano
1/2 teaspoon smoked paprika
Fine sea salt + freshly ground black pepper
2 corn cobs, husks removed
1 tablespoon olive oil
1 x 400 g tin black beans, drained + rinsed well
1/2 red onion, finely sliced
1 bunch coriander (cilantro), roughly chopped
Lightly toasted pumpkin (pepita) seeds
1 x recipe Jalapeno lime dressing
Pre-heat oven to 200 C (400 F). Cook quinoa if you haven't already, transfer to a large bowl + set aside.
Combine chopped carrots, olive oil and spices on a large oven tray. Season with salt and pepper + roast 35-40 minutes or until carrots are tender and golden. Remove from oven and set aside to cool to room temperature.
Using a sharp knife, slice corn kernels from cobs. Heat olive oil in a large frying pan over medium-high heat. Add corn, season with salt and pepper and cook 8-10 minutes, stirring often, until tender and golden. Be careful as the kernels 'pop' when really hot. Remove from heat and add to quinoa along with sliced onion, drained beans, coriander (cilantro) and roasted carrots. Pour over dressing and give it all a good mix-up. Scatter over toasted pumpkin (pepita) seeds and serve. Leftovers will store in a covered container in the fridge for 2-3 days.