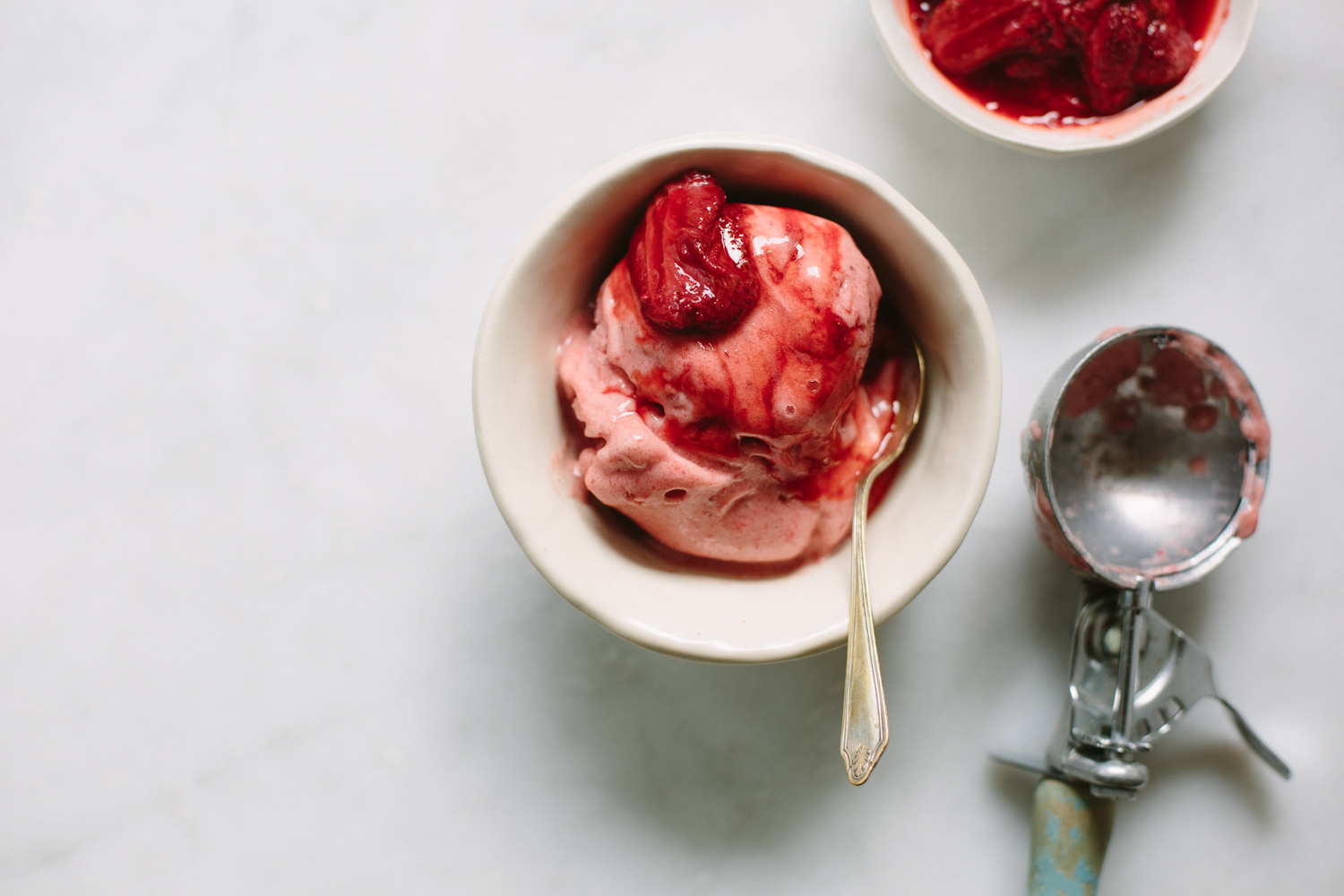 As many of you already know from reading my first cookbook, I grew up eating frozen banana 'ice cream', waaaay before it became the current 'nice-cream' craze. Mum would freeze ripe bananas and blend them up with a little soy milk, with the addition of carob powder and a touch of honey if we were really lucky. Ever since my kids were little I've made variations on this theme, swapping out the soy milk for homemade yoghurt or coconut milk, sometimes doing chocolate versions with the addition of cacao powder or adding frozen berries for a quick frozen berry treat. I love playing around with the endless possibilities and last year I came up with possibly my most favourite combination to date. I roasted fresh in-season strawberries with a little honey and fresh ginger until intensified in flavour, before blending with frozen banana for a healthy summer treat.
We tend to eat it straight from the blender, as quickly as possible. But you can also transfer the mixture to ice-block/popsicle moulds and freeze until firm for a treat down the track.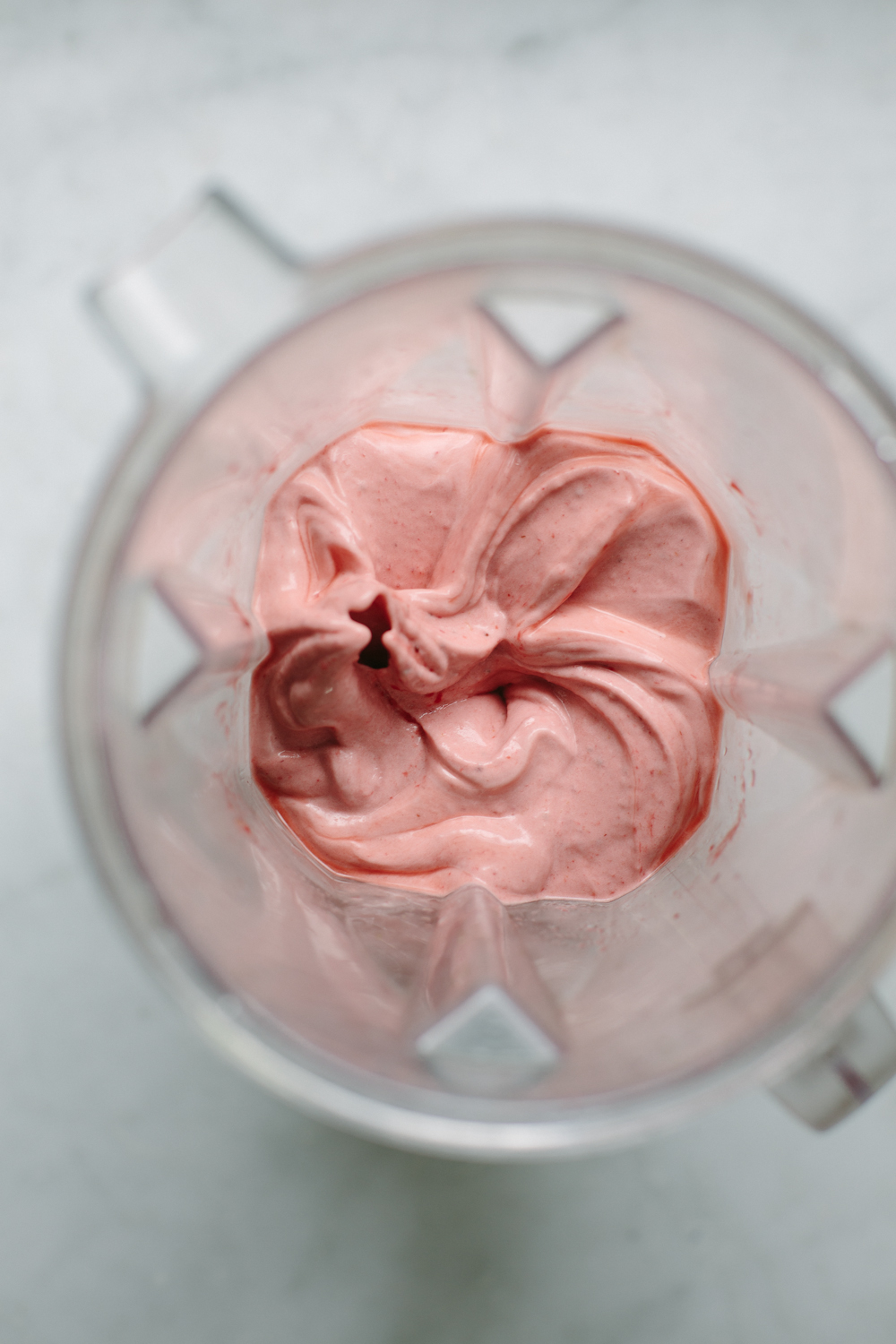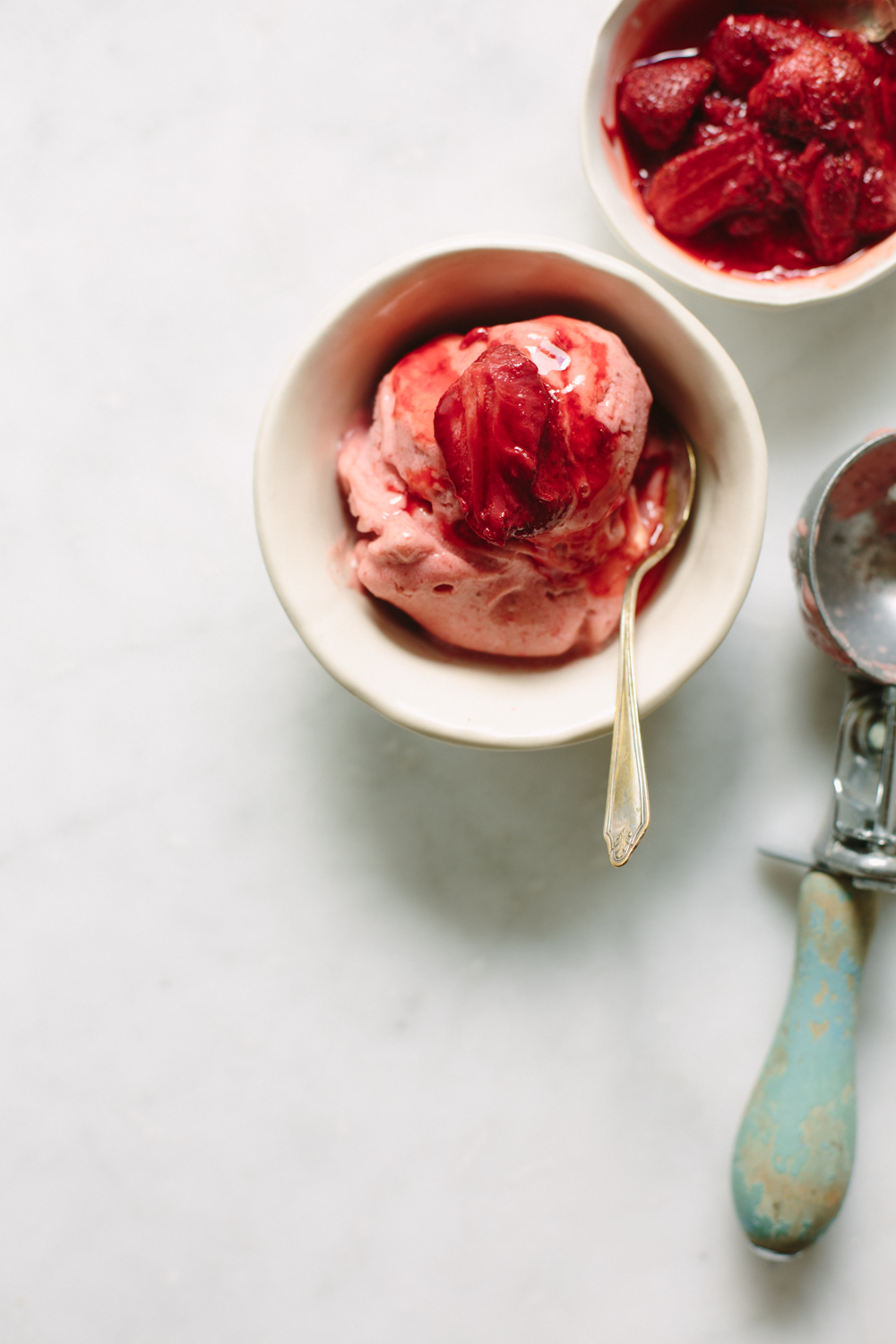 Roasted strawberry + ginger 'ice cream'
You'll have to start this recipe the day before if you don't already have bananas in the freezer. If you do have bananas already frozen, you'll just need to roast the strawberries and allow them to cool before blending. I use All Good Fairtrade bananas, available at most supermarkets. If you haven't already read this article or seen the NZ documentary Banana Republic, I urge you to. It might just change the way you look at the humble (or not-so humble) banana. After watching it a few year ago I vowed to only ever buy Fairtrade bananas. 
Serves 4-6
4 over-ripe bananas, peeled and sliced
500g strawberries, hulled
1 tablespoon honey or pure maple syrup (for vegan option)
2 teaspoons finely grated fresh ginger
Place banana slices in a single layer on a tray/s and freeze overnight.
Preheat oven to 200C (400F). Slice strawberries in half or quarters if large, place into an ovenproof dish, drizzle with honey/maple and scatter over grated ginger. Roast 25 minutes until fragrant and syrupy, remove from the oven. Transfer the berries and all their juices to a glass jar. Cool and refrigerate overnight (or if using pre-frozen banana's, chill until cold, instead of overnight).
Once bananas are frozen and the roasted strawberries are chilled, remove bananas from the freezer and set aside 5 minutes to soften slightly. Reserve a little of the strawberry mixture and the syrup for topping if desired, then pour the rest into a food processor or high powered blender (if you own one). Add frozen banana slices and blend on high until smooth, stopping to scrape down the sides once or twice if needed. Serve immediately as soft serve topped with reserved berries and syrup, or transfer to a container and freeze for a further 2 hours if a firmer set is desired. Best eaten on the day of making.
This recipe was first created for and featured in Taste Magazine, NZ.