Whether you're looking for an impressive starter or simply just love dishes packed full of flavour, you're gonna love this recipe I created recently for Taste Magazine. Making vegetables the star I've roasted beautiful baby carrots in an orange/honey mixture until sticky and golden. Whipped feta brings a touch of salt, while lurid pink (naturally coloured!) pickled radishes balance the dish with their natural acidity. I like to share recipes in season and while it's possibly a little late in summer to share a recipe using baby carrots and radishes (both spring vegetables), I know both of these vegetables are now available all year round in most places and I'm super excited to share this recipe today. That said, if you can't find baby carrots where you live, simply cut larger carrots up into batons of a similar size and you're good to go!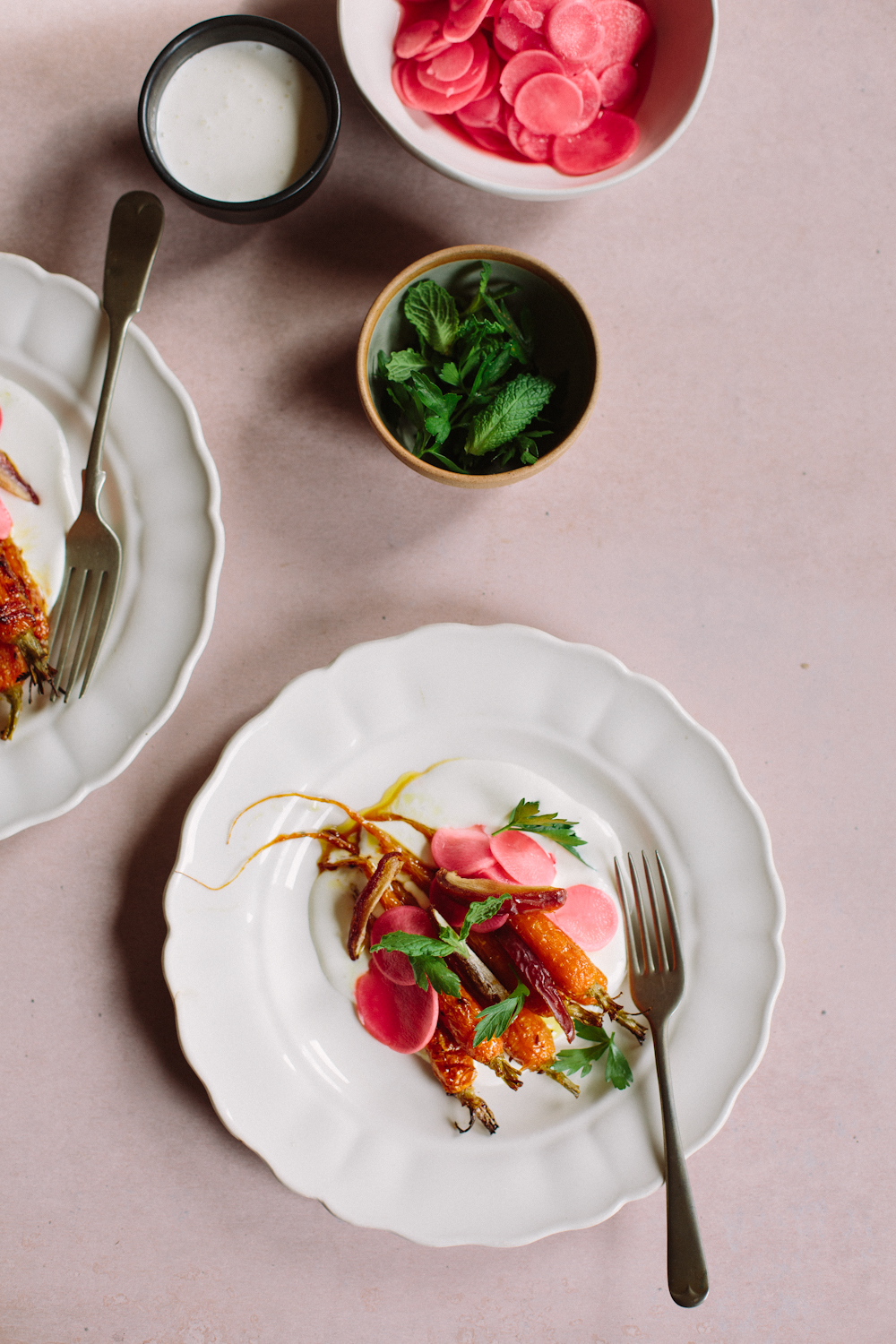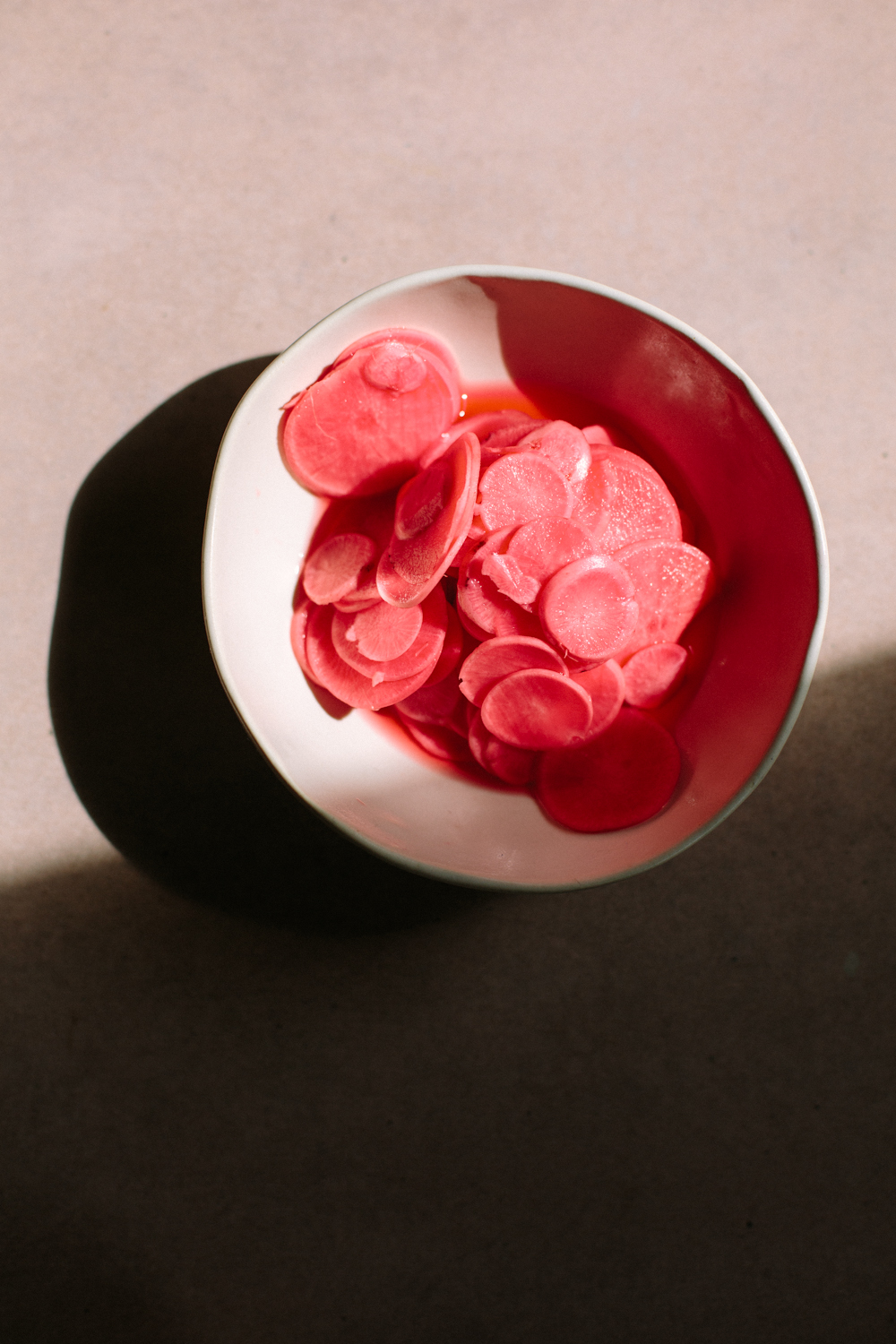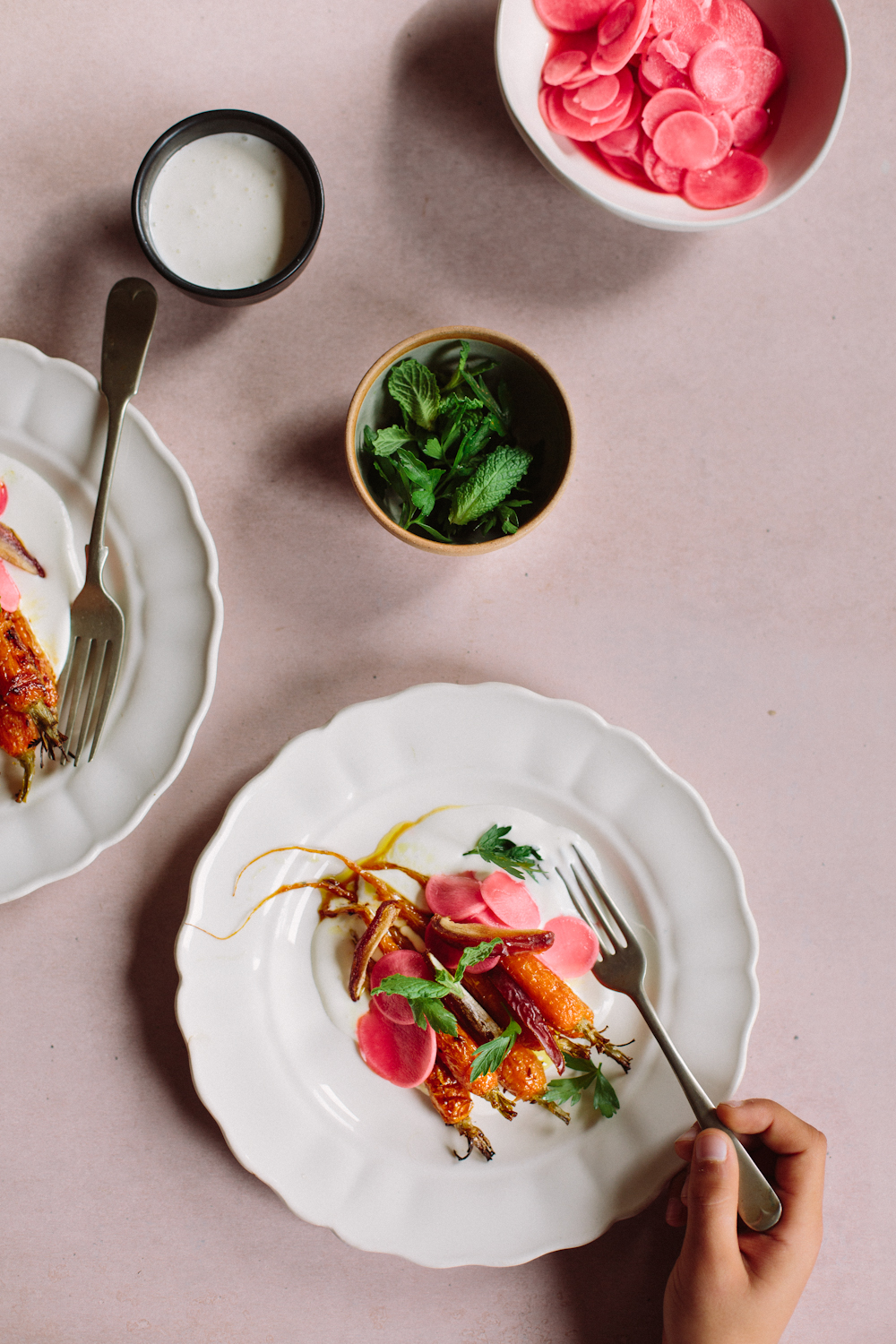 If you've ever made kimchi or Vietnamese carrot + daikon pickles you'll be aware that anytime radishes (of any kind) are pickled, they have an incredibly strong sulphur smell if left any longer than one day. While you can eat these 'quick' pickles as soon as 1/2 hour after making if pressed for time, if you're after the lovely intense colour and flavour of the ones pictured here, I suggest you risk the offensive smell and leave them overnight in the fridge. Their amazing flavour more than makes up for the pong!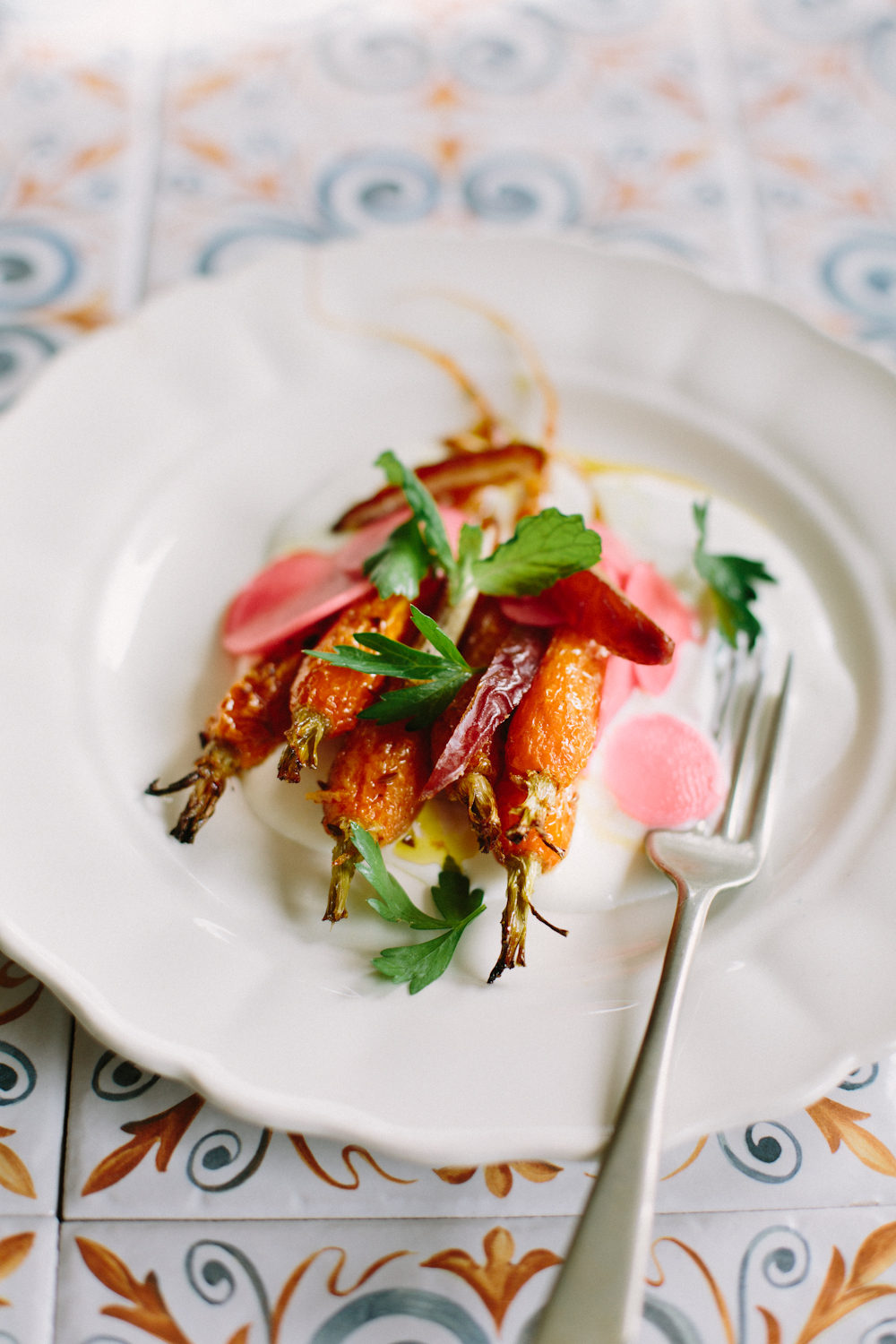 Honey + orange roasted carrots with whipped feta + pickled radish
Start this recipe the day before if you'd like the radish pickles to turn fluorescent pink… just be warned they have a strong smell when left overnight, think kimchi smells! Their deliciousness more than makes up for their offensive smell though, trust me.
Serves 4-6
Pickled radishes
2 bunches radish (approx. 12-14)
60 ml (1/4 cup) apple cider vinegar
4 teaspoons raw sugar
1/2 teaspoon fine sea salt
500 g baby carrots
3 tablespoons olive oil
1 tablespoon honey
1/2 teaspoon cumin seeds
The finely grated zest + juice of 1 wax-free orange
Fine sea salt and freshly ground black pepper
4 fresh medjool dates, pitted and sliced into long strips
Fresh flat-leaf parsley and mint leaves, to serve
Whipped feta
200 g soft feta
60 ml (1/4 cup) plain yoghurt
First make the radish pickles; slice radishes into thin rounds either using a mandolin or sharp knife. Compost leaves. Combine sliced radishes with apple cider vinegar, raw sugar and salt. Mix well and set aside 2-4 hours, or overnight, stirring occasionally. 2 hours are enough to lightly pickle them, but if you're after the lovely fluorescent pink of my pickles, leave overnight.
Preheat oven to 190 C (375 F). Trim carrot tops, leaving 2 cm at the top. Arrange in a single layer on a lipped oven tray. Combine olive oil, honey, cumin seeds, zest + orange juice in a small bowl, whisking to combine. Season with a little salt and pepper before pouring over the carrots. Roast for 30-35 minutes, stirring occasionally, until tender and golden. Remove from oven and set aside to cool to room temperature.
Meanwhile, blend feta and yoghurt in a small food processor until smooth.
To serve, dollop a little whipped feta onto each plate, top with roasted carrots, drain radish pickles and scatter over top with a few slices of medjool dates and parsley and mint leaves.
This recipe was first developed for and featured in Taste Magazine, NZ.