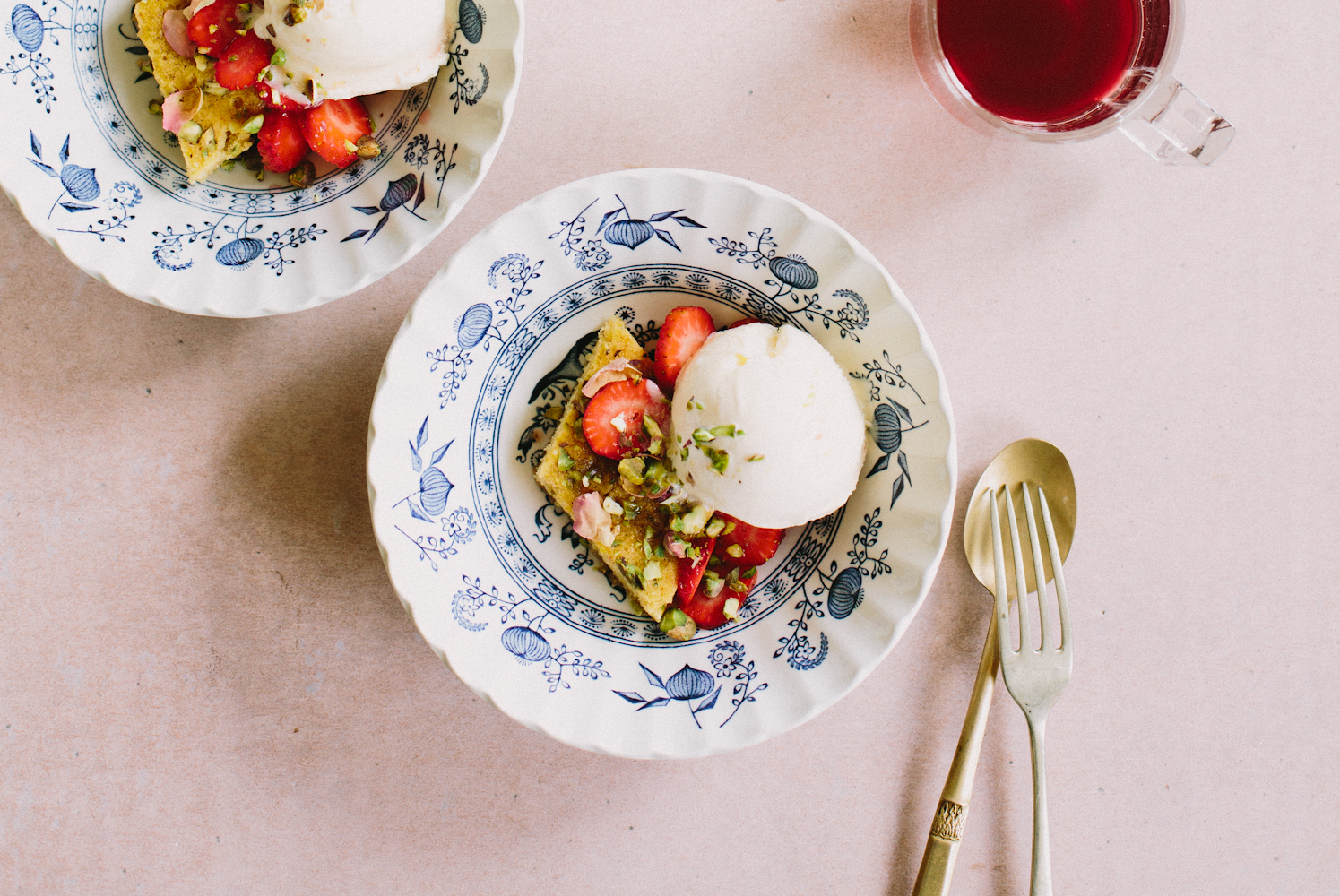 I love all things rose. As a kid I loved smelling all the different old fashion roses in my Nana's garden, as a teenager I wished for yellow roses every Valentines Day, as an adult I try to sneak rose water into as many things as I can and it seems I'm always trying to save to buy a teeny bottle of pure rose oil (one of the most expensive essential oils around).
I'm named after my Great-grandmother, Emma. I was too young when she passed to have real memories of her, instead my memories are formed from photos I've seen and stories I've heard my mother tell. I'm also named after a flower, a rose to be exact. The story goes that my parents had an avocado tree growing in a pot, when a little rose randomly started to grow alongside. I'm no expert, but I've also been told it's not very common for roses to just pop up by themselves like that, so my parents thought it was pretty special. On the day I was born the first rose bloomed, and I became Emma Rose.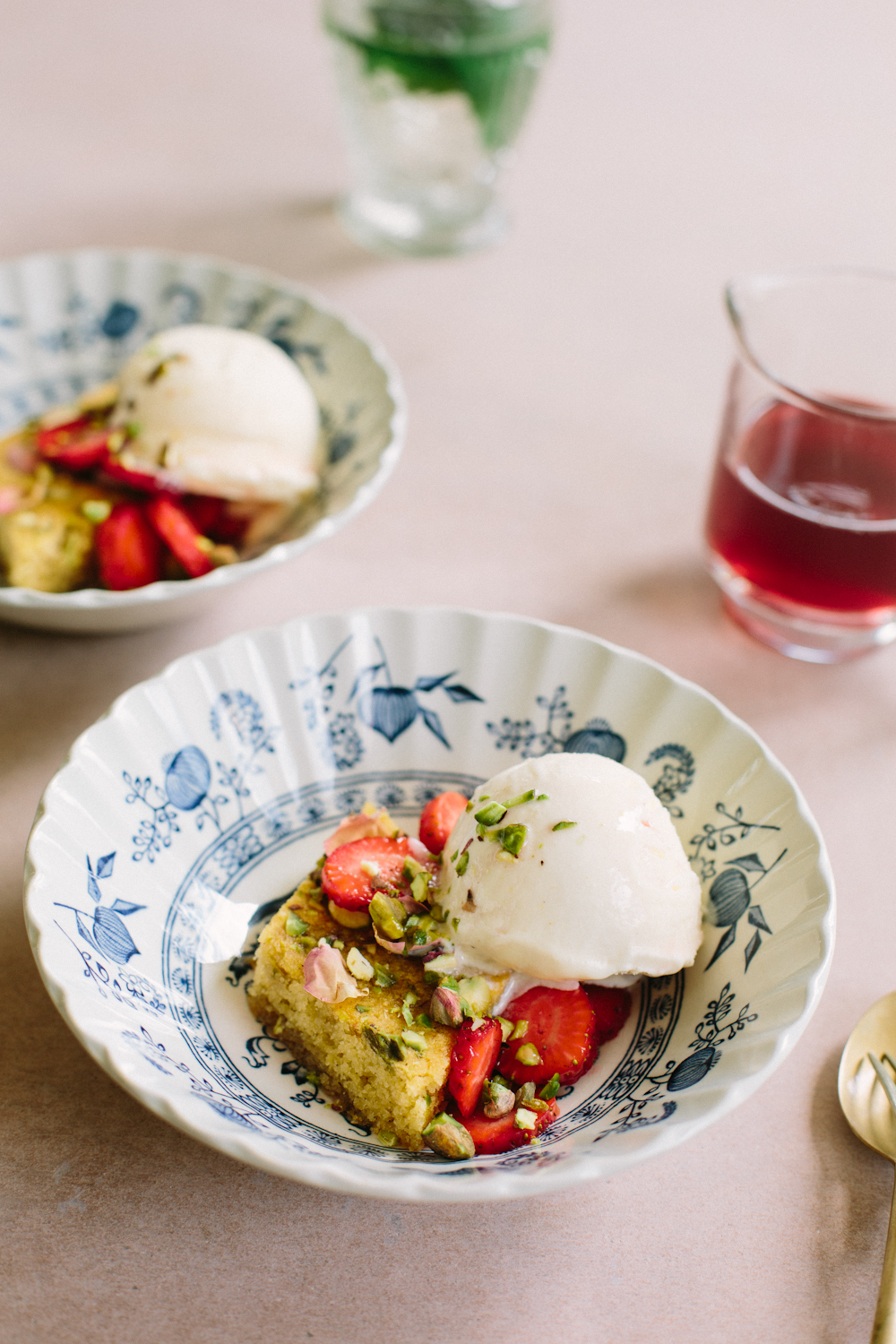 I created this recipe towards the end of last year for my last feature in Taste magazine. It's got everything I love. Light honey-sweetened almond cake, fresh berries (which I know are now out of season here in NZ. You could try slices of fresh nectarine, apricot or peach instead), ice cream, a little crunch of pistachio and my favourite rose and hibiscus syrup. If you've got a few dried spray-free roses at hand, a scattering of those makes it even prettier.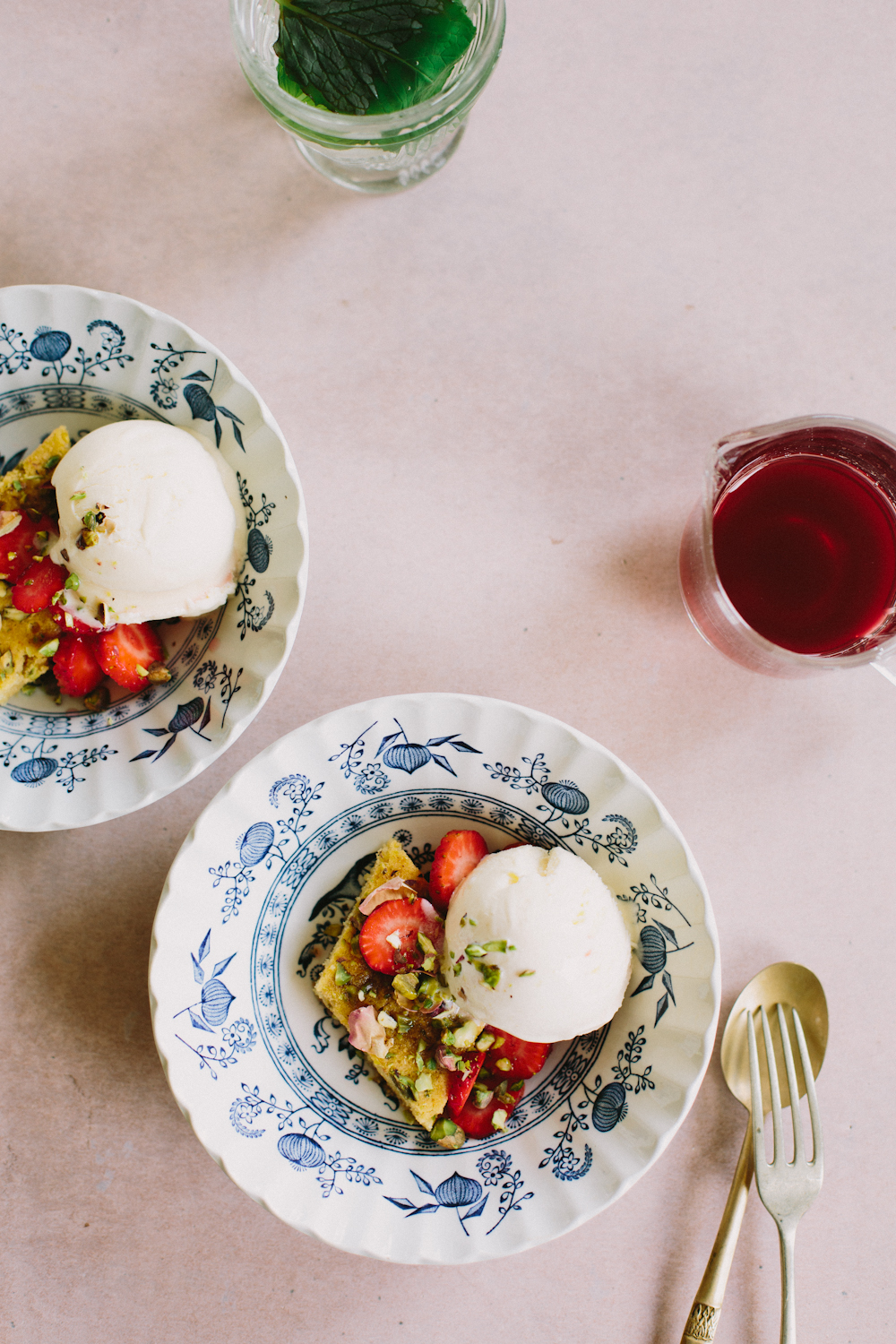 Honey almond cake with pistachios, strawberries + hibiscus rose syrup
You can find dried hibiscus flowers at health food and specialty food stores. To brew, place 1-2 teaspoon dried flowers into a mug, pour over 1 cup of boiling water and set aside to steep 5 minutes or longer. If you have trouble finding dried plain hibiscus flowers, any red hibiscus-based fruit tea can be used in its place, these are available at most supermarkets. To make this lactose-free, use ghee in place of the butter and serve with a coconut-based vanilla ice cream. If strawberries are out of season, sub slices of fresh nectarine, peach or apricot. Pitted fresh cherries would also be lovely. Or in autumn I imagine fresh figs would be AMAZING also. 
Serves 4-6
75 g butter, diced
60 ml (1/4 cup) honey
80 g (3/4 cup) ground almonds (almond flour/almond meal)
45 g (1/4 cup) brown rice flour
2 tablespoons gluten-free cornflour (corn starch)
1 1/2 teaspoons gluten-free baking powder
60 ml (1/4 cup) milk or milk alternative (I used rice milk)
1 large free-range egg
1 teaspoon vanilla extract
3 tablespoons pistachios, roughly chopped + extra to serve
1 x 250 g punnet strawberries, hulled and sliced
Vanilla ice cream, to serve
Hibiscus rose syrup
185 ml (3/4 cup) brewed hibiscus tea
65 g (1/3 cup) unrefined raw sugar
2-3 teaspoons rose water
Preheat oven to 160C. Grease and line a 28 x 18cm slice tin with baking paper, extending up and over the sides by roughly 2cm. Place butter and honey into a small saucepan and heat over low heat until melted. Remove from heat and set aside to cool slightly. Place ground almonds into a medium bowl, sieve over brown rice flour, cornflour and baking powder. Whisk to thoroughly combine.
In another smaller bowl whisk together milk, eggs and vanilla.
Pour cooled honey mixture along with the milk mixture into dry ingredients and stir until just combined. Transfer mixture to slice tin, making sure it fills the tin evenly, scatter over chopped pistachios and bake 20 minutes or until lightly golden and a skewer inserted into the centre comes out clean. Remove from oven and set aside.
Meanwhile, combine hibiscus tea and raw sugar in a medium saucepan. Bring to the boil over medium-high heat, stirring to ensure sugar has melted before it boils. Once boiling, reduce heat slightly and simmer 4-5 minutes or until reduced slightly and syrupy. Remove from the heat and stir in rose water. Transfer to a small jug.
To serve, slice honey cake into square or diamond shapes and place into a bowl, add a handful of slices strawberries and a scoop of ice cream. Scatter with extra chopped pistachios and drizzle with a little hibiscus rose syrup. This cake is best eaten on the day of baking, however it will store airtight 2-3 days. Hibiscus rose syrup can store in a glass jar in the fridge for up to 5 days.
This recipe was first developed for and featured in Taste Magazine, NZ.