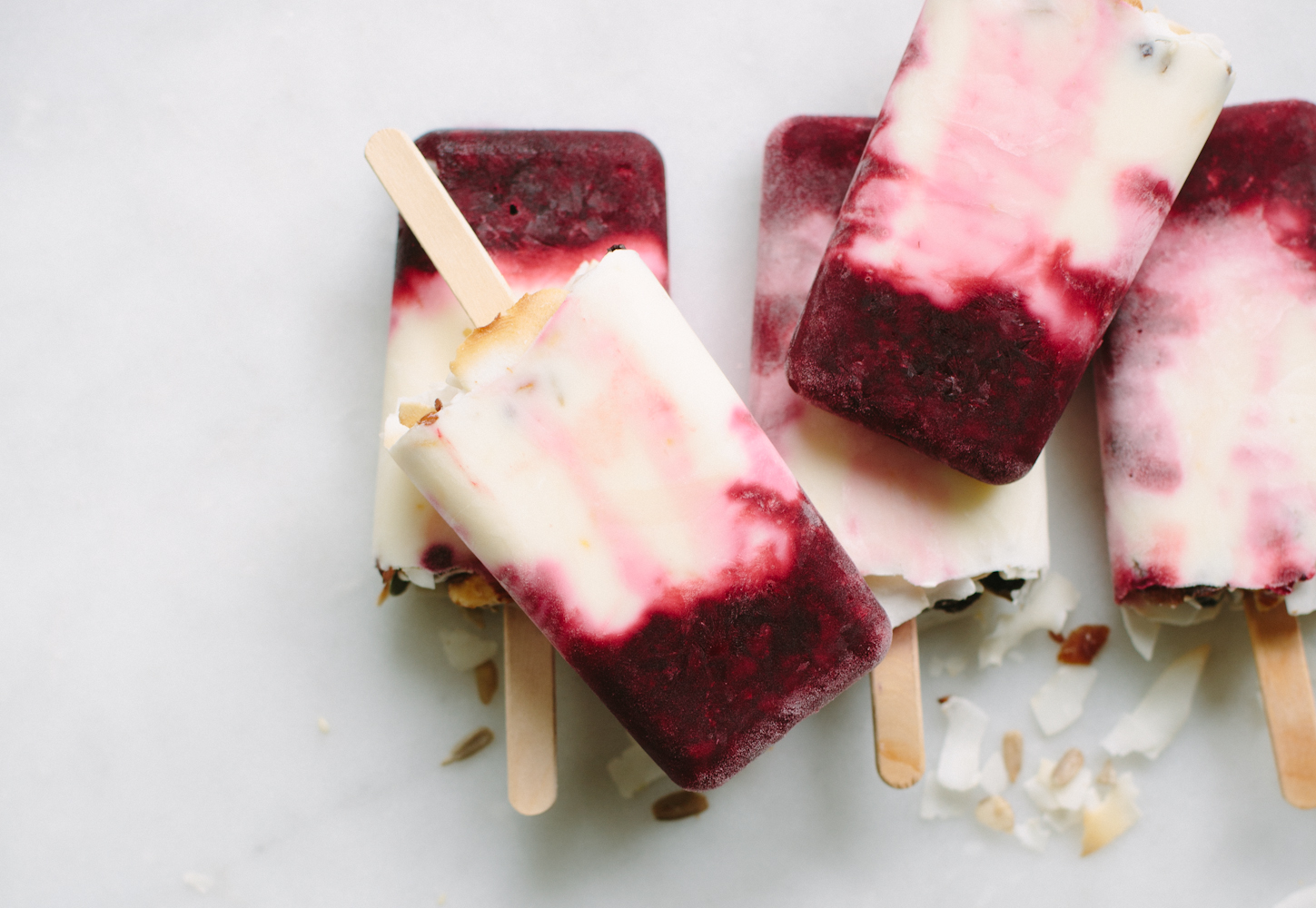 We are a family of breakfast eaters, but this summer the kids have mentioned more than once how they don't feel like eating first thing in the morning. It could be their age, I'm not sure... but one thing I know is when it's hot and sticky right from the get-go, it's sometimes hard to contemplate eating. On mornings like this I'm able to at least get a quick smoothie into them, but another little trick I have up my mum sleeve is these fruity-yoghurt breakfast popsicles.
Full of thick Greek yoghurt (I make my own, recipe can be found in my first cookbook), berries and only sweetened with a touch of honey (you could mix a well-mashed banana into the mix too and omit honey if preferred) before being topped with a little muesli, they're the perfect breakfast for those days when eating breakfast feels like too much of an effort.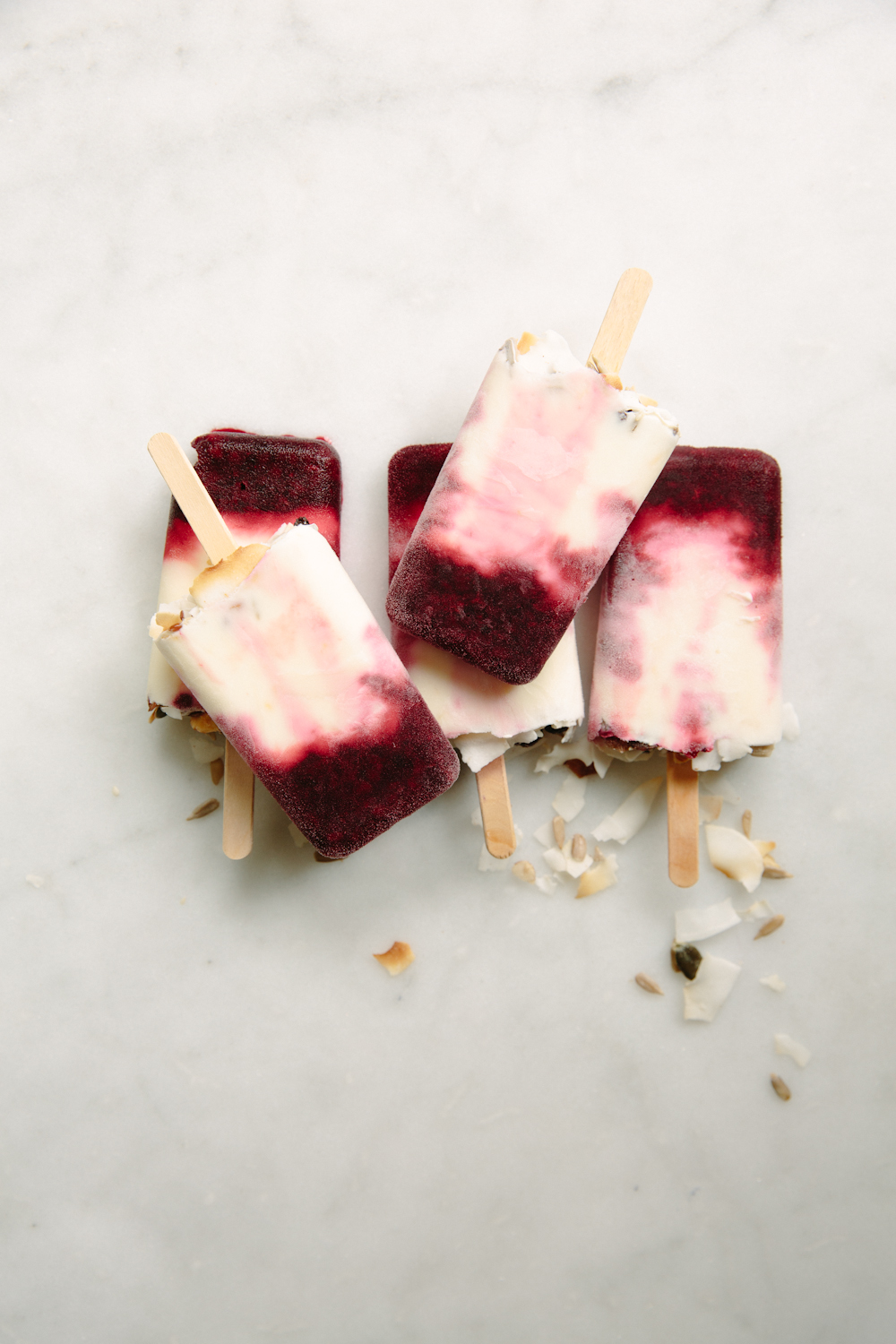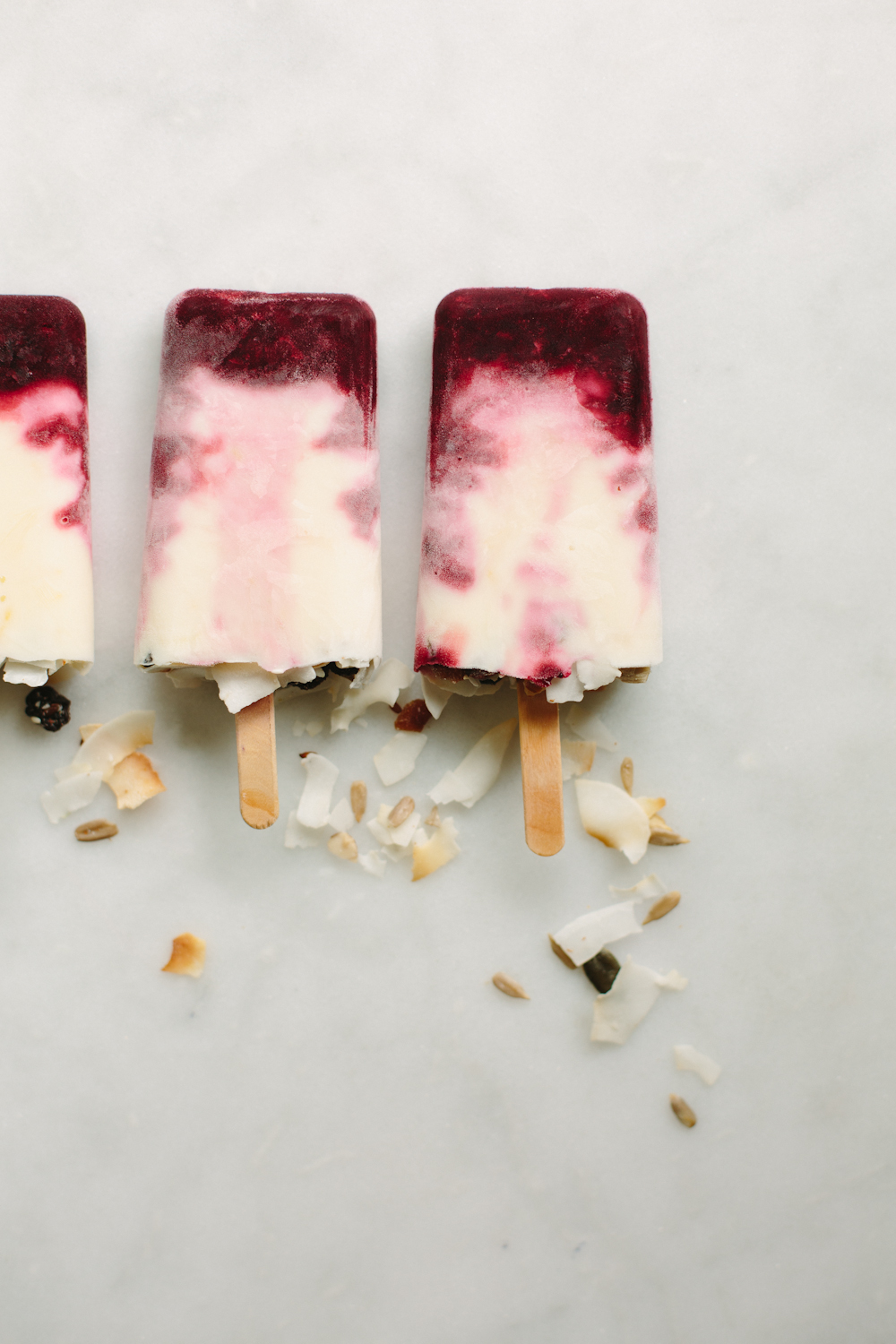 Boysenberry, lemon + yoghurt breakfast pops
On mornings when it's too hot to eat, these lemon scented boysenberry yoghurt pops are the perfect answer. With just a handful of simple ingredients, they're a lovely thing to have at hand and you'll find it hard to stop at just one. I tend to favour New Zealand grown berries over imported and boysenberries are one of the few local frozen berries you'll find at the supermarket. NZ black currants would also work lovely, or use fresh locally grown strawberries for a nice change. If you want to include more muesli than a suggestion, you can layer a little more between the berries and yoghurt. 
Makes 8
1 cup frozen NZ boysenberries
4 tablespoons honey or pure maple syrup
2 cups (500g) unsweetened Greek yoghurt
The finely grated zest of 1 lemon
1/2 cup gluten-free muesli
Combine boysenberries in a small saucepan with 1 tablespoon of the honey, cover with a lid and cook on low until defrosted. Remove lid, increase heat slightly and simmer for 2 minutes. Remove from the heat, crush berries lightly, then set aside to cool.
Combine yoghurt with remaining 3 tablespoons honey and lemon zest. Mix well. Divide berries evenly between ice block moulds, top with the lemon yoghurt, then spoon a little granola on top of each, pressing down lightly to help it stick into the yoghurt. Insert wooden sticks and freeze 4 hours or overnight. Run under warm water to help release pops from the moulds.