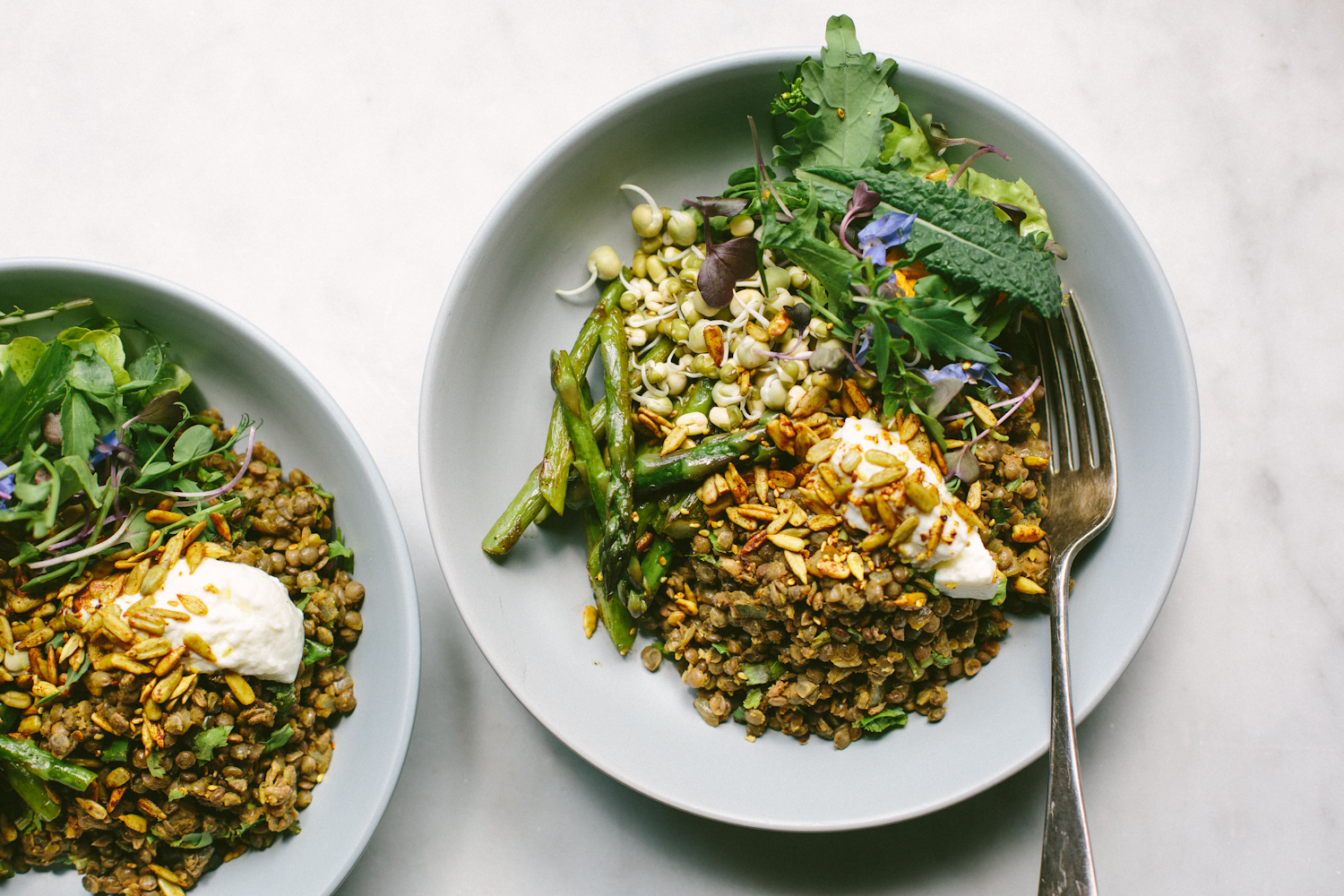 Ada's been home from school the last week and a half with a yet-to-be-explained pain in her ankle, the same ankle she broke last year. It's been a rough few days to say the least and I'm crossing every finger and toe it's nothing long-term.
Most days she's not felt like eating much, but the other day I whipped up two spiced lentil bowls with her favourite turmeric seeds, using bits pieces I had hanging around in the fridge, and it went down a treat. You can add anything you have at hand to these bowls, I imagine some roasted squash would work beautifully in place of the asparagus for my Northern Hemisphere friends. I went for some buttery, garlicky sautéed asparagus and handful of sprouts (which I always have at hand, homemade- shout out if anyone would like me to do a post on growing sprouts yourself in the comments below) and a few salad greens. If you already have leftover cooked lentils these come together in a matter of minutes. When I cook beans and lentils I tend to always cook an extra 1/2-1 cup for this exact reason.
Being at home so much lately means I've also been drinking a lot of tea, mostly herbal but sometimes not. I've always been a big herb tea drinker and love that it's kinda become a big thing of late. There's so many great teas out there nowadays made by people who truly care about sourcing good quality ingredients and blending them with pride. I thought I'd share a few of my current favourites here (not sponsored but many of them I initially came across after being sent samples). I love trying out new teas and would love your suggestions in the comment section below if you've got any others you think I should try!
Bohemia tea- Beautiful expertly blended teas. My fav is the turmeric tonic + elderflower tonic.
Mister Chai- My favourite loose leaf chai, hands down. Their Sticky Chai is insanely good and mildly addictive.
True North Tea- Their organic peppermint is super fresh and strong!
Love tea- I love their white rose & goji and if you're an English Breakfast tea drinker, theirs is super smooth. (NZ readers can find them at selected health food stores or online here).
Higher Living- I love their morning mojo blend. Available via Countdown stores in NZ.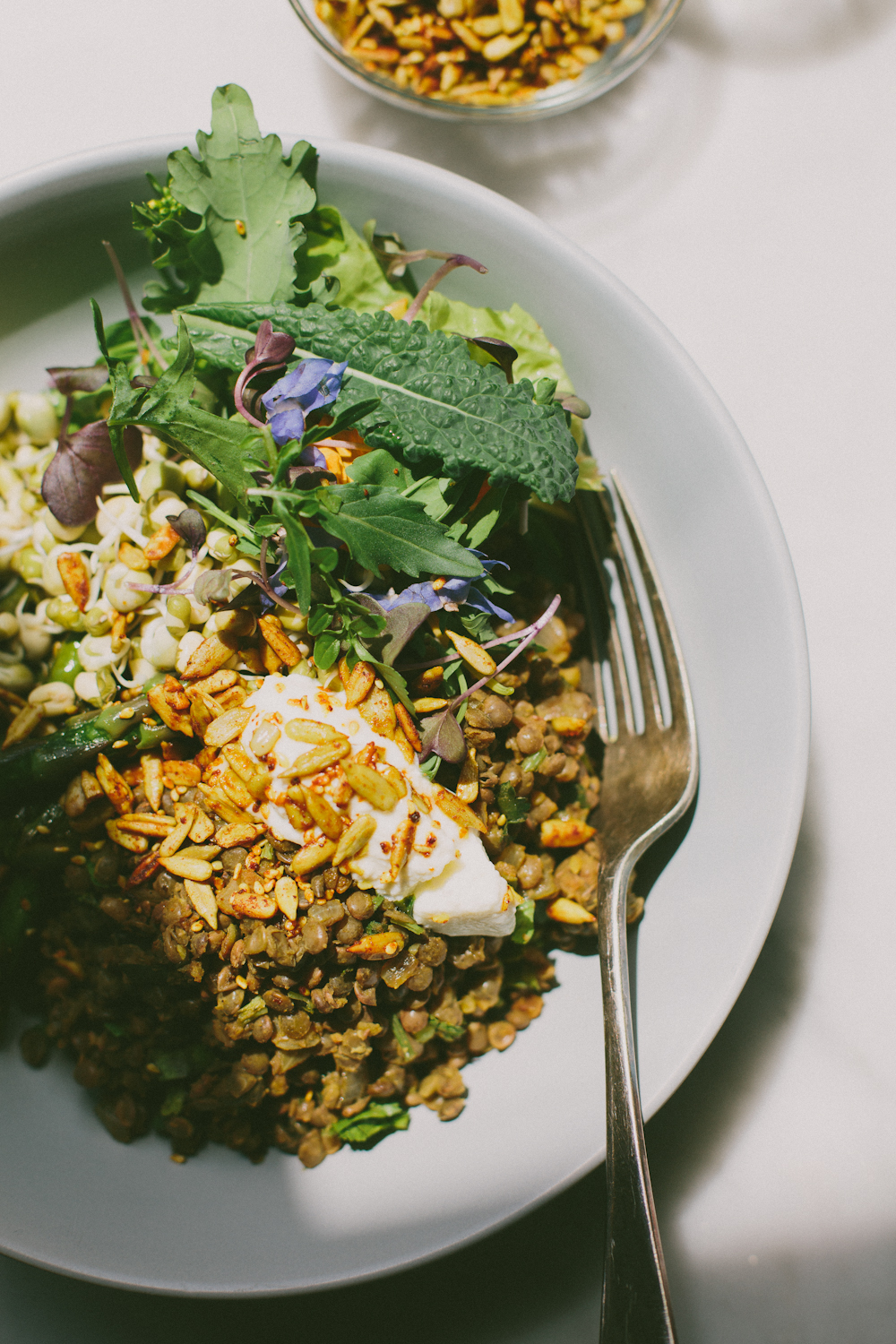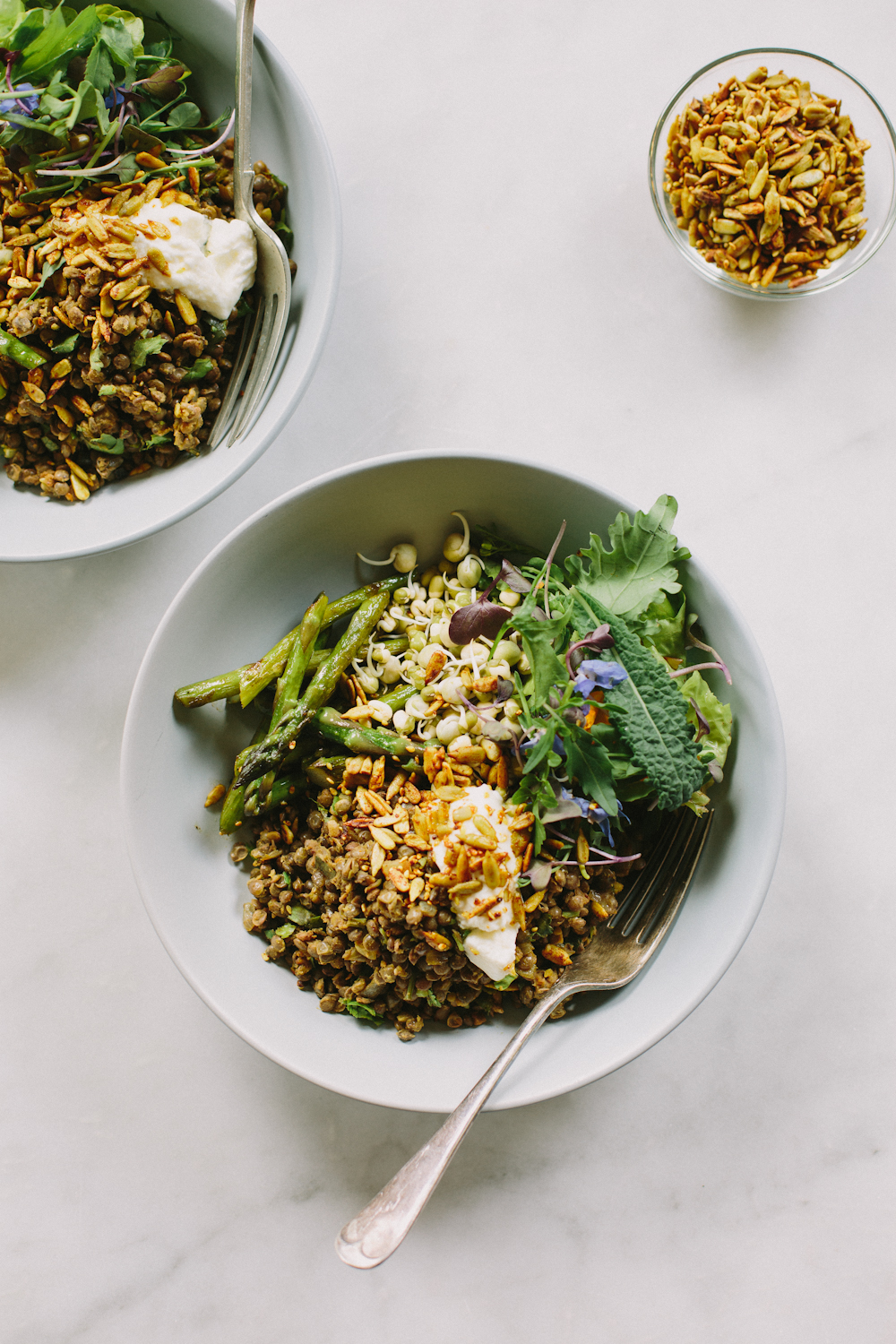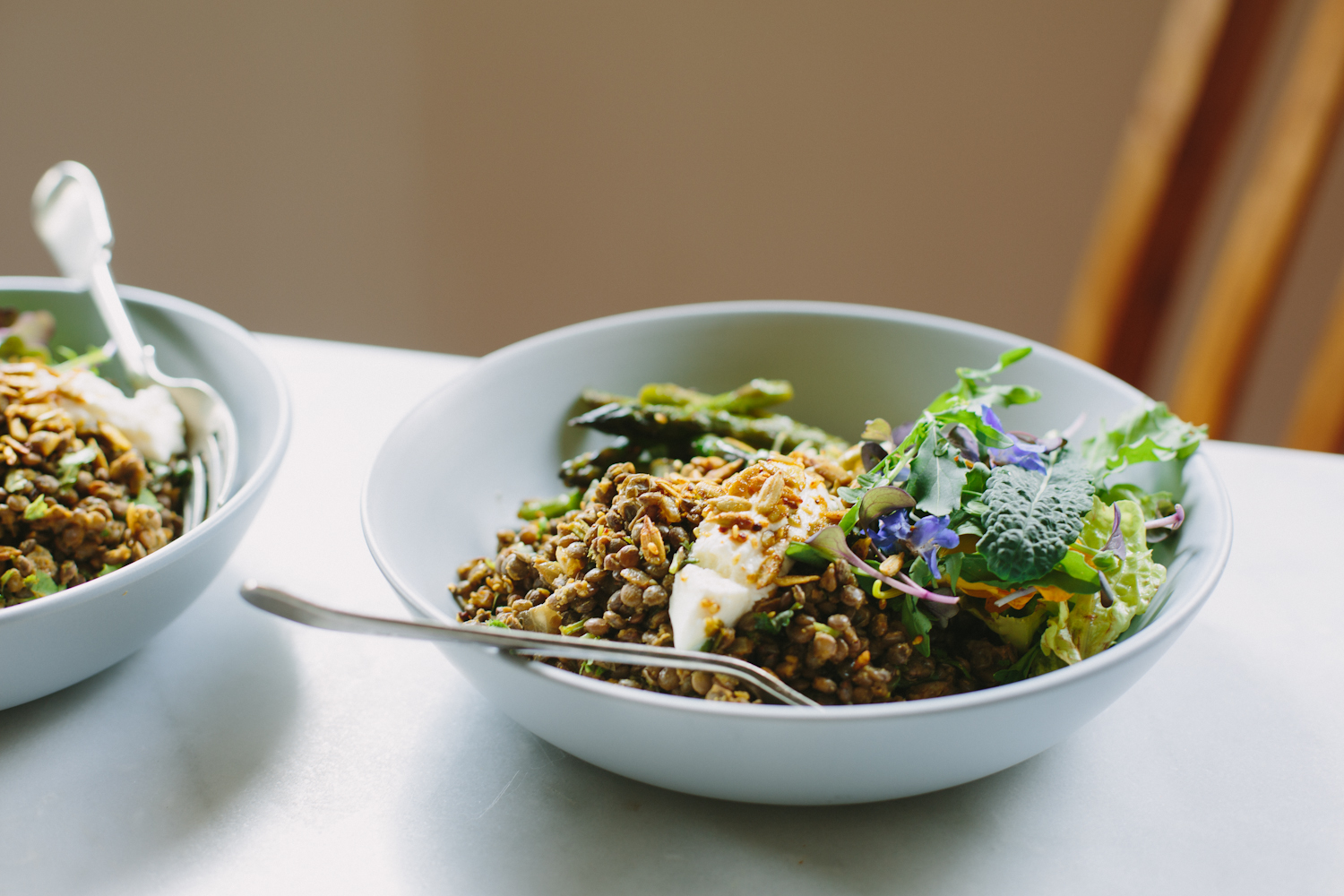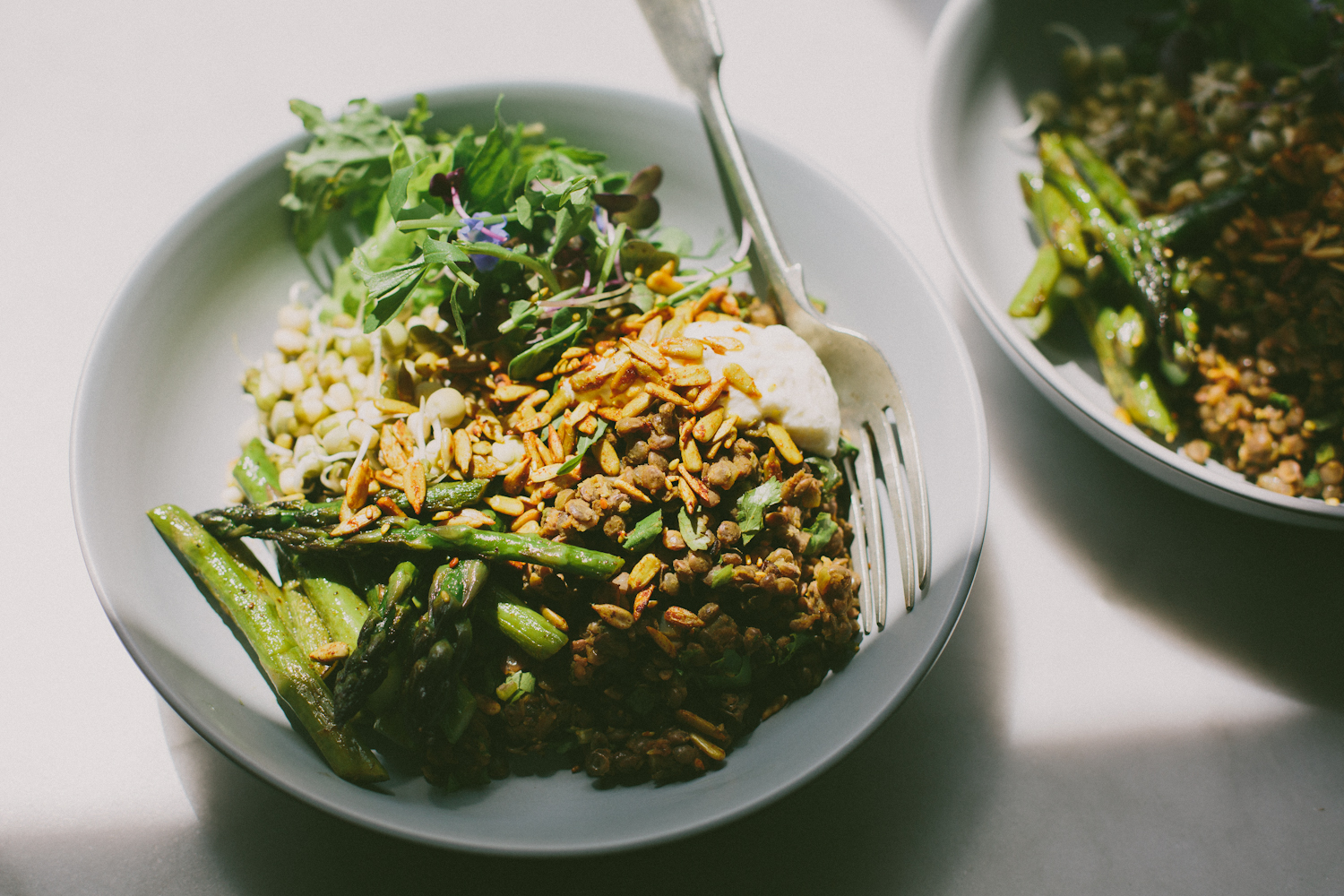 Spiced lentil bowls with turmeric seeds
To make this recipe vegan/dairy-free use olive oil in the lentils and serve with a dollop of coconut yoghurt. 
Serves 2
2 cups cooked lentils (I used puy-style)
1 tablespoon olive oil or ghee
1/2 red onion, finely diced
1 clove garlic, crushed
1/2 teaspoon ground cumin
1/2 teaspoon garam masala
1/4 teaspoon ground turmeric
The juice of 1 small lemon
Handful coriander (cilantro) leaves, roughly chopped
Salad greens, sautéed asparagus spears, sprouts + yoghurt (dairy or coconut), turmeric seeds (below), to serve
Turmeric seeds
65 g ( 1/2 cup) sunflower seeds
2 tablespoons sesame seeds
1 teaspoon olive oil
1/2 teaspoon gluten-free soy sauce
3/4 teaspoon ground turmeric
Drain lentils well. Heat a large frying pan (skillet) over medium high heat, add olive oil or ghee and cook onion 3-4 minutes or until tender and golden. Add garlic and spices and cook for a further 30 seconds. Add drained lentils, stirring to heat through. Remove from the heat, add lemon juice, coriander (cilantro) and season with fine sea salt and freshly ground black pepper.
To make the turmeric seeds, toast sunflower and sesame seeds in a dry frying pan over medium-high heat, stirring often until light golden in places. Add olive oil and soy sauce and stir to evenly coat. Continue to cook for a further 30-60 seconds, while stirring, until seeds are dry and deep golden. Add turmeric, stir well and cook 10 seconds more before removing from the heat and setting aside to cool. Any leftover seeds will store in an airtight jar for up to a week.
To serve, divide lentils between two bowls, add some sautéed asparagus, a handful of salad greens, sprouts and a dollop of yoghurt (dairy or coconut). Scatter with turmeric seeds and serve immediately.
The turmeric seeds recipe is adapted from a recipe in my second cookbook A Year in My Real Food Kitchen (Harper Collins, 2016).