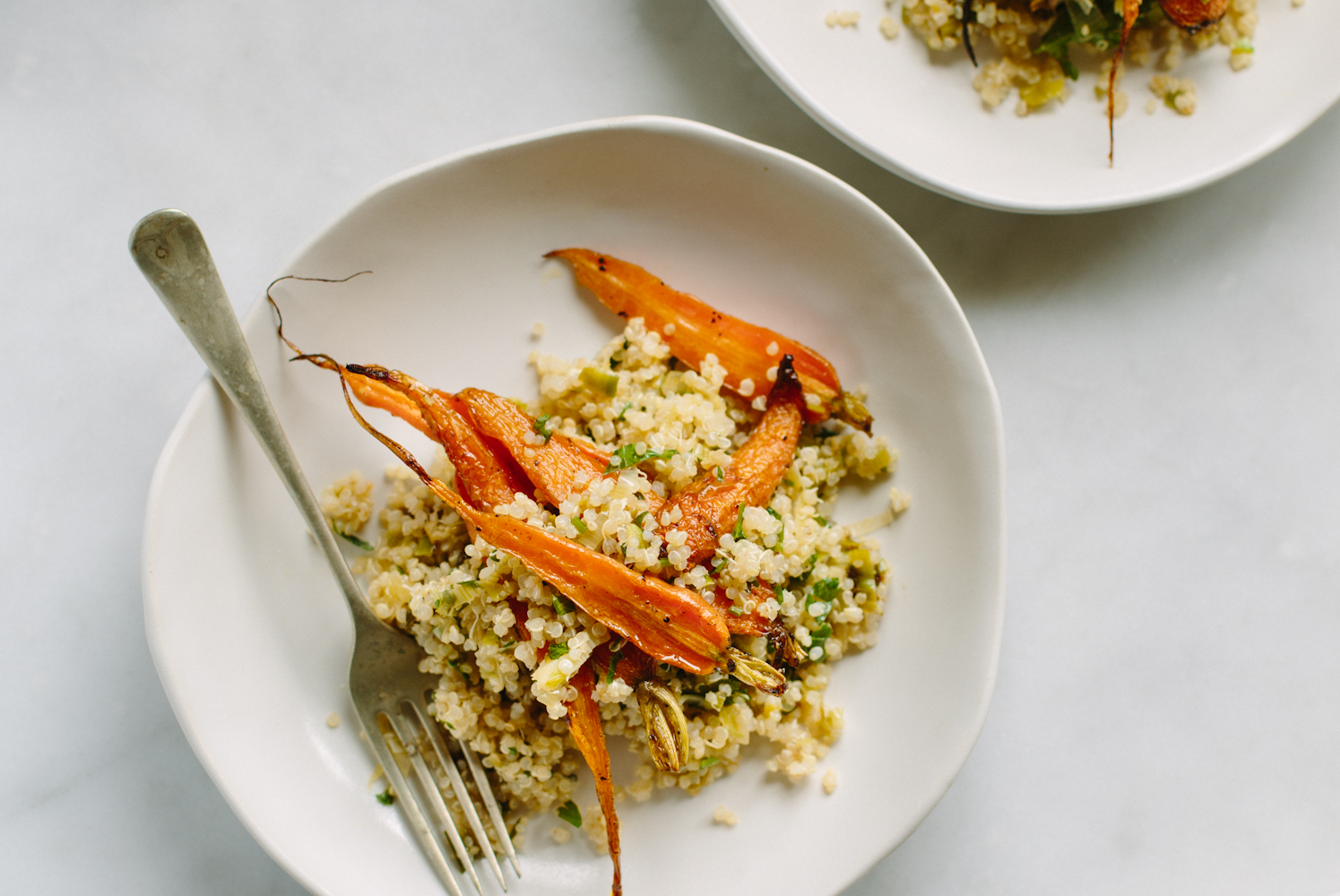 I've just spent the last 3 days on school camp with over 70 children, in the city. While the kids had an awesome time- me, I missed the quietness of home. I know many people couldn't imagine living anywhere else but in a city (especially if they know nothing else) and while I do love a little city buzz every now and then, I love quiet more. I love to hear the birds sing and see open spaces devoid of humans. It's true it takes leaving a place to fully appreciate what you have. And I'm so appreciative, more now than ever.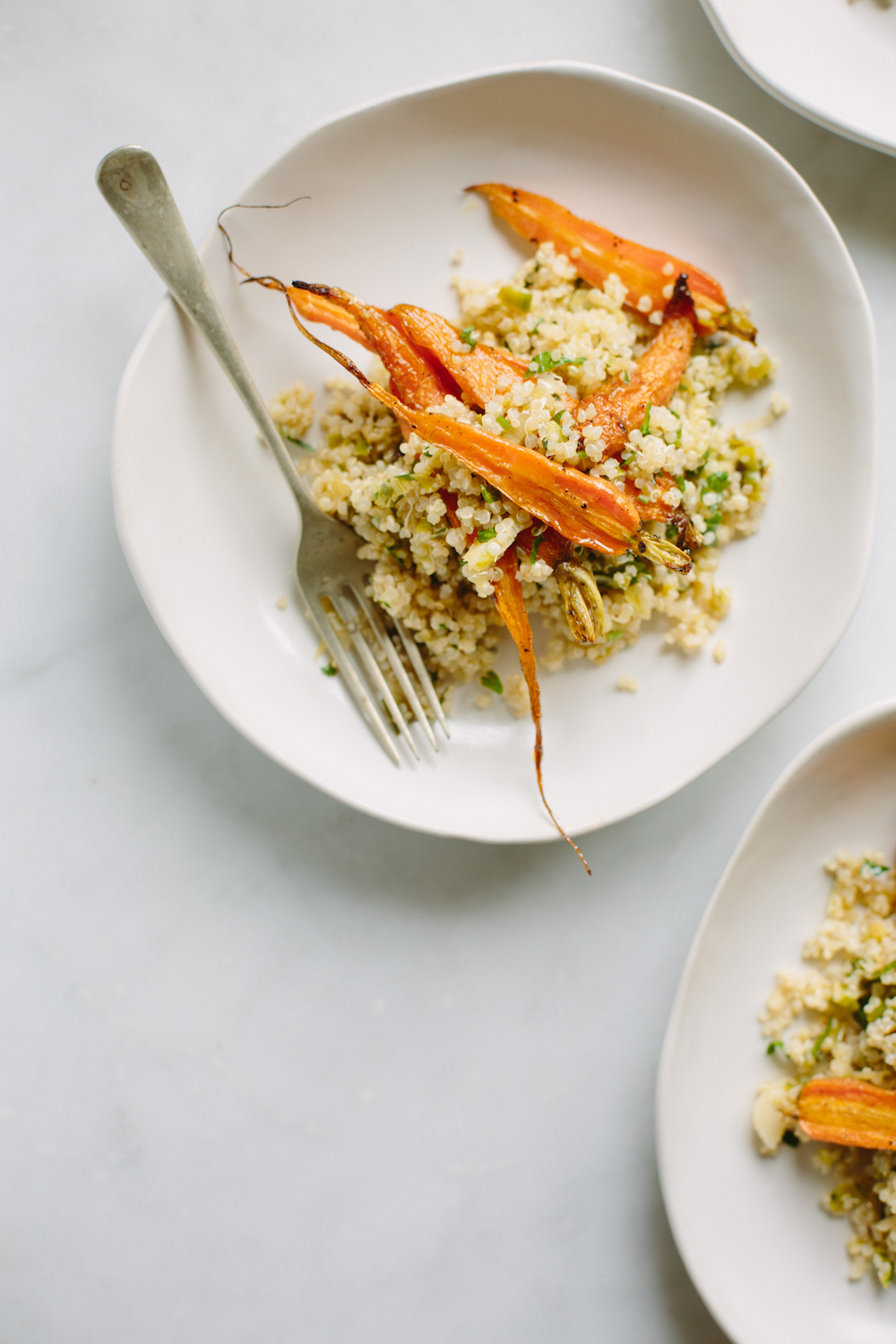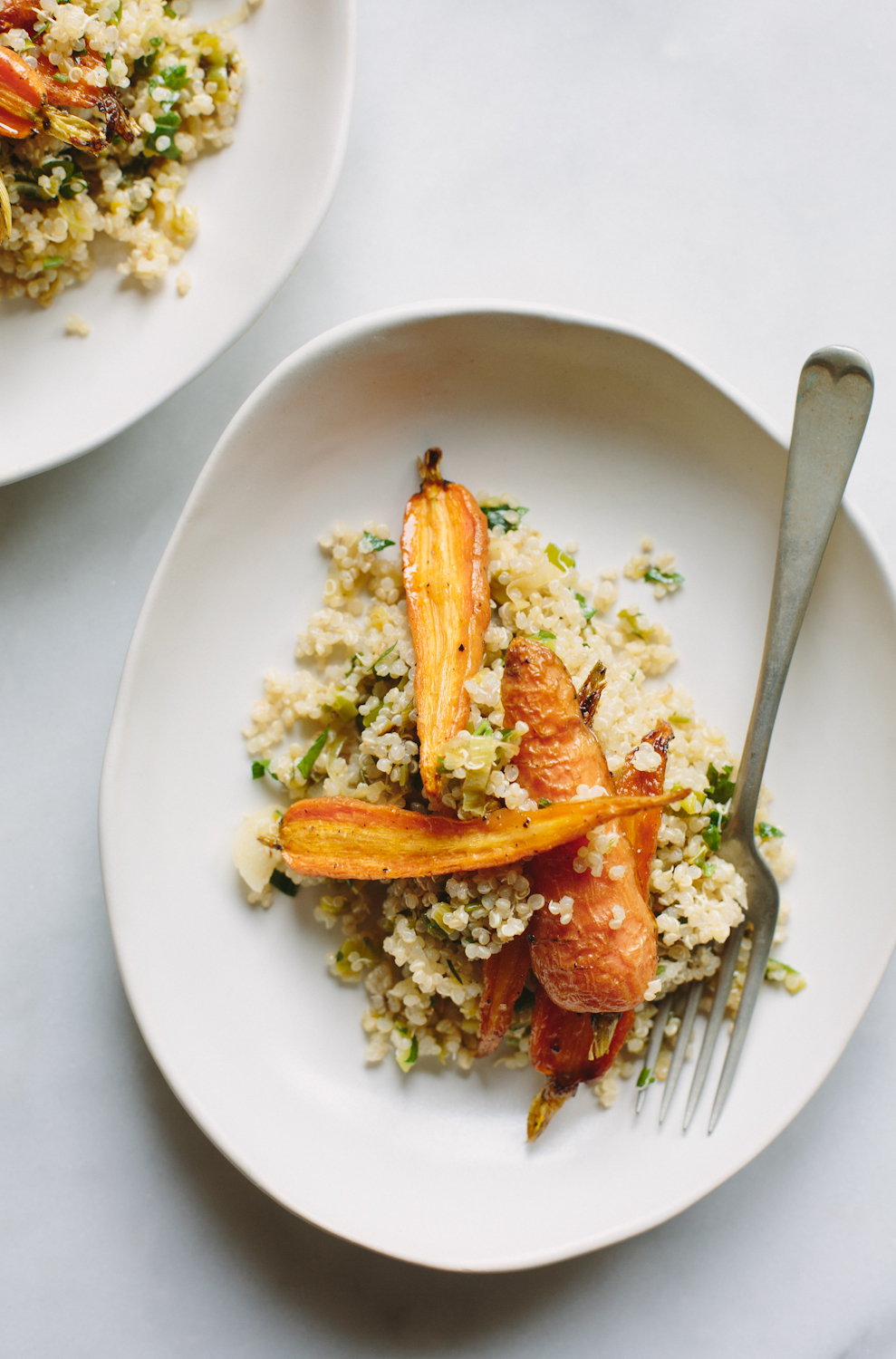 Roasted baby carrot, leek + quinoa salad
Leeks are gorgeous at this time of the year and I'm finding myself wanting to add them to everything I make. Here they are sautéed in olive oil until golden and tender before folding through protein-dense herb-flecked quinoa and topped with beautiful roasted baby carrots. I usually try to soak quinoa in cold water the night before using, to improve digestibility, but if you forget no worries. If you have any leftovers, they keep well in the fridge for 2-3 days.
Serves 4 or more as part of a meal
1 cup quinoa, soaked overnight in cold water if possible
1 bunch baby carrots
1 tablespoon olive oil
Sea salt and freshly ground black pepper
2 tablespoons olive oil
2 medium leeks, finely sliced
2 cloves garlic, finely chopped
1/2 teaspoon Dijon mustard
1 teaspoon honey or brown rice syrup
The juice of 1 lemon
3 tablespoons extra virgin olive oil
A handful flat leaf parsley, roughly chopped
Preheat oven to 200C.  Drain quinoa. Bring 1 1/2 cups (375ml) cold water (or 1 cup/250ml water if you've soaked the quinoa overnight) to the boil in a saucepan, add quinoa, cover with a lid and reduce to a gentle simmer. Cook for 10-12 minutes until all the water has been absorbed and quinoa is tender. Remove from the heat, leave the lid on and set aside to steam for a further 5 minutes before fluffing up with a fork. Transfer to a large bowl.
While the quinoa is cooking, trim all but 1cm off the tops of the baby carrots and slice in half if they're large. Transfer to an oven tray, drizzle with olive oil, season with salt and pepper and give it all the good mix up before popping it into the oven to roast for 25-30 minutes, making sure you turn them at least once during cooking.
Heat the 2 tablespoon olive oil in a medium frying pan, add slice leeks and garlic and cook over medium heat, stirring often for 8-10 minutes, or until the leeks are super tender and starting to caramelise. Remove from the heat and stir through the quinoa.
In a small bowl, whisk together the Dijon mustard and honey, add lemon juice and whisk, then drizzle in olive oil and whisk to form a smooth dressing. Season with salt and pepper and pour over the quinoa and stir through, along with the parsley. To serve, either stir the carrots through the quinoa salad and serve, or divide the quinoa between plates and top with the roasted carrots.
This recipe was first developed for and appeared in Taste magazine, NZ.