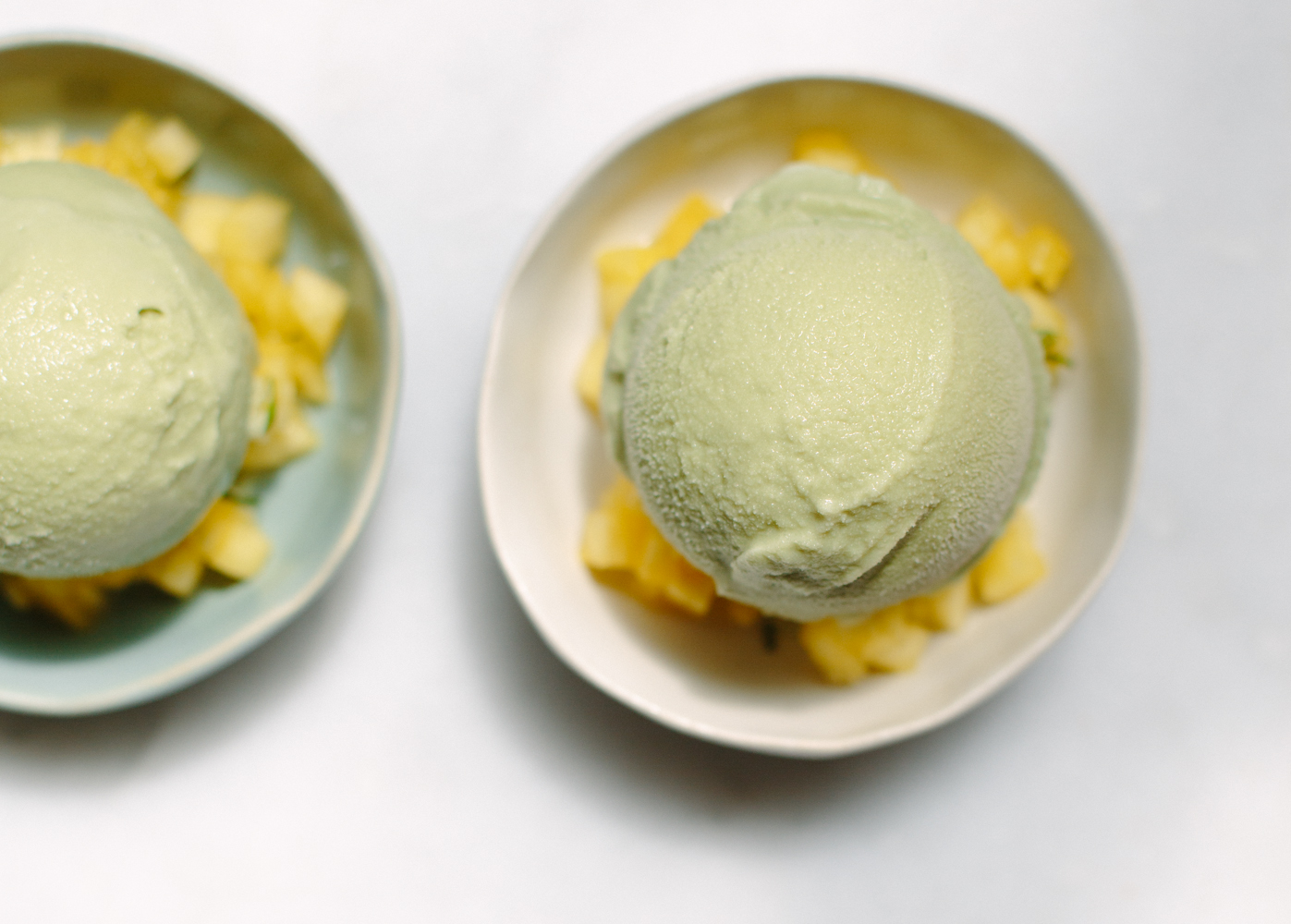 I have to admit, it took me awhile to get on board the matcha craze. (I know, I know, I'm only 2+ years too late!). At the beginning of the craze every part of my body shuddered when (yet) another matcha recipe popped up in my feed. It wasn't anything to do with matcha, after all matcha isn't anything new in its country of origin and has been revered for many centuries before the wellness gurus of the world got hold of it. It was more to do with the fact that for a minute there you couldn't look online without being bombarded by it. Every. Where. You. Looked.
Call it a knee-jerk reaction, but I wanted to stay the hell away from it (much like my feelings towards smoothie bowls and charcoal well, everything!). But then I let my guard down, relaxed a little, developed a few recipes for some of the magazines I contribute to (cause you know magazines have to be all over food trends and all) and then before I knew it, I too had fallen under the matcha spell -insert the laugh-out-loud emoji here-.
In this subtlety-sweet frozen yoghurt the matcha brings a certain vegetal sweetness that works perfectly with the more upfront natural sweetness of super ripe pineapple. Oh did I also mention, there's only 3 ingredients in this silky smooth frozen yoghurt? And it doesn't require an ice cream churn?! I find using brown rice syrup in ice creams/sorbet and froyos instead of cane sugar or other sweeteners gives beautiful creamy results, without the usual iciness of non-churned iced treats.
If like me you've been a bit stubborn in your beliefs of the current matcha craze, I urge you to get over it. I'm so glad I did... just don't ask me to change my stance on smoothie bowls.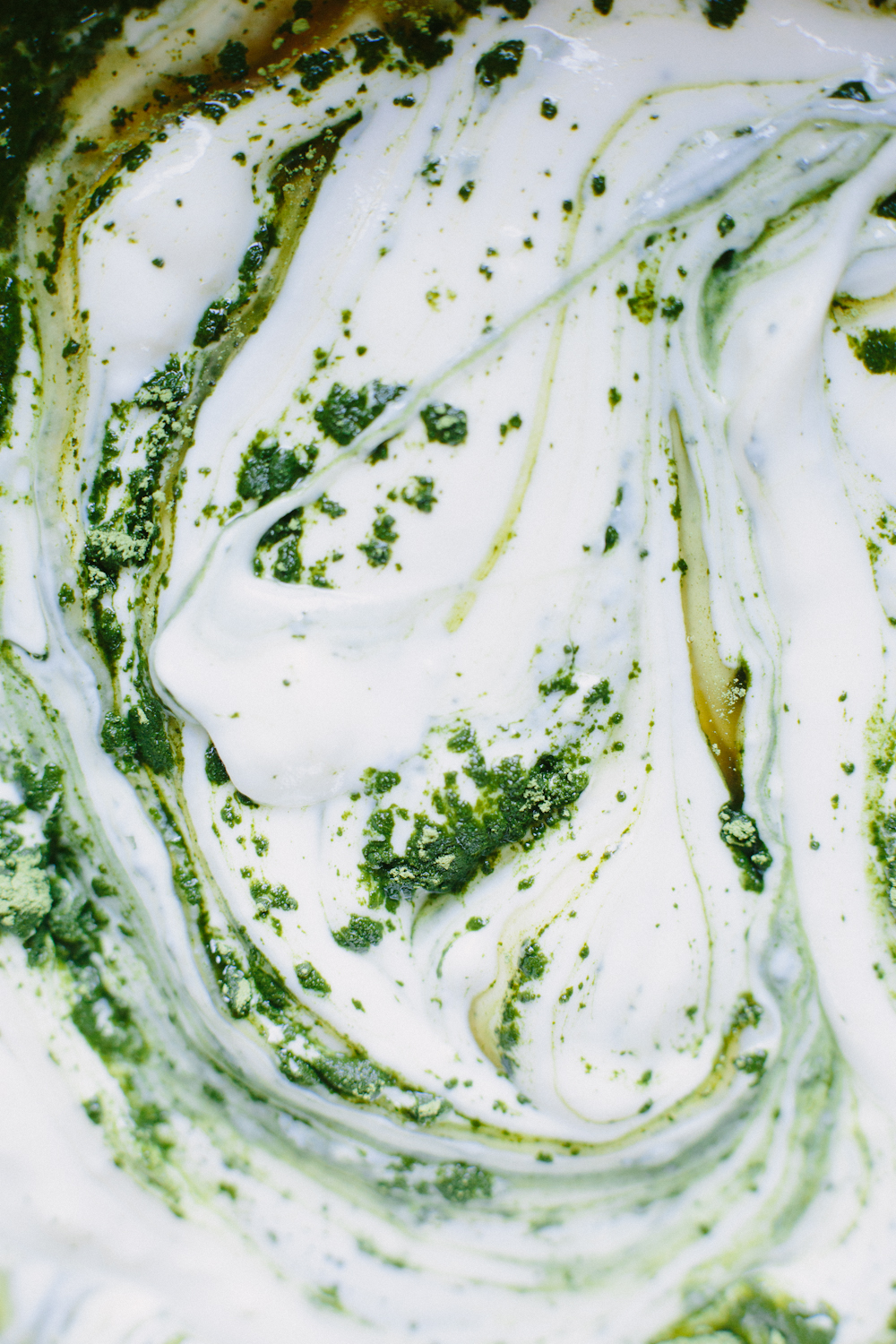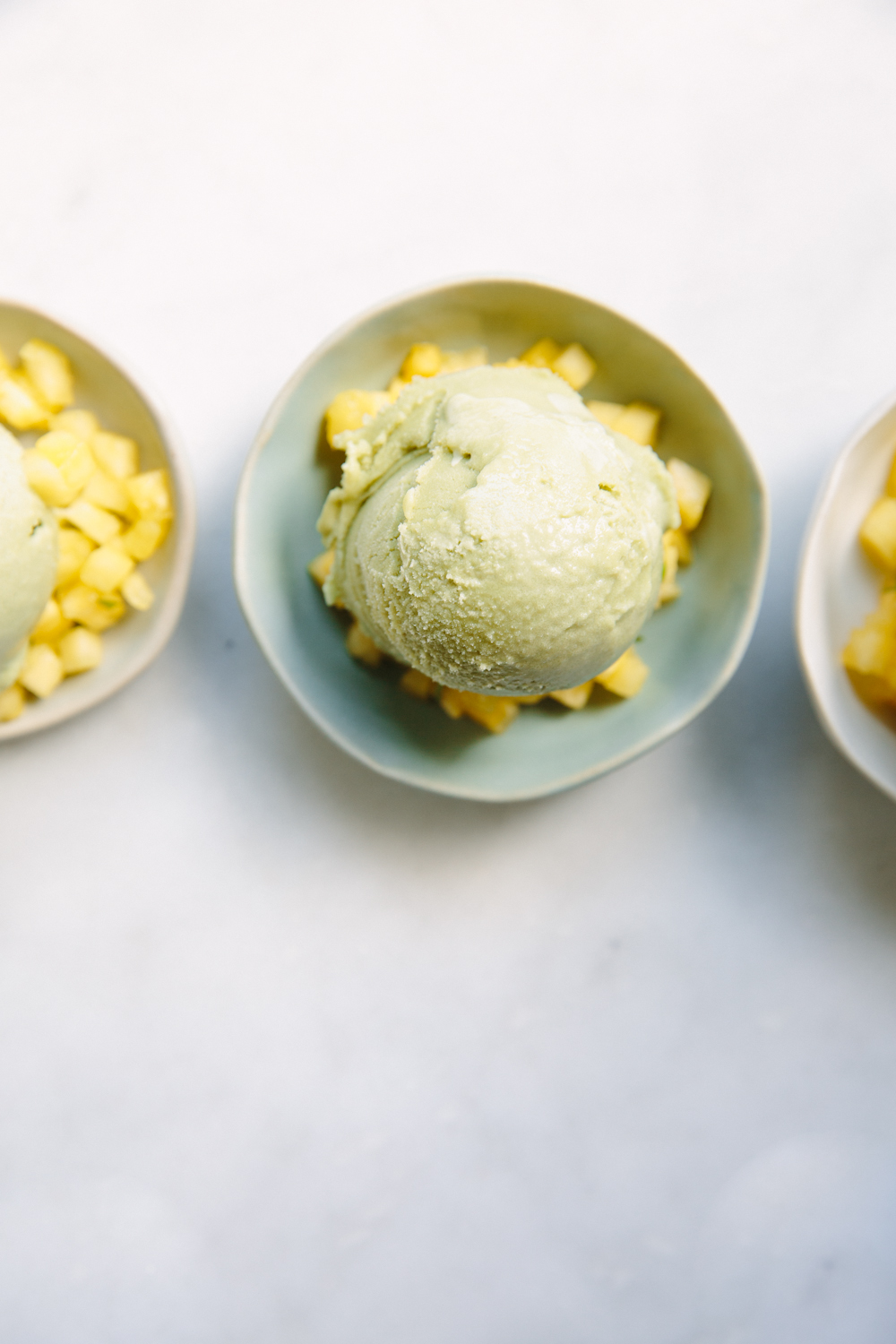 No-churn matcha frozen yoghurt with pineapple salsa
This barely sweet pastel green frozen yoghurt is one of the simplest iced treats to prepare. There's no need for an ice cream churn, just a bowl, a freezer and a food processor or high-powered blender. You'll find brown rice syrup and matcha powder at selected supermarkets and at health food stores.
Serves 4-6
3 cups unsweetened Greek yoghurt
3/4 cup (180ml) brown rice syrup
1 tablespoon matcha powder
Pineapple salsa
1 gold pineapple, peeled and cored
The juice of 1 lime
Small handful mint leaves, finely shredded
Combine yoghurt, brown rice syrup and matcha powder in a bowl and whisk well. Transfer to a large zip-lock bag, press out as much air as you can and seal. Lay flat on a tray and freeze 3-4 hours or until just frozen. Break into chunks and transfer to a food processor or high-powered blender (if you own one). Blend on high until smooth, stopping to scrape down the sides once or twice if needed. Transfer to a lidded container and return to the freezer 3-4 hours, or until frozen.
Finely dice pineapple, transfer to a bowl and stir through lime juice and shredded mint.
Serve scoops of matcha frozen yoghurt with a little pineapple salsa and serve immediately. Best eaten within 3 days of making. Defrost the frozen yoghurt on the bench for 15-20 minutes before scooping, if it's set too hard.
This recipe was first created for and featured in Taste Magazine, NZ.