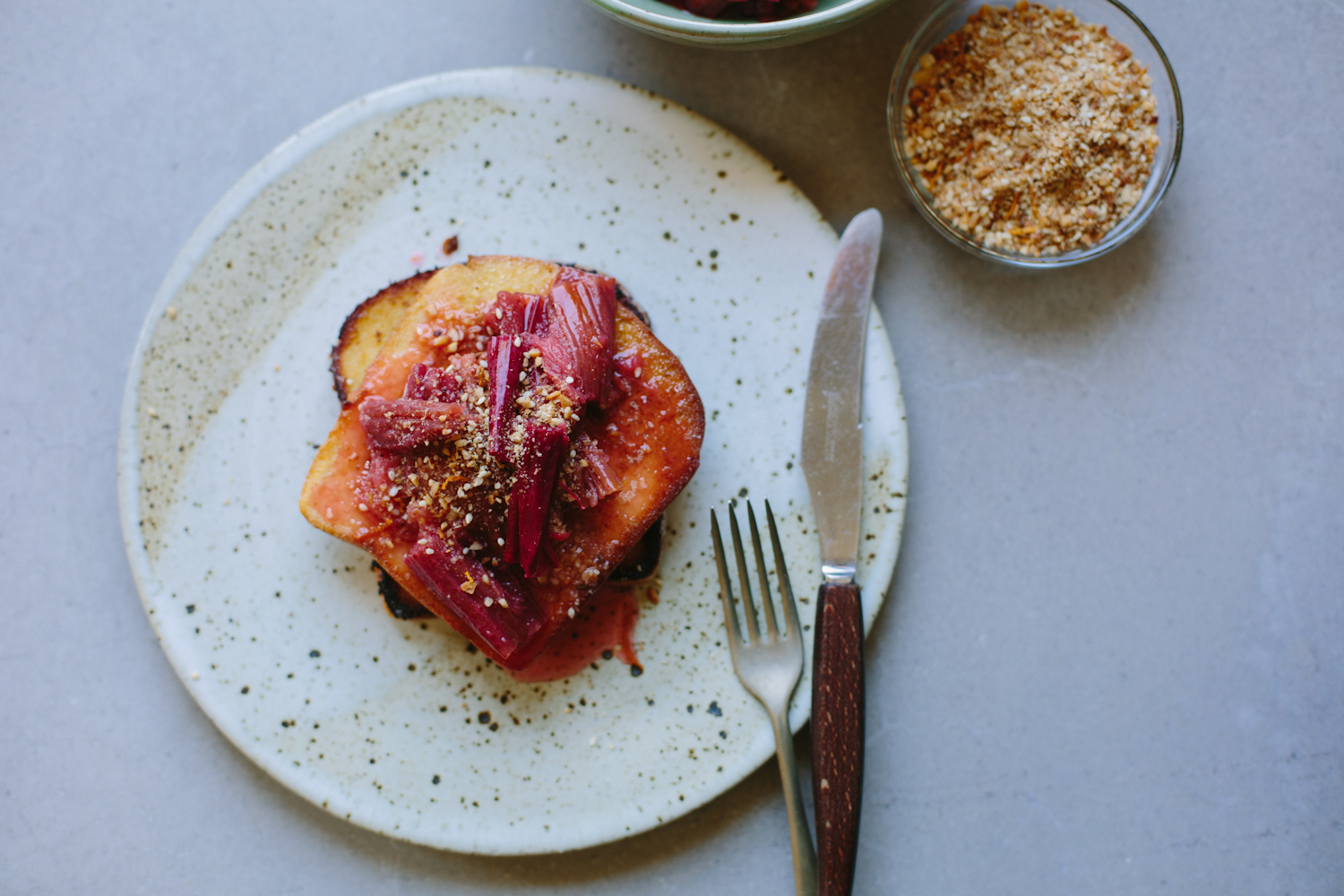 Back when I worked the breakfast shift as a chef, one of the most popular dishes was French toast. For those of you like me who prefer sweet over savoury in the morning, it feels like a bit of a treat to eat something that so closely resembles a dessert! But while it's a sweet choice, it doesn't have to be sickly so. A simple mixture of eggs (fresh from our girls!) and milk is all that's required really, add a touch of vanilla extract if you like (or some lemon zest or cinnamon for a change). Using old slightly dry bread is the key, just like when making bread and butter pudding, as the dry bread soaks up more of the egg mixture resulting in puffy, custardy bread once cooked.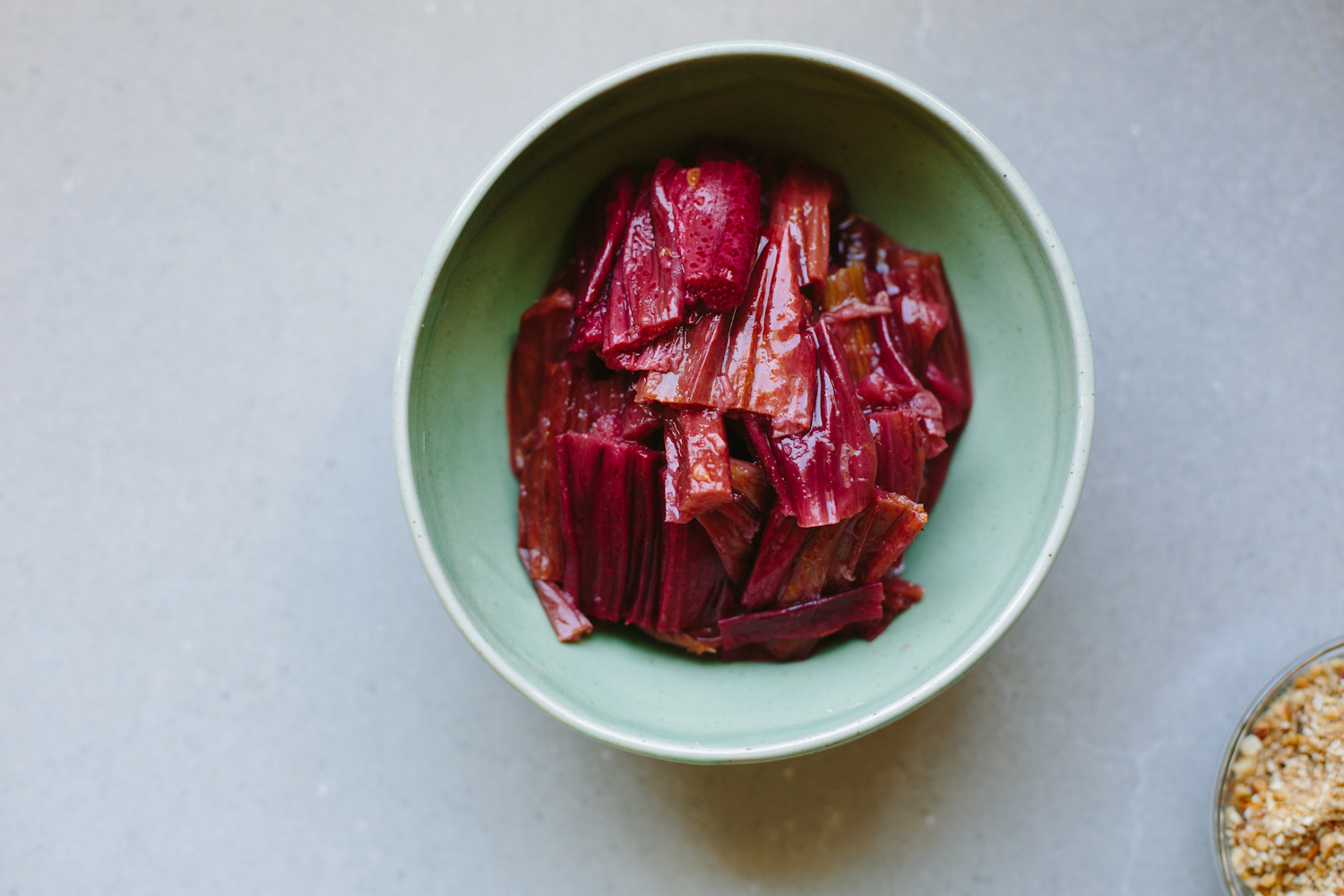 As many of you will already know one of my favourite ways to cook both vegetables and fruit is roasting (um, everything) and if you're one of those people who think you don't like rhubarb (after being served overcooked stringy stalks as a kid... I forgive you mum!) you're gonna love this roasted rhubarb. The sweet dukkah brings a bit of sass to the dish, with its lightly spiced crunchy combo. And should you find you have leftovers, its also delicious sprinkled on top of banana toast, pancakes or a bowl of yoghurt.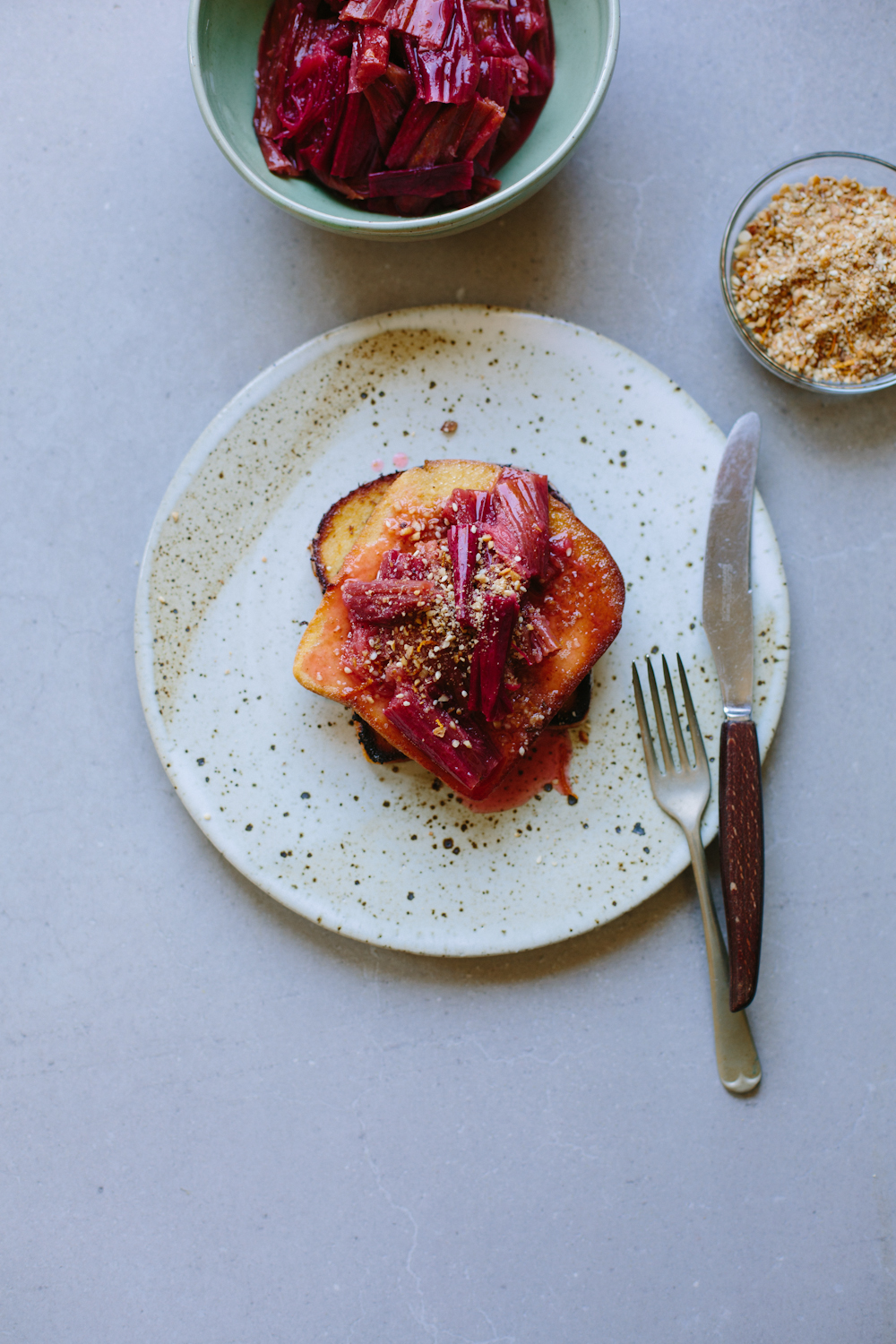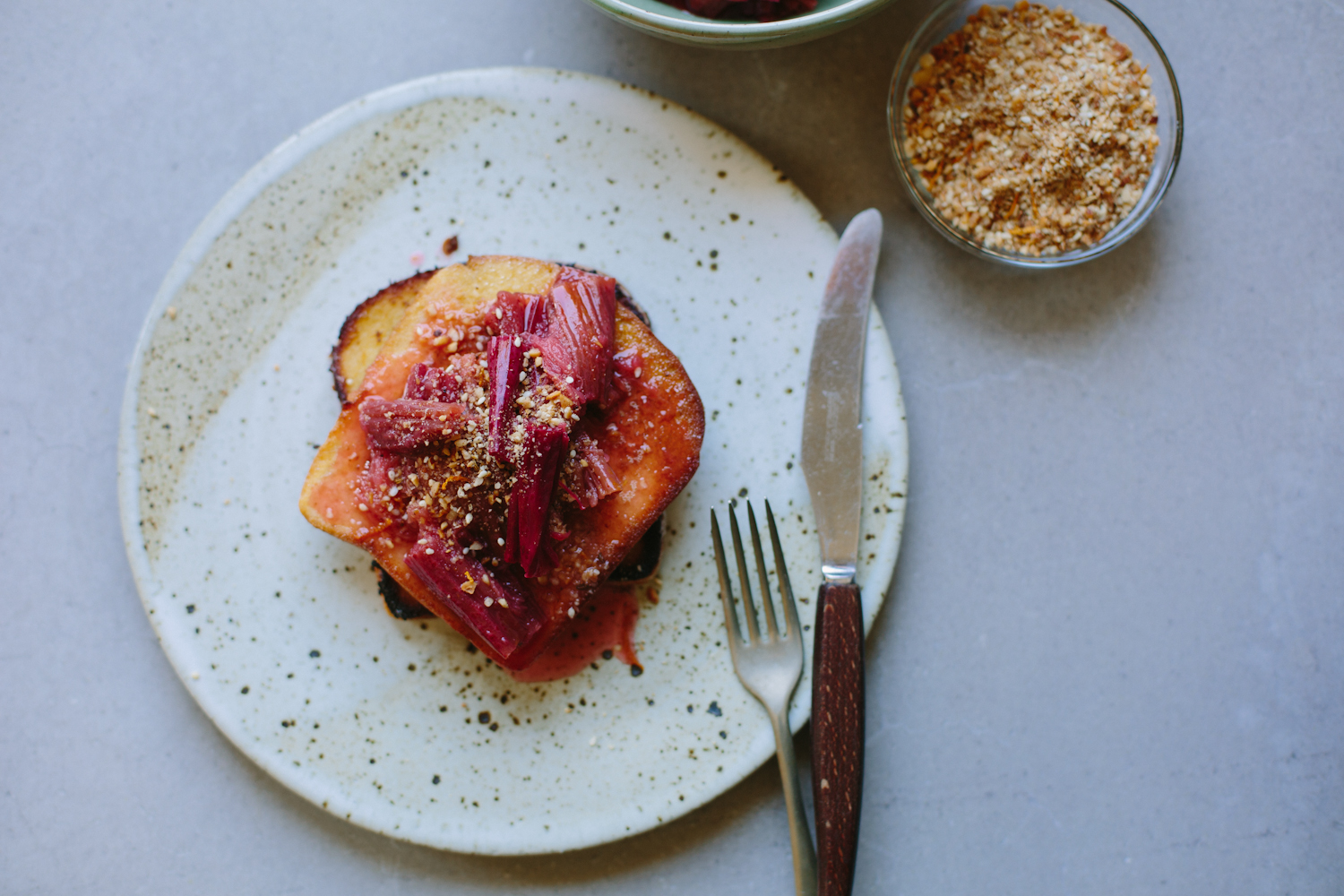 WIN A LE CREUSET SIGNATURE SKILLET!
-----COMPETITION NOW CLOSED-----
I've partnered with the lovely people at Le Creuset New Zealand to give you the chance to win a 26cm Le Creuset signature skillet pan of your own, just like the one seen in this post and in your choice of colour! Competition open to all New Zealand residents. To enter, simply leave a comment below telling me what you'd cook first in your new pan. The lucky winner will be chosen using random.org. Competition closes 5pm Saturday 30th September. Good luck!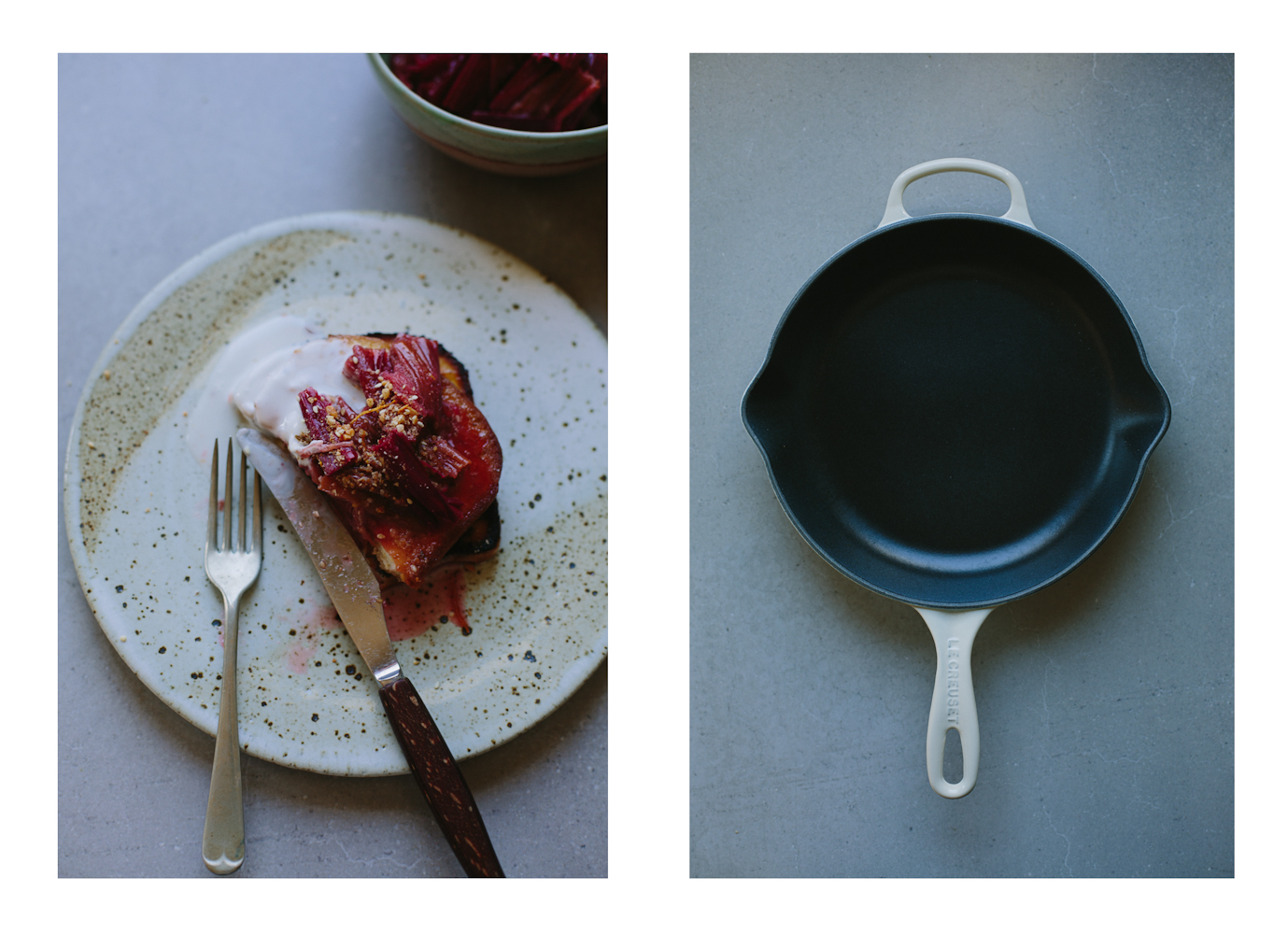 Coconut French toast with roasted rhubarb + hazelnut and orange dukkah
I like to make the rhubarb ahead of time and find if done this way, then transferred to a glass bowl or container and set aside for a few hours, it forms it's own lovely syrup. If you'd like things extra syrupy, drizzle with a little maple syrup as well. I'm not a huge fan of coconut yoghurt, but a little dollop would be a lovely dairy-free addition if desired.
Serves 4
Roasted rhubarb
500g rhubarb, trimmed
1/3 cup unrefined raw sugar
1 orange, wax-free or preferably organic
Hazelnut + orange dukkah
1/4 cup hazelnuts
2 tablespoons almonds
1/4 cup sesame seeds
2 tablespoons shredded coconut
1/2 teaspoon coriander seeds
1/2 teaspoon fennel seeds
1/4 teaspoon ground cinnamon
1/4 teaspoon ground ginger
1/4 teaspoon ground cardamom
Pinch fine sea salt
8 slices soft gluten-free bread (I used this)
2 large free-range eggs
125ml (1/2 cup) coconut milk (choose one without additives)
125ml (1/2 cup) almond milk
1 teaspoon vanilla extract
Virgin coconut or olive oil, to cook
Preheat oven to 180C (350F). Slice rhubarb into 2cm lengths and place into a bowl, scatter with sugar. Finely grate the zest of the orange and set aside to use in the dukkah. Juice orange and stir through rhubarb. Transfer rhubarb to a lipped oven tray, along with all the juice/sugar remaining in the bowl. Roast 12-15 minutes or until tender but not too mushy. Remove and set aside to cool slightly.
Meanwhile, roast hazelnuts and almonds on an oven tray 8-10 minutes, shaking occasionally until lightly toasted. Rub skins off the hazelnuts and set aside to cool a little before placing into a small food processor.
Lightly toast sesame seeds, coconut, coriander and fennel seeds in a dry frying pan over medium-high heat until lightly toasted. Remove from the heat, cool for a few minutes before adding to the food processor along with all the ground spices and salt. Pulse until finely ground, then stir through reserved orange zest.
In a wide, flat bowl whisk eggs with coconut and almond milk and vanilla. Soak a few slices of bread at a time in the egg mixture. Allowing it to sit in the mixture for a minute or two to really soak it all up.
Heat a large frying pan over medium-high heat, add a little oil, cook French toast for a few minutes either side until puffed and golden. Repeat with remaining bread/egg mixture. Serve hot, topped with a little rhubarb and a generous scattering of dukkah. Any leftover rhubarb will store in a container in the fridge for 4-5 days. Leftover dukkah will store airtight in the pantry for a few weeks, or in the fridge for longer.