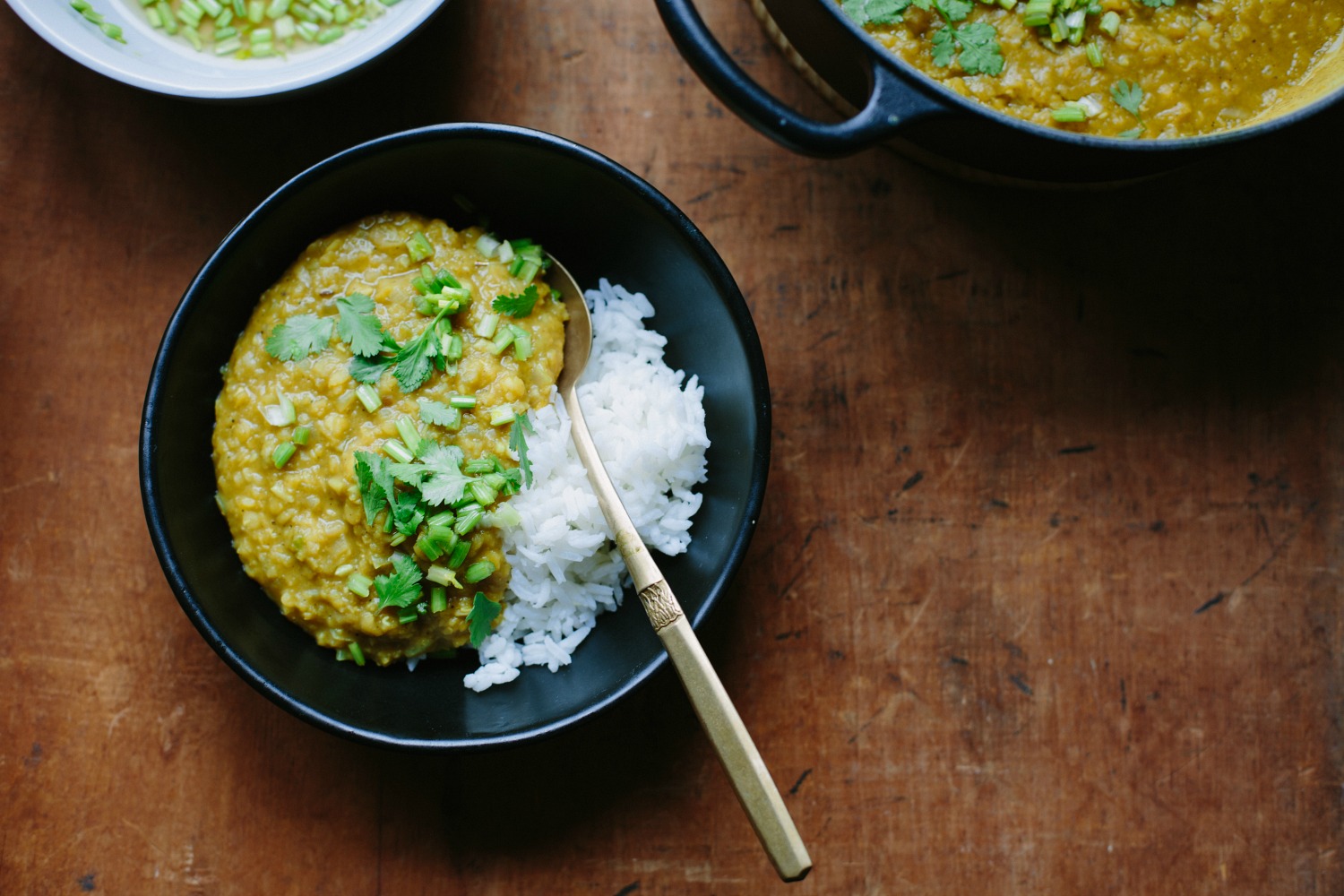 It's no secret that I love spices. I've written about them numerous times before and use them in my cooking every day. Even just a teaspoon or two can elevate a dish from ok, to amazing. Dhal is one of those dishes. With just a handful of simple ingredients and a few different spices you can make one of the most comforting dishes out. It's also super quick to make, budget-friendly and can be adjusted to suit your tastes. This recipe is based on my long-time favourite dhal recipe that I share in my first cookbook My Darling Lemon Thyme, sometimes I add a finely chopped tomato to the mix, other times a handful of curry leaves. Finely diced pumpkin or kumara can add a bit more bulk and if you're like me and always have coriander (cilantro) stalks hanging about after using the leaves for another dish, these quick-pickled coriander stalks add a little something-something to brighten things up, all the while using up something that so many people just chuck.  No waste, big flavour, win-win. (Another thing I often do with the stems and roots, is freeze them for later use in curry pastes and stir-fries).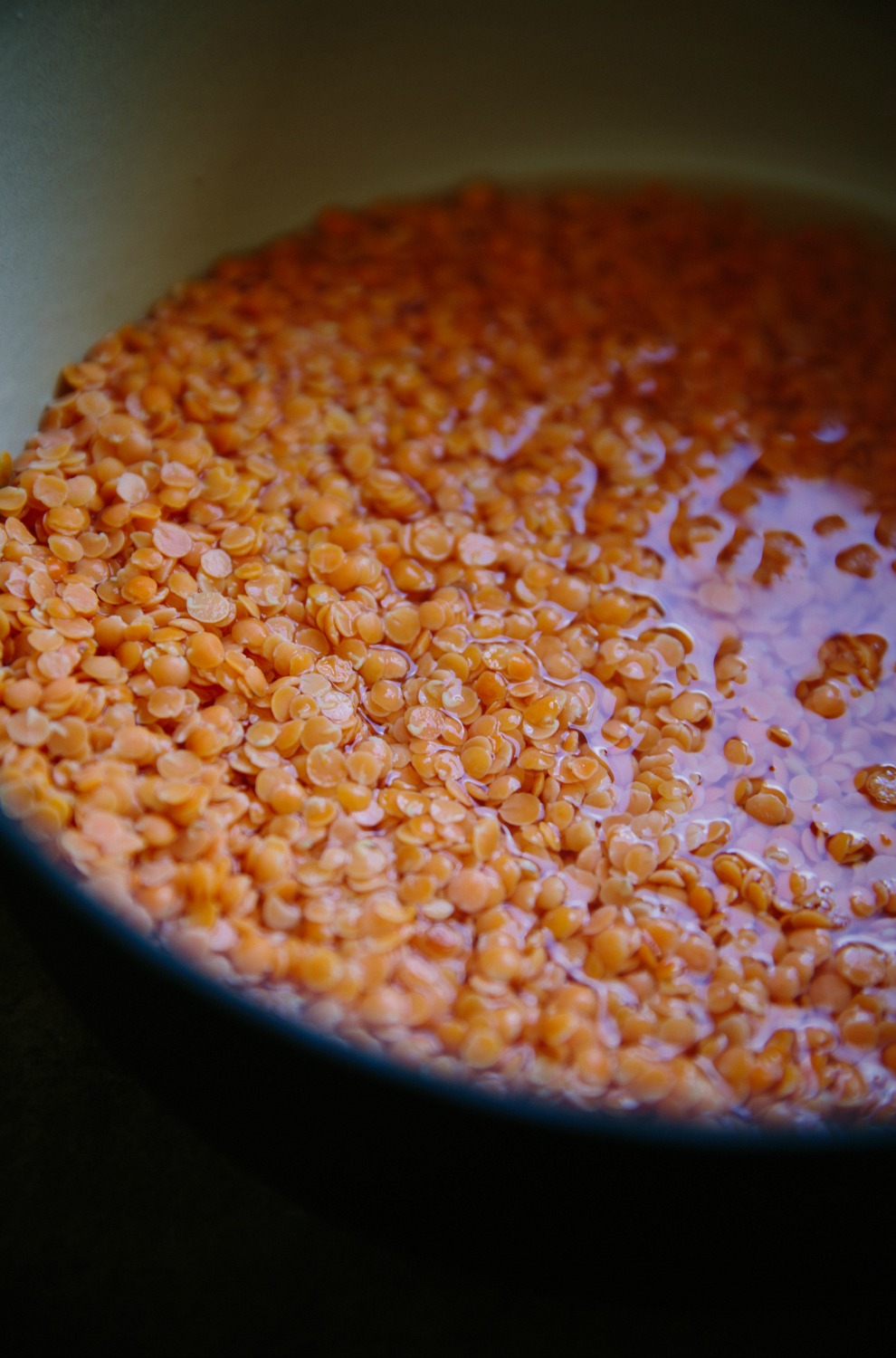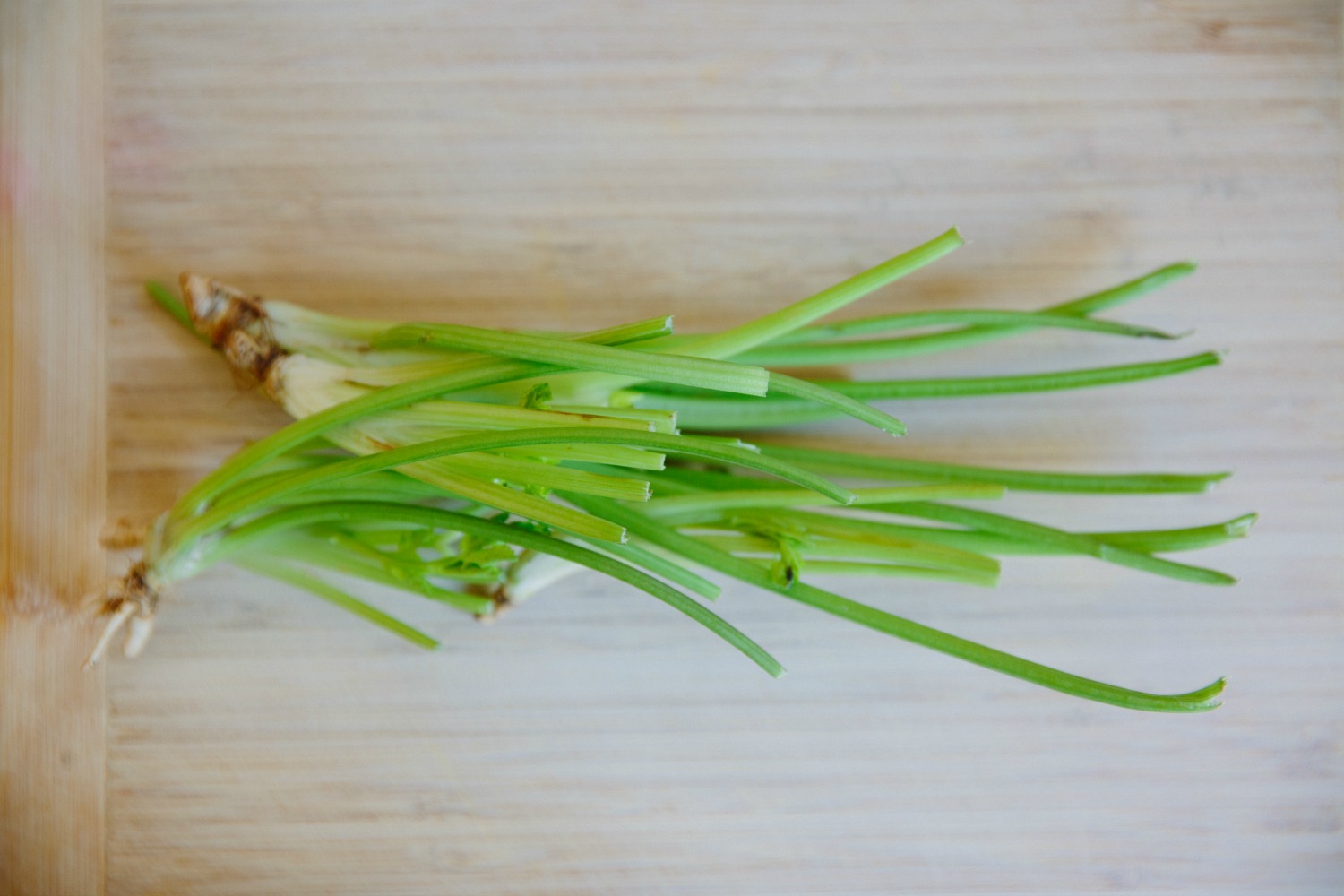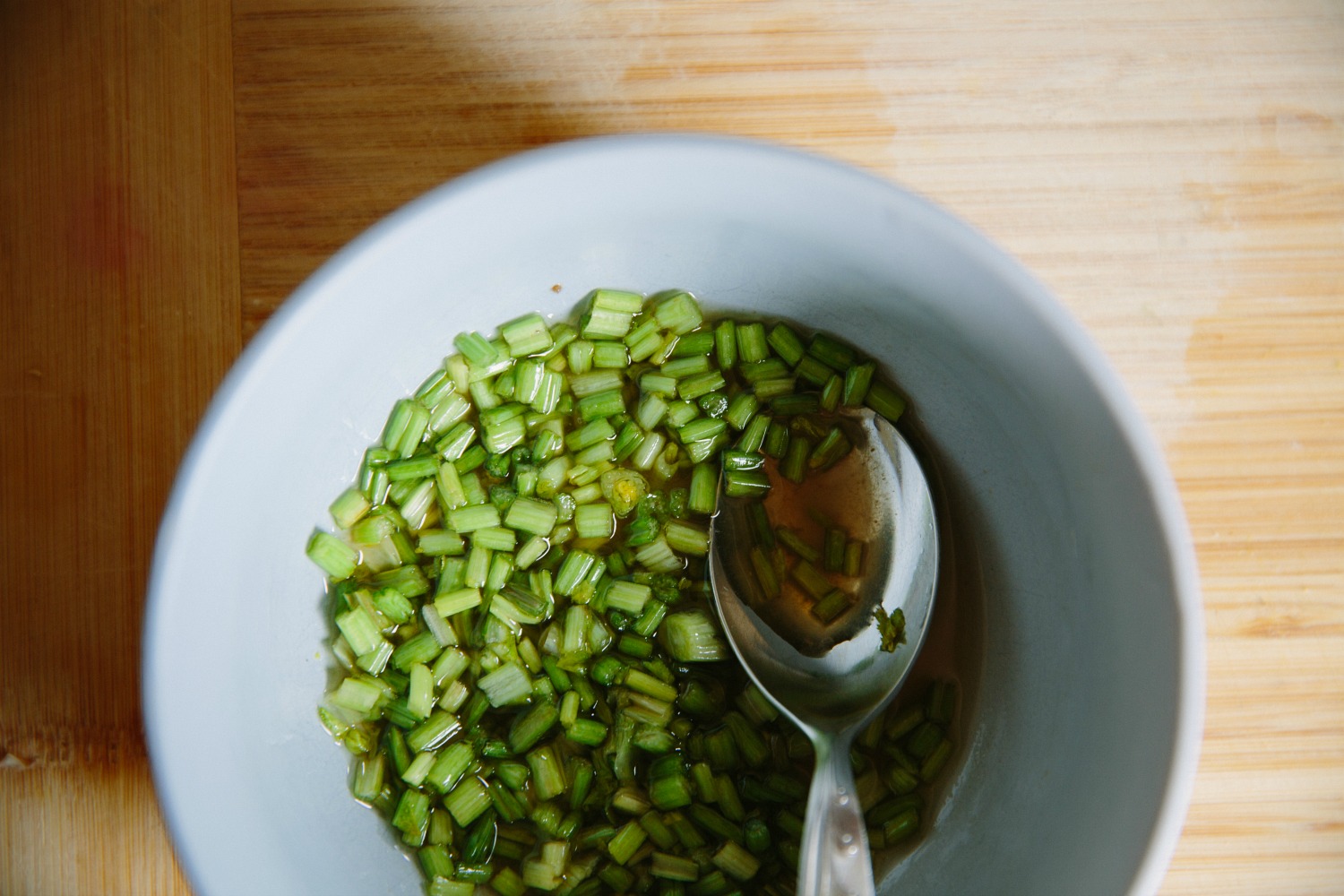 Things have finally started to warm up ever-so-slightly around here, the blossoms are emerging along with the daffodils. But if you're anything like me you're still craving nourishing, warming foods.
Here's a few more recipes you might like to also try at this time of the year:
-Curried carrot + red lentil soup with mung beans + feta 
-Black bean tacos with kiwifruit salsa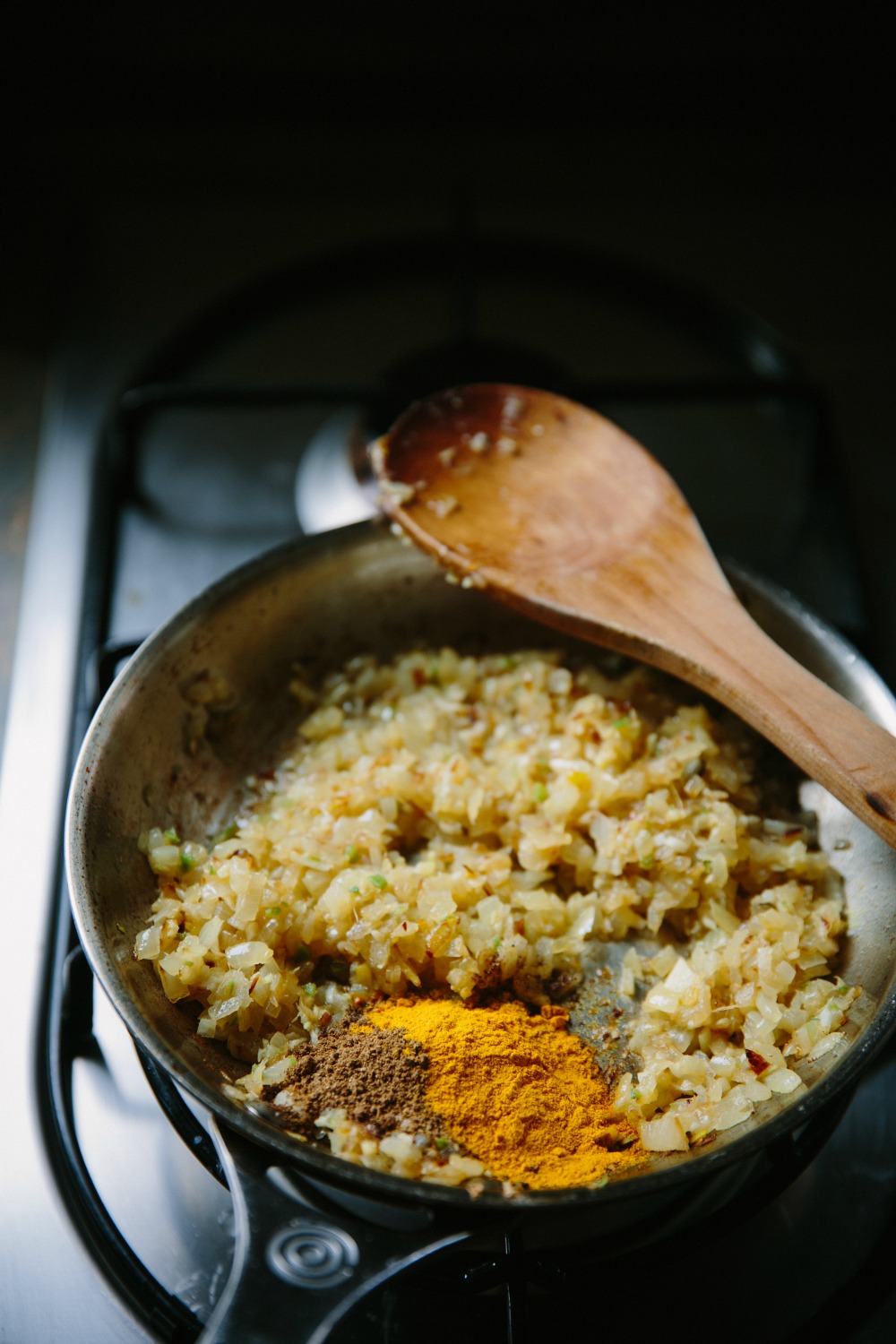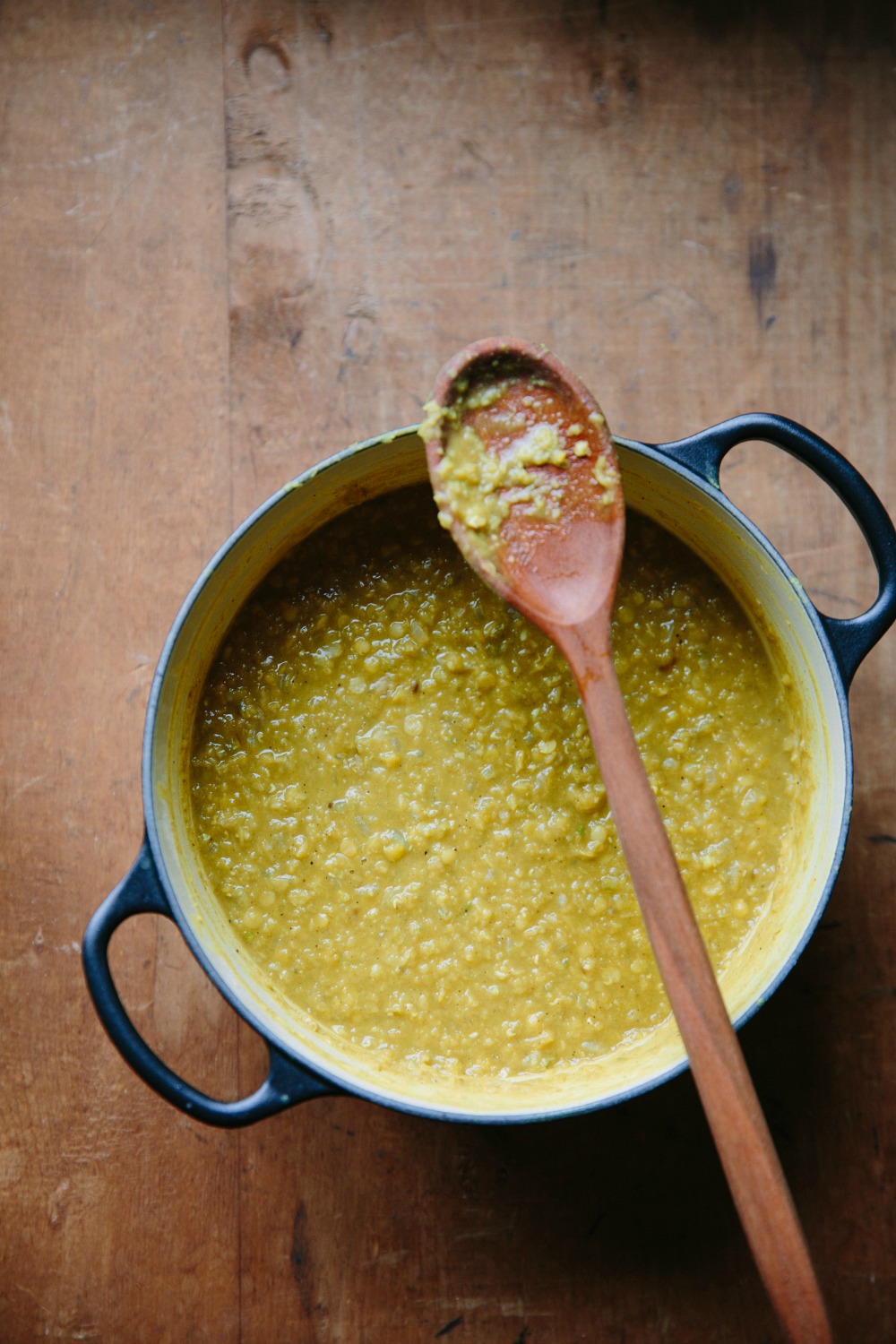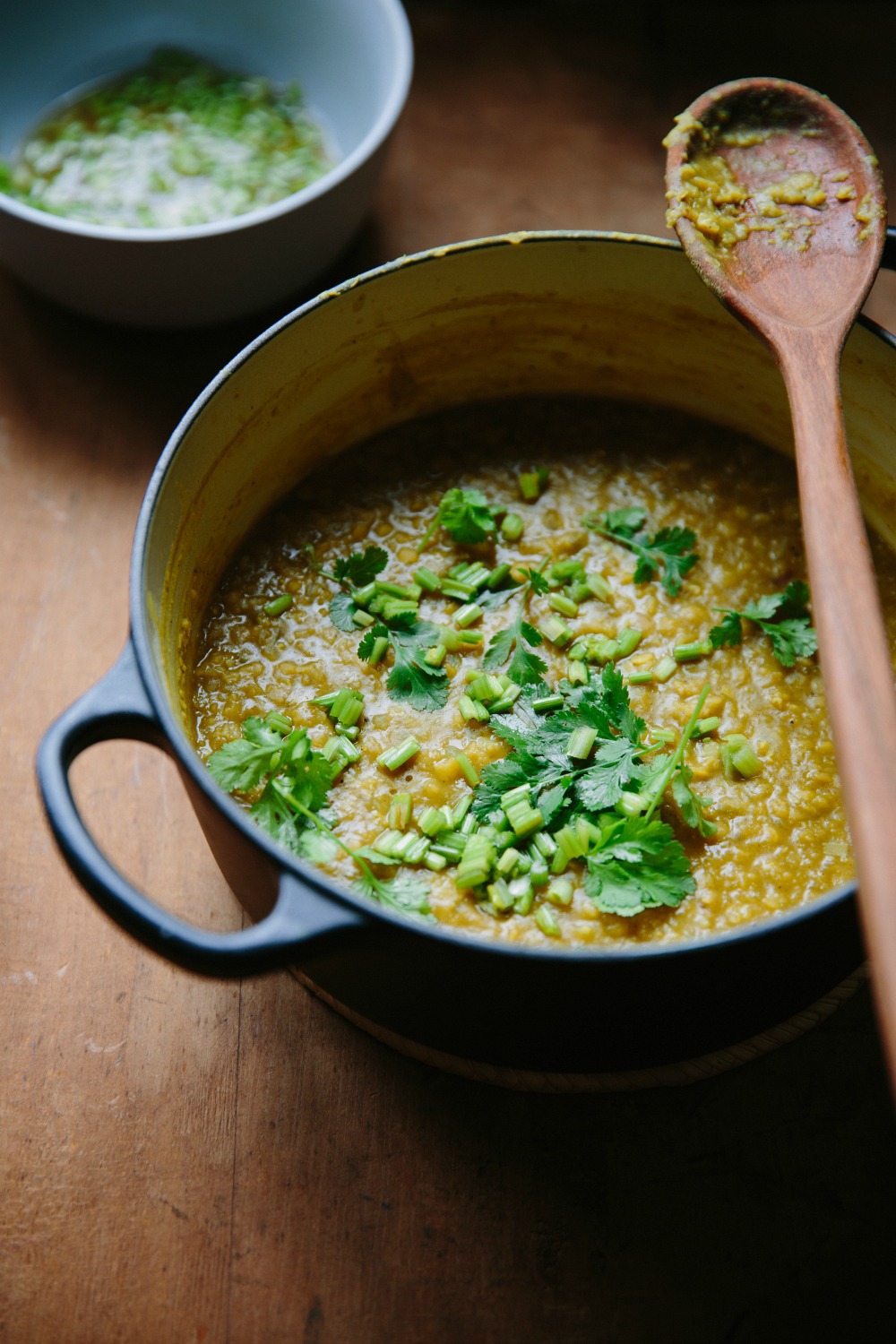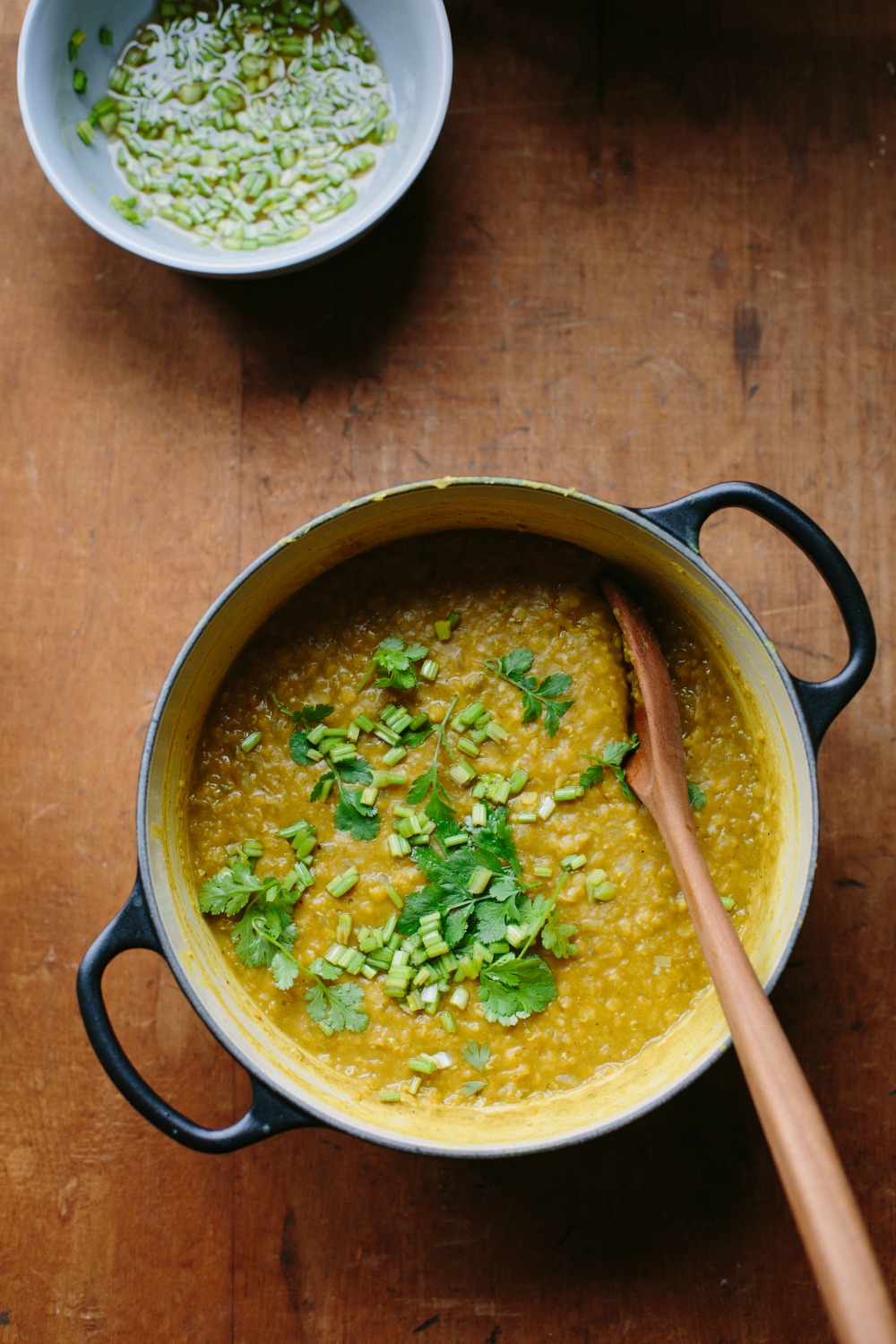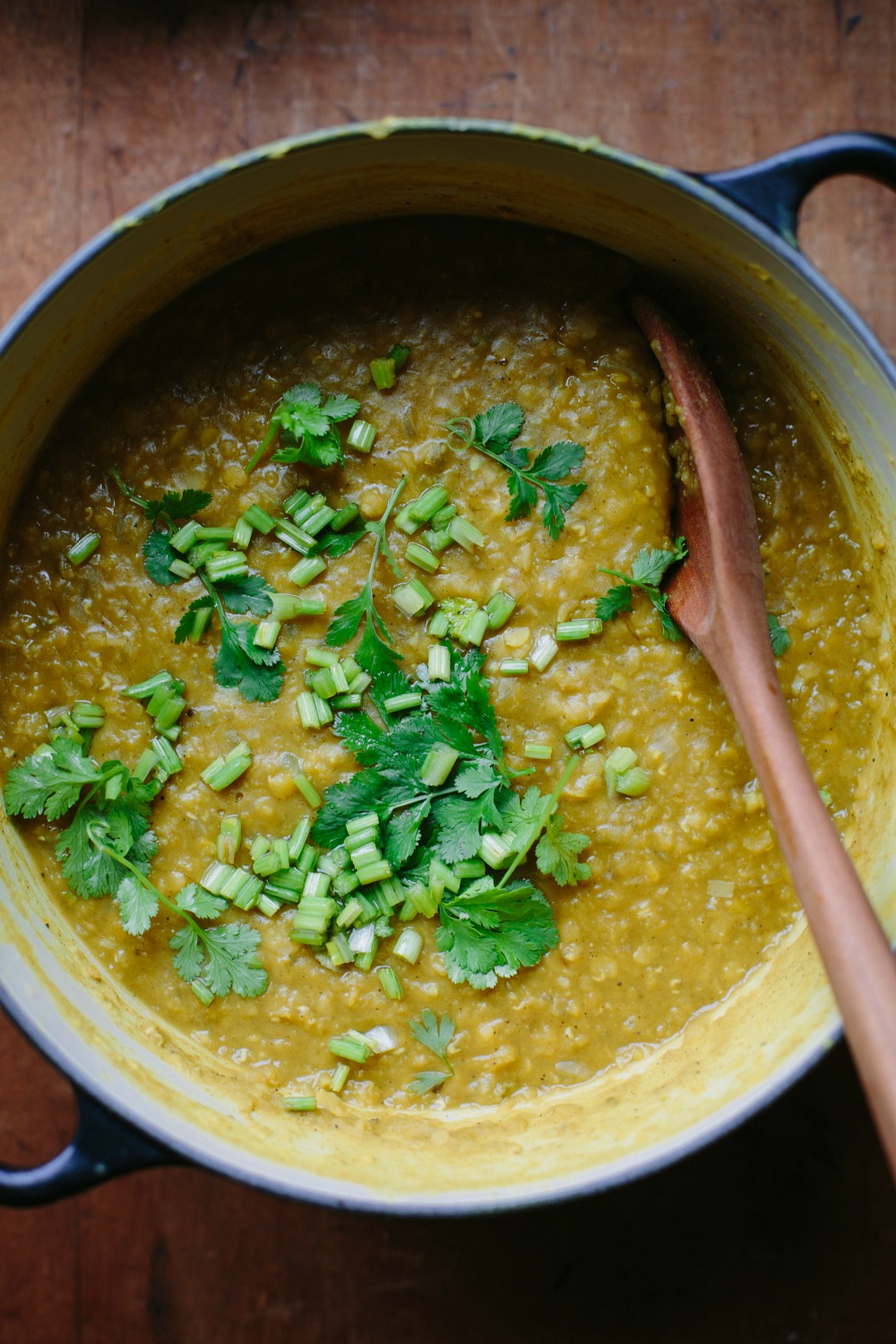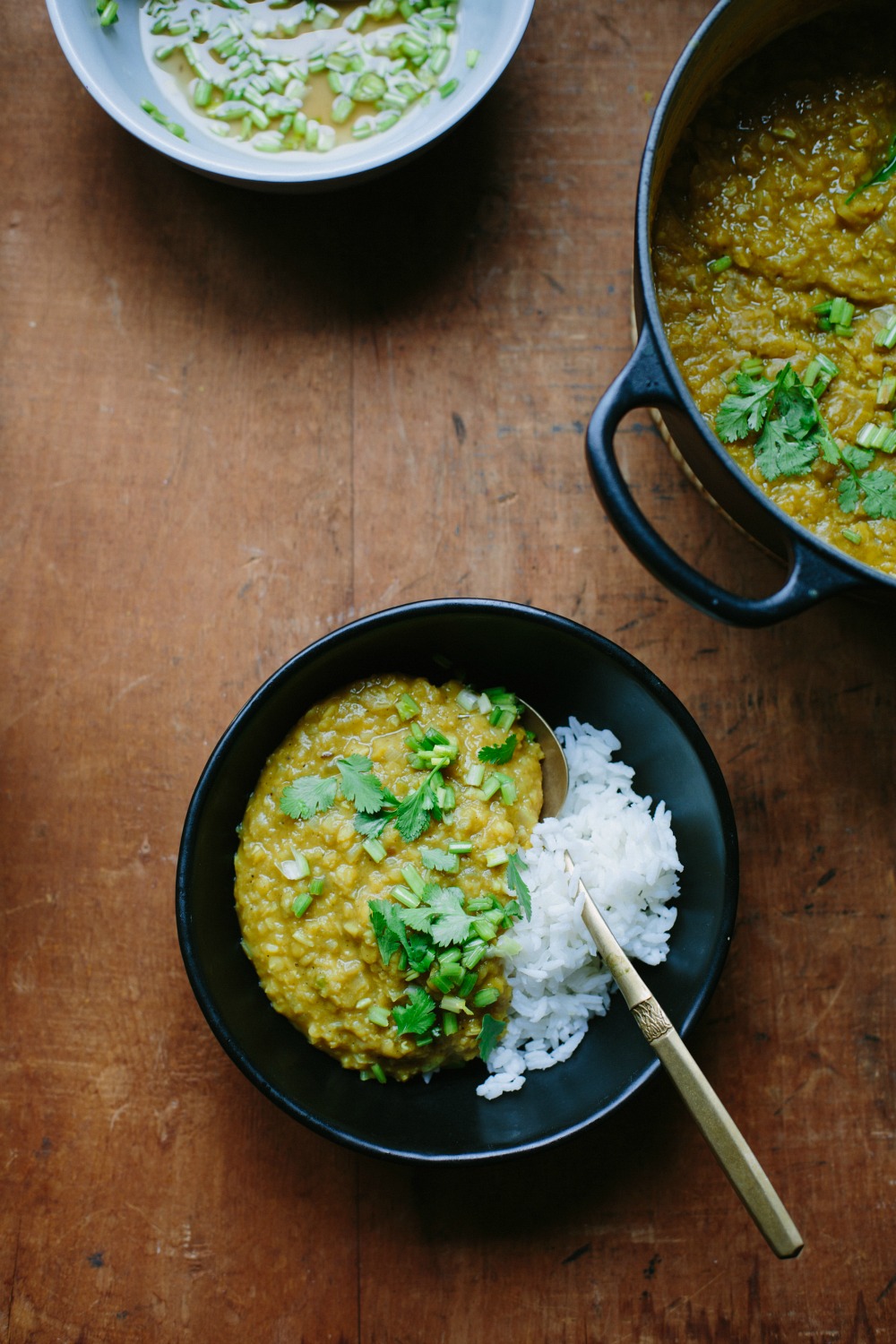 Red lentil dhal with pickled coriander (cilantro) stalks
I've used red lentils here, but a mixture of red lentils, moong dhal and chana dhal is lovely too. This is a great dish to prep in bulk and freeze for quick mid-week dinners
Serves 4 with rice
1 cup (180g) red lentils, rinsed
2 tablespoons ghee or virgin coconut oil
1 large onion, finely diced
2 cloves garlic, finely chopped
1 tablespoon finely grated ginger
1 long green chilli, finely chopped
1 teaspoon ground cumin
1 teaspoon ground turmeric
1 teaspoon garam masala
1 teaspoon fine sea salt
the juice of 1/2 small lemon
Cooked basmati rice and coriander leaves, to serve
Pickled coriander (cilantro) stalks
The stalks from 1 bunch coriander (cilantro), finely chopped
2 tablespoons apple cider vinegar or freshly squeezed lemon juice
1 1/2 teaspoons honey or unrefined raw sugar
1/4 teaspoon fine sea salt
Place red lentils and 4 cups (1 litre) cold water into a saucepan. Bring to the boil, then reduce heat and simmer for 20-25 minutes until lentils are soft and have collapsed. Skim off any foam that rises to the surface during cooking.
Meanwhile, to make the pickled coriander stalks, place chopped stalks into a small bowl. Bring the vinegar/lemon juice, honey/sugar and salt to the boil in a small saucepan. Remove from the heat and pour over the stalks. Give it all a good mix and set aside, stirring every now and then when you remember to.
Heat ghee or coconut oil in a small saucepan over medium-high heat, add onion and cook, stirring often, for 8-10 minutes until very tender and golden brown. Add garlic, ginger and chilli and cook for a further minute or two. Stir in cumin, turmeric, garam masala and salt and cook for 1 minute or until fragrant. Add spice mix to lentils and simmer for 10 minutes, adding more water if necessary to thin, or cooking for longer to thicken. Add lemon juice and stir through. Serve with basmati rice, fresh coriander leaves and (drained) pickled coriander stalks.
Adapted from my red lentil dhal recipe published in my first cookbook, My Darling Lemon Thyme (Harper Collins, 2014). You can still find copies of my first book in some book stores and online. If you'd like to purchase a signed copy direct from me, I finally have some new stock in my online store here (copies of my latest cookbook are currently being re-printed and will hopefully be back in stock again soon, however copies of that are still available elsewhere online and in-stores).