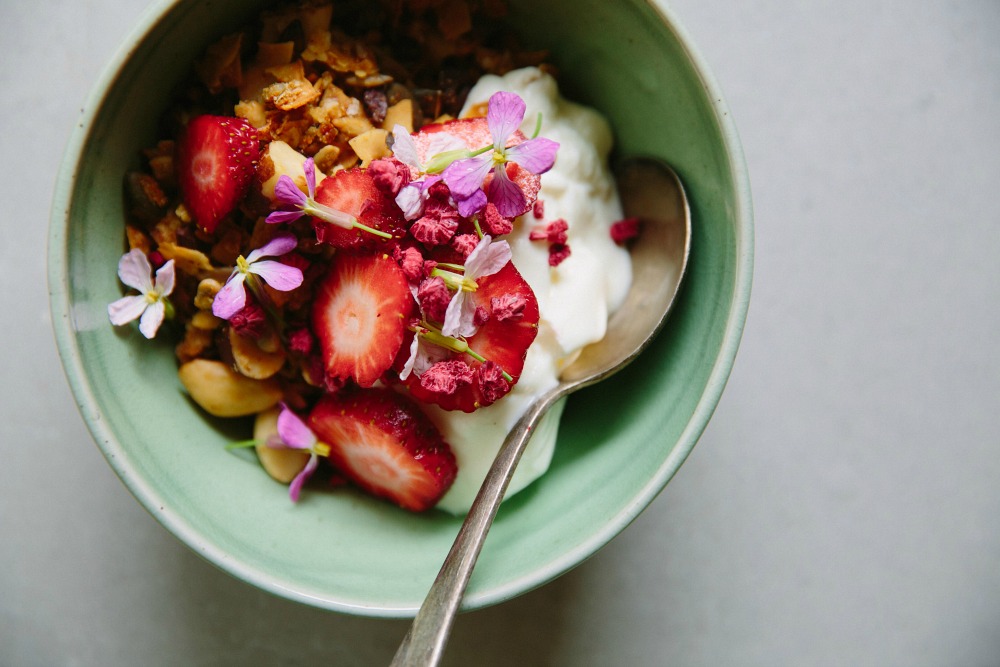 I have a major cookbook addiction, but you all know that already aye? At one point a few years back, I couldn't leave the house without returning a cookbook or two heavier. While the addiction is somewhat under control at the moment (ahem, cough, cough), I have totally lost count of how many I own. The strange thing is though, I can count on one hand the amount of those cookbooks I actually cook from. That's ok, as a food writer and recipe developer I tend to use other's cookbooks more as inspiration and as a reference for ingredients and techniques. In step my latest food reference book, or should I say, bible. River Cottage A to Z contains a whopping 300+ recipes and weighs a little over 2.5kg! I'm a huge fan of Hugh Fearnley-Whittingstall and the work that he does to promote healthy change in people's diets and lives. He's somewhat of an inspiration to me and my work and this latest offering from him and the team at River Cottage, is mammoth. In both size and information.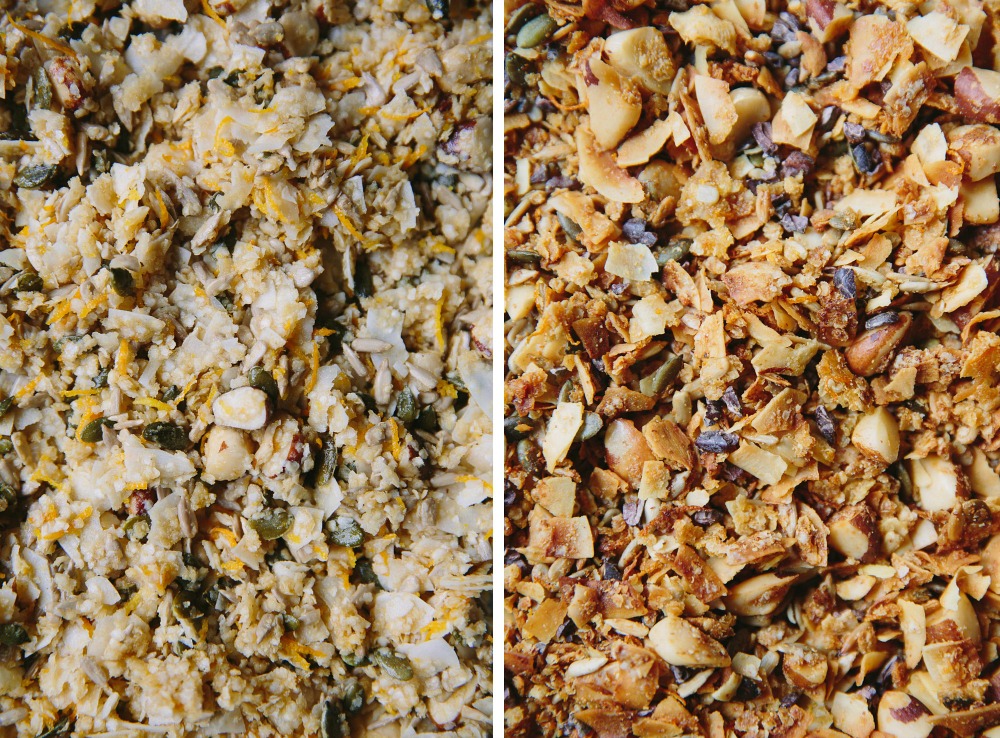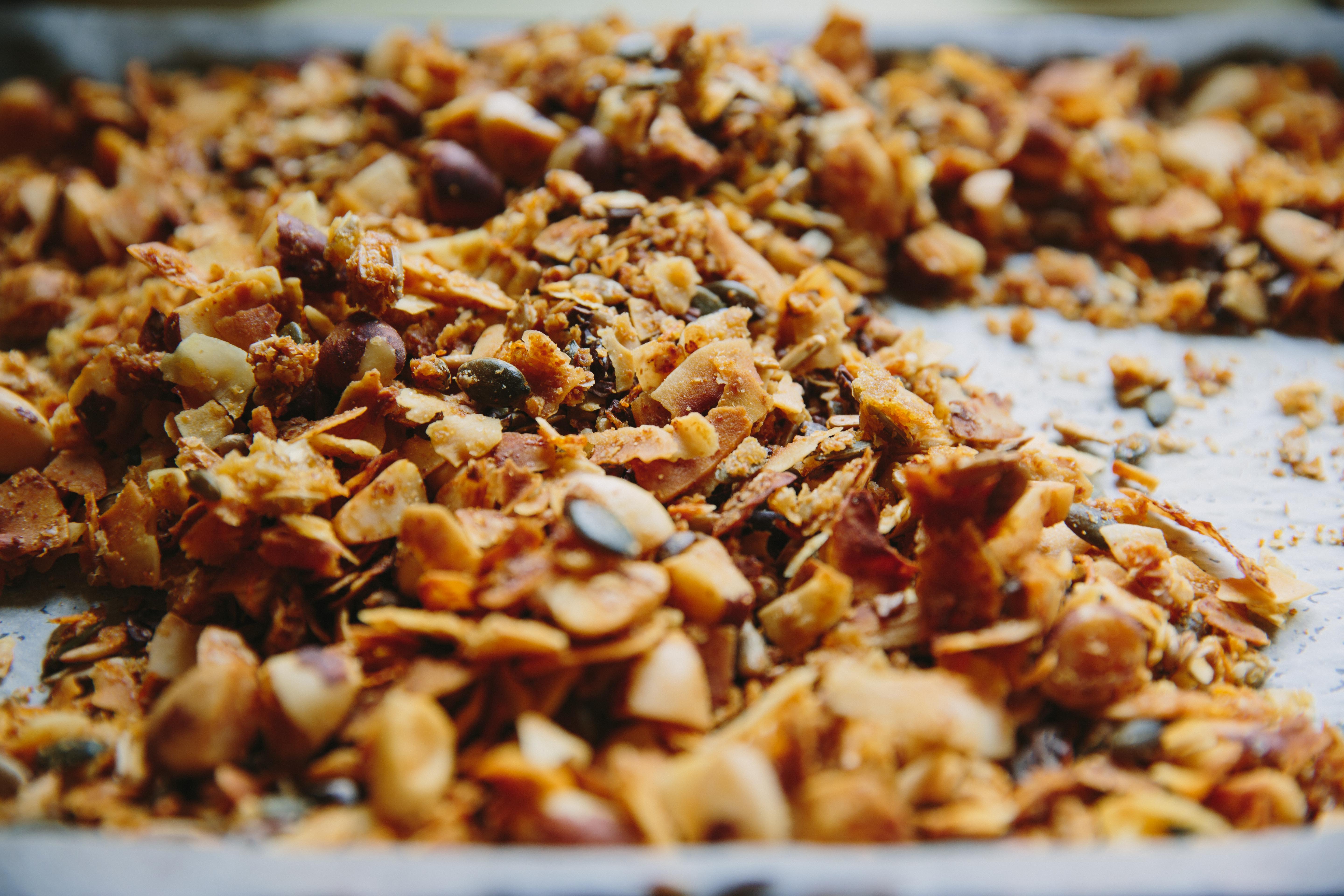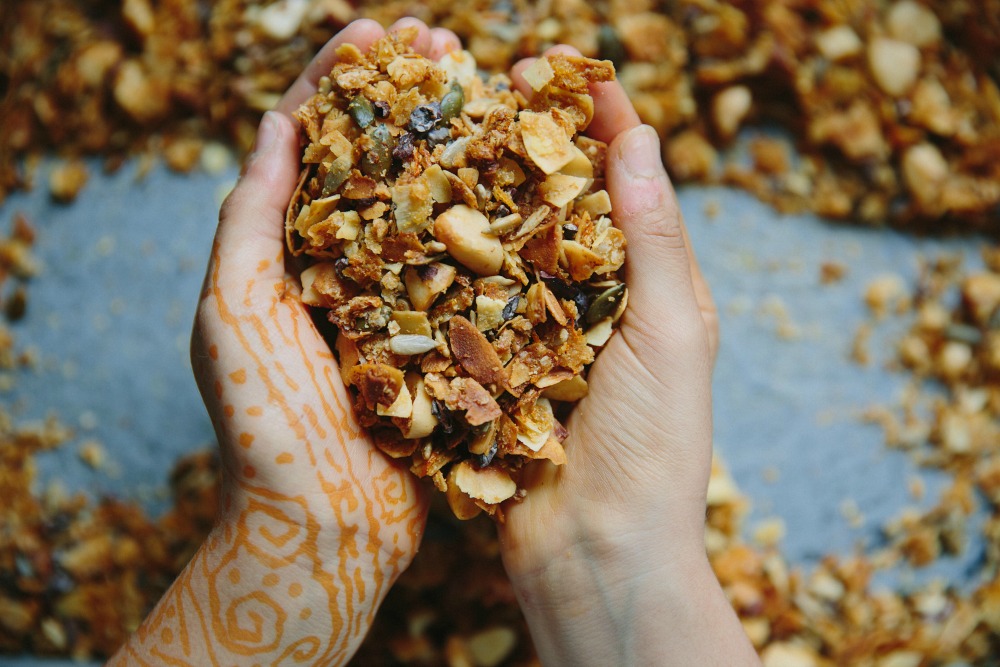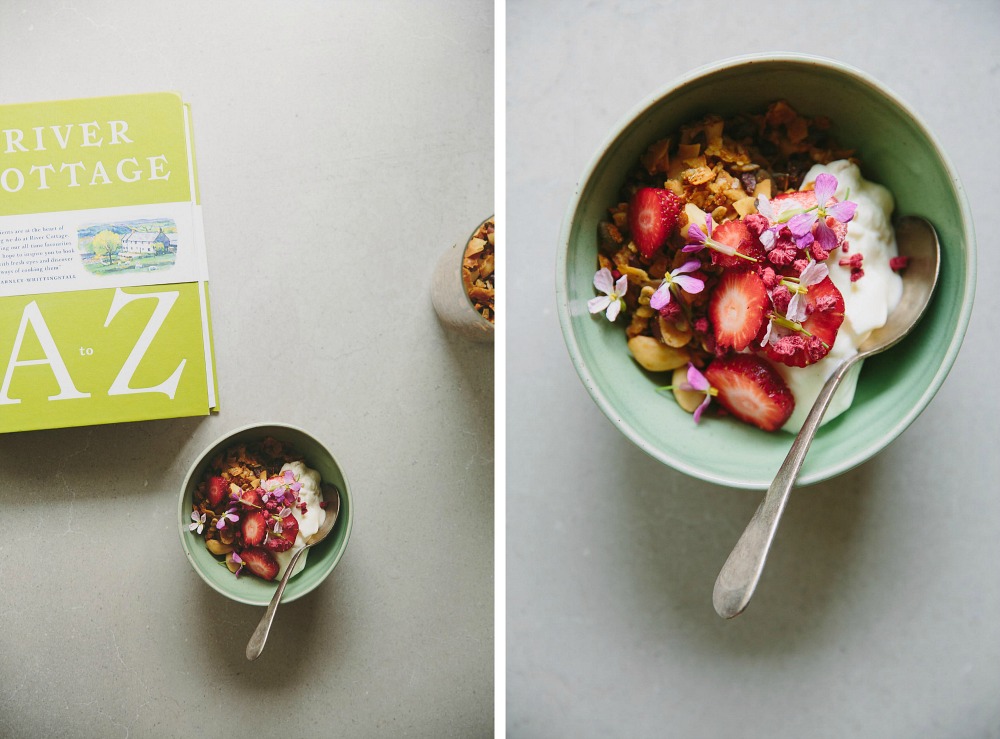 Set out by ingredients from A to Z, this book covers a variety of everyday and specialty ingredients, giving you the low down on each and then ending with a recipe highlighting each ingredient. Sure, a few of the ingredients I've never heard of before (cobnuts? hawthorn? cardoons?) which you'd be hard pressed to come across them here in NZ/Australia, but for the most part they really are just everyday ingredients, fennel, leeks, eggs, almonds etc, given a little love and long overdue attention.
There's a ton of vegetarian recipes and many gluten-free ones too, I love that about Hugh's latest books. While he doesn't shout it from the roof tops (I like to think, neither do I), his food definitely leans more towards healthy, whole and natural (often allergy-friendly as well). Flicking through this tome, I love the sound of his Raw Asparagus and Radish Salad (totally something I'd make), the Barley and Raw Mushroom Salad sounds gorgeous if you're ok with barley and his Cherry, Thyme and Marzipan Muffins have my name written all over them. It was however, the Brazil Nut, Cacao + Orange Granola which had me running to the kitchen. With just a handful of ingredients (ones I usually have at home) this granola is spiked with orange zest, bitter cacao nibs and generous buttery chunks of Brazil nuts, it's a total winner. Just sadly not one I can indulge in just yet (still eating our super rigid diet!), but Ada's pretty happy about that. More for her!
The original recipe in the book (by Nikki Duffy) calls for oats and rapeseed oil, but as we don't eat either of these ingredients, I've put my own little gluten-free spin and use coconut flakes, quinoa flakes and extra virgin olive oil instead. See 'Emma's notes' below for my changes.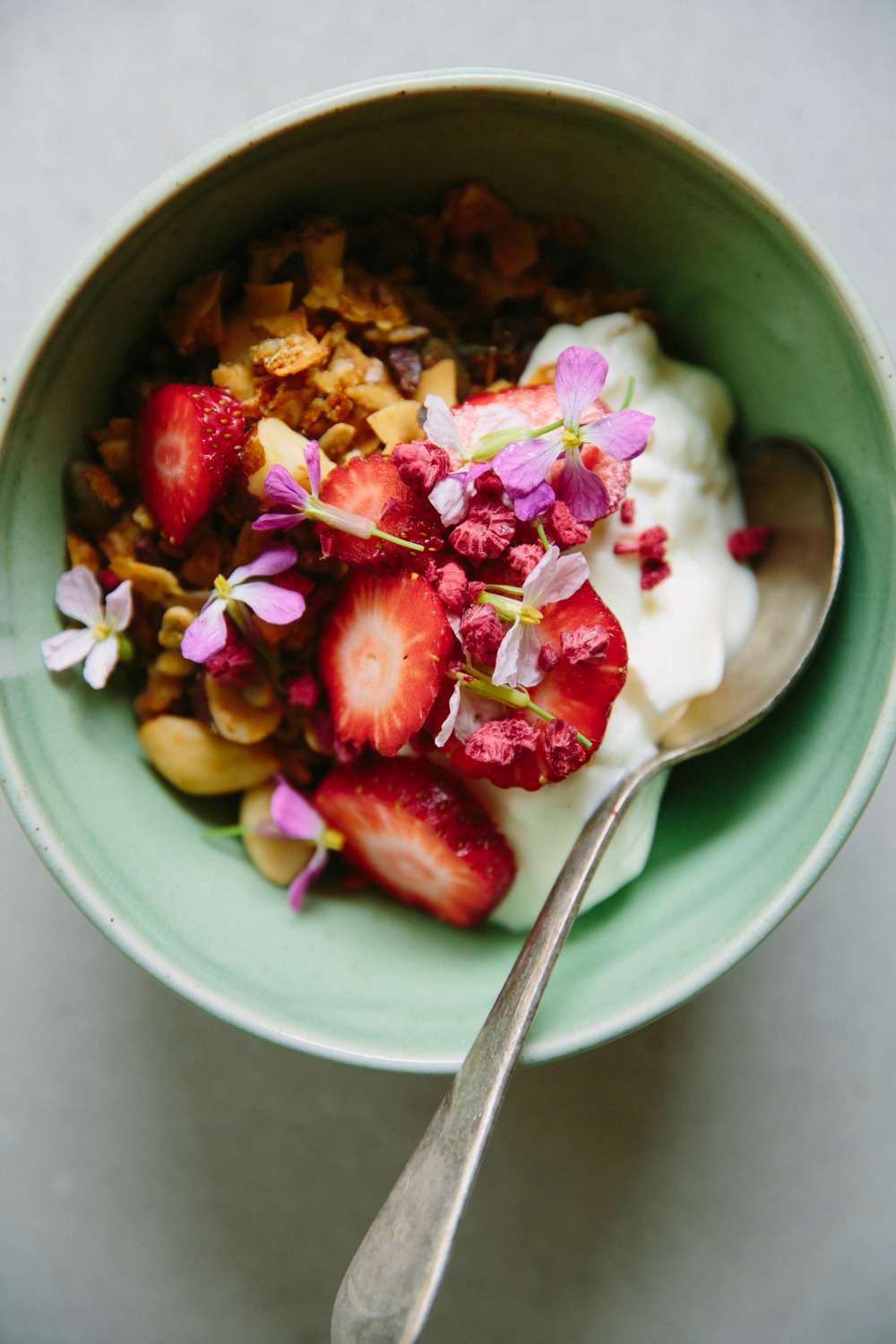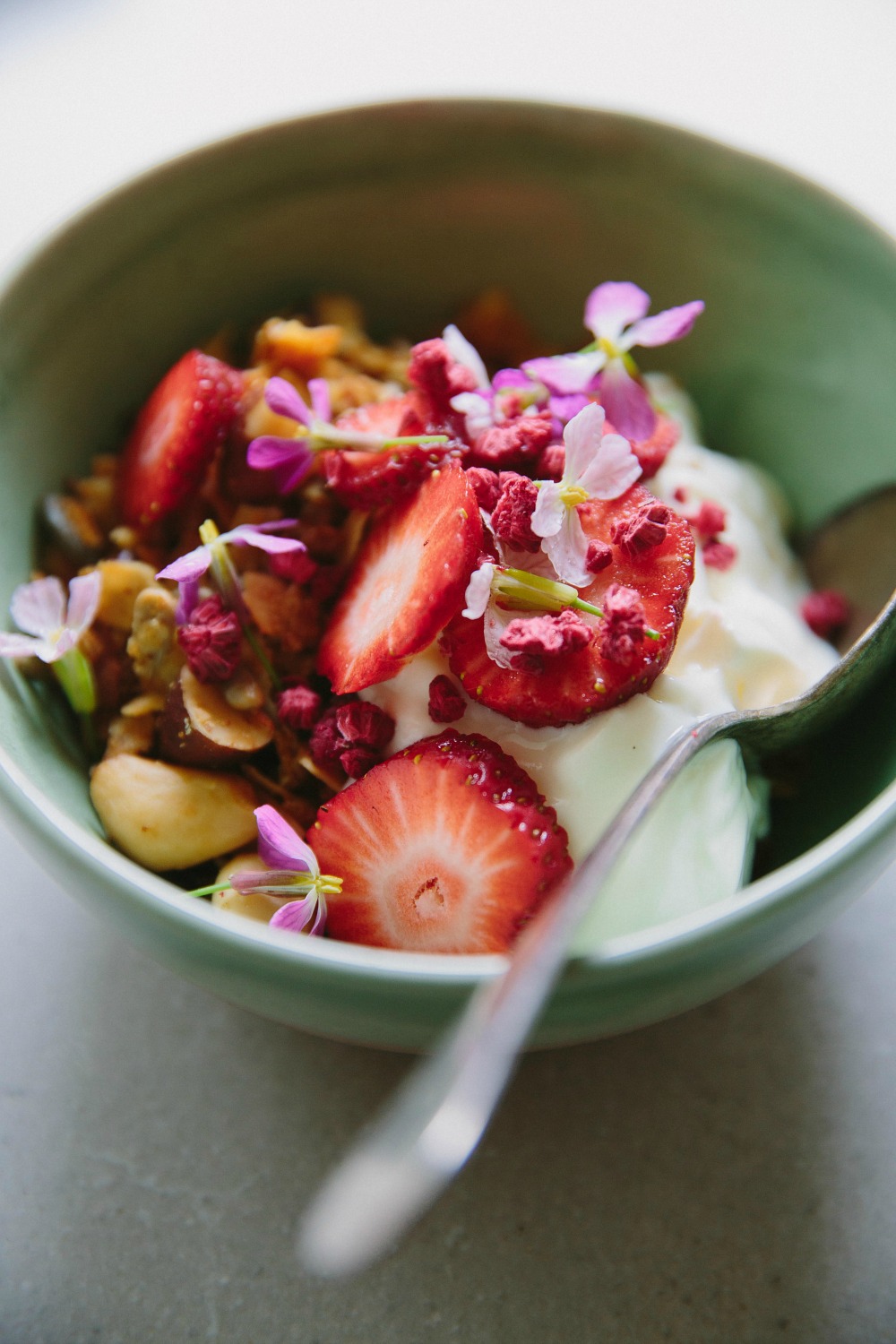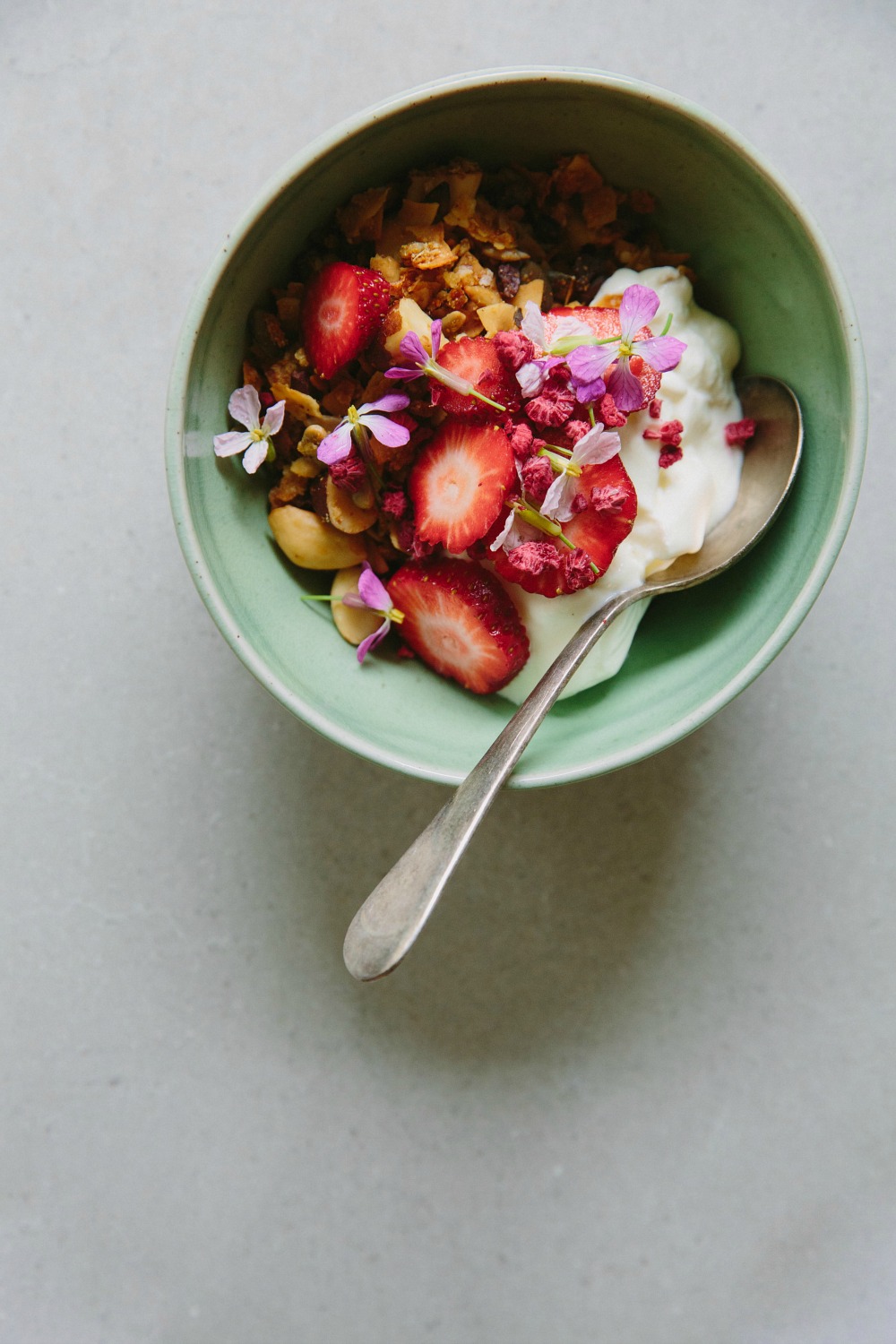 Brazil nut, cacao + orange granola
The recipe written below it's presented in River Cottage A to Z. As we don't eat oats or rapeseed oil I've offered my substitutes below, see Emma's notes. There you'll also find the quantities in cup measurements, for those of you who like the ease of using cups. If Brazil nuts are out of your price range, sub in any other nut of your choice. Walnuts would be nice/cheaper option. If you like things a little sweeter, you can stir through a handful or two of dried fruit once the granola is cool. For a vegan option, use pure maple syrup or brown rice syrup in place of the honey and serve with nut milk and/or coconut yoghurt.
Makes about 8 servings
350g porridge oats
150g (1 cup) whole Brazil nuts, each chopped into 2 or 3 pieces
150g pumpkin seeds or sunflower seeds, or a mix
a pinch of salt
50ml extra virgin rapeseed oil
finely grated zest + juice 1 1/2 oranges
4 tablespoons honey
50g cacao nibs
Preheat oven to 150C (300F) and line a couple of shallow baking trays with baking parchment (paper).
Put the oats, nuts, seeds and salt in a large bowl and mix thoroughly. Pour on the oil and mix it in, getting it evenly distributed.
Mix together the orange zest, orange juice and honey until combined, then pour over the oats. Mix thoroughly - you might find it easiest to do this with your hands.
Spread the mixture out in the baking trays. Bake for 45-50 minutes or until golden brown, giving the mix a good stir halfway through.
Leave the granola to cool completely and crisp up, then stir in the cacao nibs. Store in an airtight container. Serve for breakfast with a couple of good spoonfuls of plain wholemilk yoghurt, or milk if you prefer.
Emma's notes: 
Instead of the oats I used: 2 cups (100g) coconut flakes + 1 1/2 cups (150g) quinoa flakes. I used a mixture of pumpkin and sunflower seeds - 50g (1/3 cup) pumpkin seeds + 100g (3/4 cup) sunflower seeds. I used extra virgin olive oil in place of rapeseed oil. I used a local honey and gently warmed it in a saucepan with the orange juice until melted, to make mixing it through easier. 50g of cacao nibs is about 1/3 cup. You can omit these if preferred or for a decadent treat, sub in some finely chopped good quality dark chocolate! See the recipe head notes for vegan options. I served mine with homemade wholemilk yoghurt (recipe in my first cookbook), strawberries, freeze-dried raspberries and edible flowers.
Recipe reprinted with permission from River Cottage A to Z (Bloomsbury 2016).
.