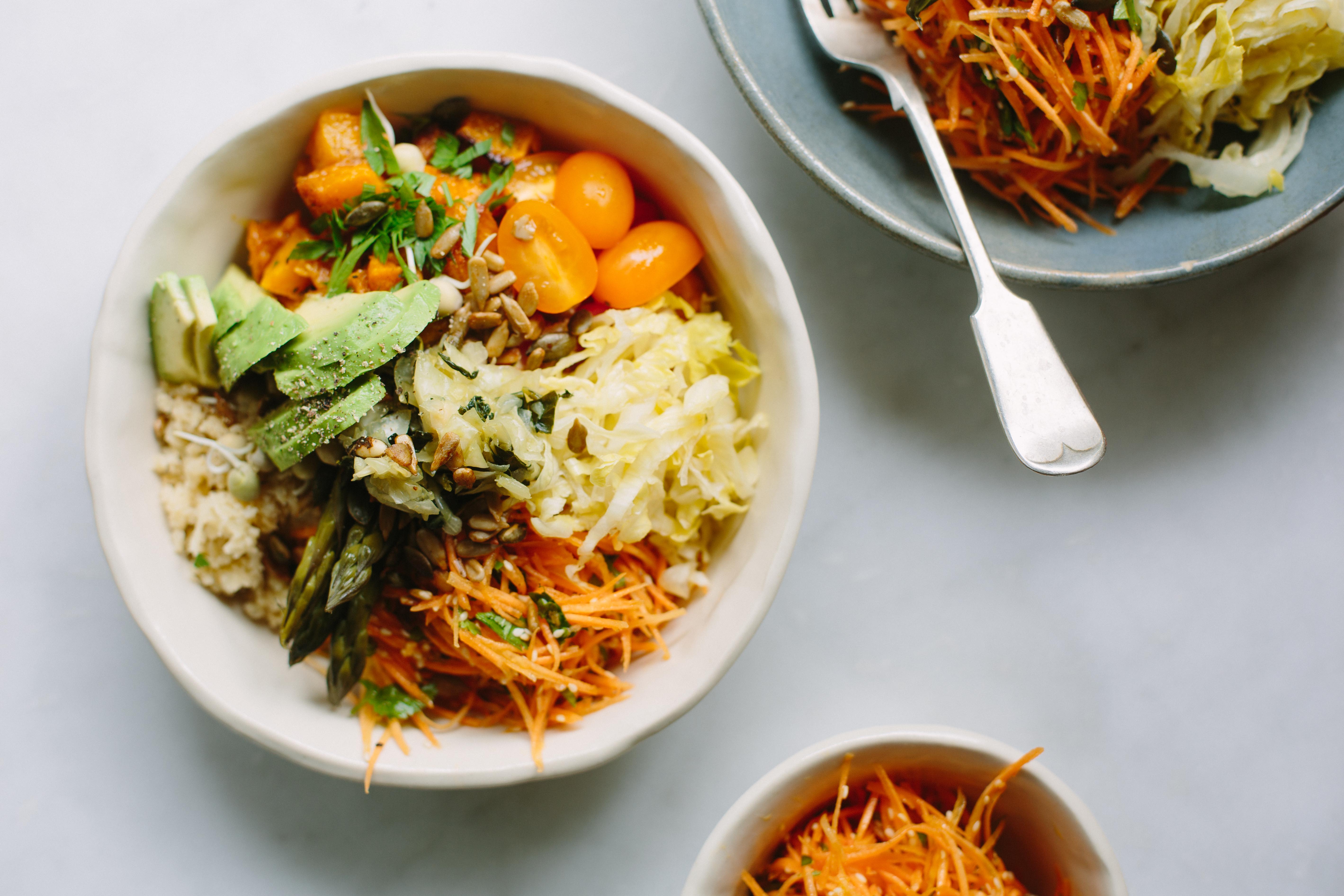 Versions of this salad bowl have been on high rotation around our house of late. Due to health problems I may or may not one day talk about on here, both my husband and I are eating a super rigid diet for the next little while. A diet without grains, dairy and any and every kind of sugar, natural or otherwise. I miss chocolate.
For me the diet changes haven't been so huge, but for my wheat/dairy/sugar eating fruit-bat of a husband, the changes have been huge.  And I gotta say, he's been handling it like a trooper. There have been more 'man this is yum' than usual, which has really taken me by surprise! That said, he is getting off rather lightly, having an in-house personal chef at his beck and call. Oh to do an intensive cleanse and have someone else think about and prepare everything that you eat.
It's long been known that I love nothing more than a big flavour-packed salad for lunch. It's something I eat nearly everyday of the year, lighter in summer and heavier roasted veggie-style ones throughout the cooler months. Mostly I just mix everything together in one big bowl and dig in. Packing salads is a whole other beast. So in a bid to avoid soggy lettuce and herbs come lunchtime, I started making salad bowls and packing them into a glass food container, all ready for him to mix up come lunchtime. It all started on the first day of our cleanse. I knew he'd be missing his usual lunchtime food, so I put a bit more effort into my salad than I usually would, making one for him as well and presenting it in the oh-so-in-vogue Buddha bowl style. I figured, if it looked pretty and tasted great then the chances are, he'd love it right? He did. And has been looking forward to versions of this very bowl ever since!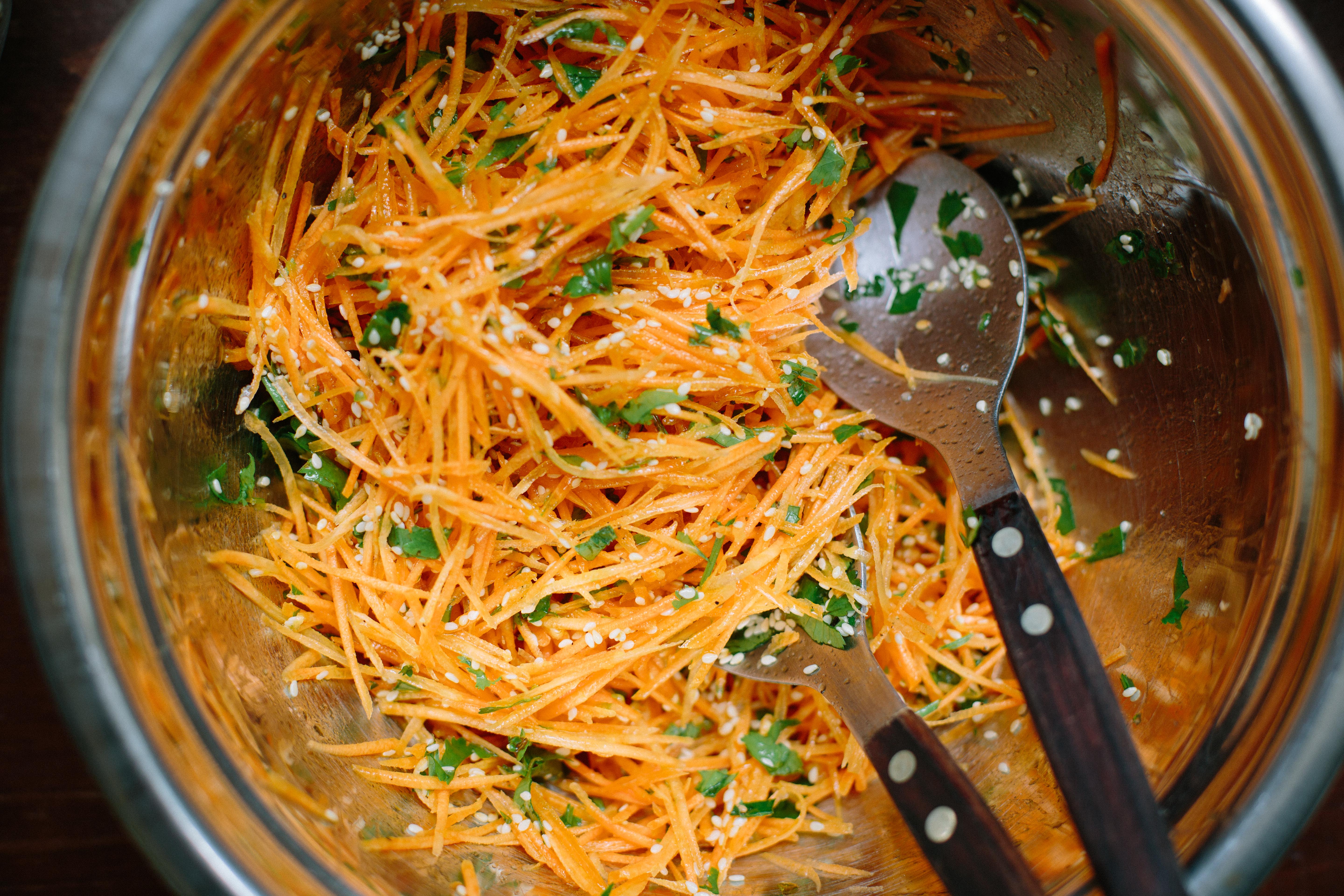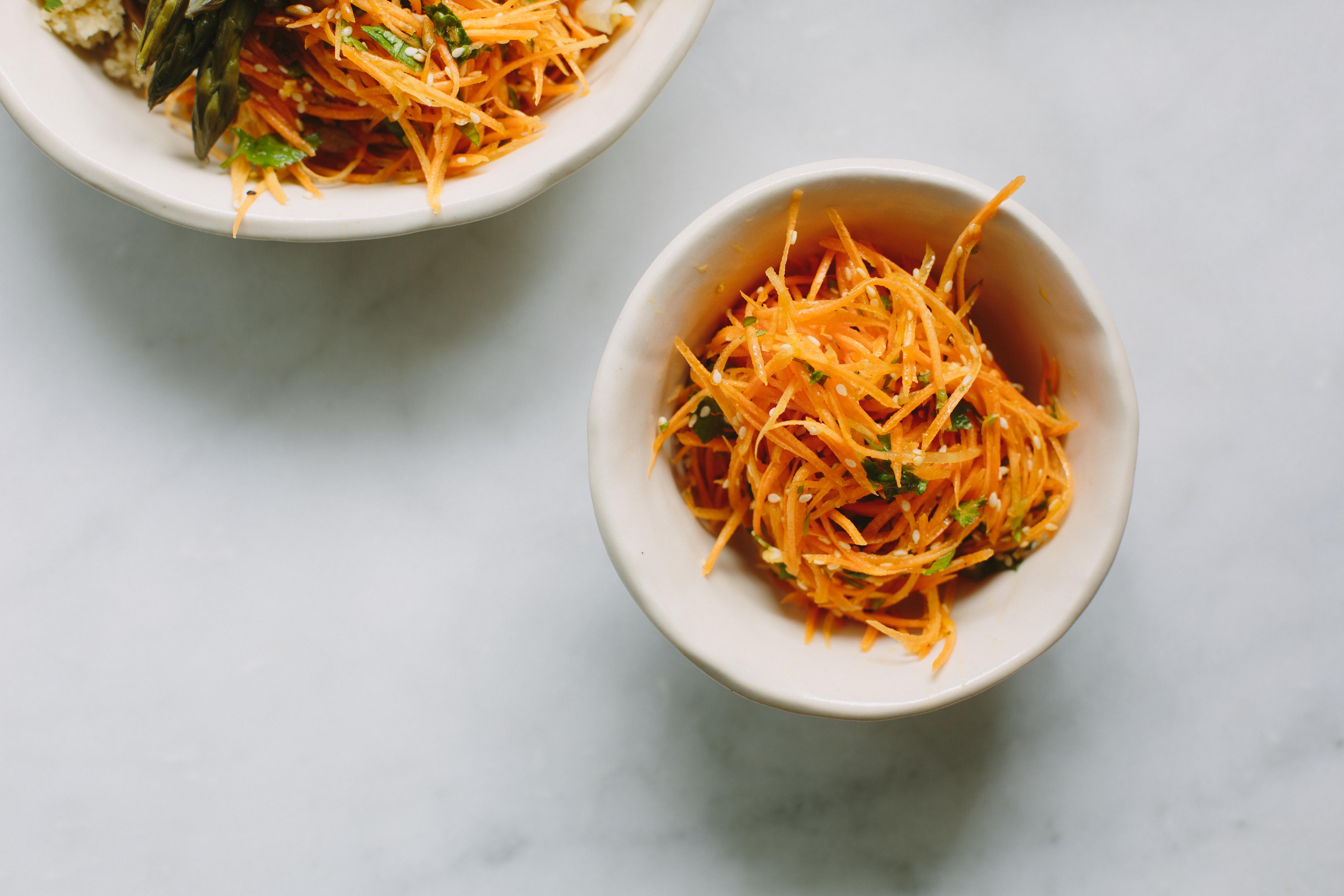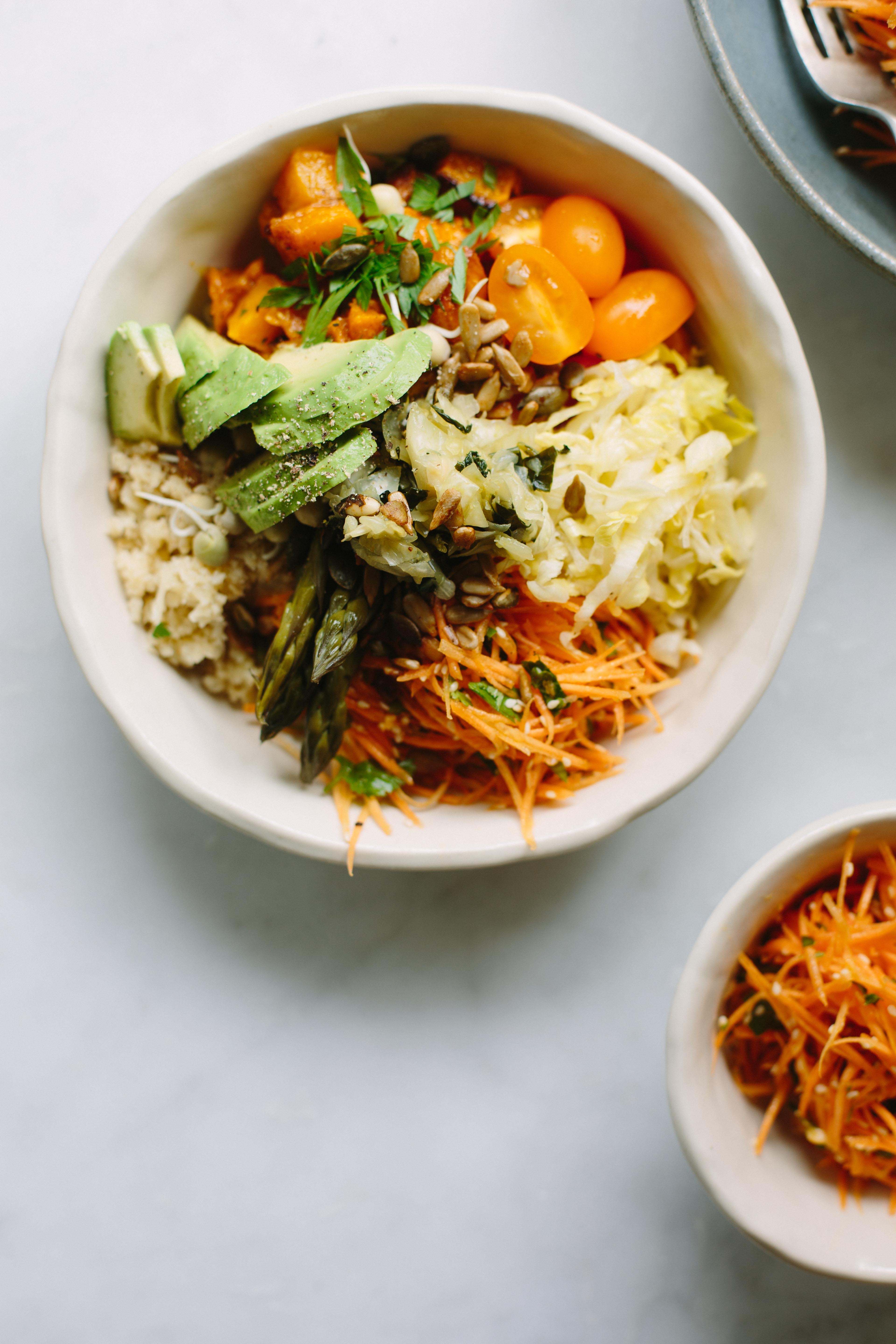 So I know you're thinking this looks like one hell of a lovely bowl of goodness, and it is yes. But really, all I really want to talk about today is the little shredded carrot number you see in there. It's the only thing that has stayed the same in the weeks since our cleanse started. It's so good, everything else seems insignificant in comparison. This one humble little carrot salad has the power to turn any manner of cold leftover into something truly special. Trust me. The husband said. The one day I'd run out of carrots he mentioned the salad hadn't been as good as it usually was. Huh. We now have a constant supply of carrots in the fridge at all times. We're obsessed. I think you will be too.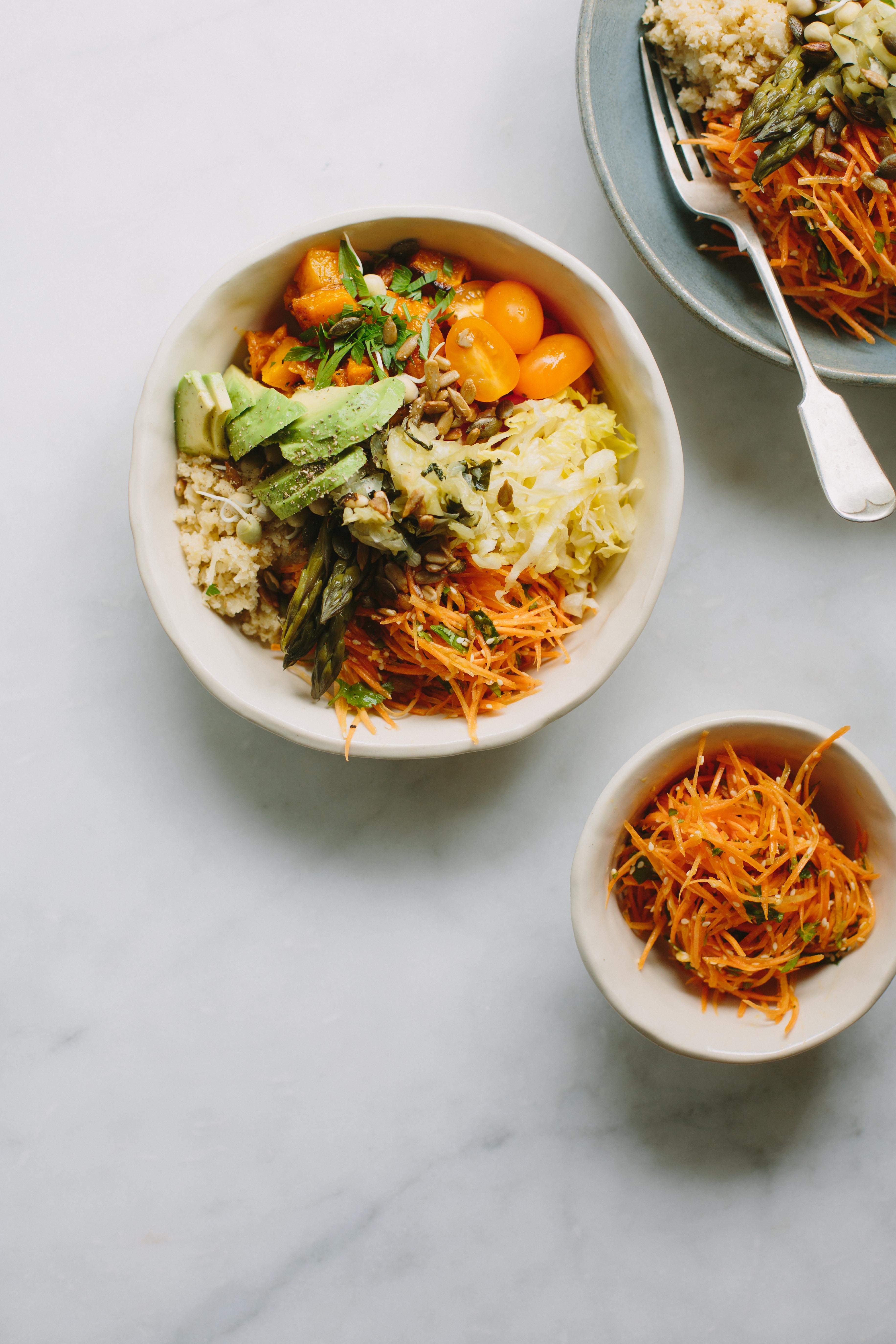 Spring salad bowls
There really are no hard and fast rules when it comes to salad bowls such as these. I tend to put my time an effort into getting a ton of flavour into one component of the salad and then add whatever else I have at hand, usually leftovers from dinner the night before. It varies everyday. (This was from last week, with homemade hummus on top and alfalfa sprouts). This carrot salad is also ah-mazing served by itself. It really is all just about getting my daily dose of carrot/sesame/coriander goodness, after all. 
Serves 2
2 medium carrots, peeled and grated
A big handful of coriander (cilantro) leaves, roughly chopped
2 tablespoons lightly toasted sesame seeds
1 tablespoon extra virgin olive oil or flaxseed oil
1/2 teaspoon toasted sesame oil
The juice of 1 lime (or 1/2 lemon)
Leftover roasted vegetables, sliced cherry tomatoes, sprouted peas + mung beans, steamed asparagus, sauerkraut, sliced avocado, cauliflower rice (or cooked quinoa/millet/brown rice if you're able to eat them), finely shredded lettuce or cabbage and toasted seeds, to serve
Combine grated carrots, coriander, sesame seeds, olive/flaxseed oil, sesame oil and lime juice in a bowl. Season with fine sea salt and freshly ground black pepper, mix well. Divide between two bowls. Arrange the rest of the ingredients in the bowl too and serve. Some parts I like eating separately, but mostly before eating I give it all a good old mix up.