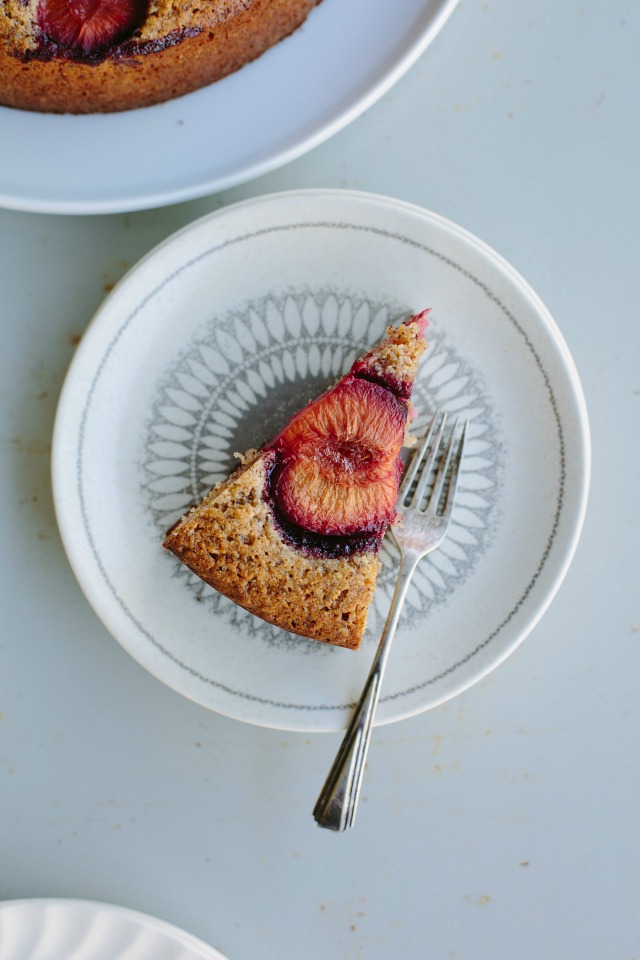 It's so funny when you've been waiting months to finally talk about something this close to your heart. Something that took blood, sweat and tears to create. Today is the day I can finally share more about my new cookbook, which is officially released today!
As you're all probably well aware, I was blown away by the response to my first cookbook My Darling Lemon Thyme and it was super clear very early on that a follow-up book was a must. I actually wanted my first book to be set out in seasons, as this is how I've always cooked, but I didn't want the little things like drinks and breakfasts to slip through the cracks, as they so often do in books of this kind, so instead I settled on presenting my first book by meal times. I'm super proud of what I shared in my first book and it's been amazing to hear back from so many of you who have made an astonishing number of the recipes. You have no idea how much hearing that has meant to me as my main goal when writing the book was to create recipes that are approachable and delicious, recipes you want to actually cook, not just look at.
When the opportunity arose to start working on a second book I knew right away that it would be a seasonal book, offering a little glimpse into my kitchen throughout the year. I've also given loads of tips to keep in mind when dealing with fruit or vegetable gluts (especially common at this time of the year!) and you'll find a bunch of staple 'base' recipes that I use regularly at the back of the book as well.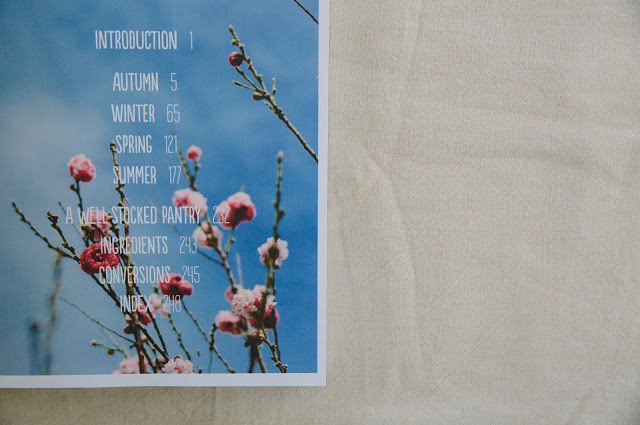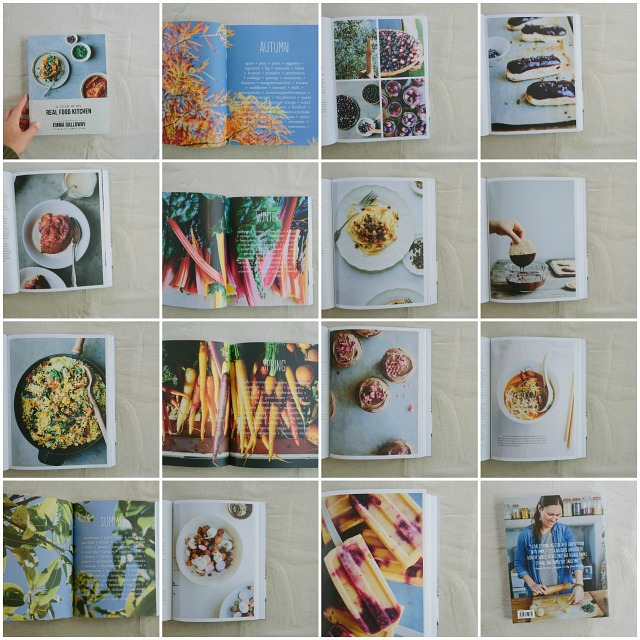 Right, now that you've watched the book trailer (!) lets get to all the good bits about this new cookbook of mine shall we?...

- It's 251 pages long and contains 100 recipes.
- I created, styled and photographed all the recipes in the book. Every recipe has a photo.
- The book is 100% gluten-free, vegetarian and fad-free.
- Each recipe has a little dietary label under the title stating if it's vegan or dairy-free as well. Many recipes that aren't vegan have a 'vegan option' label and then I give options to make it vegan in the head notes of the recipe.
- Around 90% of the recipes in this book are new and have not been seen previously on my blog. I've included a handful of blog favourites and there's a few new-and-improved versions of some of my blog recipes as well (eg a killer update of my most viewed recipe, Black bean brownies, which I've made into a flourless torte).
- The book is set out in seasons, starting with Autumn. Perfectly timed for our current season...
- Many of the recipes are dairy-free and vegan. With many more easily adapted to be.
- Just like in my first cookbook, there's a detailed explanation of all the ingredients that I use, should you not be overly familiar with gluten-free flours etc.
- My recipes use seasonal produce, gluten-free grains, good fats, unrefined sweeteners and both dairy and dairy-free alternatives. I use basic ingredients, nothing too fancy or expensive. You will not have to buy 50 different 'super-food' powders to create my recipes.
- All the food you see in the book was eaten by me and my family (and friends!) after the photos were taken. I don't use stylist tricks or fake food to photograph.
- I've got two handmade pasta recipes in this book, a lovely Beetroot Gnocchi and a Toasted Quinoa Tagliatelle. I've also got a handmade (and even hand cut as I don't own a pasta machine!) Buckwheat Egg Noodle recipe (that's served with a carrot + ginger broth, it's one of my favourite recipes in the book).
- All my recipes are free from guar gum and xanthan gum.
- Each chapter contains both savoury and sweet recipes.
- Some of my favourite recipes are: Saffron Buttered Pumpkin w/ Herbed Brown Rice (the cover dish!), Roasted Kumara, Persimmon + Rocket Salad w/ Jalapeno Dressing, Shiitake, Peanut + Tofu Dumplings, Feijoa + Apple Shortcake, Tamarillo Sponge Pudding w/ Dairy-free Vanilla Custard, Curried Lentil Hand pies, Sauerkraut, Chocolate-dipped Hazelnut Biscuits, Silverbeet + Feta Gozleme, Beetroot Chocolate Cakes, Dairy-free Olive Oil + Chocolate Chunk Ice Cream, Spicy Tofu Noodles, Black Pepper Tofu w/ Cucumber Pickle, Labneh w/ Apricot Puree + Salted Nuts and Dark Chocolate, Pistachio Halva Ice Cream Bites.
It's now available in all good bookstores throughout New Zealand and Australia.
I'm also selling signed copies, which you can order here. I can post worldwide, although if you live outside of NZ you might be best to wait until it's available on the Book Depository in May, with free worldwide postage. We don't have confirmation just yet, but I'm hoping there will be a US edition in the works soon too. A few of the big department stores in Australia are now stocking my book, Big W and Myer are two that I'm aware of.
You can also buy online from various online bookstores
New Zealand:
Mighty Ape
Fishpond
My Darling Lemon Thyme (signed copies)
Australia:
Angus & Robertson (Bookworld)
Booktopia
Fishpond
Boffins
ABC Store
Myer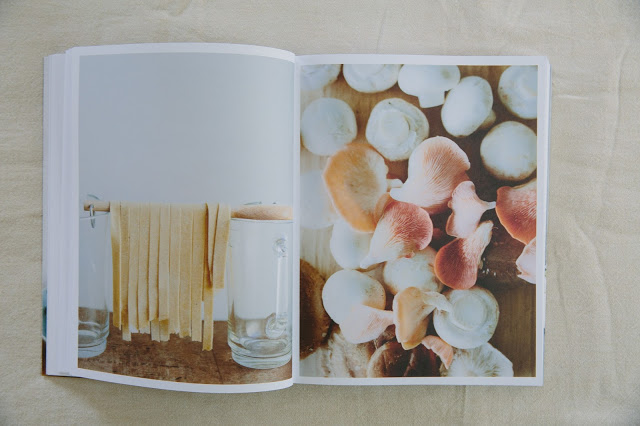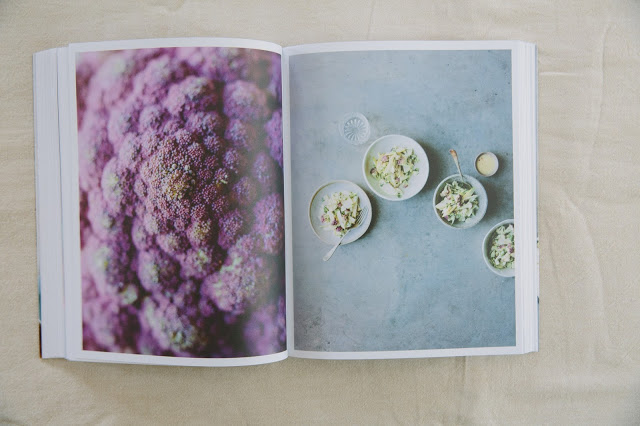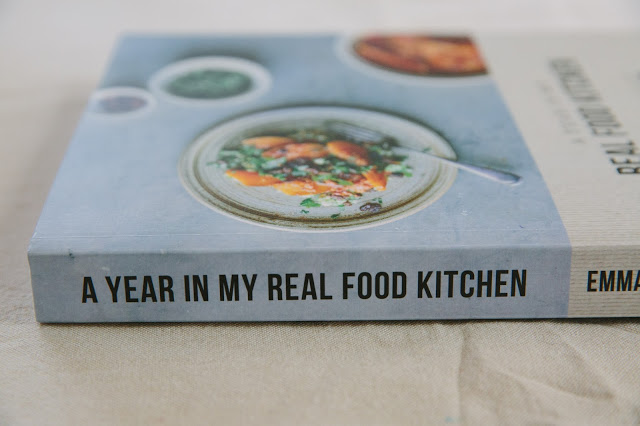 Advance praise for A Year in My Real Food Kitchen-


'I love stepping onto the real food kitchen with Emma - it's a delicious universe of healthy, whole recipes that are always simple to make and completely satisfying' -Sarah Britton, author of My New Roots.


'When it comes to healthy, vegetable-focused gluten-free cooking, Emma's delicious recipes are always my first stop. Inspiring, original and truly approachable... A Year in My Real Food Kitchen is brimming with great ideas to keep you and your family nourished through every season' -Amy Chaplin, author of At Home in the Whole Food Kitchen: Celebrating the Art of Eating Well.


Cookbook GIVEAWAY! Competition has now ended- The winners are Sue from Seven Oaks Street Quilts + Deb from Debs-doodlings. Please email me emma(at)mydarlinglemonthyme(dot)com
To be in the draw to win one of two copies of my cookbook, please leave a comment below telling me which season is your favourite and why. I'll pick the winners using random.org, entries close Monday 4th April at 5pm (NZ time). Sorry, entries are only open to New Zealand and Australian residents. I'm also giving away two copies on my Facebook page and two also on my Instagram page, so head on over there for more chances to win!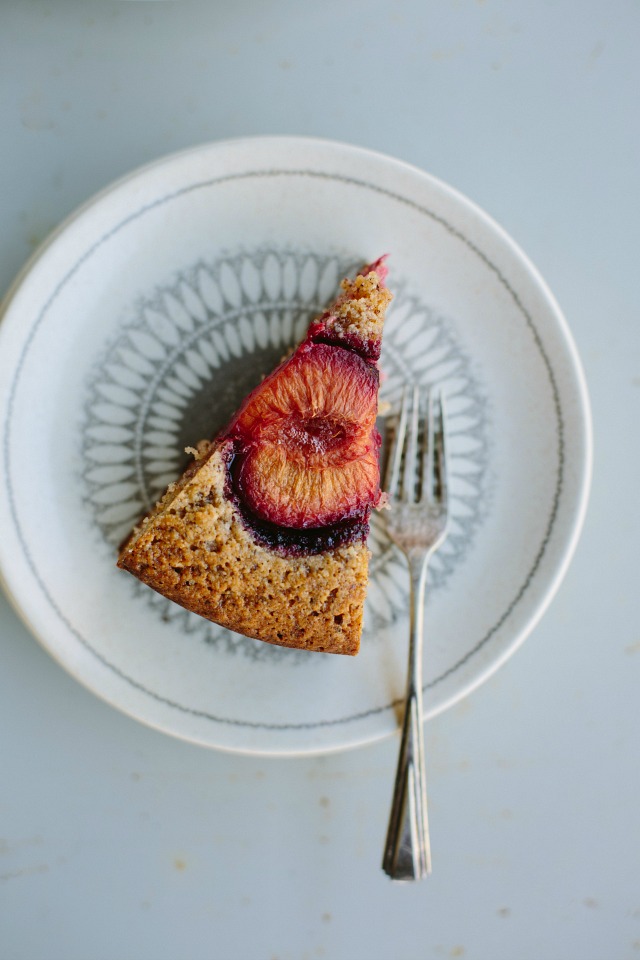 Plum + Toasted Hazelnut Cake
As the weather cools,
my thoughts often turn to baking and the joy of curling my hands around a
steaming mug of tea. Afternoon tea was somewhat of a thing in our house growing
up, the mugs of earl grey tea with a dash of milk and honey were often
accompanied by slabs of mums banana cake with carob icing, or her peanut
brownie cookies that were always slightly singed on the bottoms from the
coal-range wood-fired oven she cooked in for much of my childhood. This pretty
cake, with its toasted hazelnut crumb and generous pieces of jammy end of
season plums is exactly the kind of thing I love to sit down to and savour with
friends and family, over multiple pots of tea. If you can't buy ground
hazelnuts, simply toast whole hazelnuts at 180C (350F) for 8-10 minutes until
golden, before rubbing off the skins, cooling and grinding in a small food
processor until fine. If you go this route, skip toasting the ground nuts in a
pan. If you'd like to see a video of me making this cake, click here.
Serves 8-10
Gluten-free | Dairy-free
100g (1 cup) ground hazelnuts (hazelnut meal)
80g (3/4 cup) ground almonds (almond meal)
110g (1/2 cup) unrefined raw sugar
50g (1/2 cup) arrowroot or organic gluten-free cornflour
(starch)
1 teaspoon gluten-free baking powder
1/4 teaspoon fine sea salt
2 large free-range eggs, at room temperature
80ml (1/3 cup) extra virgin olive oil
60ml (1/4 cup) almond, rice or coconut milk
1 teaspoon vanilla extract
4-6 ripe plums, halved + stones removed
Preheat oven to 180C (350F). Grease a 23cm (9 inch) round
loose-bottomed cake tin and line the base and sides with baking paper. Combine
ground hazelnuts and almonds in a medium frying pan over medium heat and toast
5-8 minutes, stirring often, until lightly golden and aromatic. Remove from the
heat and transfer to a bowl, set aside for 10 minutes to cool slightly. Add
sugar, arrowroot, baking powder and salt and whisk to evenly combine.
In another bowl, whisk eggs, olive oil, milk and vanilla.
Pour into dry ingredients and mix to form a smooth batter. Pour into prepared
tin and arrange plum halves, cut-side up, over the batter. Bake for 45-55
minutes or until a skewer inserted into the centre comes out clean. Remove from
oven and set aside to cool in the tin. This cake stores happily for 2-3 days in
an airtight container, or in the fridge for even longer.