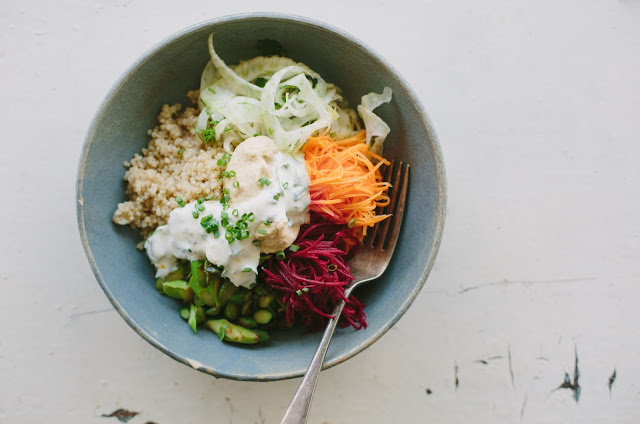 Returning from a trip overseas is always a little bit crap, lets be honest. Reality comes banging on the door, trying it's best to rouse us from our chilled-out holiday slumber. I usually try my best to ignore it, even if only for a few more days. But this time around, coming home from Bali our bodies had a different plan altogether... mine in the form of a killer head cold, and Kye's in the form of the worst ear infection one could ever dream of. It knocked us sideways as the days blurred into sleepless night, neither one of us feeling any better than the previous day. Life carried on around us, Ada back at school, Si resuming his role as Dad (he sadly couldn't come with us to Bali due to work commitments), all the while, Kye dealt with his pain and I tried my best to stay awake. Hello reality.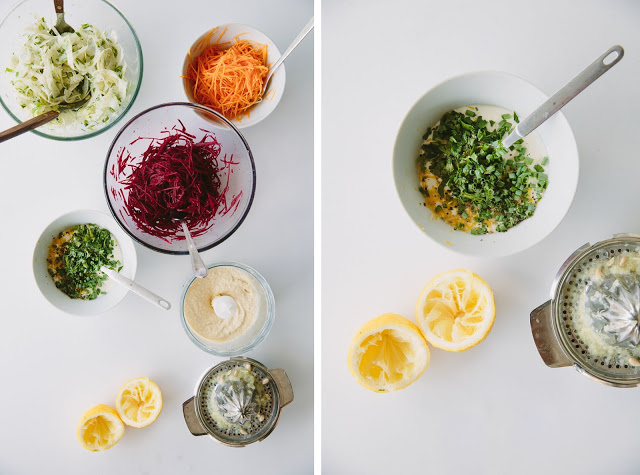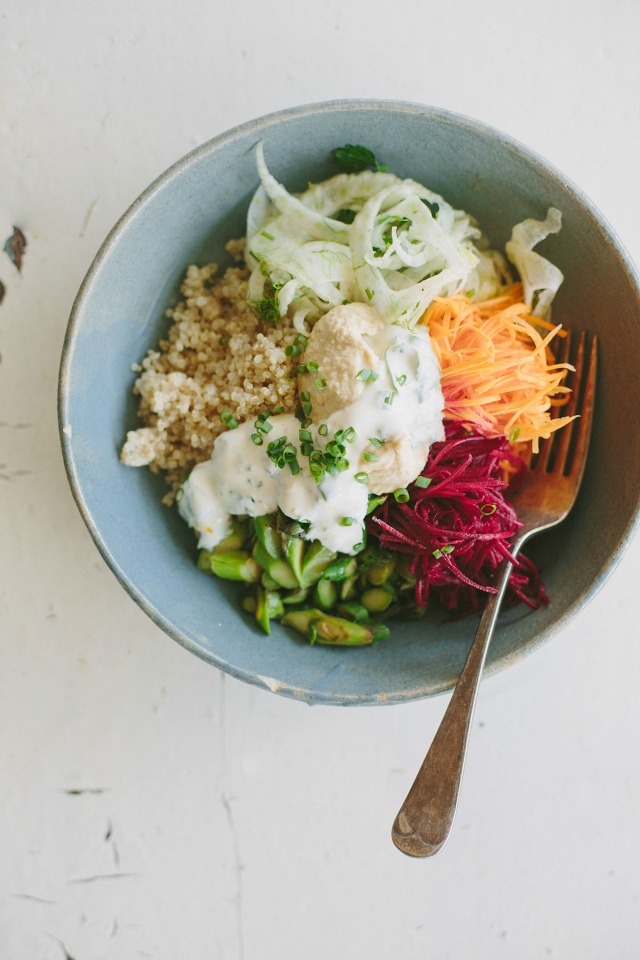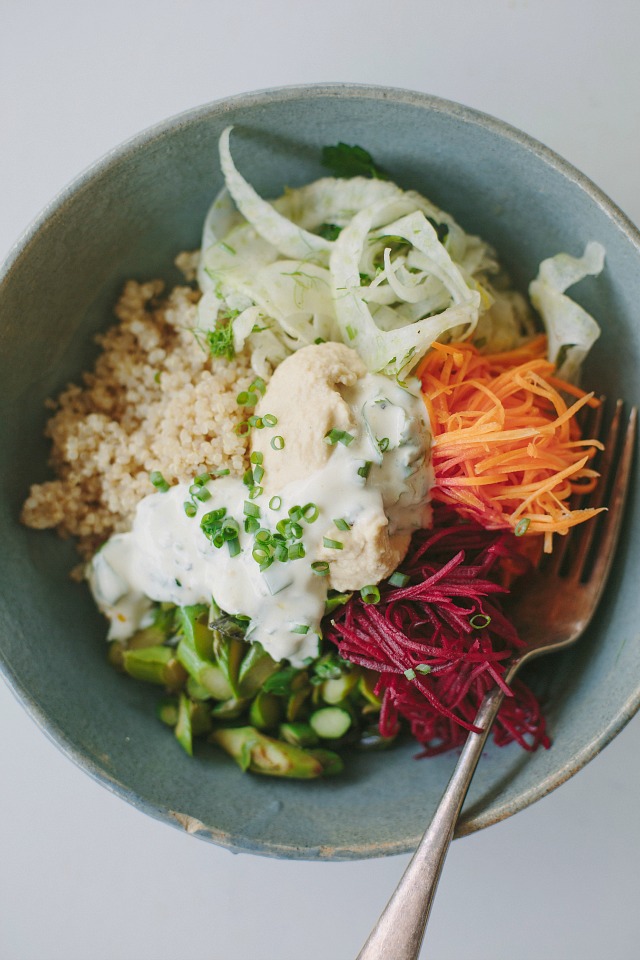 Thankfully the blur has passed and we're all feeling human again. All that sickness had me craving something nourishing, fresh and vibrant. Flicking through my friend
Tara O'Brady's
gorgeous
cookbook
, I spotted her recipe for Collard Wraps with Hummus + Quick-Pickled Vegetables, in which she packs quick-pickled carrots, beetroot and fennel into collard leaves, alongside quinoa, hummus and herbed yoghurt. I'm a sucker for anything pickled, and quick sounded about as much as I could muster! Ha. I used her recipe as the jumping off point for this salad bowl, added in some sauteed asparagus that was calling out to me from the crisper draw as well and ad-libbed the rest. I love anything with tons of flavour and texture and this bowl delivered exactly what my body needed.
Psst... only a few more days left
to vote
! Thanks heaps xx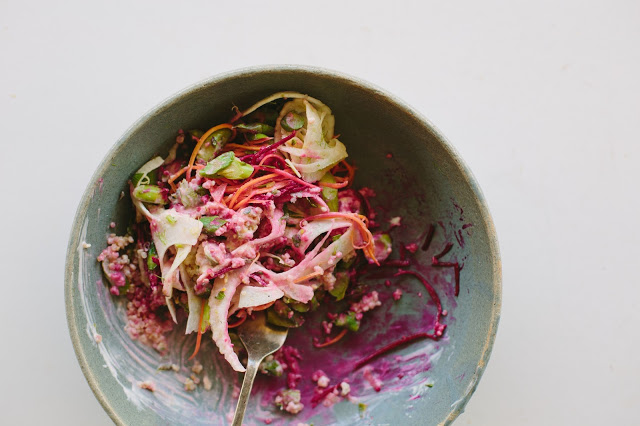 Spring quinoa bowl w/ quick-pickled vegetables, hummus + herbed yoghurt
You could add all sorts of yummy things to this bowl to change it's vibe; toasted nuts or seeds would be awesome, use lacto fermented vegetables in place of the quick-pickled if you have some at hand or use another grain such as buckwheat or brown rice in place of the quinoa to change things up a bit. A fried or boiled egg probably wouldn't go astray alongside it too.
Serves 4 (easily halved/doubled etc)


2 cups cooked quinoa (see here for cooking instructions)
2 medium carrots, finely shredded
1 medium beetroot, peeled + finely shredded
5 teaspoons apple cider vinegar
2 teaspoons unrefined raw sugar
Few drops toasted sesame oil
1 small fennel bulb, ends trimmed + finely shaved
Small handful flat parsley, finely chopped
Small handful coriander (cilantro) leaves, finely chopped
A little butter, ghee or olive oil
1 clove garlic, finely chopped
1 bunch asparagus, sliced into fine rounds
Hummus, to serve
Herbed yogurt
A few good big dollops natural plain yoghurt (around 1/2 cup)
Small handful flat parsley, finely chopped
Small handful coriander (cilantro) leaves, finely chopped
The finely grated zest 1/2 lemon
A little lemon juice, to taste
A splash extra virgin olive oil
Cook + cool quinoa if you haven't already done so
.
Place shredded carrot and beetroot into separate bowls. Add 2 teaspoons apple cider vinegar, 1 teaspoon raw sugar and a good pinch fine sea salt to each bowl. Add a few drops of toasted sesame oil to the carrots. Mix well and set aside while you prepare the rest of the ingredients.
Place shaved fennel into a bowl, add remaining teaspoon of cider vinegar and the chopped herbs, season well with fine sea salt and freshly ground black pepper. Mix and set aside.
Heat a small saucepan over medium-high heat, add butter and garlic and cook for 10 seconds before adding asparagus. Saute for 1 minute or until just tender. Remove from the heat and set aside to cool slightly.
Combine all the ingredients for the herbed yoghurt and mix.
To serve, divide quinoa between four bowls, add a little of each of the vegetable mixes, top with a generous dollop of hummus and a good drizzle of herbed yoghurt.
Adapted from Tara O'Brady's recipe for Collard Wraps with Hummus + Quick-Pickled Vegetables from Seven Spoons (Ten Speed Press, 2015).