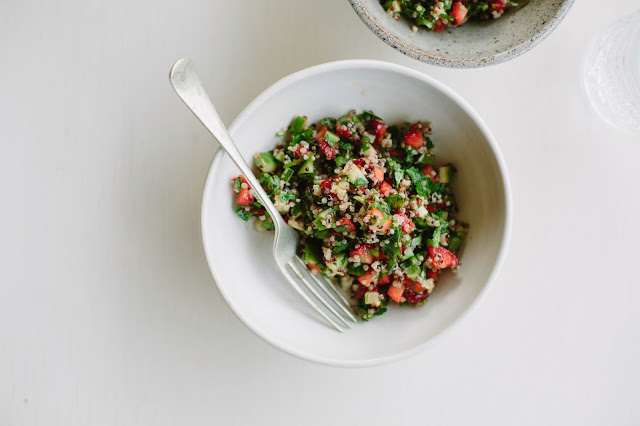 We're finally emerging from the fog of sickness that wiped out both kids these past few weeks. I wasn't pretty. Days blurred into sleepless fever-spiked nights. Dates were confused, as we hibernated from the cold and rain. All outside distractions were forgotten as I did my best to nurse my babies back to health. Miraculously, I somehow managed to avoid getting sick myself. Sleeping tucked up next to two sick little monkeys coughing all over me, I'm not really sure how. It could be that I already had immunity to this particular 2-week long flu, as I too suffered from it about a month ago. Or maybe my mummy body knew that I simply could not get sick, cause then who would take care of the kids?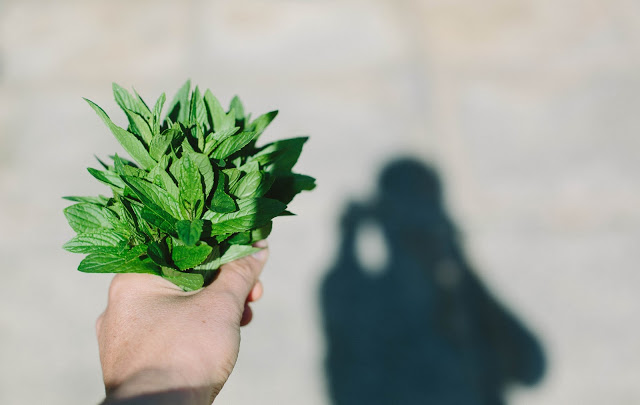 The day the kids were well enough to go back to school, I made this beautiful Strawberry + Quinoa Tabouli for lunch, a slight riff of Sara Forte's recipe found in her latest book Bowl + Spoon which I was sent a few months ago. While the kids were sick I spent many a day flicking through my stacks of new cookbooks as the kids lay watching dvd's (to keep their minds of how yuck they were feeling!). The idea of a cookbook filled with foods you eat from a bowl is one that fits perfectly with my style of cooking and eating as I've long been a bowl-food girl! There's loads of the recipes I'd like to try from book (the Tahini Kale Slaw + Roasted Tamari Portobello Bowl is calling my name), but it was this fresh spring-y salad which yelled out to me, helped along by the fact that I already had cooked quinoa in the fridge, herbs in the garden and fresh locally grown strawberries which I'd picked up at the farmers markets just a few days before.
You'll all know by now how much I love fresh herbs in salads and this one is exactly the kind of thing I love to eat for lunch. The sweetness of the strawberries added a little something, something, and I'll be sure to add berries to my salads more often after trying this one. I could imagine this tabouli would work perfectly alongside falafel, minted yoghurt and wraps for a slightly non-traditional take on a falafel kebab. But it's also lovely eaten straight up, which is exactly what I did.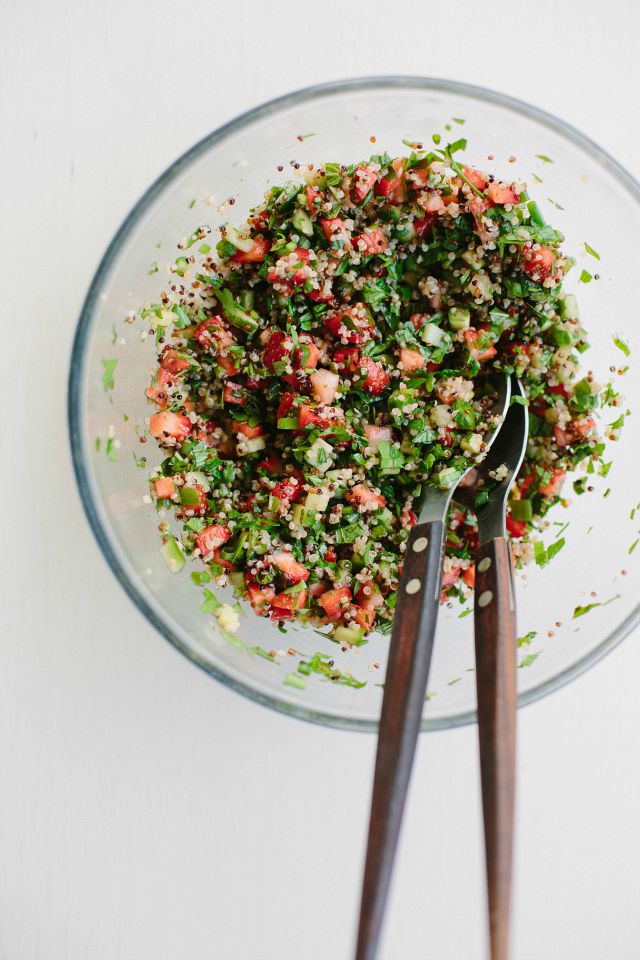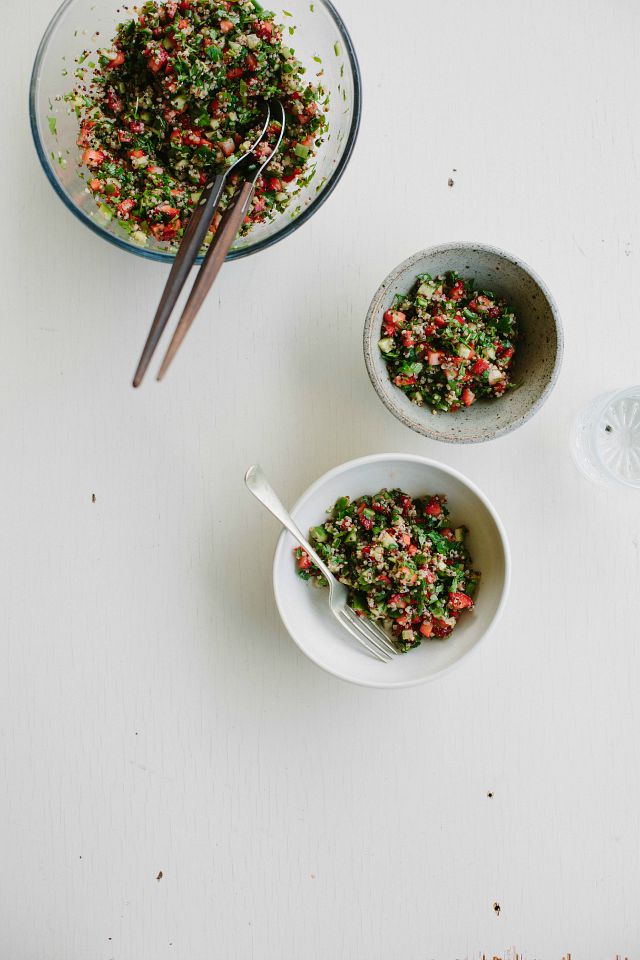 Sara's strawberry + quinoa tabouli
Sara uses bulgur wheat in her tabouli, but offers quinoa as a gluten-free option, so this is what I've used here. If you don't already have cooked, cooled quinoa at hand you'll need approx. 3/4 cup uncooked quinoa to give you the right amount, although I'd probably just cook 1 cup and have leftovers. I love my herbs, so instead of using set amounts, I just used a good big handful of both and as we have chives in the garden all year-round, I used these in place of the spring onions (green onions/scallions). I've also changed the wording of a few of the ingredients from their US terms to Australian/NZ. Sara offers a suggestion of crumbling a little feta over the top, for those who tolerate dairy.
Serves 4-6


1 1/2 cups cooked quinoa*, cold
250g punnet strawberries, washed, hulled + finely diced
2 - 3 Lebanese cucumbers (or 1 medium telegraph), finely diced
a handful chives or 3 spring onions, finely sliced
a big handful mint leaves, finely chopped
a big handful flat leaf parsley, finely chopped
60ml (1/4 cup) extra virgin olive oil
1 tablespoon red wine vinegar
Finely grated zest + juice of 1 lemon
1 teaspoon freshly ground black pepper
1 clove garlic
1/2 - 3/4 teaspoon fine sea salt
Combine cold cooked quinoa, strawberries, cucumber, chives/spring onions, mint, parsley, olive oil, vinegar, lemon zest + juice and black pepper in a large bowl. Finely chop the garlic, sprinkle over 1/2 teaspoon salt, then using the side of your knife blade, mash it to form a paste. Add to the bowl and give everything a good stir to evenly combine. Taste and add the remaining 1/4 teaspoon salt if needed. Serve chilled or at room temperature. Best eaten on the day of making.
See quinoa cooking instructions here.
Slightly adapted from a recipe in Bowl + Spoon by Sara Forte (Ten Speed Press, 2015). Disclaimer: I received a copy courtesy of Ten Speed Press. All views are my own.