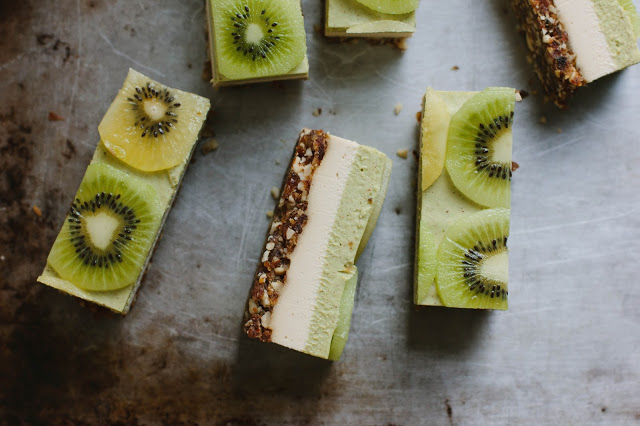 Growing up we had loads of fruit trees on our property; feijoas, tamarillos, grapefruit,
lemons and more. If you ventured right down the very bottom of the hill and
looked to the left, you'd also spot a bunch of kiwifruit vines, growing over
the timber frames my Dad built. Come winter, we'd have kiwifruit coming out of
our ears and there was also a time when my mum would bag them up to sell them
to locals, sharing their goodness around. I don't remember ever having to rely
on store-bought powders to get our daily nutrition…
While
'superfood' powders and exotic ingredients are a big deal at the moment, I try
not to buy into them too much (although I do admittedly have a soft spot for
the beautiful flavour of mesquite powder!) and prefer instead to get my
vitamins and minerals from humble 'superfoods' such as broccoli, leeks, kumara
(sweet potato), berries and kiwifruit. I'm sure many of these 'superfood'
products do as they claim to do, be it by delivering healthy doses of
antioxidants, fibre or Vitamin C, but to most people they're simply just not
affordable on a daily basis and I would rather eat whole, un-processed fruit
and vegetables over powders, any day. The often overlooked 'regular' fruits and
vegetables we've all grown up on, can easily provide the nutrition our bodies
need. Just
one single kiwifruit
, can provide your daily dose of Vitamin C (I try
to eat two a day over winter to overdose on this cold-fighting vitamin!), along
with a good dose of Vitamin K + E, Copper, Manganese, Folate and Fibre.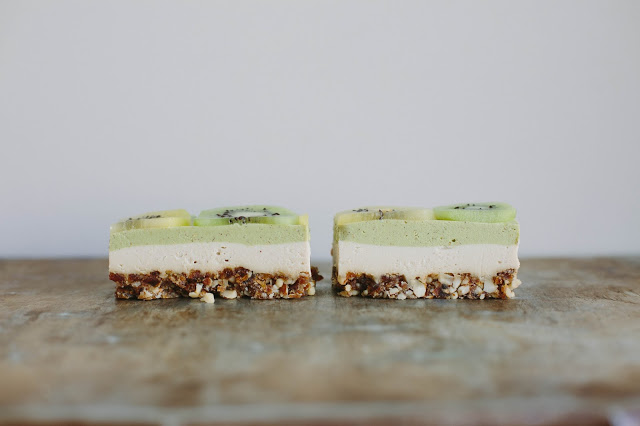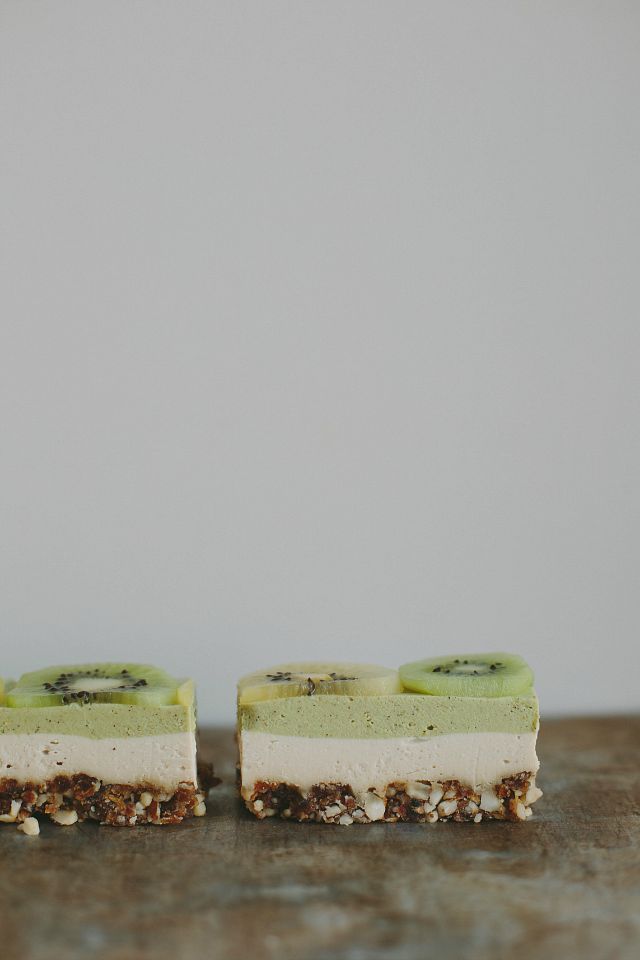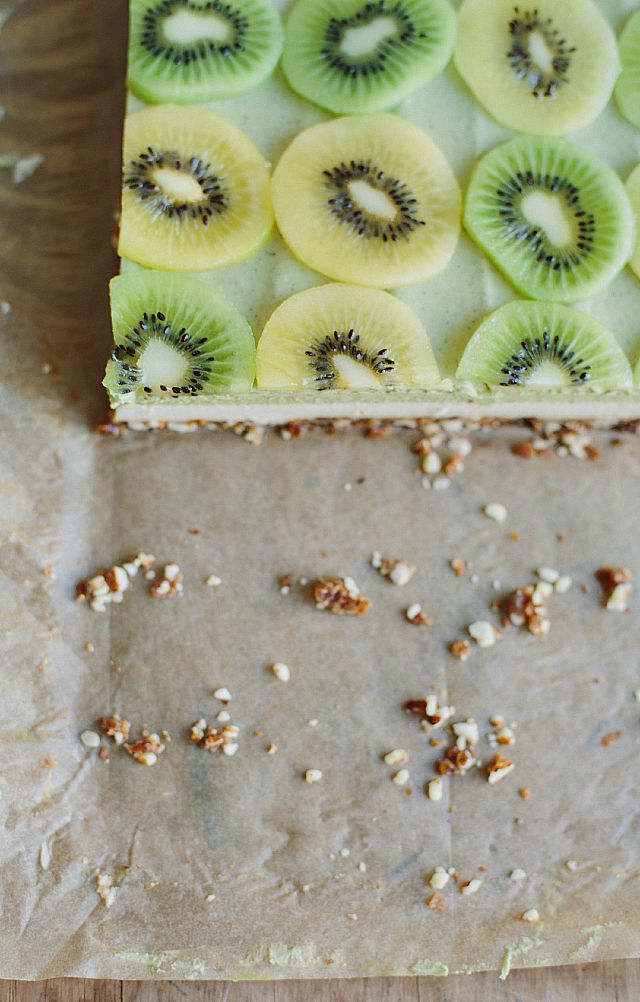 When it comes to kiwifruit, we mostly just eat them straight up, peeled and eaten whole while standing at the bench or sliced in half and scooped out with a spoon. I also love adding them to fruit salads and smoothies, but I thought it would be nice to highlight them in another way today by incorporating them into a cashew-based 'cheesecake'. Paired with zingy fresh ginger and a naturally sweet date and almond base, this is a lovely treat to have at hand. Especially given it lasts for days in the fridge, or can be frozen for a month or two.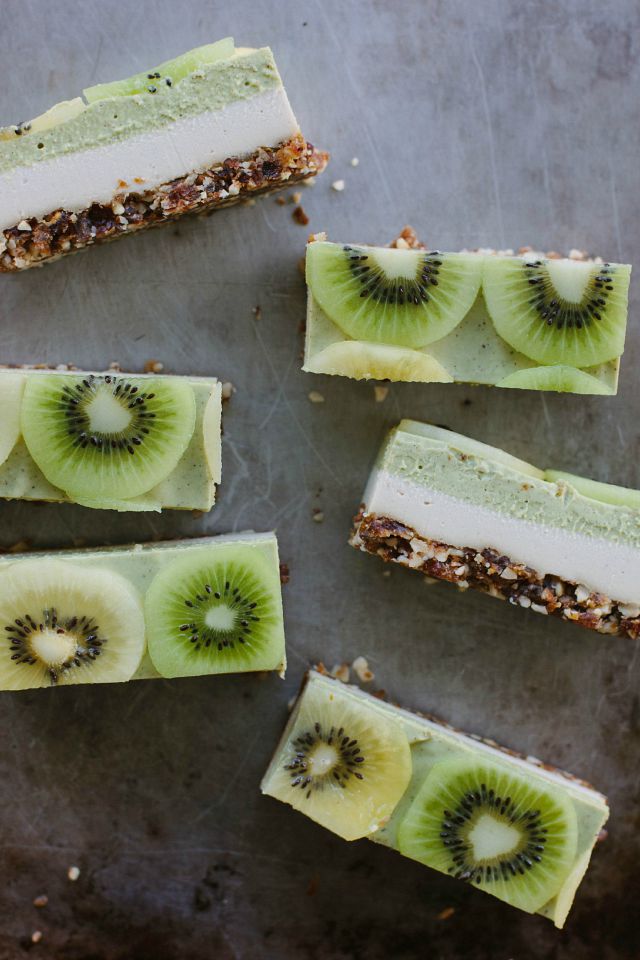 (Almost) raw Kiwifruit + Ginger 'Cheesecake'
This technically not a 100% 'raw' cheesecake because of the maple syrup, if you're wanting it to be 100% 'raw' you'll just have to sub in your favourite raw liquid sweetener and watch you only melt the coconut oil, not heat it up. I buy cashew pieces from my local Indian Grocers, where they are a fraction of the cost of whole cashew nuts. In a recipe such as this, where they just get blended, it really doesn't matter. Honey can be used in place of maple if preferred, however I'd scale it back a tad as honey is way sweeter. Brown rice syrup also works great. I add a little bit of spinach to the green layer, to make the colour a little more vibrant. But it's still just as yum without. You'll need to start this recipe the night before to allow time for the cashews to soak.
Makes 12-14 slices


base
1 1/2 cups (240g) pitted dried dates, roughly chopped
2/3 cup (100g) whole raw almonds
1 tablespoon virgin coconut oil, melted if solid
filling
3 cups (375g) raw cashew nuts, soaked overnight in cold water + drained
3/4 cup (185ml) virgin coconut oil + 1 tablespoon extra, melted if solid
1/2 cup (125ml) lemon or lime juice
1/2 cup (125ml) pure maple syrup or your favourite liquid sweetener
1 teaspoon vanilla extract
1/4 teaspoon fine sea salt
3 tablespoons finely grated ginger
small handful spinach leaves, optional
3 green kiwifruit, peeled
1 gold kiwifruit, peeled
To make the base, line a 28 x 18cm slice tin with baking paper, extending up and over the sides by a couple of centimetres. Place dates, almonds and coconut oil in a food processor and blend on high until relatively finely ground. Press mixture into the base of the tin, using the back of a spoon to pack down firmly.
To make the filling, place drained cashews, coconut oil, lemon juice, maple syrup, vanilla and salt into a blender and blend of high until smooth (this will take mere moments if you have a high powered blender, or a little longer if you don't. If you don't, you might need to stop a few times and scrape down the sides a few times to assist blending). Transfer a little under half of the mixture to a bowl, then add grated ginger to the mixture remaining in the blender and blend on high until smooth. Pour this ginger mixture over the base and place into the freezer while you continue.
Place spinach, 2 green kiwifruit, the reserved filling and extra 1 tablespoon coconut oil into the (unwashed) blender and blend on high until smooth. Remove tin from freezer and pour kiwifruit filling over the bottom layer. Smooth off with a spoon or palette knife and place into the fridge 4-5 hours (or freezer 2-3 hours if in a hurry) or overnight, until set firm.
Slice remaining green and the gold kiwifruit into thin slices and arrange over the top of the cheesecake. Slice and serve. Store in the fridge in a covered container for 5-7 days or freeze for up to 1 month. Defrost on the bench 20-30 minutes before eating.
Post sponsored by Love Kiwis. All views and opinions are my own, as always. It doesn't take much for me to want to spread the word about one of New Zealands most cherished fruits!
Loosely based on the Chai 'cheesecake' found in my cookbook My Darling Lemon Thyme- Recipes from my real food kitchen.