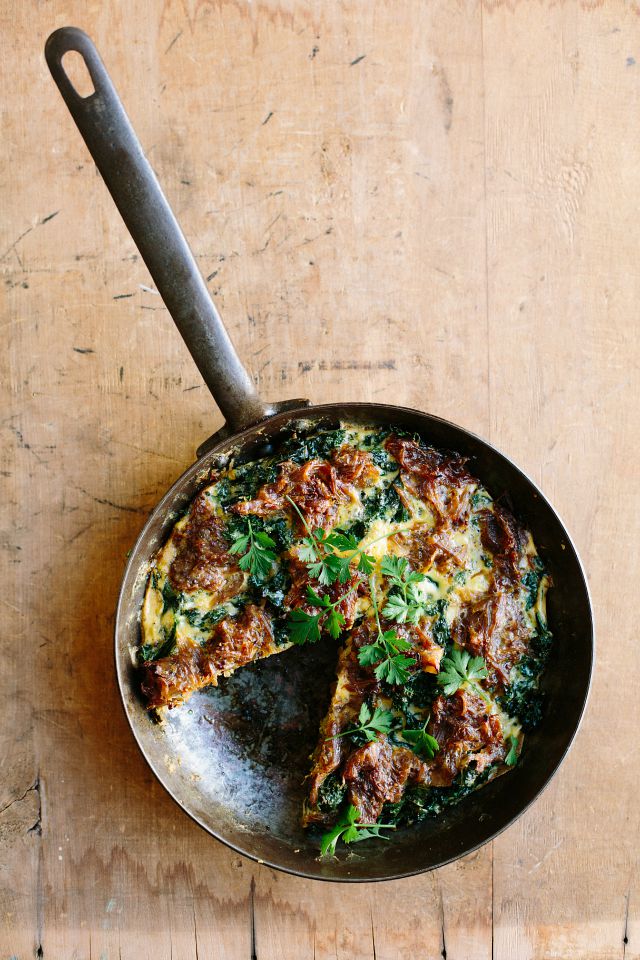 Us mums are a funny bunch, always looking for ways to make life run more smoothly, ways to make time slot more perfectly into the next little allocated moment. Anything to avoid the meltdowns that come with children right? Eggs are my go-to dinner ingredient when I'm pressed for time and frittata makes a nice change from the fried eggs and rice we seem to have been eating a lot of lately! I make the caramelised onions well ahead of time, as they'll store in the fridge for a good week or so, making things super straight forward when it comes time to cook dinner. All the other ingredients come together in the time it takes to heat the oven, then while it cooks, I chuck the kids in the shower. When we're all ready to eat, I sit there happy knowning that at least half of the evening jobs have been done...
P.s Don't waste any of that heat from the oven, instead leave the oven door open once your frittata comes out, the cooling oven doubles as a heater in this cold weather!
If you don't have an
oven-proof frying pan, simply arrange the cooked kale and onion in an oven-proof
dish, pour over eggs and cook until puffed and golden. If you eat feta or goats cheese, scatter a little of this over the top before baking.
Serves
4-6
Carmelised onions
500g (2-3) onions, finely sliced
1 tablespoon extra virgin olive oil
1 tablespoon finely chopped thyme
2 tablespoons red wine vinegar
1-2 teaspoons unrefined raw sugar
2 teaspoons wholegrain mustard
1 bunch (approx. 250g) kale
2 tablespoons extra virgin olive oil
3 cloves garlic, finely chopped
6 large free-range eggs, lightly beaten
To make the caramelised onions, heat olive oil in a medium
saucepan over medium heat, add onion and thyme and cook, stirring often for 20
minutes, until super soft and lovely and golden. Turn the heat down towards the
end of the cooking time if you find the bottom is catching and watch them like
a hawk, stirring almost continuously for the final 5 minutes as this is where
things can burn really easily once all the water has evaporated and the sugars
are caramelised. Add vinegar, sugar and mustard and continue to cook for a
further 5-10 minutes, stirring often until reduced and thick. Remove from the
heat and set aside.
Preheat oven to 200C (400F). Remove the hard stalks from the kale, and roughly chop the leaves. Heat olive oil in
a large oven-proof frying pan (cast iron or stainless steel is perfect) add
kale and garlic and cook 2-3 minutes until wilted. Scatter over dollops of
caramelised onion, season eggs with a good pinch of fine sea salt and freshly
ground black pepper, then pour over the top of the kale/onions. Cook on the
stove top for 2 minutes until just starting to set around the edges, then
transfer to the oven and cook for a further 15-20 minutes or until eggs are
puffed and set in the centre. Remove from the oven, slice into wedges and serve
hot or at room temperature. Serve with boiled potatoes and salad for a substantial meal.