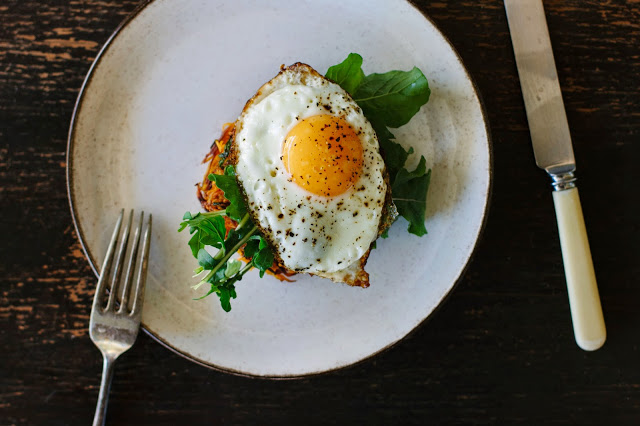 You know something scary? I've now been out of professional kitchens longer than I was working in them! (Just under 9 years for those of you keeping score). It's crazy to think so many years have passed, to think I thought I would go back to work soon after giving birth to our daughter, whom I carried around in my growing belly as I cooked in a local cafe back home in NZ all those years ago. The moment she arrived I knew that would not be the case, at all. And I was right.
A few days ago the baby of our family turned 7. He was only 2 when I started this blog and it blows my mind to think how many things have changed for us in that time. When I left the professional kitchen, I never would have guessed that I'd still be working everyday with food, but instead of working for someone else's dream… I'm working for my own. I'd always dreamt of writing recipes for a living, and some days I really do have to stop and sit back in disbelief that that's exactly what I now do. I know I've been a bit distant from this space of late, but please know how grateful I am for all of this -for you- reading and cooking along with me all these years. Without you guys, I wouldn't be chasing my dreams. Thank you.
These spiced sweet potato cakes are a riff on the kumara + kale latkes, found in my cookbook (US edition pre-orders here!). I made them for Si and I yesterday for lunch and decided to spice things up a little. You can poach the eggs if preferred (like I do in my book), but I was being lazy and didn't want to create more dishes for myself! Ha. Lastly, be sure to check out the awesome giveaway I'm running below!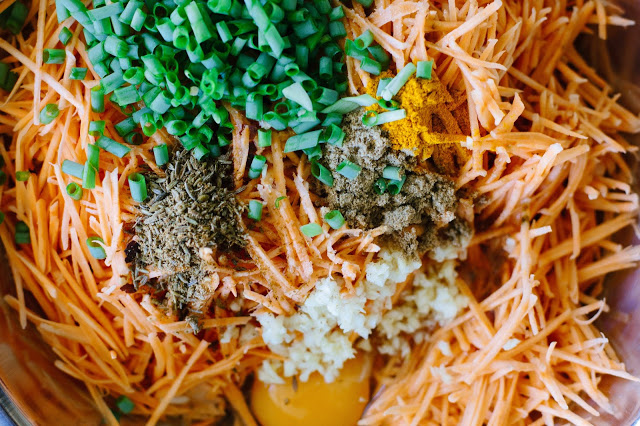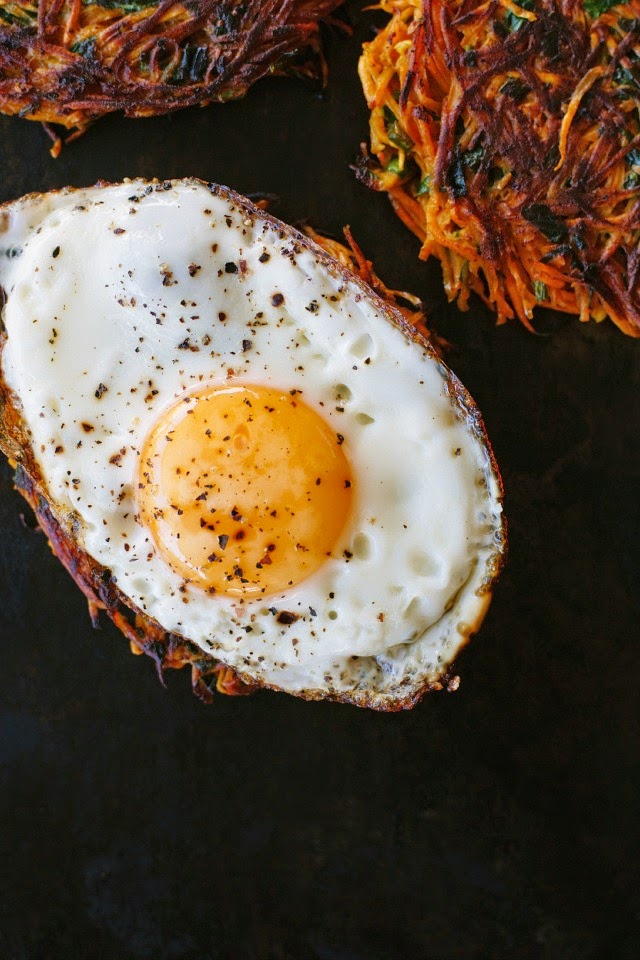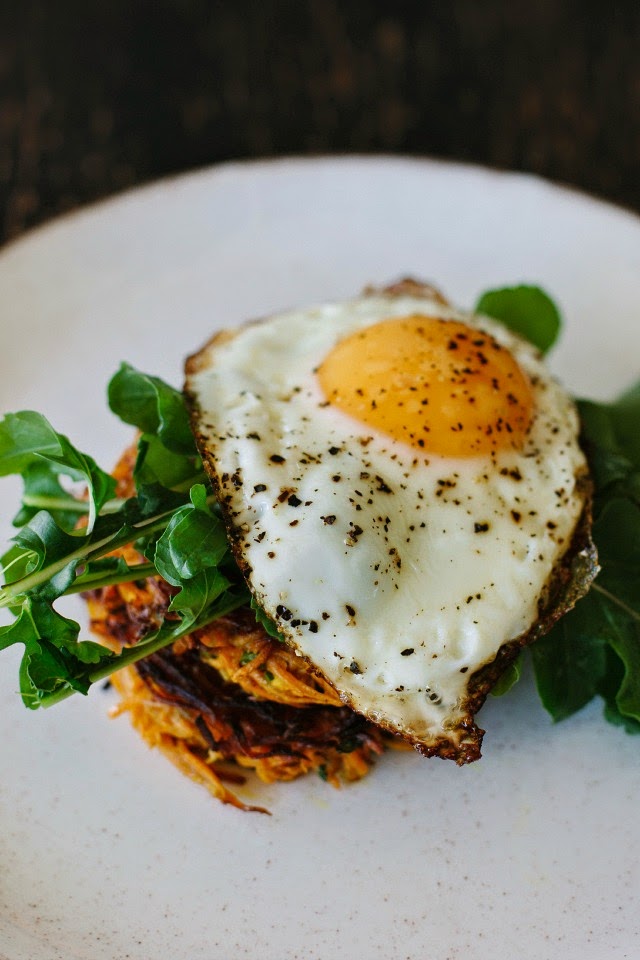 GIVEAWAY! Now closed- Cinnamon lover Christina was the winner!
The lovely Latasha, from local Perth company
Latasha's Kitchen
is giving away a pack of 4 of her beautiful spice pastes to one lucky Australian reader (sorry international friends!). The pack contains:
Indonesian Turmeric Kari Paste
,
Green Coriander Sauce
,
Biriyani Masala Paste
,
Kuruma Masala Paste
and a recipe card for each item. All items are gluten-free, preservative-free and vegetarian. To go in the draw, simply comment below telling me one of your favourite spices that you use often in your kitchen (mine would be a toss up between cumin, ground turmeric, cardamom + cinnamon!). I'll draw a winner via Random.org on Monday 18th May, 12pm WST. Good luck!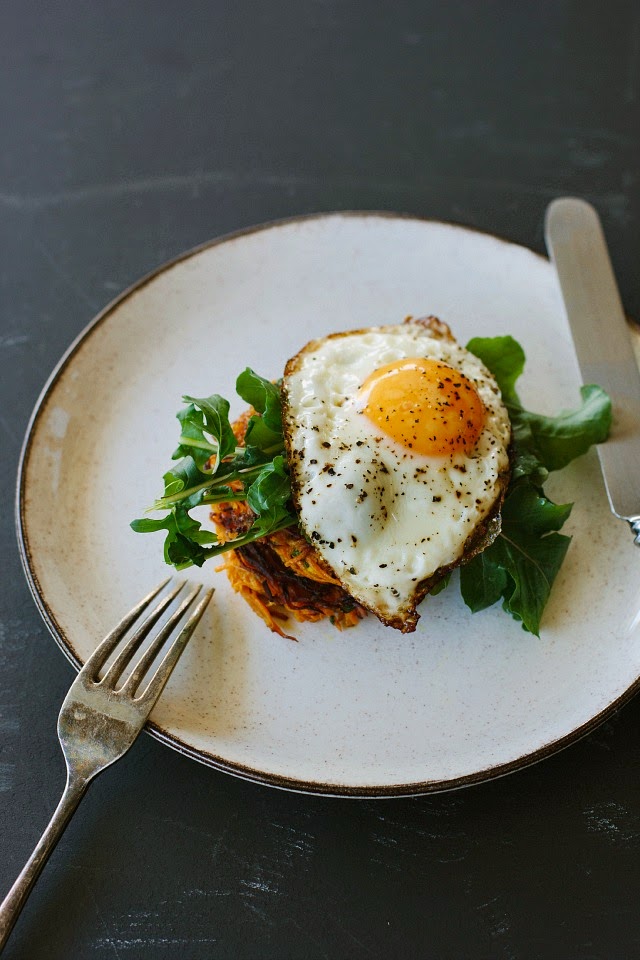 Spiced sweet potato cakes with crispy fried egg
If you don't have chives at hand, use spring onions or finely diced red onion instead. This makes enough for 6 sweet potato cakes, so you could easily cook 6 eggs and stretch it to feed 3 people (2 cakes each, instead of three). I use orange (Beauregard) sweet potato/kumara, but any kind will do.
Serves 2 (can be easily doubled)
1 large (300g) sweet potato (kumara), peeled and grated
1 large free-range egg
2 tablespoons finely chopped chives
1 clove garlic, finely chopped
1 teaspoon ground coriander
1 teaspoon ground turmeric
1/2 teaspoon ground cumin
1/2 teaspoon fine sea salt
Pinch chilli flakes, optional
handful coriander (cilantro) leaves + tender stems, roughly chopped
Ghee or extra virgin olive oil, to shallow-fry
2-4 large free-range eggs (one or two eggs per person)
handful rocket (arugula) or spinach leaves, to serve
Chutney, to serve, if desired
Combine grated sweet potato, egg, chives, garlic, spices, salt, chilli and coriander in a large bowl. Use your hands to evenly mix the lot.
Heat a large frying pan over medium-high heat and add a good few knobs of ghee or glugs of olive oil. Add little handfuls (approx 1/4 cup) of mixture to the pan. I tend to squeeze them together as much as I can before placing them into the pan and then flatten them with a metal fish slice, but they don't need to be perfect circles. Cook for 2-3 minutes or until golden on the underside, before flipping over and cooking for a further minute or two. Transfer to a paper-towel lined plate while you cook the rest. When all the sweet potato cakes are cooked, wipe out the pan with a paper towel (roughly) and return to the heat, add another knob of ghee or glug of olive oil and fry your eggs to your liking.
To serve, place 3 sweet potato cakes in each plate, top with a little handful of rocket (arugula) or spinach and then your egg/s. Serve immediately, with chutney if desired.