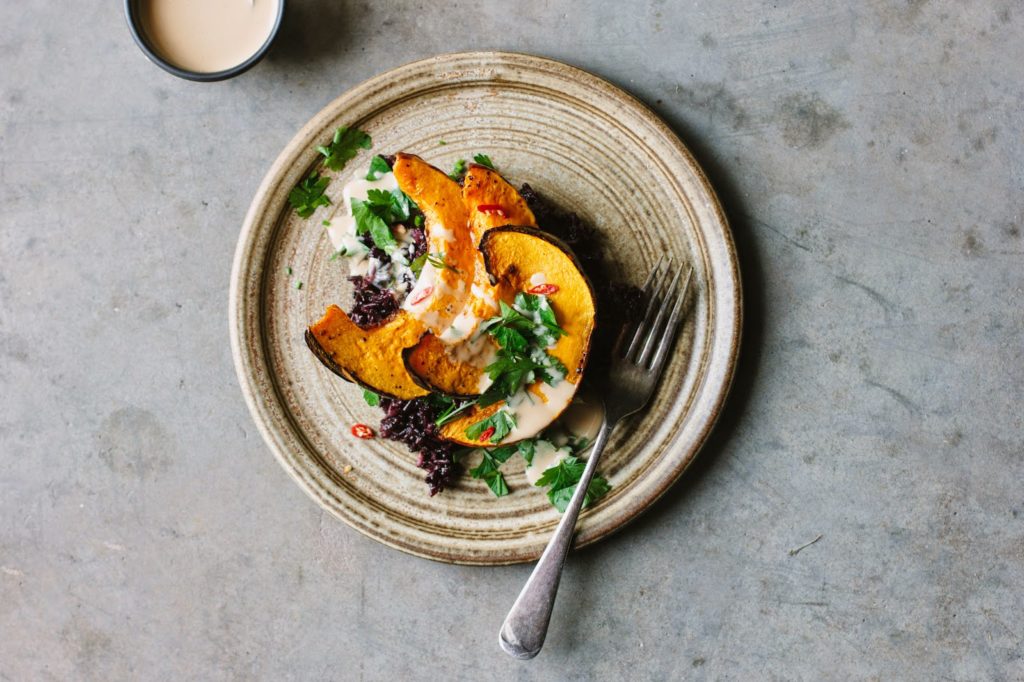 Back when I worked in professional kitchens, a good portion of the year the staple vegetable always guaranteed to be lurking somewhere in the storeroom was the humble pumpkin. To many it may seem one of the more, how shall I say this... boring, vegetables. But to me, they simply mean endless possibilities. Not only can they be used in hundreds of savoury dishes from pasta, salads and stews, but pumpkin works just as well when used in sweet dishes too! Just take a look at any US food blog in the first week of (their) autumn, or should I say fall, when everyone goes pumpkin-crazy in blogging land and you will see all the amazing things that can be done with this so-called 'boring' veg. Smoothies, pies, brownies, you name it, pumpkin is the king.
Ada and I love roasted vegetables like no one else I know, so I've pretty much always got a tray of mixed root vegetables on the go, to eat for dinner or to send along to school in her lunchbox. While butternut pumpkin (squash) is my favourite to roast and eat, from a stylistic point of view, the Japanese pumpkin (aka Kabocha squash in the US) is always prettier in photos (so shallow, I know!), so that's what I went with when I cooked this beautiful dish from my friend Sarah B's much anticipated debut cookbook My New Roots, which has just been released. I don't really do full book reviews anymore, but one thing I will say about this beautiful book, is that in a time where the world of 'health food' has become ridiculously extreme, it's refreshing to have someone like Sarah provide a balanced and achievable view on all that's healthy. There's nothing preachy about what she does, just honest good real food. I love that.
A few other pumpkin recipes from the archives, just in case you didn't believe me when I said I love the stuff!
Roasted pumpkin with black rice and tangerine tahini sauce
I used new-season mandarin zest and juice in place of tangerine, and I suspect tangelo, lemon or orange would also work perfectly fine here too.
Serves 4


1 1/2 cups (250g) black rice, soaked overnight if possible, rinsed + drained
Fine sea salt
1 medium pumpkin (1kg), washed, seeds removed and cut into wedges
Knob of coconut oil or ghee, melted
2 cloves garlic, minced
Freshly cracked black pepper
1/2 cup (10g) chopped flat-leaf parsley
1/2 fresh chilli, sliced
Handful of raisins, optional
Tangerine tahini sauce
1/2 cup (125ml) tahini
2 teaspoons pure maple syrup
2 teaspoons apple cider vinegar
1 tablespoon tamari (or gluten-free soy sauce)
Grated zest of 1 organic tangerine
1/3 cup (80ml) freshly squeezed tangerine juice
1/4 teaspoon ground ginger
1/2 fresh chilli, sliced
Fine sea salt
Put rice into a saucepan along with a few pinches sea salt and 3 cups (675ml) water, bring to the boil. Reduce heat and simmer covered, until the water has absorbed. 25-50 minutes (depending on how long you soaked the rice). Remove from the heat.
Meanwhile, preheat oven to 200C (400F). Place pumpkin on a tray in a single layer, drizzle with oil, scatter over garlic and some salt and pepper. Toss to coat. Roast until tender, about 30 minutes.
To make the tangerine tahini sauce, place ingredients into a small food processor or blender along with 1/4 cup (60ml) water and blend on high until smooth. Season with salt. Any leftover will store in a glass jar in the fridge for up to 1 week.
To serve, arrange the rice and pumpkin slices on plates. Sprinkle with parsley, chilli and raisins (if using). Drizzle with the tangerine tahini sauce and serve with extra sauce on the side.
Reprinted with permission from My New Roots by Sarah Britton (with just a few minor wording changes).