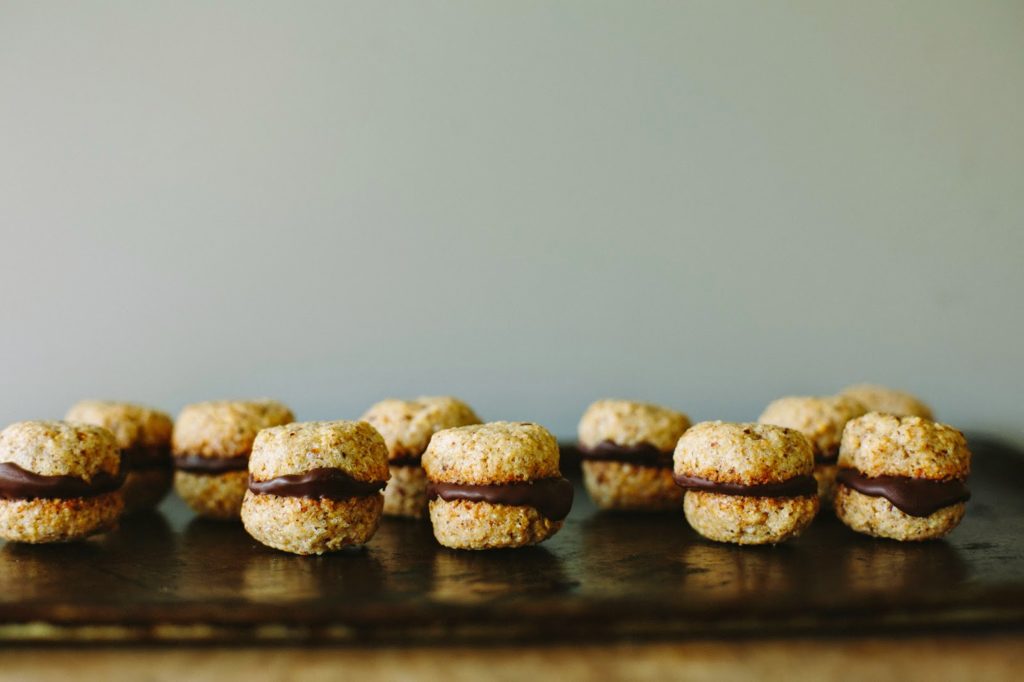 I was doing so well this year. Easter came and went and I only had a handful of teeny Easter eggs, which I thought were stealthy stolen late at night when no one was watching... only to be caught out the following day by the little monkeys, who it turns out know every egg collected at their grandma's hunt and knew exactly the two mini ones that were missing. I told them, in my defense... at least I took one from each! Fairs fair and all...
It wasn't until well after Easter had come and gone that my craving for chocolate kicked in. So rather than steal anymore eggs from the kids, I whipped up a batch of these super simple chocolate-filled hazelnut cookies, in mini size. I used the reminants of a block of chocolate I had kicking around from some recipe testing, but I reckon these cookies would also be a great way to use up a little of your Easter egg haul, if you still have any left...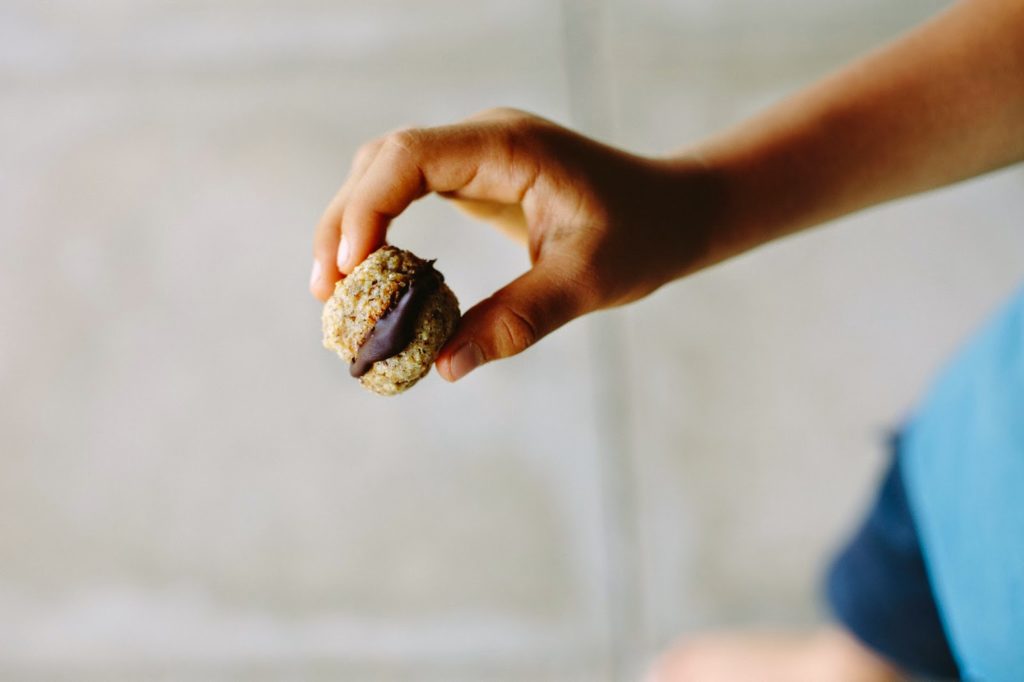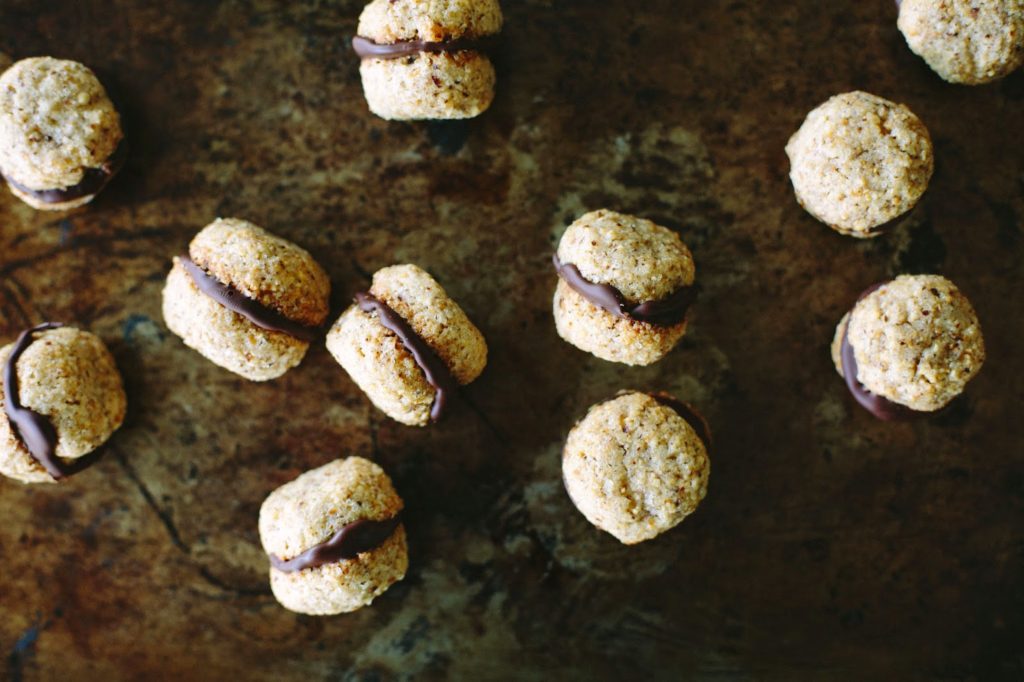 These cookies contain just a few simple ingredients, take moments to make and are kinda reminiscent of an amaretti biscuit in texture; crispy on the outside and chewy in the middle. Of course you don't have to smoosh them together with chocolate if it's not your thing. But chocolate and hazelnuts are one of my absolute favourite combos.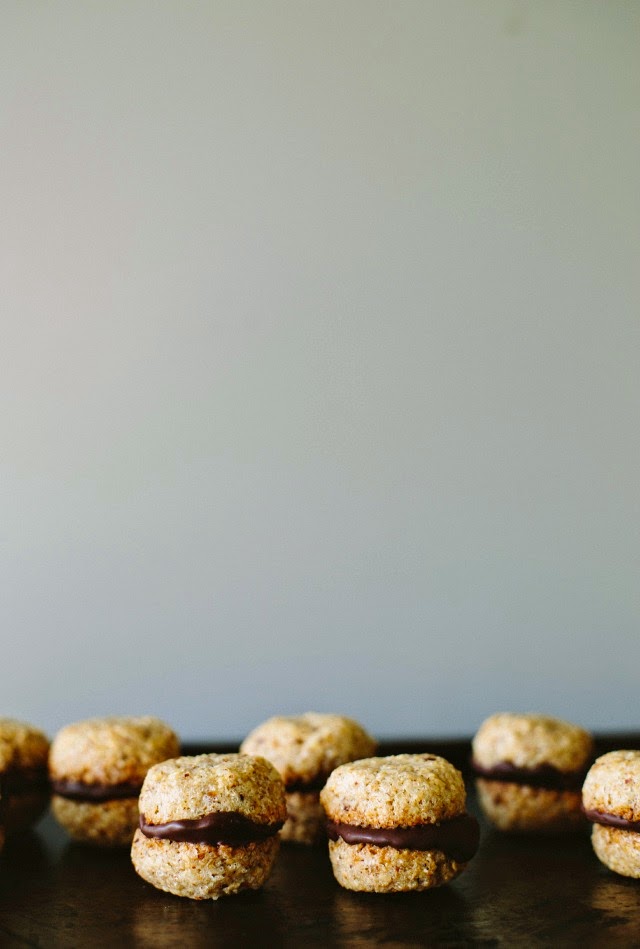 Chocolate-filled baby hazelnut cookies
I use Whittaker's 50% cacao dark chocolate, which is dairy-free. You want to make sure your raw sugar is a fine grain one here, if not, give it a quick whizz in an upright blender until finely ground.
Makes 12 filled cookies


3/4 cup (100g ) hazelnuts, toasted + skinned*
1/3 cup (65g) unrefined raw sugar
2 tablespoons (20g) fine brown rice flour
1 large free-range egg white
1/2 teaspoon vanilla extract
70g dark chocolate, melted
Preheat oven to 170C (335F). Line a baking tray with baking paper.
Place toasted, skinned hazelnuts and sugar into a small food processor and pulse until finely ground. Don't blend for too long though, or you'll end up with hazelnut butter! Add brown rice flour, egg white, vanilla and a pinch of fine sea salt and pulse until just combined. Roll teaspoonfuls of (sticky!) mixture, place on the tray and flatten slightly. You should be aiming for 24 similar-sized cookies. Cook for 12-15 minutes or until golden on the bottom and set on top. Remove from the oven and set aside to cool on the tray for 5 minutes before transferring to a wire rack to cool completely. Sandwich two cookies together with a small spoonful of melted chocolate and set aside to firm up. In hot weather, place cookies in the fridge for 5-10 minutes to set. Store airtight for 2-3 days.
* Toast hazelnuts at 180C (350F) for 8-10 minutes on a tray, until fragrant and golden (the skins will start to flake off some of them). Shake them around once or twice during cooking to ensure they toast evenly. Remove from the oven and set aside to cool. Transfer to a clean tea towel and rub them together to remove as much of the skins as you can. Toasted hazelnuts will store in a jar in your pantry for a few weeks, or longer in the fridge.