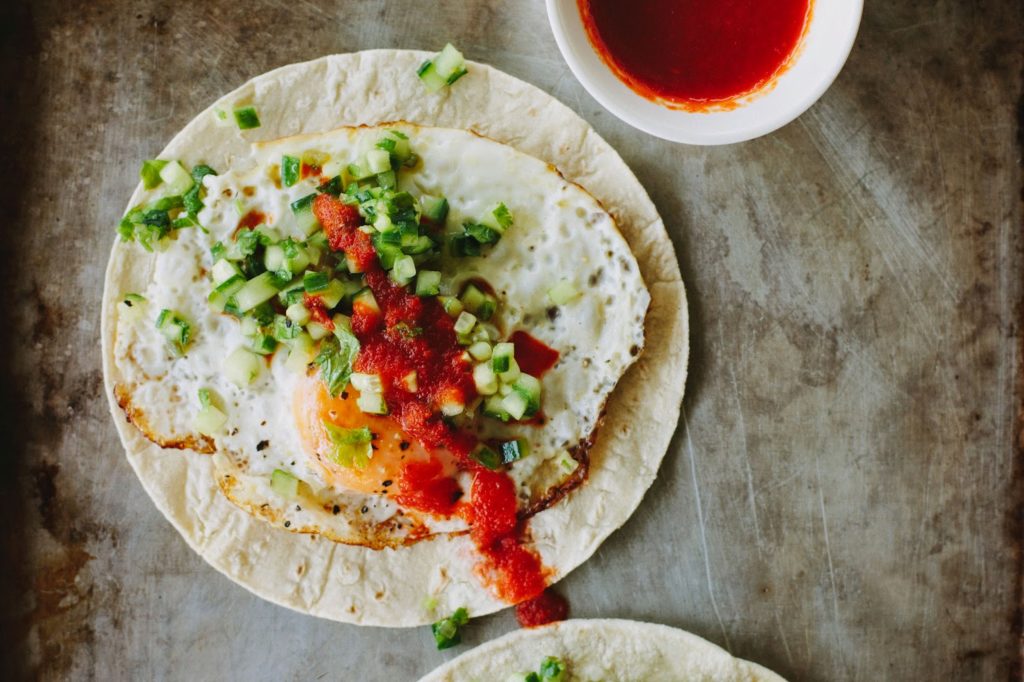 With the summer holidays in full swing and the temperatures soaring I'd love to say we've been at the beach all day, everyday... but alas most days I've been in the kitchen cooking up a storm for a few projects I've got on the go. We have managed a few early morning trips to the beach though and we've also got plans to take off down south in a few weeks and I'm more than just a teeny bit excited at the thought of white beaches, blue sky, ocean, good food and nothing to do but hang with my beautiful little family. Lunches of late have mostly been things-on-toast as they are the quickest thing to prepare, and with the kids at home I've been making a double batch of my gluten-free sourdough (recipe in my cookbook) every 2-3 days to keep up with demand... Which is totally ok on the cooler days, but when the temperature reaches near or over 40C, well lets just say, heating up the oven feels just a tad crazy! Ha.
To break out of the things-on-toast for lunch buzz yesterday, I whipped up this simple tasty little number which actually only takes a few minutes longer than the toast route and requires you to heat up a pan for just a few minutes so as not to contribute to the overall stifling heat of the house too much. The end results were everything I love in a quick lunch; crispy fried eggs, warm tortilla and a spicy little cucumber salsa scattered on top. I smeared the lot with some of my homemade Sriracha too, which we all know I'm kinda addicted to...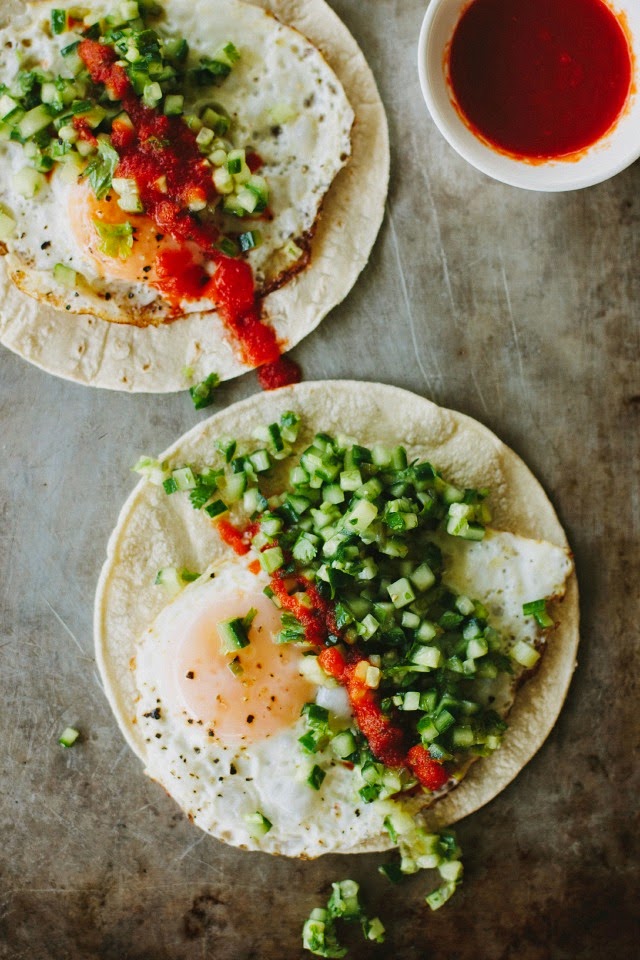 Wishing you all a safe and fun-filled New Years Eve + blessings for 2015 (seriously, where did that year go?).
xx Emm
PS. The third print run of my cookbook is expected in stores mid-Jan in case you were wondering why it's out of stock online (I've had a bunch of emails lately!). There should still be some copies in a few stores around NZ/Australia if you're lucky. I've also got some exciting news for my Northern Hemisphere friends regarding my cookbook which I'll share more about as soon as I can. Thanks SO much for your support, it's been a crazy big year!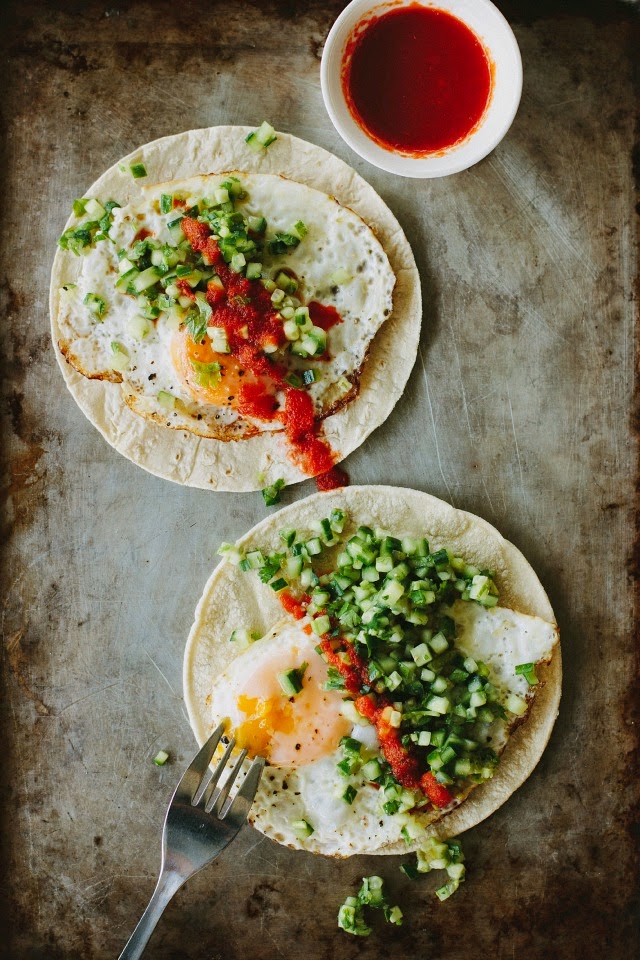 Fried egg tortilla with cucumber jalapeno salsa
This makes enough to serve one, but can easily be scaled up to feed a crowd. I recommend you season the salsa right before serving to prevent the salt from drawing water from the cucumber... which will make your tortillas soggy. If you do find a little liquid in the bottom of the salsa bowl, simply drain out before spooning onto the tortillas. You can find my homemade Sriracha recipe here. I used Mission brand white corn tortillas cause I was in a hurry, but if you prefer to make your own you can find my recipe here (just cook them in a hot dry pan until golden and cooked through). If you're not 100% dairy-free, a little crumbling of feta cheese would be super good on these also.
Serves 1 (two tortillas)


1 Lebanese cucumber, finely diced (or about a 10cm piece of telegraph cucumber)
1 pickled jalapeno, finely diced
a handful coriander (cilantro) leaves, roughly chopped
the juice of 1 lime
sea salt + freshly ground black pepper
2 white corn tortillas (gluten-free)
2 large free-range eggs
olive oil or ghee to fry
hot sauce (like homemade Sriracha), to serve
Combine diced cucumber, jalapeno, coriander and lime in a small bowl, mix well and set aside while you get onto the tortillas and eggs (season the cucumber right before serving to prevent the salt from drawing water from the cucumber... which will make your tortilla soggy).
Heat the tortillas in a dry frying pan over medium heat until soft, set aside. Heat a little olive oil or ghee in the same pan and fry your eggs to your liking, seasoning the tops with sea salt and freshly ground black pepper.
Season the cucumber salsa. Serve fried eggs on the warmed tortillas with a few good spoonfuls of salsa and a smear of hot sauce. Eat immediately.