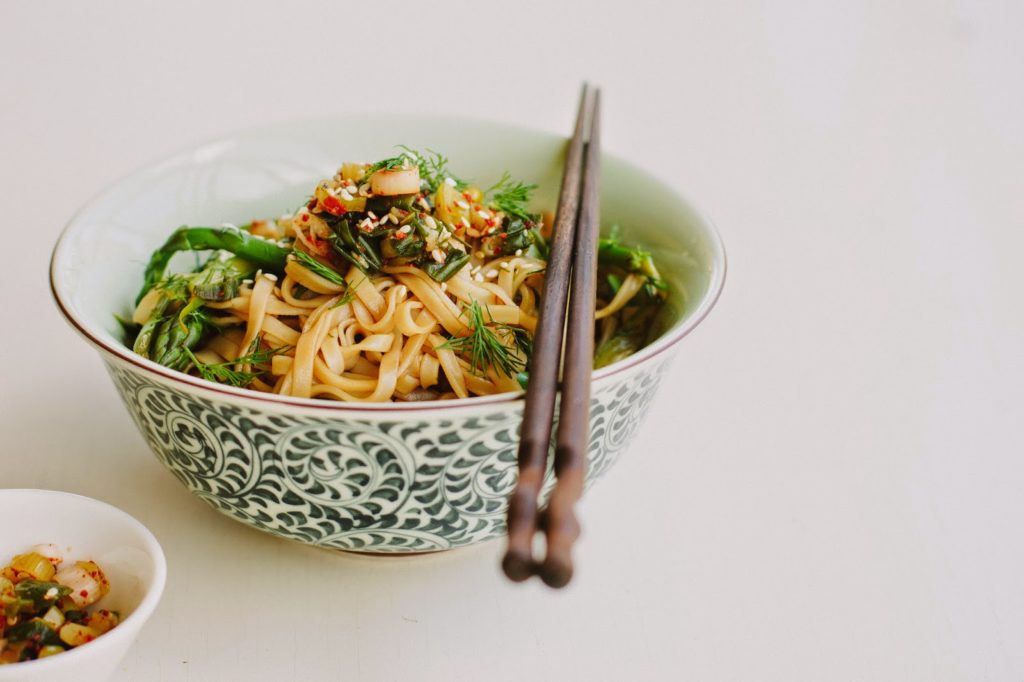 I've had super itchy feet lately, feeling that need to get away from everyday life, to experience new things, taste new flavours and be inspired. A holiday would be perfect, but alas, not on the cards anytime soon. So to sooth that itch I've instead been reading food-based novels.
The latest
(which I borrowed from my local library) had me craving noodles,
bad
. The book starts in China and follows a journey of the Silk Road through Central Asia, Iran, Turkey and ends in Italy. Along the way the author discovers the many, many similarities between Asian noodles and Italian pasta and everything else in between.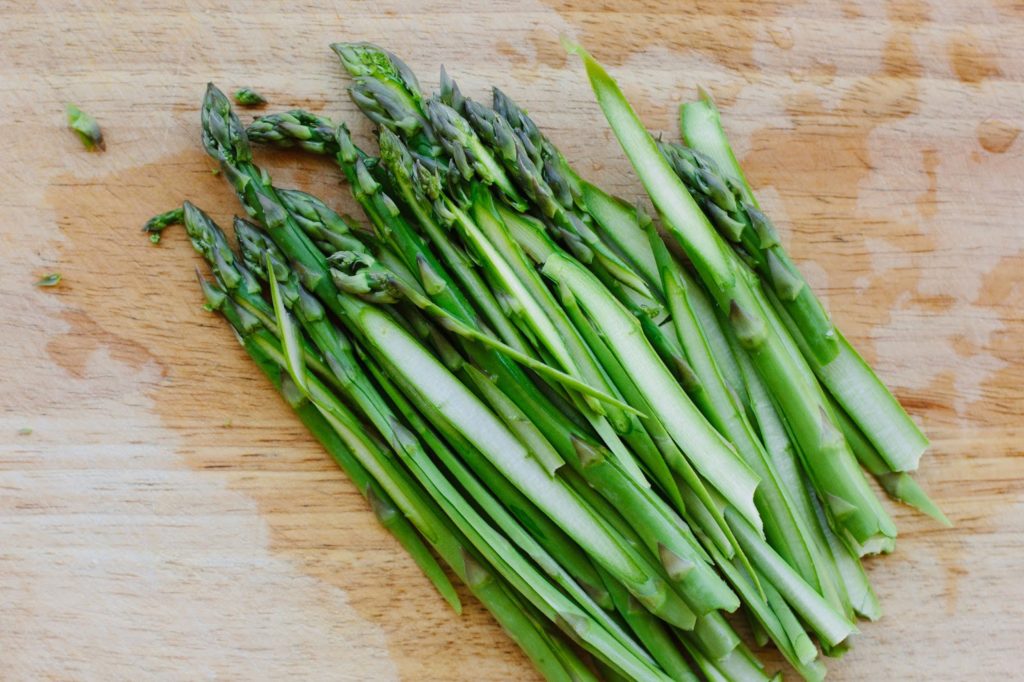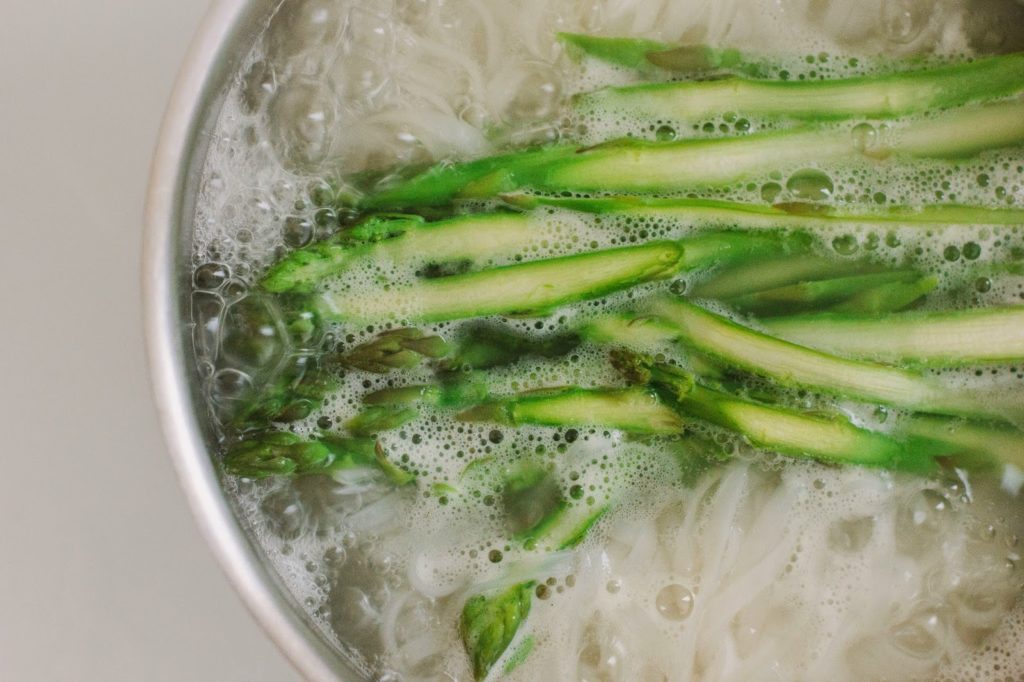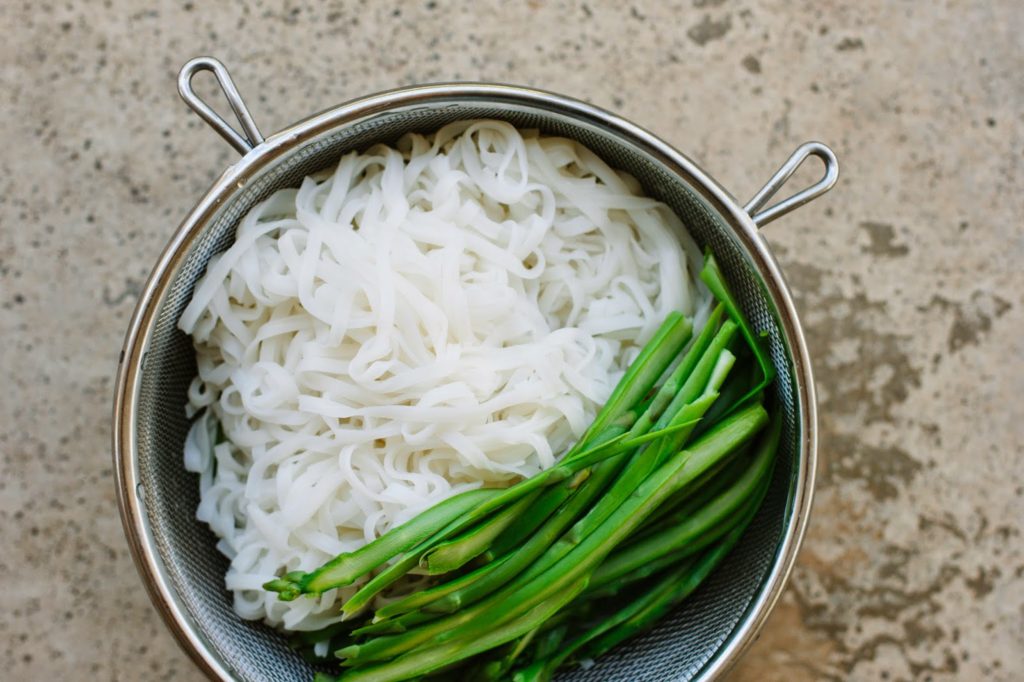 Those of you who have been around here for awhile, know how much I love noodles so every night as I put the book down and tried in vain to drift of to sleep, all I could think of was a huge bowlful of noodles and how much I wanted to be eating them that very moment!
Of all the dishes talked about in the book, the memory of one stuck in my mind and had me down at my local Asian grocers the other day, stocking up on ingredients. It was simply described as chewy wheat and translucent noodles made from starch dressed in black vinegar, chilli oil, soy sauce and chopped dill which the author had come across in Bishkek, Kyrgyzstan in Central Asia. With it's close proximity to Russia, Jen made note of the appearance of dill as 'an ingredient completely foreign to Chinese food but one that was ubiquitous just across the border'. The use of dill seems to have skipped over Chinese cuisine completely, but it strangely pops up often in Vietnamese cuisine, which borders Southern China.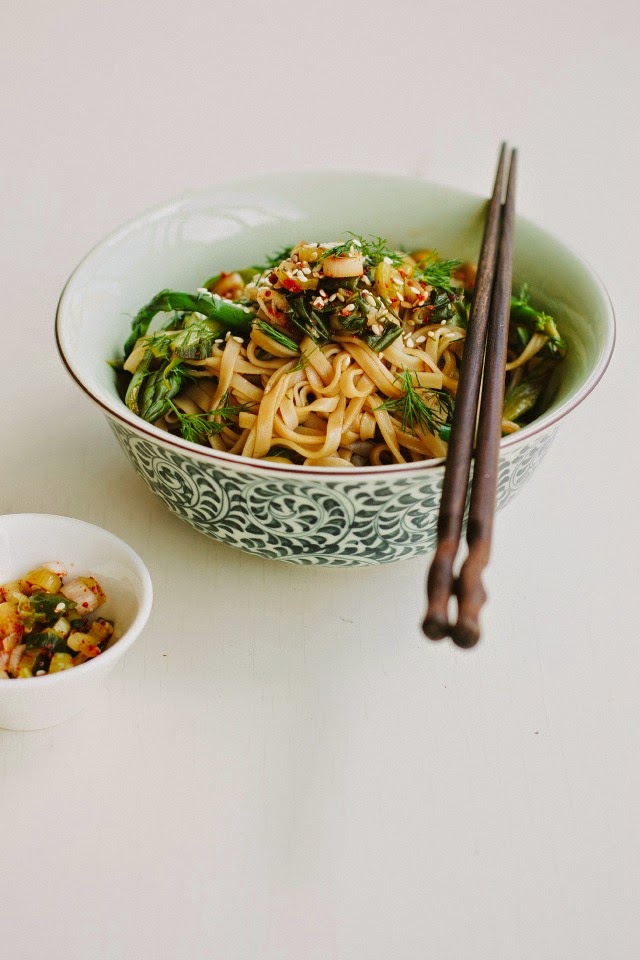 This simple yet flavourful salad totally hit the spot. With a tangle of lightly cooked asparagus shavings and a good spoonful of spring onion (scallion) kimchi on top, my craving was well and truly satisfied. I think yours will be too.
A few other noodle-based dishes you might like to also try:
- Spicy rice noodle salad with pickled vegetables + sesame-soy dressing
- Roasted eggplant + noodles with Chinese black vinegar dressing
- Spicy tofu curry
- Spicy coconut noodle soup
p.s Thank you all SO much for your sweet comments on my somewhat brutally honest post last week. My aim in sharing it was not to inflate my own ego by encouraging you to reassure me that what I do is appreciated, but more to pull back that curtain on feelings I think we all have, but sometimes think we are alone in. But thank you guys, so much.
p.p.s A little book update: The third print run of my cookbook is currently underway (!), so if you had plans to buy a copy (or two, three... four!), for Christmas presents I'd get in quick to snap up the last of the second print run just in case they go quickly. For my Aussie mates, Big W are going to be stocking it again in the coming weeks, which is great news as they always have cookbooks for a really great price.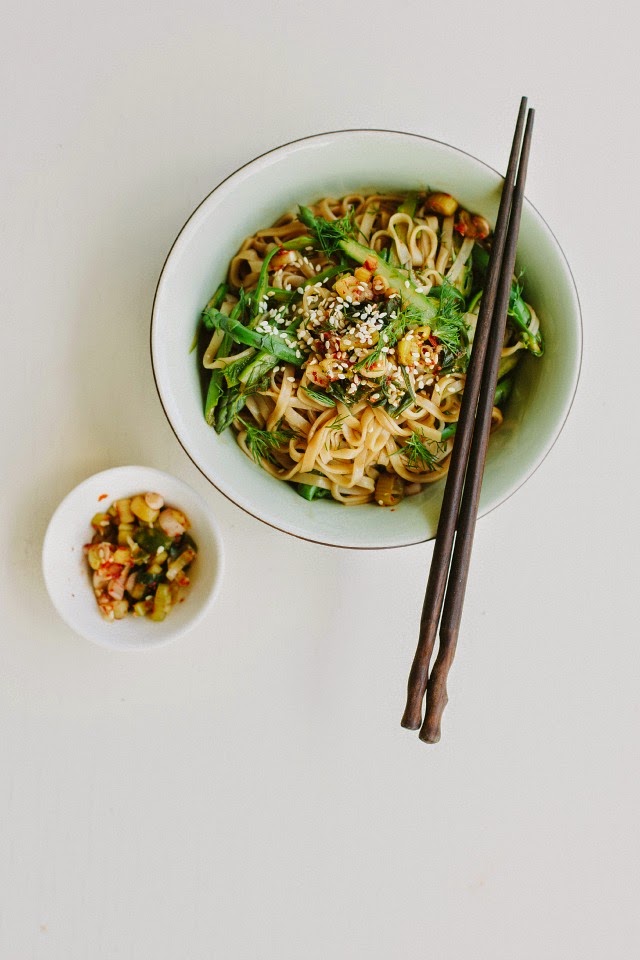 Asparagus + dill rice noodle salad with spring onion kimchi
If you are coeliac or super sensitive to gluten, please check the label of your black vinegar carefully (read more here), or use white rice vinegar instead to be on the safe side. If you're using NZ/US/UK 15ml tablespoon, you can use 2 tablespoons of vinegar and soy sauce in place of the teaspoon measurements below. However, Australian tablespoon's are 5ml bigger, hence why I've used teaspoons below.
Serves 2 or more as part of a larger meal.

half a 375g packet of dried rice noodles, any thickness
1 bunch (approx 180g) asparagus, thinly sliced lengthwise
handful dill, roughly chopped
6 teaspoons black Chinese vinegar *see headnote's
6 teaspoons gluten-free soy sauce
1 teaspoon sesame oil
pinch unrefined raw sugar
Spring onion (scallion) kimchi, to serve *see below
toasted sesame seeds, to serve
Cook noodles in a large pot of boiling water until soft (this time will vary depending on the thickness and brand of your noodles, but I'd aim for around 4-5 minutes), add the asparagus in the last minute to lightly cook. Drain into a sieve or colander and rinse under cold water to stop the cooking process. Set aside to drain well. Combine vinegar, soy sauce, sesame oil and sugar in a large bowl, mixing to combine. Add drained noodles, asparagus and dill and stir well. Serve immediately topped with spoonfuls of spring onion kimchi and toasted sesame seeds. If you're making ahead of time, don't mix in the dressing until the last second, or the noodles will suck it all up!
Spring onion kimchi
I wasn't exactly sure how big 'one bunch' of spring onions (scallions) is in the US, so just used Davids recipe as a guide and winged it. It worked out great. I left it for 72 hours, although in this hot weather we've been having lately, I think 24-30 hours would be plenty.
Recipe adapted from One Good Dish, by David Tanis, as seen on Not Without Salt.


1 large bunch spring onions/scallions (approx 10), cut into 1 inch pieces
1 1/2 teaspoons fine sea salt
3 cloves garlic, thinly sliced
2 teaspoons unrefined raw sugar
2 teaspoons finely grated ginger
1 tablespoon toasted sesame seeds
1 tablespoon rice vinegar
1 1/2 teaspoons chilli flakes
Put the spring onions into a glass or ceramic bowl, sprinkle with salt and mix gently, set aside 10 minutes. Add remaining ingredients and mix well. Cover bowl with a plate and leave out on the bench for 24-72 hours (the longer you leave it the stronger the 'fermented' flavour will be). Pack into a jar, pressing down to cover the kimchi in it's liquid and store in the fridge. Finely chop to serve. This kimchi will keep in the fridge for around a month.