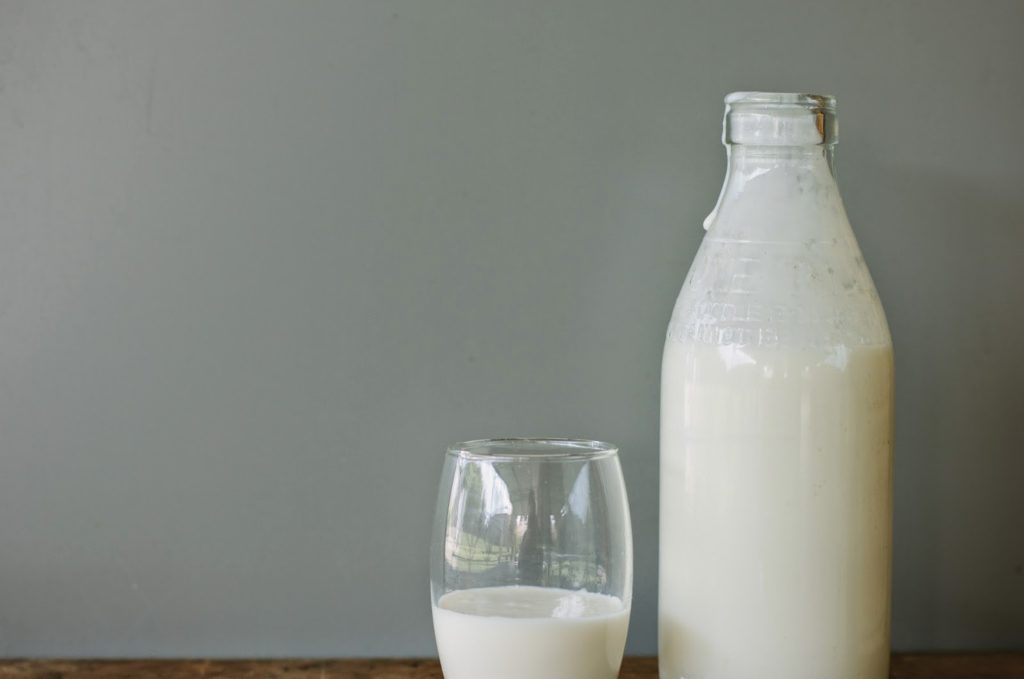 I grew up in a vegetarian household, so it's pretty safe to say the things we ate were not exactly 'the norm'. We ate cheesecake made from tofu, homemade hummus and brown rice. The shelves in our laundry were always full with mums preserves and apparently, although I don't remember it well myself, there was often a jar of milk kefir fermenting away in there too.
Many years later when I had kids of my own -kids who don't tolerate lactose so well- I re-discovered this amazing stuff and have been hooked ever since. There are two types of kefir, milk and water, and while I do actually prefer the water kefir myself, it's the milk kefir grains that I currently have at home. Four years ago when I re-discovered kefir it was the biggest blessing, prior to that we hadn't eaten any dairy what-so-ever for over 2 years and I can't even begin to tell you how much I missed that yogurt tang, especially in smoothies. Nowadays kefir is becoming more well known and while I know there are a few companies who sell it (mostly in smoothie form), it's so easy and much more cost-effective to make it yourself. Not to mention, better quality. From what I know, most commercially made milk kefir is fermented using just a little of the strained kefir itself. However, the good stuff that you make at home is made using milk which is fermented with actual kefir grains, which means more goodness of course!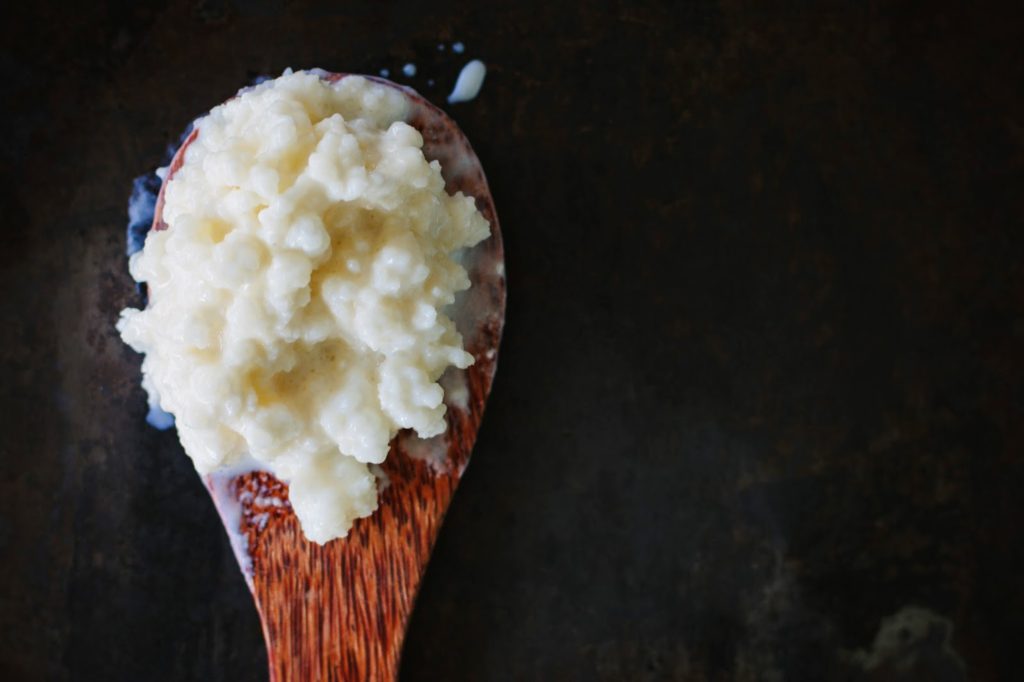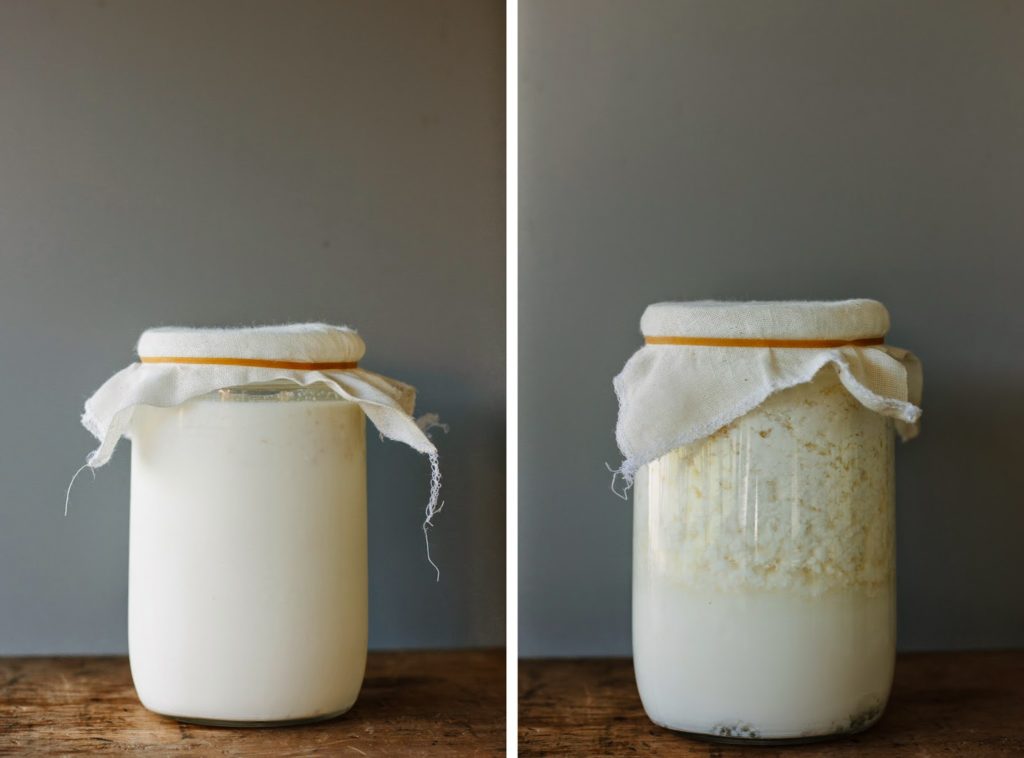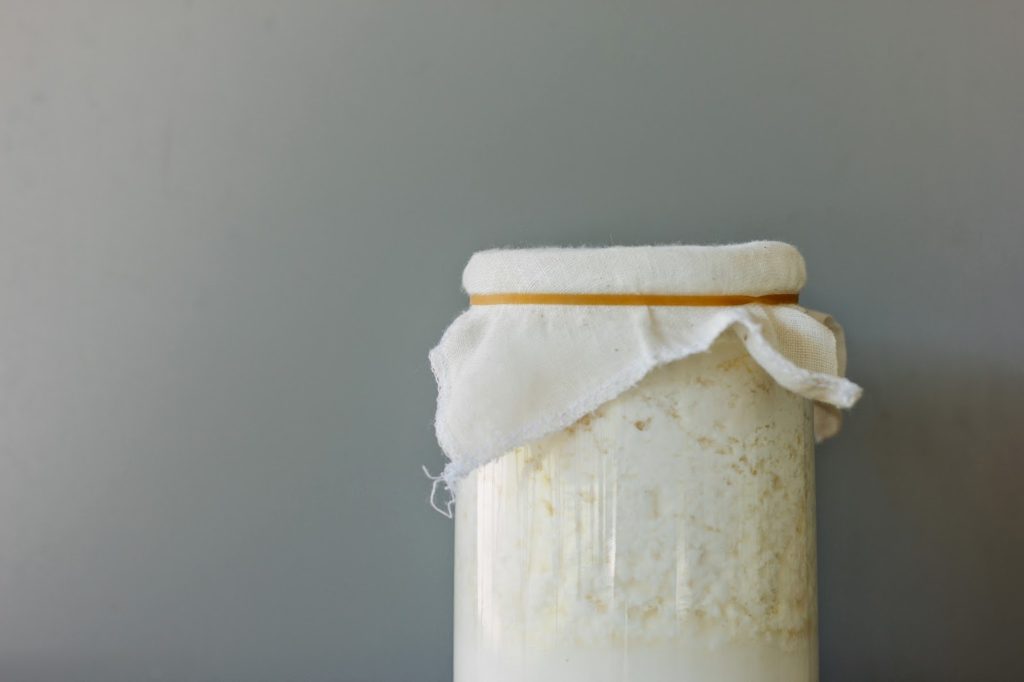 Basically what you do is add the grains to milk, cover and leave to ferment overnight. The next day the grains are strained out and re-used for your next batch. The sour, tangy pouring-yogurt consistency liquid you are left with is really something quite magical. Not only is it brimming with minerals, vitamins, amino acids and enzymes, but also probiotics and beneficial yeasts. And the best bit? The end product is virtually lactose-free, as the grains digest it for you!
A simple google search will pull up loads of people either selling or giving away kefir grains, and as the grains multiply every time you make a fresh batch, you'll always have an endless supply to give away to friends and family, should they ever ask about that weird curdled jar of milk in your pantry... For my Australian friends, this is an awesome resource to find kefir grains + kombucha scobys in your area.
* Food 52 have featured this recipe on their site today! Click on over for a little more detailed history of this awesome stuff. I also have more info about both milk and water kefir in my cookbook and this post from years ago.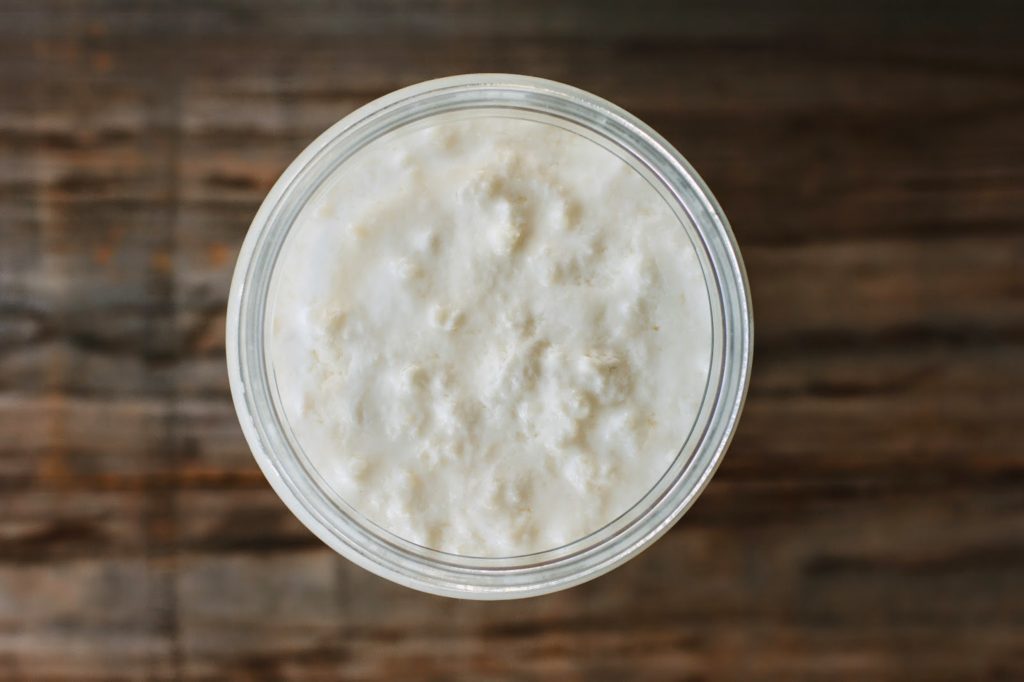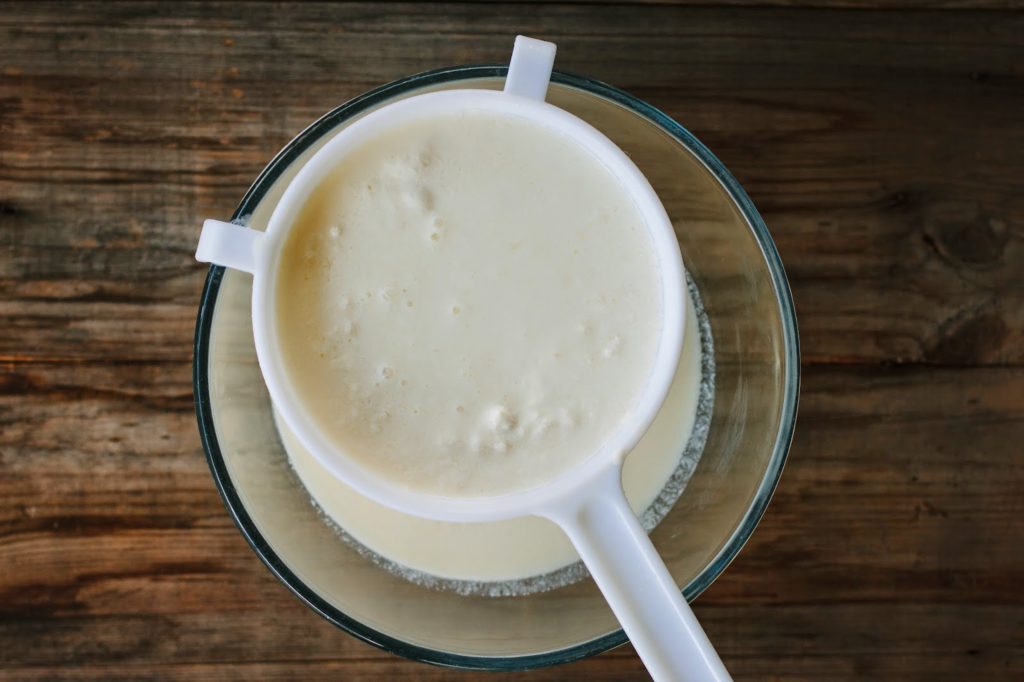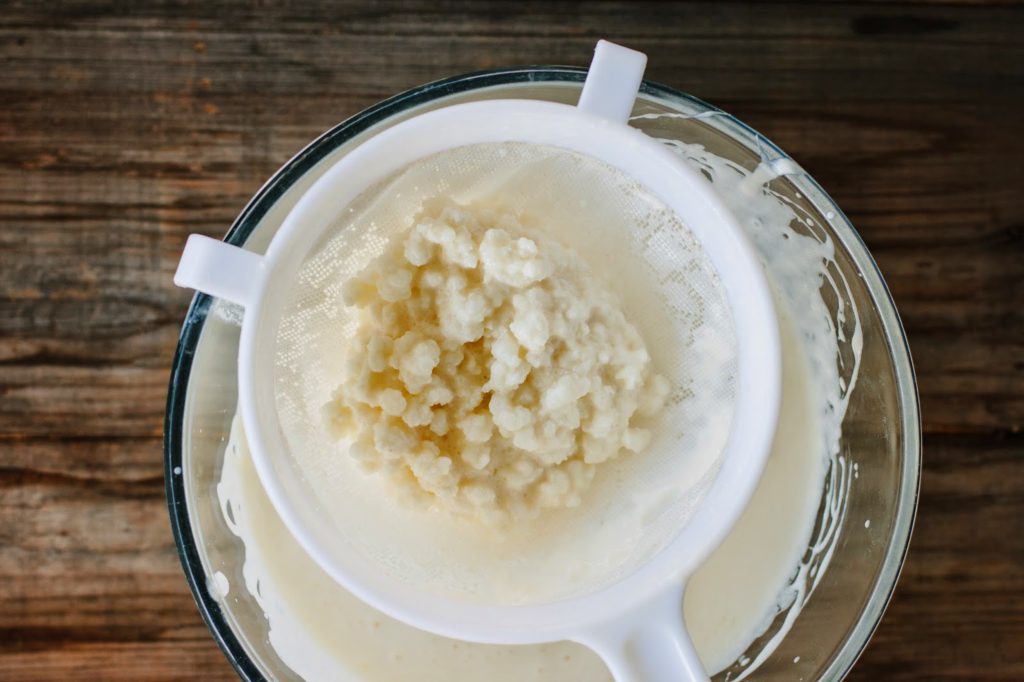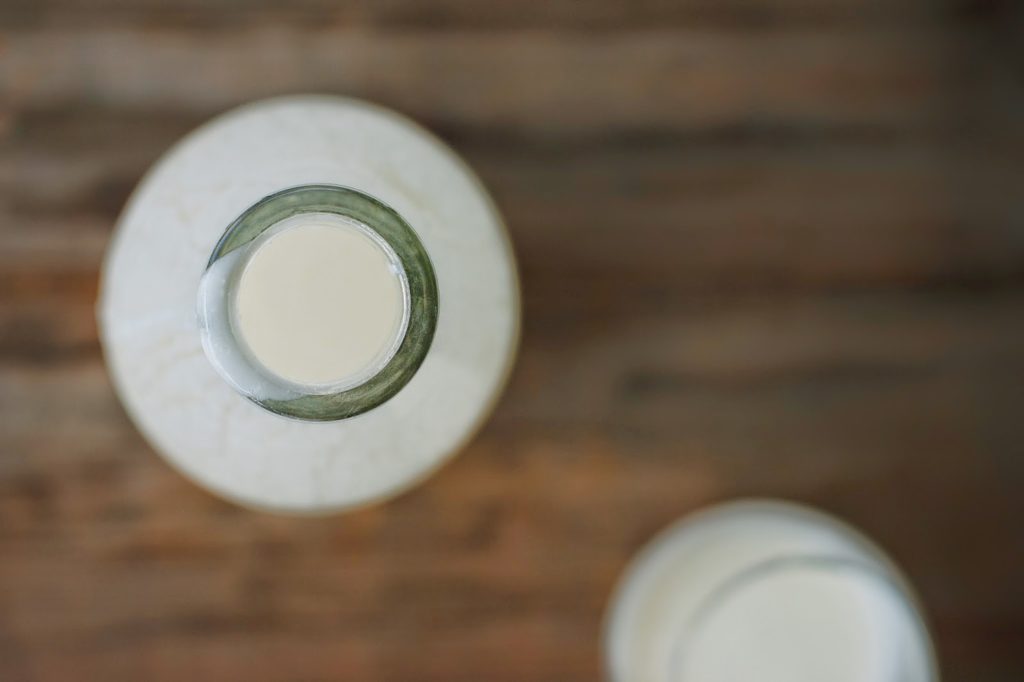 milk kefir
You can use plant-based milks such as rice, almond or coconut milk in place of the cow's milk, but the grains won't multiply like they normally would and you'll find you need to 'perk' them up every now and then in cows milk to keep them happy. Organic milk is best, or even better would be raw milk if you can source it, but plain everyday homogenised milk is fine. The fermentation process is said to replace a lot of the goodness that is lost through pasteurisation and homogenisation. You can use milk kefir as a base in smoothies, or in place of yoghurt or buttermilk in recipes. If you're hard core, you can also just have shots of it to get your daily dose of probiotics.
Makes 1 litre
4-6 tablespoons milk kefir grains
1 litre milk

a suitable 1 litre glass jar
a small square of muslin/material
1 rubber band
1 large plastic sieve
plastic or wooden spoon
Pour milk into a large glass jar, add kefir grains. Cover the top with muslin then secure in place with a rubber band. Place jar in a dark place (I put it in my pantry) and leave for 12-24 hours until you see it starting to separate into curds and whey. In summer it will ferment quickly, but in winter it will take a little longer.
Pour the entire contents of jar into a plastic sieve placed over a bowl. Gently shake sieve from side to side to let kefir drain through (if you have left it a little bit too long and there are some really solid bits, I just sit the sieve in the bowl and using the drained whey I mix it gently back into the grains to loosen any really firm curds then re-strain. The kefir will then strain through easily and you'll be left with the cauliflower-like 'grains' in the sieve). The strained kefir is then ready to use or can be stored in the fridge for up to a week. To further increase the B vitamins you can leave the strained kefir at room temp for one day or more if in the fridge.
Use the strained kefir grains to make your new batch in a clean jar, there's no need to rinse the grains between batches.
You can make as little or as much as you want, I usually make 1/2 litre every other day (and I slow things down a bit if I have a backlog by letting it ferment in the fridge instead of in the pantry). If you only have a tablespoon or two of grains to begin with, just use a cup or two of milk to begin with, until your grains have multiplied enough to ferment more milk.
Excess kefir grains can also be frozen by rinsing well, patting dry on a clean cloth, lightly coating in milk powder and freezing in a double lined plastic bag. Kefir made from frozen grains however may take up to three months of fermentation before consistently good batches are produced.