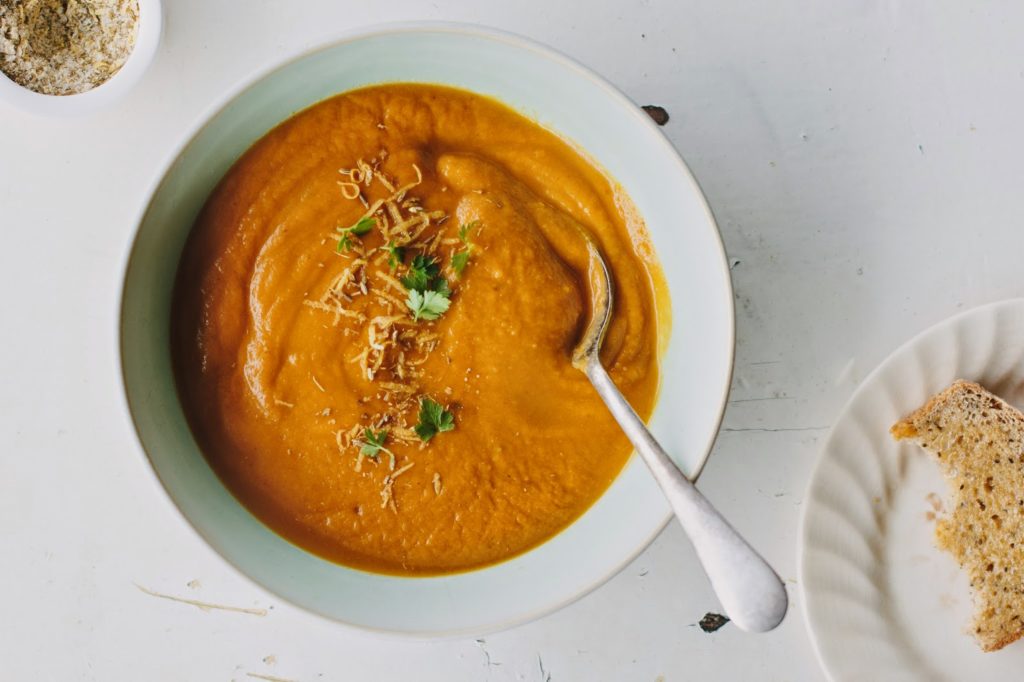 I am blessed with one adventurous eating kid in our family (the other one is getting there, slowly). She hardly ever turns her nose up at anything and gives most things a try, more often that not coming back for more, and more. But somethings changed this year when it comes to school lunches. All of a sudden she doesn't want to eat anything I've given her in the past, claiming it's just not that nice after sitting in her lunchbox all morning. I fully understand. But that doesn't mean to say I'm all that stoked about this new development! All the things she will happily eat for lunch at home are off limits when it comes to school. She just won't eat them. I know part of the cause is she's just too keen to get lunch over and done with and get out in the playground with her friends, but mostly it's just that she's a little bit of a food snob and likes to eat things 'freshly' made! Oh what have I created here?
The boy has his usual lunch fare, but the girl, well lets just say I've had to get rather creative with her lunches of late. The one thing she does still enjoy is a thermos of hot soup and a couple of slices of my gluten-free sourdough. Phew. The boy won't touch soup, never has. So I've got into the habit of roasting up huge tray-fuls of root vegetables whenever the oven is going, blending them down with some stock and then freezing them in single 8-year-old-girl-portions. It's then super easy to whack one in a saucepan whilst preparing breakfast to defrost and warm through, pop it into her thermos and off we go. I just used the last container of roasted pumpkin soup (from
my book
!) this morning, so I thought I'd get onto stocking the freezer back up again in preparation for next week at school. I love roasted carrots and if you chuck a sweet potato or two into the mix things get all lovely and creamy, without having to actually add, cream. A little scattering of lemon zest and a zip of fennel seeds and you have yourself one lovely thick, creamy bowl of yum.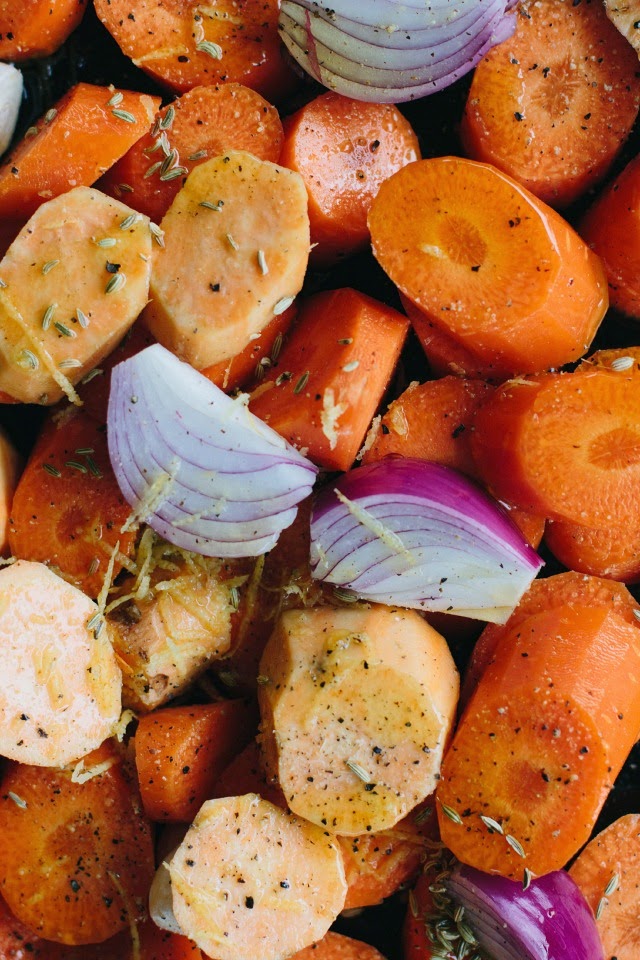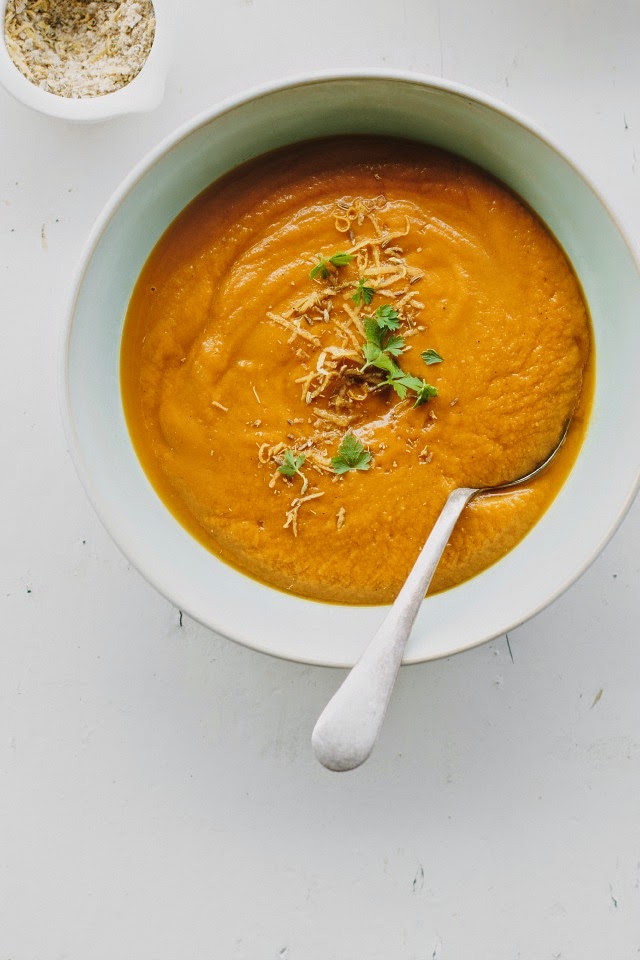 roasted carrot, fennel + lemon soup
I served this soup with some of my homemade gluten-free sourdough (recipe in my cookbook) and a sprinkling of lemon + fennel salt (see recipe below).
Serves 3-4


1 kg carrots (approx. 5 large carrots), peeled and roughly chopped
1 medium orange sweet potato/kumara (approx 250g), peeled and roughly chopped
1 onion, peeled and sliced into 8 wedges
4 cloves garlic, peeled
2 teaspoons fennel seeds
the finely grated zest of 1 lemon
2 tablespoons olive oil
sea salt and freshly ground black pepper
1 litre (4 cups) vegetable stock, preferably homemade.
Preheat oven to 200C/400F. Combine all the ingredients, except the vegetable stock, on a large deep roasting tray. Mix well to evenly coat everything in oil/zest/fennel seeds. Roast for 30-35 minutes, turning every 10 minutes or so to prevent burning. When the carrot and sweet potato are soft, remove from the oven and transfer to a blender along with the vegetable stock. Blend on high until smooth. Taste and adjust seasoning. Reheat gently in a large saucepan over low-medium heat. If you prefer a thinner soup simply add more stock, or a touch of water.
Leftovers will keep in the fridge 3-4 days or frozen for longer.
*I made a little flavoured salt to sprinkle over the top. To make this, lightly toast a couple of teaspoons of fennel seeds in a dry pan until fragrant. Give them a bit of a bash in a mortar and pestle, add about a tablespoon of finely grated lemon zest and a tablespoon of sea salt flakes. Store any leftovers in a small glass jar.