My 7 year old nephew is quite the hunter-gatherer and spend loads of time foraging for food with his Dad. A few weeks ago when I was home in NZ, mushroom season was just getting underway and they went out two days straight, picking field mushrooms from the paddock near the beach. The last day I was there they came home with a huge bucketful of goodies and within minutes of walking in the door, he had the frying pan on the stovetop with a good dollop of butter and a handful of mushrooms in there cooking away. I had a sneaky feeling he'd done this many, many times before.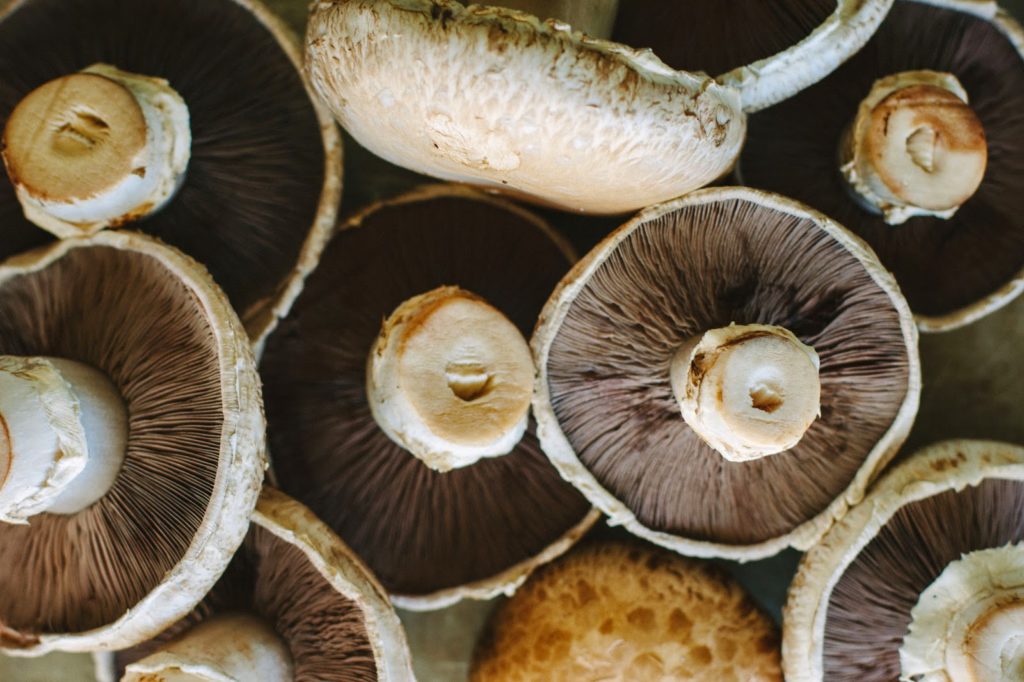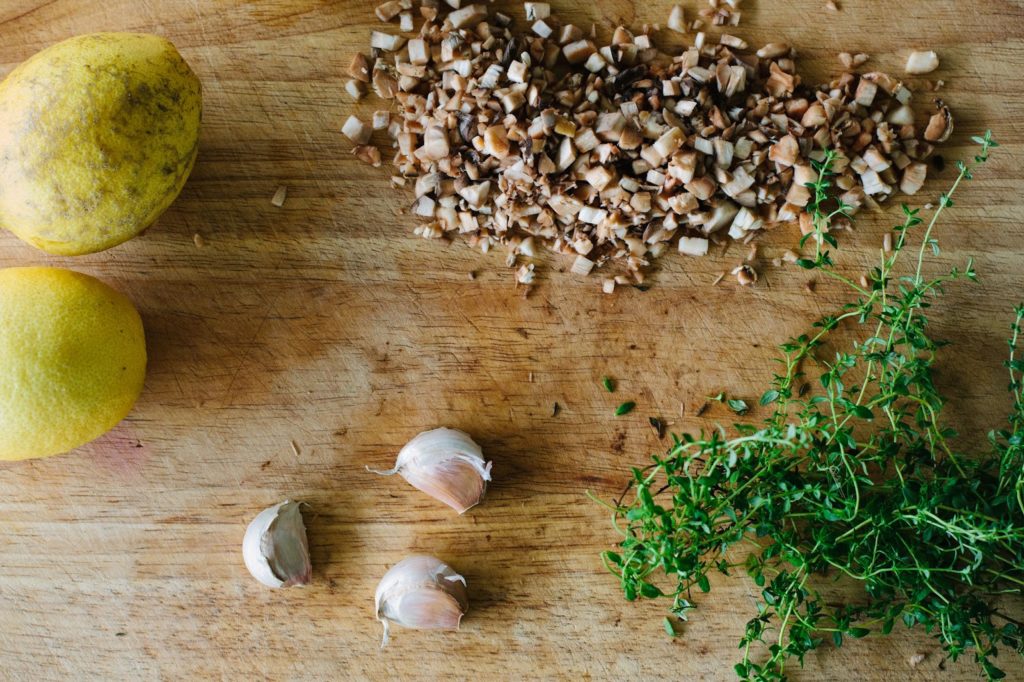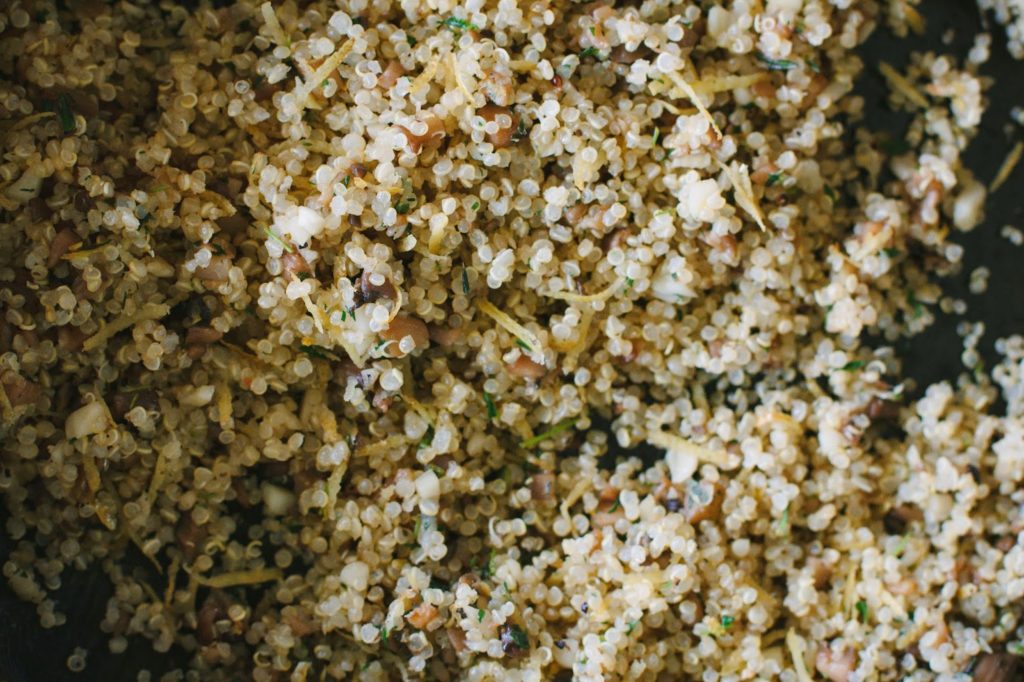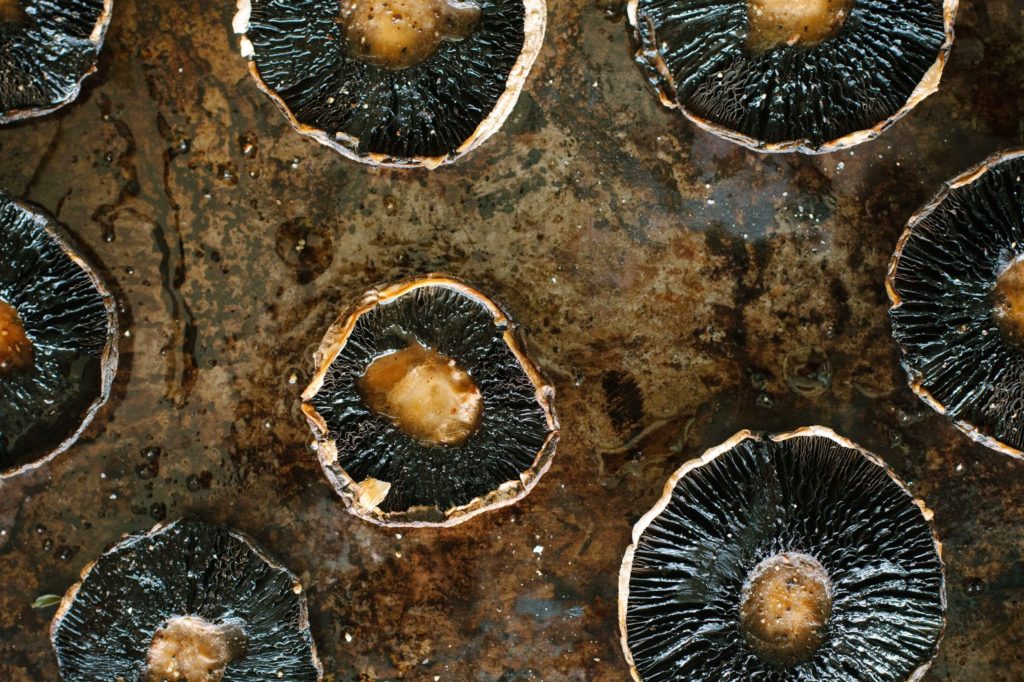 I know mushrooms are readily available all
year round nowadays, but it's right now- when the weather is cooling and the
rain is awakening them from their long summer sleep that it's the perfect time
to celebrate and enjoy them. I love mushrooms prepared simply and often want
for nothing more than a pat of butter and a few slices of garlic in the pan
alongside, however it's sometimes nice to jazz things up a little bit too.
Lemon + thyme are two of my favourite things to pair with mushrooms, they bring
a lightness and freshness to a vegetable that is all too often coated in cream,
leaving you feeling heavy and weighed down. I picked up these beauties from our local farmers markets (I'm not brave enough to forage for them myself!) and I've had this idea to top them with
a flavoursome quinoa mixture for some time and I gotta say, I was really stoked
with the results. So was Ada (she even asked for some in her lunchbox the next
day!). If you want to make the filling hold together in more of a 'traditional'
stuffed mushroom kinda way, feel free to add an egg to the quinoa mixture
before placing it on top of the mushrooms. And of course, if you're vegan,
simply leave the feta off the top. The bright flavours in the filling will
happily carry themselves without it anyway.
To all the mama's out there, much respect. I hope you're all spoilt rotten this Mother's Day.
Love Emm xx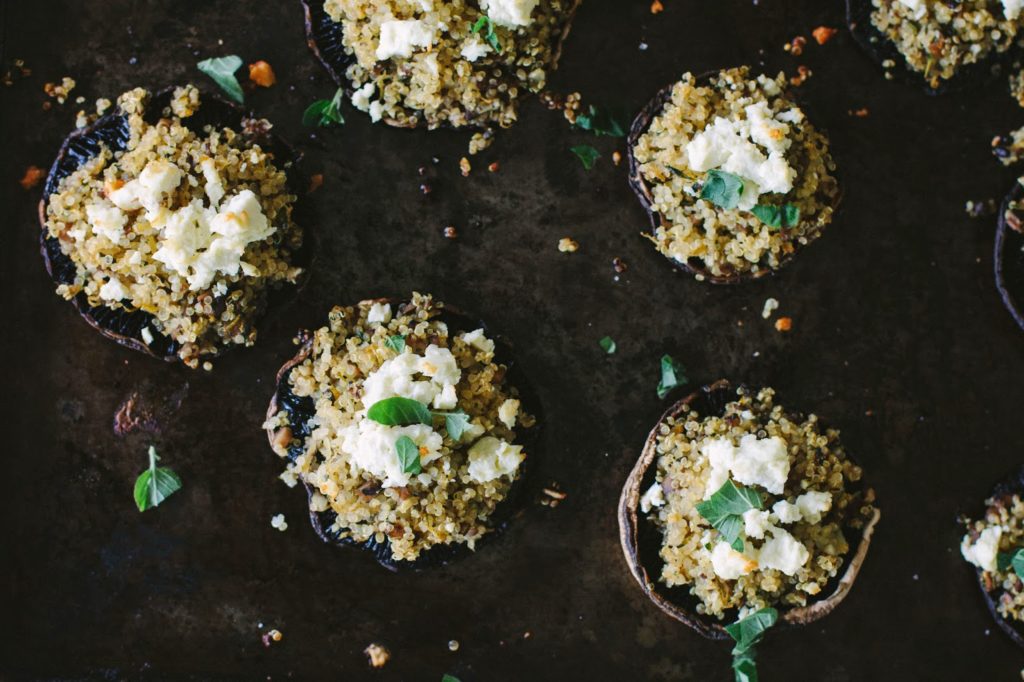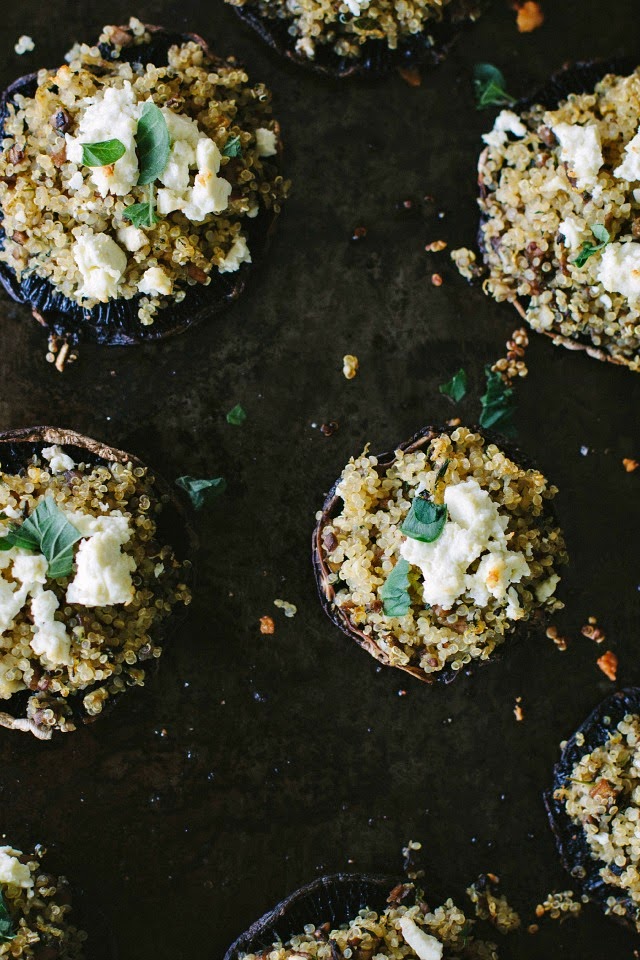 Lemony, herb + quinoa stuffed mushrooms
I used large flat (field) mushrooms, but smaller button ones will also work. If you don't already have cooked quinoa at hand you will need approx 1/2 cup (90g) of raw quinoa grains. Bring 3/4 cup (185ml) water to the boil in a medium saucepan. Rinse quinoa well to remove the saponin, a bitter protective coating, then drain. The easiest way to do this is to put the raw grain into a fine mesh sieve and rinse under running water, then set aside to drain while the waters coming up to the boil. When your waters boiling, add the rinsed quinoa, cover and turn down to a gentle simmer and cook for 12 mins or until the grains become translucent, the water is absorbed and an unusual outer white ring shows. Remove from the heat and fluff up with a fork. You may have a little more than is needed for this recipe, store any leftovers in the fridge for 2-3 days.
Serves 3-4 with salad
8 large flat (field) mushrooms
Extra virgin olive oil
3 cloves garlic, finely chopped
1 tablespoon finely chopped thyme
The finely grated zest + juice of 1/2 lemon
1 cup cooked quinoa *see headnotes
Fine sea salt + freshly ground black pepper
Feta cheese, optional
Pre-heat oven to 200C/400F. Remove stalks from the mushrooms and finely chop them. Place mushroom caps into an oven tray, season well with salt and pepper and drizzle with olive oil. Roast mushrooms for 8-10 minutes or until just tender. Meanwhile heat a frying pan over medium heat, add garlic, thyme, lemon zest and finely chopped mushroom stalks and cook while stirring for 2-3 minutes or until mushrooms are tender and garlic fragrant. Add quinoa and stir well, check seasoning and squeeze over the lemon juice.
Remove mushrooms from the oven, scoop up a couple of tablespoonfuls of quinoa mixture and place on top of each mushroom. Scatter tops with a little feta, if desired and bake for an extra 10-15 minutes or until mushrooms are soft. Serve hot or at room temperature, with a lovely salad on the side.
This post was sponsored by Australian Mushroom Growers Association. I love mushrooms and I love encouraging people to eat real food made using local seasonal ingredients, so agreeing to do this post was a no-brainer. Eat more 'shrooms people! (All views are my own, naturally).


(function(i,s,o,g,r,a,m){i['GoogleAnalyticsObject']=r;i[r]=i[r]||function(){
(i[r].q=i[r].q||[]).push(arguments)},i[r].l=1*new Date();a=s.createElement(o),
m=s.getElementsByTagName(o)[0];a.async=1;a.src=g;m.parentNode.insertBefore(a,m)
})(window,document,'script','//www.google-analytics.com/analytics.js','ga');
ga('create', 'UA-51186848-1', 'mydarlinglemonthyme.com');
ga('send', 'pageview');