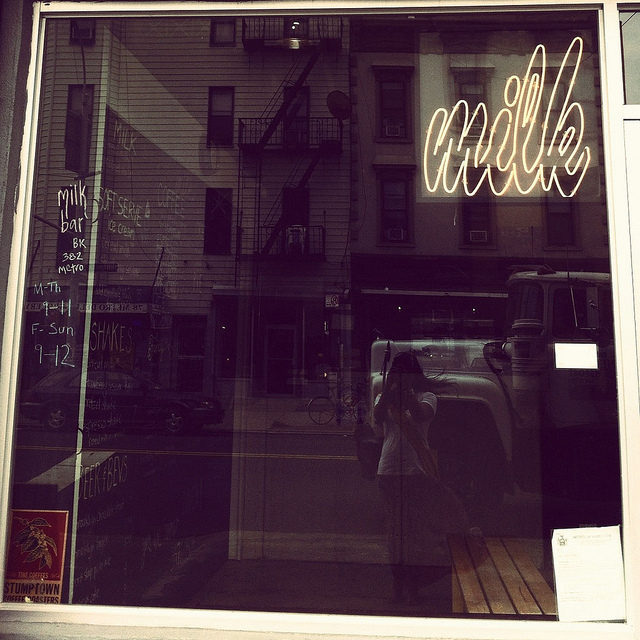 I can't remember when it was that I first discovered Tara and her inspiring blog
Seven Spoons
it was that long ago (she's just celebrated
8 years
of blogging, far out!). But I have a feeling it was right around the time that I started this space and the visual person that I am was hooked from that very first visit. If I had to pick just one photographer who has inspired me the most over the past three years, it would be Tara. The simplicity of her shots is deceiving, her eye for detail amazing, her recipes are beautiful and her writing, pure and honest. When
my grandfather
passed late last year, it was
Tara's post
in which she talked about the loss of her beloved grandmother that I instantly looked up and re-read over again. Reading that post the first time through I felt much love and sorrow, but when I read over it the second time I found so much comfort in her words that it brought me to tears.
Thank you so much Tara for taking the time to share a little more about yourself with us today, it's an honour to have you here.
Much love xx~Emm
1.
What is your blog about and when did you first push publish?
My
site, seven spoons, is very much cooking diary of the food I make for me, my
family and our friends. I started it in May 2005.
2.
Tell us your cooking philosophy in three words.
I
don't know if I can get my philosophy to three words, but here's a motto I
like: "respect your ingredients."
3.
What's your favourite season?
Autumn.
I love the season's bounty, the celebration of the harvest, and Thanksgiving is
the nicest of all holidays.


4. Sweet or savoury?
It
depends entirely on when you ask — I'm a moody eater.
5.
What's your favourite cuisine?
This
is almost impossible to say because as much as I am a moody eater, I'm also a
greedy one. I crave Indian food for a million sentimental and gluttonous
reasons, and nothing is soul-satisfyingly comforting to me as a bowl of dal and
rice, or gets me as giddy as masala dosas with chutney. But then Vietnamese and
Thai ring many of those same notes of hot, salty, sweet, and sour, so they can't
be ignored, either. I go weak in the knees for Mexican food, and barbeque from
across the Americas, and Middle Eastern cooking is the source of such
inspiration. Then there's my weakness for Italian, my fondness for French, and
my affection for British cuisines, too.
Basically,
if it's tasty and made with care, it's fair game as far as favourites are
concerned.
6.
Who are your food heros? And which food bloggers inspire you?
There
are so many. Nigel Slater, always. Fergus Henderson for classics done brilliantly.
Christopher Hirsheimer and Melissa Hamilton of Canal House are heroes. Nigella Lawson's writing knocks me
flat. Hugh Fearnley-Whittingstall's
vegetable book is
living on my kitchen counter right now. Sami Tamimi and Yotam Ottolenghi have the best
flavours, and April Bloomfield is up there too. Jamie Oliver's food is
gorgeously, bravely, rustic, and it's the sort of food I always want to eat.
As
for blogs, Molly's was the first food one I
ever read, and I remember writing Heidi a fan letter, about eight
years ago, which is embarrassing to admit now. Tara and Jess write with grace and a clear, striking honesty. Ashley is a dear friend. Sara has such a way with flavours, and Hugh captures her recipes perfectly. I think Kelsey and Shaun are true talents. Yossy's photographs are absolutely
charming, and Sarah's work has a distinct beauty.
7. Do
you come from a family of good cooks?
I do!
And a family who enjoys eating. Growing up my mother and grandmother did the
majority of cooking in our house, and in the last while my father has joined in
too. For years we lived next door to my best friend and her family; they were
Italian, and her mother's food is still a great influence on me today.
8.
What's your favourite food indulgence?
Well
made pastries. Bostocks. A feast of Korean barbecue, the table crowded with
banchan. Custard tarts. Popcorn at the movies with M&Ms (sometimes peanut,
sometimes plain). I know that's a list, but again, I'm greedy.


That
said, I think food-related activities can be indulgent, like taking the time to
shop for food; to explore a market, be it a farmer's market or a tiny ethnic
grocer, and spend a while poking around, and picking up ingredients you've
never tried before.

That said, I also feel a thrill at going out for a proper, leisurely breakfast
or brunch. There's nothing better than an exceptional breakfast.
9.
Tell us something about yourself that we wouldn't necessarily know from reading
your blog...
I
make terrible coffee.


10.
What is one of your favourite recipes from off Seven Spoons?
It isn't a recipe, but I
am fond of the piece I wrote to introduce a collaboration between my pals Michael
Graydon, Nikole Herriott and me for Kinfolk Magazine called "The Scent of Salted Air'. In it I talk about my father, who is a
retired ship's captain, and I like how my words settled in against Michael and
Nikole's images. Some of the recipes associated with the full feature appeared
on Bon Appétit.