We have arrived safely back in Perth after what was a whirl-wind trip in NZ. I feel like I could have easily spent another month or two in Raglan to do all that I wanted to do, but alas, the real world was calling. While I unpack and get back to my recipe testing, the lovely Emma from Poires au Chocolat has stopped by to share a beautiful, easy recipe with you all. Emma's blog is one of my all time favourites. Not only do we share the same name but also our love for all things sweet. Emma's photo of her Butterfly Fleur de Sel Caramel Layer Cake is how I first found her and even now it still takes my breath away, while her Caramelised White Chocolate Éclairs have had me thinking I might have to invent a gluten-free version when I have a little extra time. Thanks so much Emma, love your work xx ~Emm
Hello there, I'm Emma (not the Emma, another Emma!) and I write about baking and desserts at Poires au Chocolat. I'm honoured that Emma asked me to write a post for My Darling Lemon Thyme. I'm not going to lie - I struggled to find something to write about. I was having one of those weeks where every recipe I tried went a bit pear-shaped, and when you add in trying to make things gluten free - well, it was a stressful few days. In the end, I decided to revisit a classic that never fails me: lemon posset.
It's a simple dessert made from three ingredients: cream, sugar and lemon juice.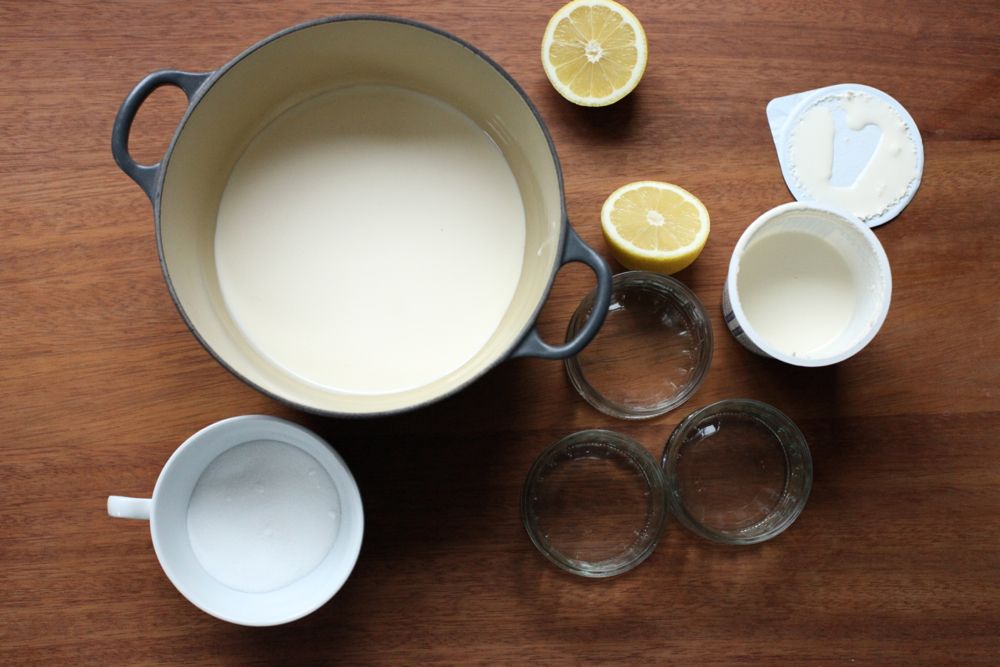 Possets have a long and interesting history - they've been made for over seven hundred years, though they fell out of fashion in the 19th century. Traditionally, a posset was a drink made from hot milk or cream curdled with an acid like fortified wine, ale or (occasionally) citrus juice and usually sweetened and spiced. Up until they fell out of favour, possets were drunk as the celebration toast at British weddings at all levels of society (see here for a few recipes and pictures of special posset pots).
Possets were also thought to be an excellent remedy for minor illnesses - colds and so on - and were used as a general restorative. In Shakespeare's Macbeth, Lady Macbeth drinks a posset to fortify herself as she drugs the guards - with more posset, this time laced - before waiting, bold but skittish, as Macbeth kills the king.

"That which hath made them drunk hath made me bold:
What hath quench'd them hath given me fire. - Hark! Peace!
It was the owl that shriek'd, the fatal bellman,
Which gives the stern'st good-night. He is about it.
The doors are open; and the surfeited grooms
Do mock their charge with snores: I have drugg'd their possets"
Macbeth II.ii
A modern day posset doesn't have quite the same kick, but it's a lovely dessert. It often pops up on pub menus and is technically now more of a syllabub than a posset. The mixture doesn't visibly curdle, just thickens, a bit like magic. They're very smooth and creamy but not too rich in small portions. I like making them when I'm having friends over - they keep in a fridge for a few days and don't require lots of final touches.



Lemon Posset
(Adapted from a combination of Food 52, James Martin and Nigel Slater)
150ml cream (UK double cream, about 45-50% fat)
50g caster sugar
2 tbsp lemon juice (1/2 - 3/4 of a lemon)
Pour the cream into a medium, heavy-bottomed saucepan. Stir in the sugar. Place over medium heat and stir until the sugar has dissolved (to check, rub a little of the mixture between your fingertips - if it feels smooth instead of gritty, it's ready). Turn the heat up to high. When you see small bubbles come up to the surface in the middle of the pan, start a timer for 3 minutes. The mixture should vigorously bubble up. When the timer rings, take the pan off the heat and time one more minute. When it rings, stir in the lemon juice. Leave for 15 minutes, then divide between two ramekins. Cover with cling film and chill in the fridge for at least an hour before serving (or up to two or three days).
(Serves 2, easily multiplied up)