I really did have full intentions of getting at least one more recipe up before we take off, but alas my days have been way too short and my list of things to do much too long. Lucky for me the lovely Kathryn from London Bakes has come along to help out by means of this beautiful almond cake recipe! London Bakes was one of 2012's greatest blog discoveries for me and Kathryn is the first of a very talented crew I have lined up for guest posts over the coming weeks. Please make sure you check out Kathryn's site, there's all kinds of deliciousness over there. Toasted Hazelnut Flourless Brownies or Whole Vanilla Bean Shortbreads anyone? ~Emm
Hello lovely readers of My Darling Lemon Thyme! My name is
Kathryn and I write the blog
London Bakes
.
I like to spend my days in my kitchen, playing with wholesome and natural
ingredients to produce sweet treats that make me feel happy.
I'm delighted to be here while Emma is putting the final
touches to her book. I've long been a fan of Emma's gorgeous photographs and
mouth-watering recipes and I know that it's going to be an absolute stunner.
While Emma prepares to head home to New Zealand, today I'm sharing a very simple little cake with you. One that is, of course, both gluten
and diary free. It uses two of my very favourite ingredients to bake with,
olive oil and ground almonds. I bake a lot of gluten free cakes and I find that
a touch of either, or preferably both, works a little bit of magic. They keep
cakes light and bright without any of that chalkiness that you sometimes get
with gluten free baking.
In summer, I like to stir some fruit through the batter
before baking – raspberries are a particular fine addition – but it is equally
delicious when you just allow the almond flavour to shine through.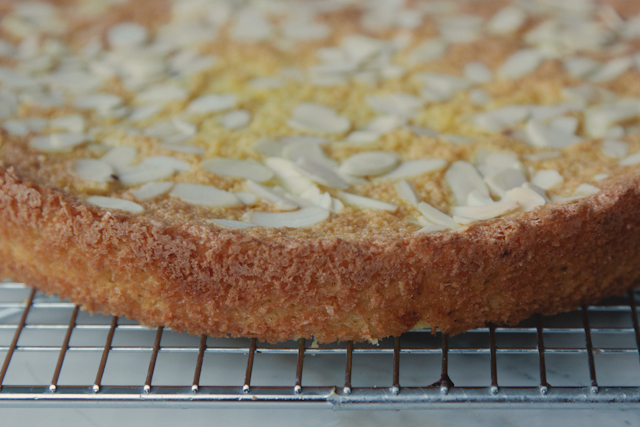 Almond cake
Serves 6 - 8
4 eggs
110g (½ cup) unrefined caster or granulated sugar
3 tablespoons (45ml) extra virgin olive oil
½ teaspoon almond extract
135g (1 1/3 cup) ground almonds
½ teaspoon gluten free baking powder
A pinch of salt
Flaked almonds, for decoration
Preheat the oven to 160C/325F (fan). Line a 23cm round tin with
a removable base with non-stick paper and grease well.
In a large bowl, whisk together the eggs and sugar until
they are light, fluffy and have at least tripled in volume. This can take up to 10 minutes even in a
stand mixer.
Pour in the olive oil and almond extract while continuing to
whisk.
Finally, fold in the ground almonds, baking powder and salt
with a metal spoon, trying not to knock out too much of the air.
Pour the mixture into the baking tin, sprinkle with the
flaked almonds and bake for 35 – 40 minutes until the edges are shrinking away
from the sides and the cake is firm to the touch. Leave to stand in the tin for 10 minutes
before transferring to a wire rack to cool.
Thanks so much Kathryn! xx Emm