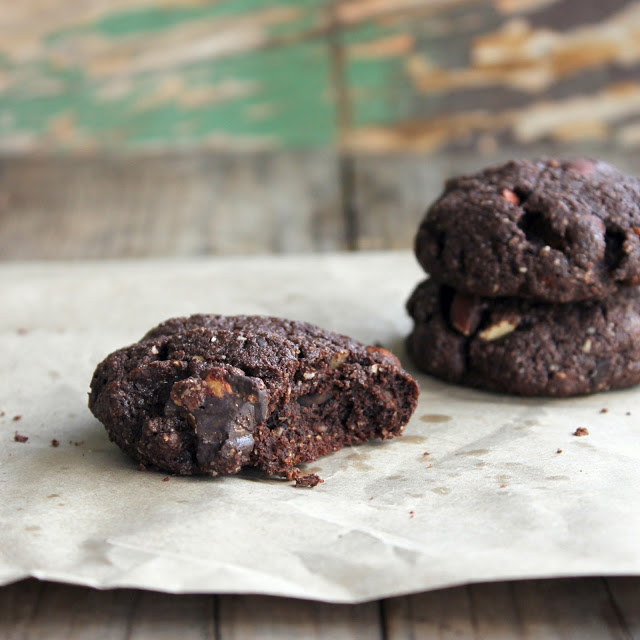 So sorry things have been a little quiet around here the past week or so, it's just I've been a tad busy... school holidays, Ada's 6th birthday party to organise and execute and the general day-to-day chores of motherhood have kept me well and truly busy. I've still been cooking lots, as always; there was this radicchio pasta that I'm still working on, a few pots of lemon curd made with a big box of lemons picked up from the side of the road (post coming soon hopefully) and of course Ada's princess birthday cake that has now been requested two years in a row (I really wasn't complaining, it gave me an excuse to re-shoot the cake for my post from her last birthday, bonus!). Lastly there were these little chilli-spiked chocolate cookies, well a few batches in fact, a special request from a lovely blog reader Michelle.

'... I have a question for you - I recently bought a premix packet for Mexican Chocolate Almond Cookies. It is AMAZINGLY tasty. I can't really afford to keep buying the premixes so thought briefly about having a go at recreating them myself. But it's really not my forte! I thought about you and wondered if you would be inspired to make them for your blog?
These are the ingredients: ground almonds, brown sugar, rice flour, cocoa powder, chopped raw almonds, corn flour, unrefined sugar, cinnamon, baking powder, salt, cayenne powder, oil, egg, water.
Thanks so much.'



She emailed me a few months ago and I was so happy to finally find a little time to play around. A few tweaks here and a few tweaks there and I think I've finally nailed it. While I'm not sure of what the original recipe tasted like, these cookies below are beautiful. Intensely chocolaty, with a little hint of cinnamon and chilli, and flecked with generous chunks of lightly toasted almonds and dark chocolate. All good things right there people. I hope you like them Michelle xx
Lastly, my Dad and his girlfriend are visiting from New Zealand for a few days next week so just a pre-warning that things might be a little quiet around here again in the coming week. It's the first time I've seen anyone from my family since we moved over to Perth from NZ a year and a half ago so I don't need to really tell you how super excited I am, but yeah... I am! It doesn't feel like that long for me but judging by what Kye said to me at dinnertime tonight it's a really long time in a little kids world... 'Will Grandpa be able to understand us when we talk mum? Does he understand Aussie?'
P.S Thank you Babble. So stoked!
gluten + dairy-free mexican chocolate almond cookies
As always, I use Whittakers dark chocolate which is dairy free like most good quality dark chocolates are. However if you are severely allergic to dairy, search for a certified dairy-free chocolate. You want to be able to taste the chilli in these cookies without it blowing your head off. I used around 1/2 teaspoon of ground chilli flakes (pounded in my mortar and pestle until powder) and found this was perfect. If you are unsure, add 1/4 teaspoon and then taste the cookie dough, adding more to taste.
makes approx 16 cookies, allowing for a generous amount of raw cookie-dough eating.



1/2 cup (55g) almond meal (ground almonds)
1/2 cup (60g) fine brown rice flour
1/4 cup (25g) cornflour (corn starch)
1/2 cup (55g) cocoa powder
1/4 cup (55g) muscovado sugar, or use brown sugar
1/4 cup (50g) unrefined raw sugar
1 teaspoon (gluten-free) baking powder
1 teaspoon ground cinnamon
pinch fine sea salt
1/4-1/2 teaspoon chilli powder/cayenne pepper
1/2 cup (65g) lightly toasted almonds*, roughly chopped
1/2 cup ( 60g) dark (dairy-free) chocolate, roughly chopped
1/4 cup (60ml) vegetable oil (olive oil, rice bran, coconut oil etc...)
1 egg
1 teaspoon pure vanilla extract
1-2 tablespoons rice or other dairy-free milk

Preheat oven to 180C/350F. Line a oven tray with baking paper or grease with oil.
Tip almond meal into a medium bowl. Sieve over remaining dry ingredients. Add chopped almonds and chocolate and whisk to fully incorporate. In another small bowl whisk together the oil, egg and vanilla. Pour into dry ingredients and add 1-2 tablespoons of rice milk and mix to form a soft dough. You want the mixture to be quite moist without being wet.

Roll 2 tablespoons of mixture into a ball, flatten and place on oven tray. Repeat with remaining dough. Cook in the middle oven shelf for 12-15 minutes until just cooked. These cookies do not flatten out much more once cooked, so do flatten into shape before cooking. Once cooked, remove from the oven and set aside to cool on the tray. Will store airtight for 2-3 days, although I like them best when eaten on the day of baking.
* To toast the almonds, bake on a tray in preheated 180C/350F oven for around 10 minutes, shaking the tray around half-way through, until golden and toasty.
Inspired by a list of ingredients from of the back of a pre-mix, that was emailed in from a reader of this blog.
This recipe is linked to Slightly Indulgent Tuesdays @ Simply Sugar & Gluten-free.