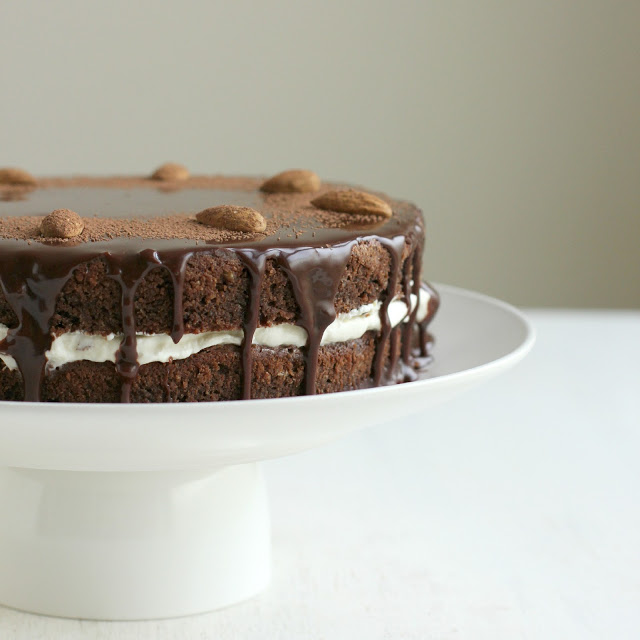 Cooking legend Julia Child would have been turning 100 on August 15th this year. For the past 6 weeks bloggers from around the world have been invited to cook recipes in her honour as part of JC100. Each week there's been a different recipe from Mastering the Art of French Cooking to play with if we so choose and while I openly admit that the first bunch of recipes (Rolled omelette, Chocolate mousse, Coq au vin, Niçoise salad and Vichyssoise) didn't exactly get me inspired to join in, this weeks recipe for Reine De Saba had me throwing chocolate all over the kitchen in no time at all! Go figure...


I took a bunch of liberties with her original recipe to make this gluten-free, and I only hope that Julia would've approve of all my changes! Also instead of baking one flat cake I decided to double things up and go a little bit dramatic with whipped cream and rich chocolate ganache dribbling down the sides. Warning: this is not dairy-free!
This cake is super rich and everything you'd expect of a decadent chocolate almond cake. It's beautiful eaten the same day while the centre is still soft and moreish. Or leave to firm up overnight and it turns dense and brownie-like in texture. I love to serve cakes like this with a tart raspberry compote to cut through the sweetness but I'll leave that up to you to decide...


gluten-free chocolate almond cake
You will need a 300ml container of single whipping cream for this recipe. I used Whittaker's 50% dark chocolate in this recipe and needed 1 1/2 blocks. Fine brown rice flour could be used in place of quinoa flour if not available. I made a double layer cake here, but if you want just one layer, simply half the cake mixture quantities. Lastly, sorry this recipe is not dairy-free (we now tolerate butter and cream occasionally), but should you be on the lookout for gluten and dairy-free chocolatey goodness, click here.
serves 8-10



230g dark chocolate, broken into pieces
230g butter, softened
1 1/3 cups blitzed organic raw sugar* (or use caster sugar)
6 eggs, separated
good pinch of fine sea salt
2 tablespoons blitzed organic sugar* (or use caster sugar)
1 cup (110g) almond meal (ground almonds)
2/3 cup (80g) quinoa flour
1/3 cup + 2 teaspoons (90ml) cream
125g dark chocolate, roughly chopped
2 tablespoons (25g) soft butter
3/4 cup (180ml) cream, whipped to stiff peaks
toasted whole almonds, to garnish
cocoa powder, for dusting
Preheat oven to 180 C/ 350F. Line and grease 2x 23cm/9 inch cake tins.
Bring a small pot of water to the boil. Turn off the heat and set a small bowl over the pot (make sure the water isn't touching the bottom of the bowl). Place chocolate into the bowl and set aside to melt gently. Stir every couple of minutes until smooth, then remove from the pot and set aside to cool until needed.
Cream butter and sugar in a medium bowl with electric beaters until light and fluffy. Add in yolks one at a time, beating well between additions. Clean the beaters well, then in another bowl beat the egg whites with a good pinch of fine sea salt until soft peaks form. Add sugar then continue to beat until stiff peaks form.
Using a rubber spatula, blend the melted chocolate into the butter and sugar mixture, then stir in the almond meal (ground almonds). Immediately stir in 1/4 of the egg whites, to lighten the batter, before gently folding in another 1/4 of the whites. Add 1/2 of the quinoa flour and gently fold in, then alternate with remaining whites and quinoa flour until everything is incorporated.
Divide the batter evenly between cake tins and bake in the middle level of the oven for 20-22 minutes. The cake should still be slightly wiggly in the centre. Remove and cool in the pan for 10 minutes before transferring to a wire rack to cool completely.
To make chocolate ganache icing bring the 90ml cream to the boil. Remove from the heat and stir in chopped chocolate. Set aside for a minute, then stir until smooth. Add butter and stir until incorporated. Set icing aside for 10 minutes or so until slightly thickened.
To assemble the cake, place one cake onto a serving plate. Spread thickly with whipped cream and top with the next cake. Pour over chocolate ganache, allowing a little to dribble down the sides. Arrange toasted almonds on top and dust lightly with cocoa powder. Cut slices with a hot knife.
Can be stored in a covered container in the fridge for 1-2 days or the plain cakes (un-iced and un-filled) can be kept in the fridge for up to 1 week.
*I like to use organic raw sugar which I blitz in the blender to a fine powder. Caster sugar can be used instead if preferred.
Adapted from Mastering the Art of French Cooking by Julia Child. Copyright © 1961 by
Alfred A. Knopf. Reprinted with permission from the publisher Alfred A. Knopf,
a division of Random House, Inc.