I'm not sure if anyone noticed, but I've been feeling really detached from this site over the past fortnight. All with good reason. First there was a health scare or two, including a lovely spider bite just under my right eye, there was a sick child thrown into the mix somewhere there and lastly Kye's 4th birthday and mothers day that we celebrated yesterday. Oh and did I mention this has all been done flying solo? Si's been away at work. Thank god he's back tomorrow. I think I could sleep for a week!
The last few posts have been written late in the evening when I really should've been tucked up in bed, so I do apologise if they have seemed a little 'distant'.
But now, my eye is nearly better after a mum at school recommend I start taking colloidal silver. That stuff really does cure everything, I'm convinced. Within 2 days of taking it both internally and dabbing it direct onto the bite, my eye stopped stinging and the redness has all but disappeared. I also took a homeopathic remedy for bites from day one, and instinctively put virgin coconut oil on it every night, for it's amazing antibacterial properties. The doctor gave me a course of antibiotics which I have been hesitantly taking, but after looking up white tail spider bite photos on the net, well, lets just say I wasn't going to let my eye swell up any more than it already had and definitely wanted to stop any chance of developing a secondary infection! That's when things get really nasty.
When I was growing up in New Zealand we never had to worry about any things that bite. No snakes, no crocodiles, no scary spiders. It was bliss.
I remember the first time I moved over to Australia, I was 18 years old. Like most kiwi's (aka New Zealanders to my foreign readers) I was scared to death about the thought of dying from a redback spider bite! I would lift the toilet seat and check for them every time I went toilet. I walked very slowly and carefully if I was ever in long grass, convinced that a snake was going to strike me at any moment. And I remember how I nearly died on the spot one day when I was walking out to the back of our flat to hang up the washing and spotted a snake. I froze to the spot, unable to move. My heart leapt into my throat, I couldn't scream even if I wanted too. After a few minutes of starring at it from a distance, I had finally calmed down enough to think straight and thought that if it was a real one, surely I would have seen it move by now? Even just a tiny bit? I grabbed a stick or was it a shoe... I don't remember. Chucked it at the thing and there was no movement. I thanked my Aussie flatmates later on when they got home. The joke was most definitely on this scared little kiwi girl. Ha ha.
I'm sure I'm not the only New Zealander to be terrified of all the nasties over here in Australia? Until this time moving to Perth, I was still convinced you die instantly if bit by a redback spider and was shocked and quietly relieved to hear that it's very uncommon for people to die from their bites. Phew. I've now come to learn that most people over here are not even concerned with them at all, as they kinda just keep to themselves. Sadly in New Zealand you can now find white-tail spiders too, everywhere. And it's them that most Aussies are more scared of. They roam around with no home to return too, love hanging out in beds and piles of clothes (there's always many in my room!), and generally have a much more long-lasting bite than a redback. It was most probably one of those little buggars that bit me, while I was fast asleep. I don't know what was scarier, the bite or the fact that a spider was crawling on my face!?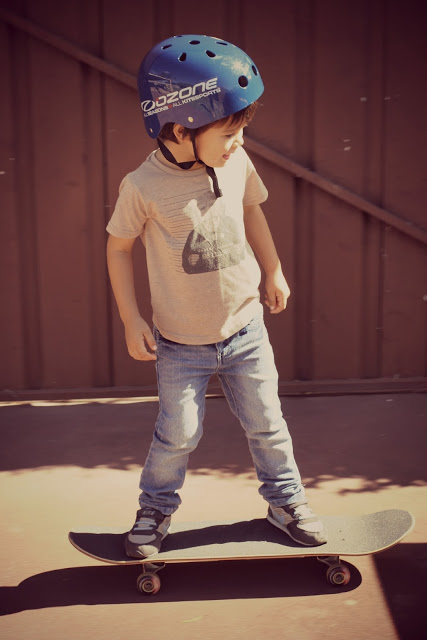 My baby boy is 4!
Anyways, enough about my eye and creepy crawlies! When I'm feeling a little worse for wear and want something comforting, I cook curries. For some people they find comfort in bowlfuls of soup, for others it's a dish from their childhood. For me nothing beats a bowlful of spiced vegetables and brown rice. Nothing.
Any combination of vegetables can be added into this quick curry-style base. I happened to have a wedge of pumpkin at hand and a block of tofu, so that's what went in. A handful of broccoli florets would work wonders, as would cauliflower, potatoes, peas or kumara (sweet potato). I like to add fresh curry leaves, but of course if you can't track them down, no worries. And for a little added textural excitement a sprinkling of lightly toasted cashews fits the bill.
P.s One last little note. Thank you all so much for your support and votes in the Saveur 2012 Best Food Blog awards! I was stoked to even be chosen as a finalist, especially when I think that this blog was picked from over 40, 000 entries! Sadly I did not win, but a huge congratulations to Nom Nom Paleo! Well done xx
pumpkin tofu curry
I like the subtle coconut flavours you get when using coconut oil in curries, but ghee or rice bran oil is also perfect to use too, if preferred. Find fresh curry leaves at some supermarkets, and shops that stock Asian and Indian groceries. If you can't find them no biggy, just leave out. Store any leftover curry leaves in a zip-lock bag in the freezer and use straight from frozen. The ingredients list looks scarily long, I know. If you have all the spices set out and everything else prepped it's easy, I promise. You can have this on the table in the time it takes to cook the rice.
serves 4 with rice
3 tablespoons virgin coconut oil, ghee or rice bran oil
1 teaspoon black mustard seeds
1 teaspoon cumin seeds
2 stems curry leaves, leaves picked and stems discarded
500g pumpkin (butternut, crown, Japanese or Queensland blue), peeled, seeded, cut into 1cm cubes (approx 2-3 cups once diced)
320g packet of extra firm tofu, cut into 1cm cubes
1 teaspoon ground cumin
1 teaspoon ground coriander
1 teaspoon garam masala
1/2 teaspoon ground turmeric
2 cloves garlic, finely chopped
1-2 long red Thai chillies, seeded and finely chopped
sea salt, to taste
juice 1/2 lemon, plus wedges to serve
1/2 cup lightly toasted unsalted cashew nuts, roughly chopped, to serve
cooked brown rice, to serve
Heat coconut oil in a large heavy-based frying pan over medium-high heat. Add black mustard seeds, cumin seeds and curry leaves. Cook, stirring until the mustard seeds start to pop. Add diced pumpkin and tofu and cook, stirring for 1-2 minutes or until everything is coated in the fragrant oil. Add ground spices, garlic and chilli, stir well. Add 1/4 cup (60ml) water and bring to the boil. Cover, reduce heat to a simmer and cook for 6-8 minutes, or until the pumpkin is tender but not too mushy. Season to taste with sea salt, add lemon juice and stir well. Serve hot with brown rice, sprinkled with toasted cashew nuts and a wedge of lemon to squeeze over top if desired.


Linked to: Slightly Indulgent Tuesdays @ Simply Sugar & Gluten-free