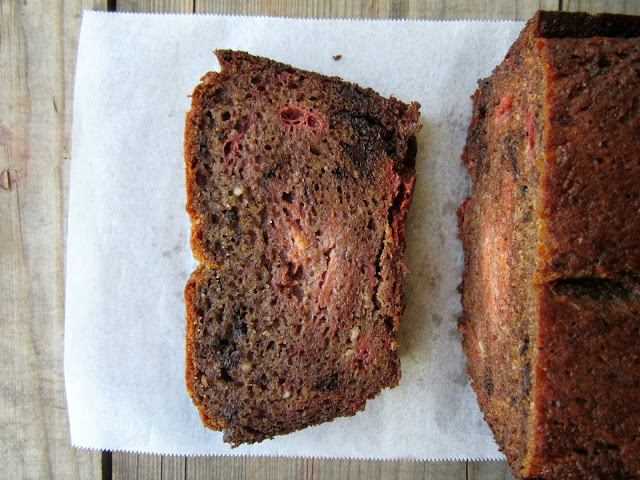 A friend kindly gave us two bags of persimmons the other day from her tree. We love persimmons in this house and are never ones to pass up free fruit, so were pretty excited to get them home and dig in. The kids could barely let me get in the door before they had started tearing at the bags and I quickly had a few firm ones peeled and on plates ready to be eaten. Now, I've only ever eaten the non-astringent variety before, you know those ones that you can eat while still firm and are eaten like an apple? Well, it turns out these ones we were digging into are the other kind. You know, the astringent-make-your-tongue-feel-like-it's-swelling-up-and-sticking-to-the-roof-of-your-mouth-unless-really-soft-kind? The kids got quite a shock, hehe. Oops. I put back all the nice firm ones that I'd picked out and instead grabbed the soft, squishy, balloon-like ones to eat, the ones I had thought would end up in the compost. This was a first for me as all the persimmons we've ever had in the past are long gone before any reached such squishiness. But I gotta say, they're really quite amazing!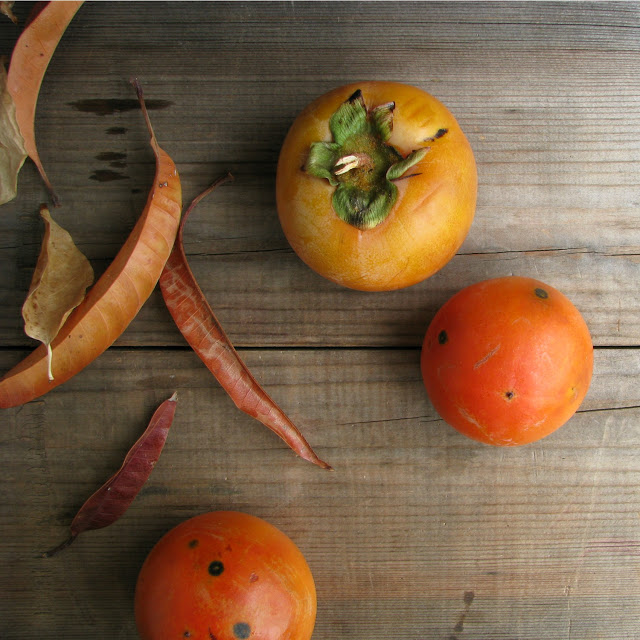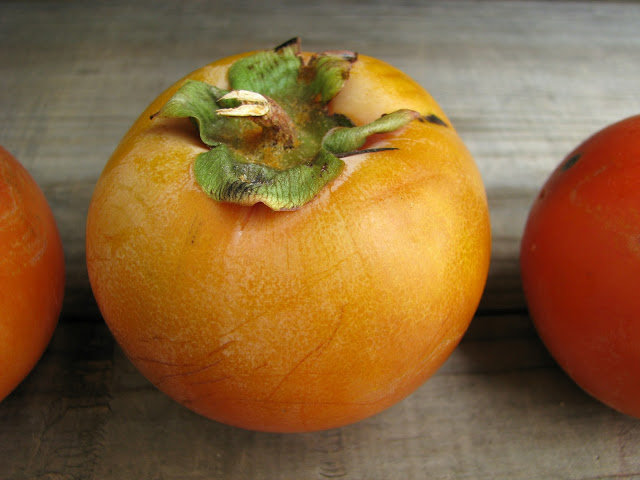 As mentioned above persimmons fall into two categories, astringent and non-astringent. Back in the day nearly all available fruit were of the astringent variety, but they are rarely seen nowadays and certainly not that commonly seen at your local fruit and vege store. Mostly you are likely to come across the non-astringent variety, which can be sliced and eaten when firm, or added to salads, cooked with or dried. The astringent variety have a high tannin content which makes the firm fruit virtually inedible, and if you have ever eaten them you'll know exactly what I'm talking about! It's such a crazy sensation in your mouth and best avoided at all costs! Instead leave the fruit to ripen fully at room temperature and soften to the point when you are sure the fruit is just about to burst! They are perfect to eat when the insides have turned jelly-like, sweet and juicy.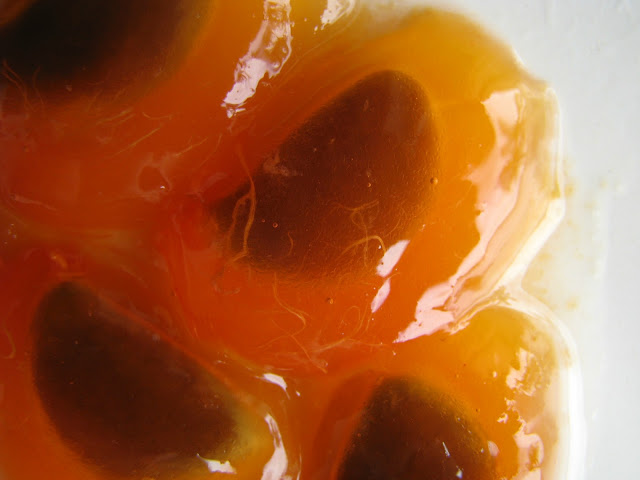 It is usually these astringent type that are favoured in cooking for their lovely soft texture and beautiful pulp, so I set aside a handful of ripe ones to make this loaf filled with warming spices and flecked with chunks of rich dark chocolate and jelly-like persimmon. Can you actually taste the persimmon, you ask? Well, no you can't. But what they do add is an amazing natural sweetness and a texture one can only describe as incredibly moist, but light and springy to the touch. This is the kind of loaf that begs to be eaten while still slightly warm from the oven, with the chocolate still melted in little puddles. But it's also equally as moreish served cold, and thickly sliced with a cup of fruity herb tea.
Inspired by this recipe.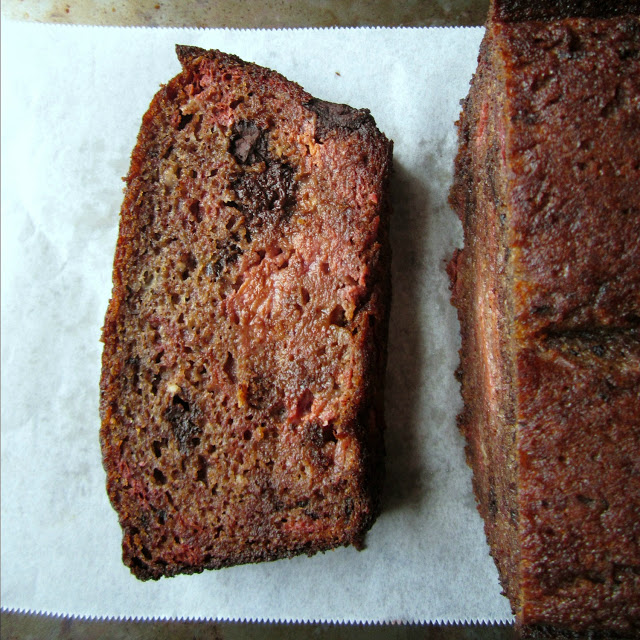 gluten & dairy-free chocolate persimmon loaf
It's best to get your hands on the astringent persimmon variety (such as Hachiya) for this recipe, which are left until completely soft and jelly-like before eating. Although I have read that if you only have the non-astringent variety, you can place these in the freezer whole, overnight, then defrost and you will get the same super-soft texture you are after in the pulp for baking, or simply leave them in your fruit bowl until really, really soft. I used coconut milk, but any dairy-free milk will be fine, almond or rice milk would be my next choices. And the chocolate I used was Whittaker's Dark Ghana 72%. See my notes below the recipe for how I remove the persimmon pulp 🙂
makes 2 small loaves


2 cups (astringent) persimmon pulp (from around 4-8 persimmons depending on their size)*
3/4 cup (185ml) coconut milk
1 teaspoon fresh lemon juice
4 eggs
1/2 cup (125ml) rice bran oil
1 teaspoon vanilla extract
1/2 cup (70g) buckwheat flour
1/2 cup (60g) fine brown rice flour
1/2 cup (55g) almond meal (ground almonds)
1/2 cup (100g) organic raw sugar
1 teaspoon baking powder (gluten-free)
1 teaspoon baking soda
1/2 teaspoon fine sea salt
2 teaspoons ground cinnamon
1 teaspoon ground ginger
1 teaspoon ground allspice
1/2 teaspoon ground nutmeg
1/2 cup (65g) roughly chopped dark chocolate (dairy-free)
Preheat oven to 190 C/375 F. Grease two 22 x 11cm loaf tins and line with a strip of baking paper that covers the base and comes up over the sides by about 2cm.
Combine coconut milk and lemon juice in a medium bowl and set aside for 5 minutes. Add eggs, oil and vanilla extract and whisk until smooth.
Sieve dry ingredients (except for the chocolate!) into a large bowl, tipping any sugar that's left in the sieve back into the bowl. Add the egg mixture and whisk until smooth. Add persimmon pulp and chopped chocolate and stir gently until just combined. Pour evenly into the two loaf tins and bake for 40-50 minutes or until a skewer comes out clean when inserted into the centre. Remove from oven and cool in tins for 5 minutes before transferring to a wire rack to cool completely.
Keeps airtight for up to 3 days.
* I find the easiest way to get the pulp from the persimmons is to use a sharp knife and remove the core. Then I use my hands to peel back the skin as best as I can, it's super soft so it will tear, that's okay. I do this over a bowl to catch any drips, there will be many. You could also cut it in half and scoop out the flesh with a spoon. Once peeled I drop the mashed mess into a bowl and carry on peeling the rest. Once I have enough peeled, I go back and pick through them, removing the seeds while trying to keep the lovely jelly-like flesh in tact as much as humanly possible. I then peel the flesh from around the seeds until I can't stand it any more, and then pop the remaining seeds into my mouth and eat the rest, spitting out the pips!
It's messy work, but so worth it! The pulp can now be used or frozen for later use. If you are after a completely smooth persimmon pulp, push it through a fine sieve.