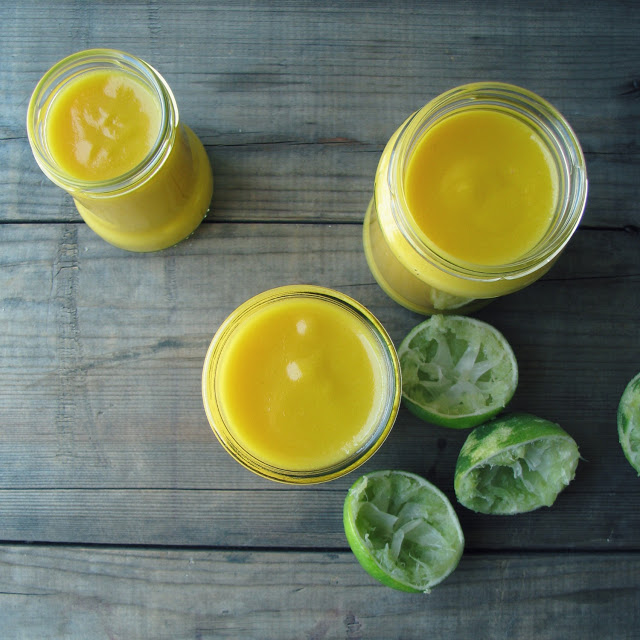 I had the hard word from my brother just a few weeks after we moved into our new house, he told me to stop talking about the damn mango trees. I tried, I really did. But please just allow me this one last hurrah will you? Mango season is officially over at our house, we have three mangoes left in the fridge so this will be the last, I promise.
If you are from New Zealand like I am you will understand my excitement, I mean it's not everyday you get to pick ripe mangos from a tree out the back now is it?! Feijoas, lemons, apples, plums, tamarillos, yes. Fresh mangoes. Sadly never. So I'm going to make the most of it while we are here, but I do apologise in advance for those of you who don't have access to fresh mangoes. You'll just have to take my word for it, this and all the other mango recipes I've been cooking are beyond awesome.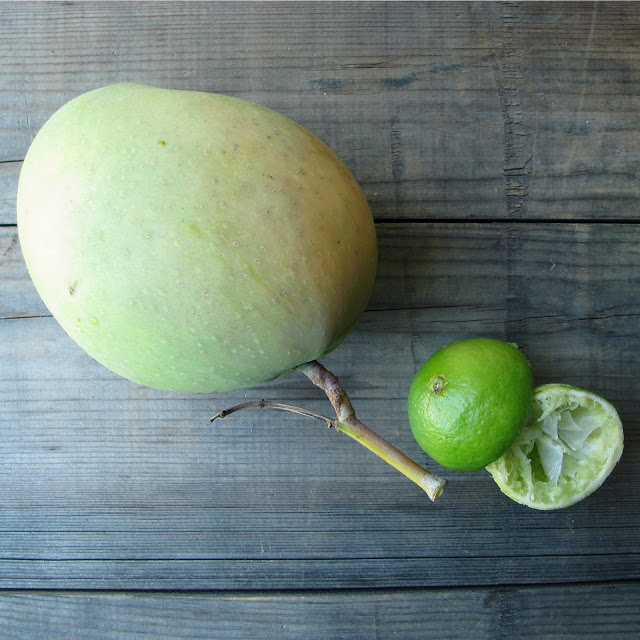 I'll keep this brief today as I'm just getting over a yucky cold and feel like my heads stuck in a vice. The kids have both had it the past few weeks, and I guess it's only fair that it's my turn now. I'm still going to try and make it to the Gluten-free Expo here in Perth today though, so if you are also heading there and spot the lady with the rosy red nose sitting listening to Yoke Mardewi talk gluten-free sourdough, do say hi!
I adore fruit curds and sadly don't make them often enough. They are perfect to add a little excitement to thick Greek yoghurt, spooned into tart cases, over pancakes or simply straight from the fridge and into my your mouth! Just like it's cousin the original lemon curd (or lemon honey as I once knew it as), it has that unmistakeable tartness from the lime which cuts through the sweet. The mango adds a beautiful, well, mango flavour, that we will be enjoying long after the last fresh mango is gone...
Check out my Bitter Grapefruit Curd recipe too if you are looking for more ways with curd.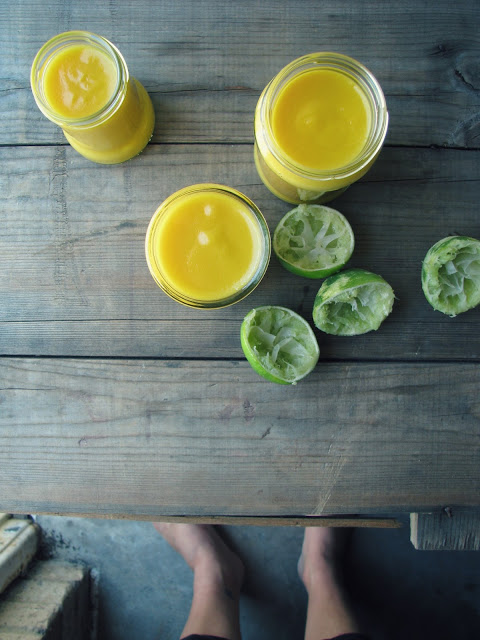 mango and lime curd
I made this batch with regular butter but have had great success with using ghee instead, making it lactose-free too. Lemon zest and juice could easily be used instead of lime to make things cheaper too.
makes around 3 cups.
2 large ripe mangoes, peeled, cheeks removed and flesh roughly chopped
160g butter, cubed or 2/3 cup ghee
1 teaspoon lime zest
1/3 cup (80ml) fresh strained lime juice (around 2-3 limes)
1 cup (225g) organic raw sugar
4 eggs, beaten
Puree mango in blender or food processor, strain mixture through a fine sieve to remove fibres. You will need 1 1/4 cups (315ml) of puree in total. Set aside.
Melt butter or ghee in a medium heavy-based pan over medium heat. As soon as it's melted, but not overly hot, whisk in the remaining ingredients including mango puree. Turn the temperature down to medium-low and cook gently, stirring constantly with a wooden spoon for 6-10 minutes until mixture thickens and coats the back of the spoon. At no stage do you ever want the mixture to near boiling point, or you will end up scrambling the eggs, not good. When the mixture is lovely and thick remove from the heat and pass through the sieve again to remove lime zest and any random bits of egg white that may have coagulated, hopefully not too many. Transfer mixture to warm sterilised jars and seal while hot. Store in the fridge unopened for up to 2 months and use within 1 week once opened.
This is my impatient chef way of cooking out curds, but if you feel a little nervous about this faster method, feel free to follow my au bain marie (water-bath) instructions instead, it just takes longer.
Recipe linked to: Slightly Indulgent Tuesdays @ Simply Sugar & Gluten-free