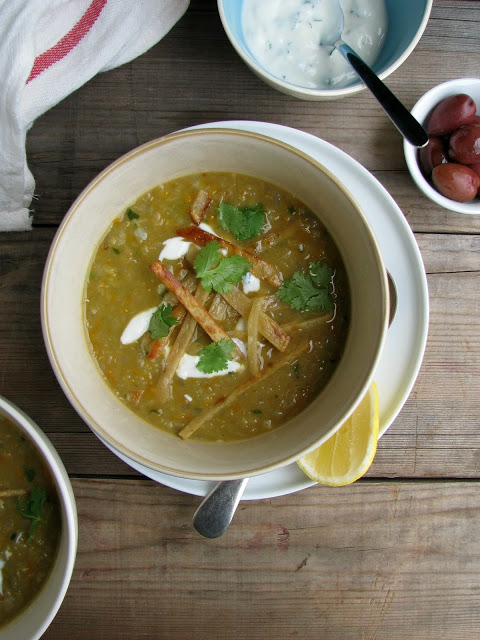 I don't know about you, but there are two things I always do when I first lay hands on a new cookbook. One, I read the introduction to get a feel for who the author is, where they are from and where they are going to take me. Two, I start reading from the back to the front. Weird eh? As you are probably well aware I have a somewhat sweet tooth so it just makes sense for me to check out the sweet offerings at the back of the book first, before moving my way through the other chapters. Yes, backwards.
In
Modern Flavours of Arabia,
author Suzanne Husseini shares her most loved recipes and memories of a childhood filled with exotic spices and smells of a country long left behind. Her family moved to Canada when she was very young, but her mother keep their Arabian traditions alive by cooking up gorgeous feasts filled with the flavours of tahini, za'atar, rosewater, saffron and citrus. So many of my favourite ingredients are used in Suzanne's recipes from her ricotta-filled crepes with mango and rose syrup, scattered with pistachio nuts for that beautiful touch of green, to her orange scented date scones, labneh rolled in herbs and nuts and roast cauliflower with citrus tahini sauce.
The book is set out as one would eat in the Arabian tradition; breakfast, mezze, lunch, dinner then dessert. And is filled with a stunning array of photographs, both of the finished food and ingredients all shot by internationally acclaimed Sydney-based photographer
Petrina Tinslay
.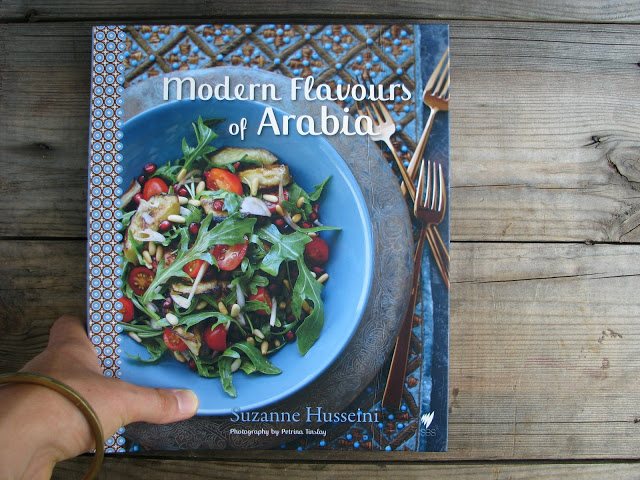 I have so many recipes bookmarked to try out but with this slightly cooler weather finally kicking in it was her soups that had me skipping into the kitchen. First I tried out her
lemony lentil soup with silverbeet
, a version of Arabia's most popular soup. The kids and I enjoyed it for lunch with extras frozen for later use. It was beautiful, earthy puy lentils are cooked down with onions and olive oil, chunks of potato are added, along with stock, silverbeet and allspice. Then freshly squeezed lemon juice adds that final burst of freshness at the end. The second soup I tried, and todays recipe, was my favourite of the two. I can never seem to go past the perfect combination of red (referred to in the original recipe as orange) lentils, carrots and spice. The recipe called for the soup to be pureed, but I like my soups chunky so left it as is with the creaminess still coming through from the addition of arborio rice. It all comes together in a flash and with the added extras on top makes for one lovely bowl of goodness.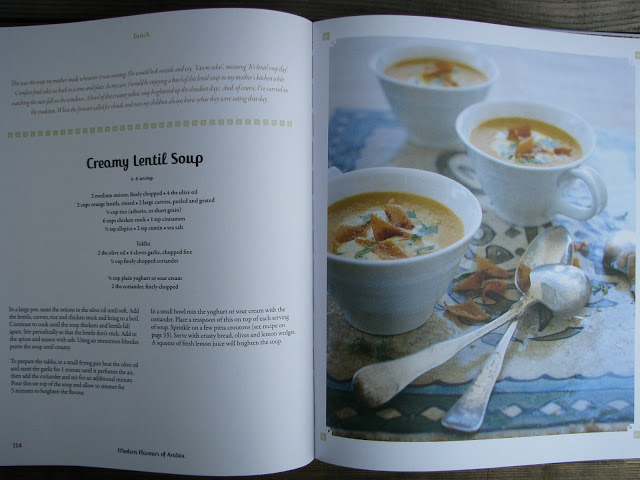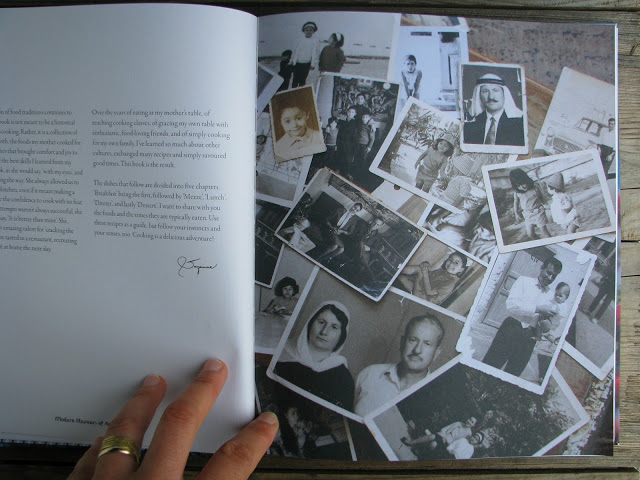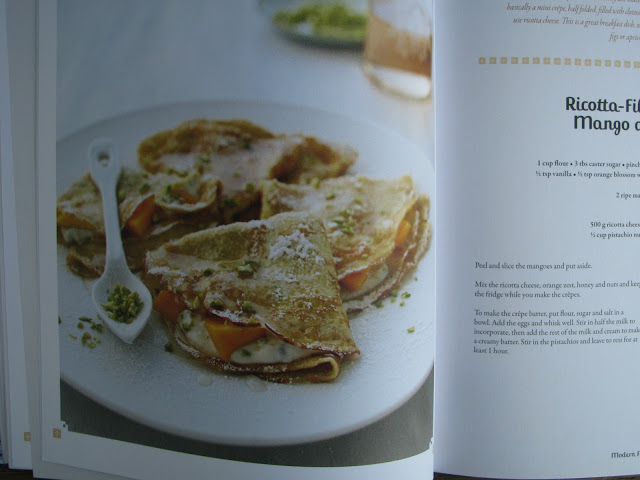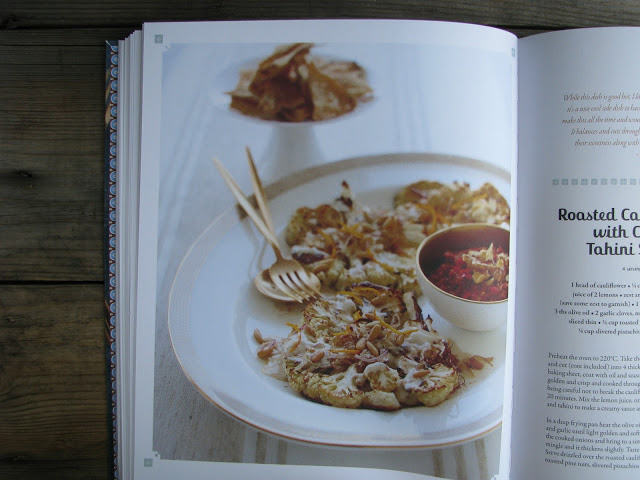 If you are strictly gluten-free this book may be somewhat of a tease, what with all those pages of puffy homemade pita and trays of baklava! But if you look past that, or flick quickly you will find many, many naturally gluten-free and vegetarian recipes scattered throughout it's pages. On the dessert front, I'm most excited about trying out her recipe for rice pudding with date compote, where I plan to sub in almond milk and coconut cream for the cows milk/cream. And her chocolate-filled cardamom cookies are just begging to be converted to gluten-free!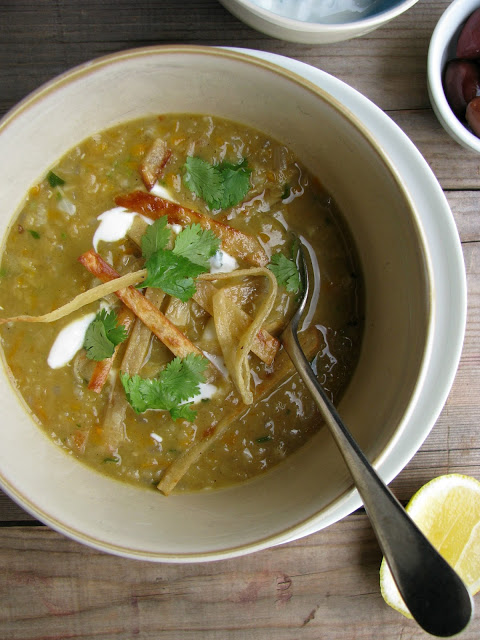 Recipe printed with permission with a few minor changes and extra notes from
creamy lentil soup
The original recipe calls for the use of chicken stock, but as I am vegetarian I simply used water. Had I had some home made vegetable stock at hand, I would have used that for a much deeper flavour. I've written 'orange lentils' below in keeping with the original recipe, but I know these as red lentils. I find the easiest way to rinse lentils is to place them in a fine mesh sieve and hold them under running cold water until the water runs clear. Have a quick pick through also to make sure there are no small rocks, which have a bad habit of creeping in there. This soup freezes beautifully and is just as good without the yoghurt/sour cream topping for a completely dairy-free and subsequently vegan option.
serves 6-8
2 medium onions, finely chopped
4 tablespoons olive oil
2 cups orange lentils, rinsed
2 large carrots, peeled and grated
1/4 cup rice (arborio, or short grain rice)
6 cups vegetable stock or water, plus extra as needed
1 teaspoon ground cinnamon
1/2 teaspoon ground allspice
2 teaspoons ground cumin
sea salt
taklia
2 tablespoons olive oil
4 cloves garlic, chopped fine
1/4 cup finely chopped coriander (cilantro)
1/4 cup plain yoghurt or sour cream
2 tablespoons coriander (cilantro), finely chopped
lemon wedges, to serve
pan-fried white corn tortilla*, to serve, optional
In a large pot, sauté the onions in the olive oil until soft. Add the lentils, carrots, rice and stock and bring to the boil. Continue to cook until the soup thickens and lentils fall apart (10-15 minutes). Stir periodically so that the lentils don't stick. I added an extra cup or two of water at this stage, just use your intuition and if you think it needs a little more, add it 1/2 a cup at a time. Add in the spices and season with salt. You can puree the soup like suggested in the original recipe, but I'm not really a smooth soup kinda girl, so I kept it chunky.
To prepare the taklia, in a small frying pan heat the olive oil and sauté the garlic for 1 minute until it perfumes the air, then add the coriander (cilantro) and stir for an additional minute. Pour this on top of the soup and allow to simmer for 5 minutes to heighten the flavour.
In a small bowl mix together the yoghurt or sour cream with the coriander (cilantro). Ladle soup into bowls, top with a teaspoon of coriander yoghurt and sprinkle on a few strips of pan-fried tortilla. Serve with bread, olives and lemon wedges. A squeeze of fresh lemon juice will brighten the soup.
* To make the pan-fried tortillas I fried thin strips of (gluten-free) white corn tortillas in a little olive oil until crisp and golden, then drained on absorbent paper. If you are not gluten-free the original recipe suggests you do the same, but uses pieces of pita bread instead.