I've spoken before about how much we love sushi in this house. And recently when I posted ideas for school lunch boxes, which included sushi, I had a bunch of people asking how I make sushi. So today I'd like to share my recipe along with a few tips I learnt over the years...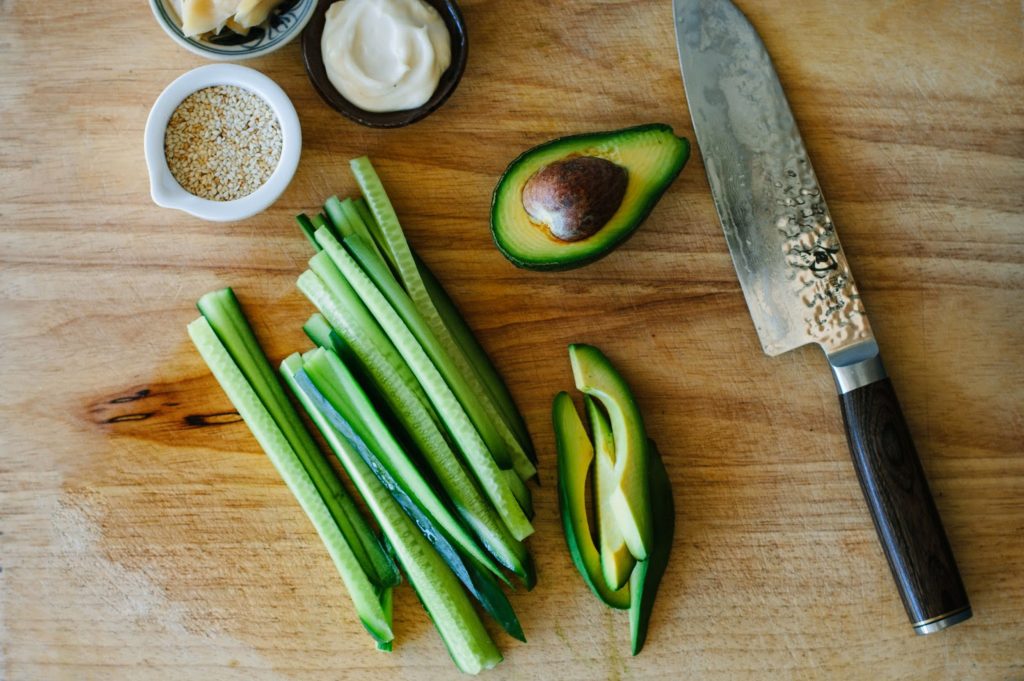 Firstly I'd just like to make it clear that I am by no means an expert on the matter, traditional sushi chefs train for over 8 years to become masters! I have however been making sushi since I was a teenager and hope that I've picked up a few tricks and tips that will encourage you to try making your own sushi, if you haven't already done so.
The recipe below may seem long-winded, but I assure you it's really simple and once you have made it once you will wonder why it took you so long to do it! I always make my sushi rice in a rice cooker these days, and LOVE how perfect it comes out, every time. But so as not to exclude those of you who don't own one, I've also included my stove-top recipe too.
The fillings that can be used in sushi rolls are endless, but to me the perfect vegetarian sushi needs to have mayonnaise, toasted sesame seeds and avocado. Add whatever other fillings you like, or those that I've suggested below. I often use marinated, pan-fried tofu in place of the omelette, and you could always use an egg-less mayonnaise to keep things strictly vegan.
My tips for making perfect sushi:
Wash, wash, wash that rice! Keep washing, massaging and rinsing the rice until the water is clear. This removes excess starch, keeping your rice lovely and fluffy, not gluggy.
Drain the rice properly before adding the cooking water, and if time permits, let it soak for at least 30 minutes before cooking.
Don't be tempted to mix the rice lots once cooked, gently stir through the seasoned vinegar without 'mashing' the rice.
Have a bowl of water right next to you while rolling your sushi. Keep your hands wet to prevent the rice from sticking to them, but to avoid dripping water onto your nori clap your hand together after dipping in water to shake off any excess. This water can also be used to moisten the edge of nori before rolling, this seals the roll.
When spreading the rice over your sheet of nori, be gentle. Don't make the mistake of packing the rice down by pressing too firmly. Remember, gentle hands=light fluffy rice.
Don't be tempted to overfill your sushi, you won't be able to roll it easily and you'll just get mad.
If you want to neaten the ends of the rolls once made, use a little ball of rice to 'plug' up each end.
Once rolls are made, lay them seam-side down on the bench while you make the rest to encourage that seam to stick together.
Run your (sharp) knife under cold water to dampen slightly before cutting to prevent the rice from sticking to your knife, resulting in a nice clean cut.
If you are keen to also make your own pickled ginger to go with the sushi, click here for recipe.
Lastly, while chef-me would never recommend doing this if you are aiming to impress family or friends with your amazing sushi-making skills... mum-me does store any left over rolls in an air-tight container in the fridge, which the kids eat the following day for lunch. Who has time to make sushi from scratch on school mornings? Not me. The rice does firm up a little in the fridge, but kids and tired mums don't usually mind!
vegetarian sushi
Of course, sushi should be made using short grain Japanese sushi rice. However, if you are like us and live off sushi this can become rather expensive! I use a medium grain white rice to make our sushi these days. It's not quite as sticky as proper sushi rice, but it's fine for us.
makes 5-6 rolls (40-50 pieces)


sushi rice~ rice cooker method
2 cups short or medium grain white rice or 'sushi' rice
2 1/4 cups (560ml) water
Place rice into a bowl and cover with water, use your hands to kind of massage the rice, the water will turn white as the starch is washed off the grains, drain and repeat this 2-3 more times until the water is almost clear. Transfer rice to a sieve and set aside to drain for 20-30 minutes. Place rice into the bowl of your rice cooker and cover with the 2 1/4 cups (560ml) water. If you have time, set aside for 30-60 minutes to soak before cooking. If not set onto cook straight away. When the rice is cooked and the switch has flicked onto warm, leave it to sit for a further 5-10 minutes before removing the bowl from the rice cooker. Stir through the seasoned vinegar (recipe below) and turn out onto a flat tray to cool to room temperature.
sushi rice~ stove top method
2 cups short or medium grain white rice or 'sushi' rice
2 cups (500ml) water
Wash and drain rice as above, then place into a medium saucepan, cover with the 2 cups (500ml) water and set aside to soak for 30-60 minutes if possible. Cover saucepan with a lid and bring to the boil over high heat. As soon as it boils, turn temperature down to the lowest setting, making sure the lid is still on, and cook for 12 minutes. Remove from the heat, leaving the lid firmly on (don't be tempted to have a peak, if you do you run the risk of steam escaping and your rice not cooking enough). Stand for 15 minutes, then stir through the seasoned vinegar (recipe below). Turn out onto a flat tray to cool to room temperature.
seasoned vinegar
5 tablespoons rice vinegar
2 tablespoons raw unrefined sugar
1 teaspoon fine sea salt
Combine all ingredients in a small saucepan. Bring to the boil over a low-medium heat, stirring to dissolve the sugar. Boil for 1-2 minutes until syrupy, then remove from heat and set aside to cool.
vegetarian sushi
5-6 sheets of nori
real egg mayonnaise
toasted sesame seeds*
finely sliced carrots
finely sliced cucumber
finely sliced capsicum
sliced omelette*
sliced avocado
soy sauce (gluten-free if need be), to serve
wasabi, to serve
pickled ginger, to serve
Place a sheet of nori, shiny-side down on a bamboo mat. Have a small bowl of water nearby, wet your hands to stop the rice from sticking to them. Divide the cooled rice into 5-6 portions then using your wet hands gently spread 1 portion of rice over the nori (see photo above), leaving a good amount of space on the top and bottom. Don't press the rice down firmly, just pat it into place.
Spread a little mayonnaise down the centre of the rice, sprinkle with sesame seeds. Arrange a few strips of whichever fillings you like on top of the sesame seeds; carrot, cucumber, capsicum, omelette, avocado... Wet your finger and rub it over the edge of nori furthest away from you, this will help seal your sushi roll. Then using the bamboo mat to assist you, lift the end of the sushi closest to you up and over the filling, gently squeezing the mat as you do. Continue rolling the mat forward to complete the roll. Hold the sushi roll, still enclosed in the bamboo mat and pinch off a small ball of rice from the remaining rice, gently press this into the end of the sushi to fill the hole in the end. Repeat with the other end.
Repeat this process with remaining nori, rice and fillings. You will end up with 5-6 rolls. To slice, run a sharp knife under cold water and slice each roll into 8-10 slices. Serve with pickled ginger, wasabi and soy sauce (gluten-free if need be).
* To toast sesame seeds, place raw seeds into a frying pan over medium-high heat, stirring constantly until lightly golden and fragrant.
* To make the omelette, whisk 3 eggs with a dash of (gluten-free) soy sauce, a few drops of sesame oil, sea salt and freshly ground black pepper. Heat 1 tablespoon of rice-bran oil (or other neutral vegetable oil) in a frying pan over medium-high heat. When hot, pour the egg mixture into the pan, tilting the pan so the mixture runs and spreads over the base. As the omelette sets, use a spoon to gently lift and stir, tilting the pan so any uncooked egg runs underneath. Cook for 1-2 minutes or until golden and set underneath. Using a metal spatula flip the omelette over and cook for a further 30-60 seconds until cooked through. Transfer omelette onto a chopping board and slice into long strips.