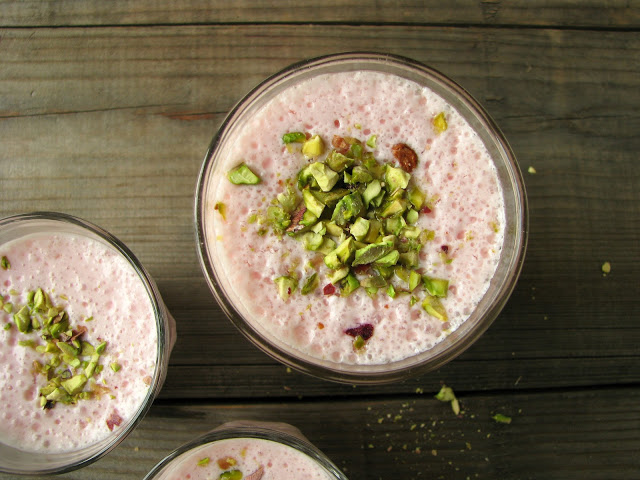 Pushkar... colourfully adorned camels, streets lined with delicious sweets, mountain monkeys swinging outside my window, rose and amla lassi... is what my dear friend Grace wrote while on a recent trip to India. I remember it well, even though it's been well over 10 years since I stepped foot on Indian soil. I remember with great clarity the camels, their smelly breath and lolloping stride. I could never forget the towers of sweets almost too pretty to eat. I remember the monkeys coming out to play, especially when the rain fell, but rose and amla lassi? How mad was I not to try this, and... what's amla?
A little searching later and I had uncovered that
amla
is in fact an Indian gooseberry, a fruit the size of a lemon with a very sour, astringent taste that is sometimes even used to straighten hair! Knowing I'd probably never get my hands on amla here in Australia I still went on thinking about the wonderful rose lassi Grace had spoke of with ideas of making my own.
Being a rose lassi I wanted a touch of pretty pink (nothing to do with the fact it's Valentines Day today, really) and after inspecting my freezer for usable berries I set eyes on a bag of red currants. Bingo! Sour, yes. Astringent, yes. Pink, yes!
The red currant and rose lassi was born.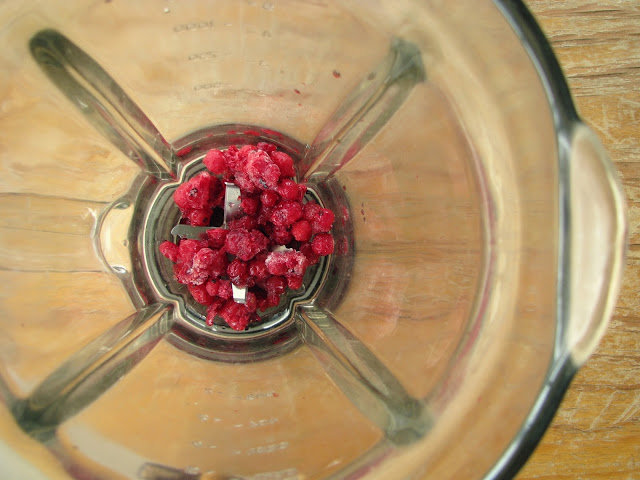 The kids and I have been enjoying this for an after school snack the past few days and there's always a fight over who gets the last drop. My recipe makes approximately 650mls which I could happily drink all to myself, but it can stretch to 2-3 smaller serves if you are forced. Or you (I'm speaking to myself here) could stop being stingy and just double the lot!
If red currants are a thing you don't usually have at hand (to be honest, mine were in the bottom of a bag of what used to be mixed berries) simply use strawberries or raspberries, fresh or frozen. A little note on the sweetner in this lassi too, I've tried making it with both raw unrefined sugar and brown rice syrup, both were delicious and just add to taste. If you're into using other sweeteners, I'm guessing agave would work great and honey too, but just note if using honey the final flavours of the lassi will change. Not necessarily in a bad way though.
For more lassi goodness check out my: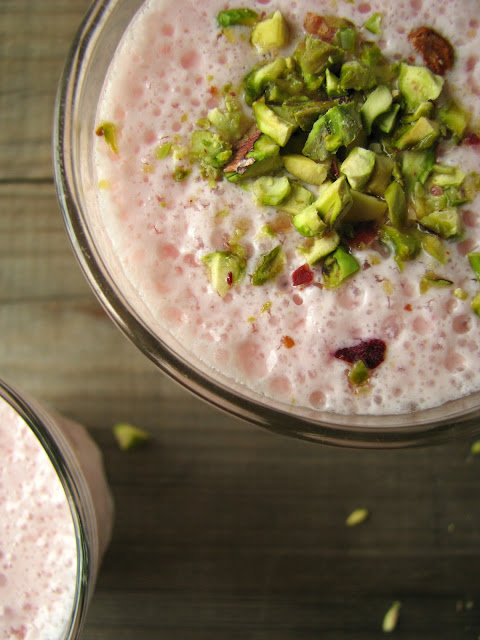 red currant and rose lassi
If red currants aren't available swap in a few raspberries or strawberries, fresh or frozen. I favour using brown rice syrup or raw sugar to sweeten lassi's, but feel free to use you own favourite sweetener. Agave would work good too, as would honey, although be aware it will change the final flavour of the lassi. We obviously tolerate yoghurt these days, but if you avoid lactose strictly, source a good lactose-free yoghurt.
makes approx 650ml (serves, you decide).


1 1/2 cups (365g) thick Greek yoghurt
1/2 cup red currants, fresh or frozen
1/4 cup (60ml) iced water
2-3 tablespoons brown rice syrup, raw unrefined sugar or other sweetener, to taste
2 teaspoons rose water
pinch fine sea salt
1 cup ice, cubes or crushed
finely chopped pistachio nuts to serve, optional
Place all ingredients into a blender and blend on high for 1-2 minutes until smooth and gorgeous. Pour into chilled glasses, sprinkle with pistachios and drink immediately.
Linked to: Slightly Indulgent Tuesdays @ Simply Sugar & Gluten-free