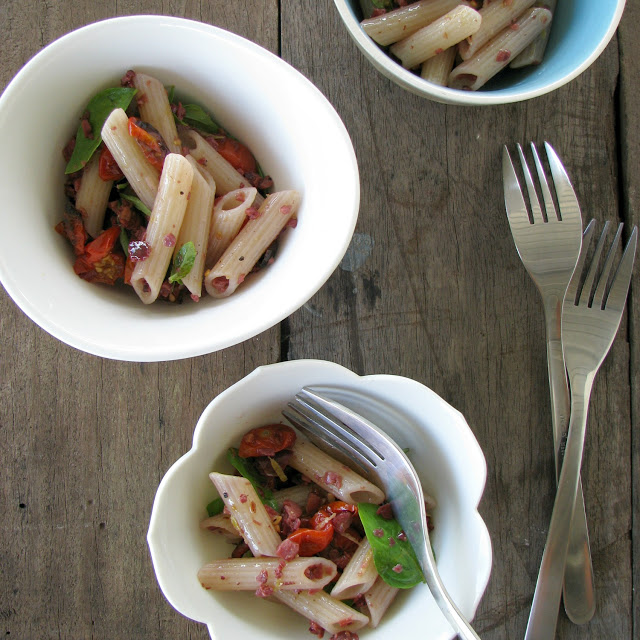 Since moving house, we've had two large boxes of
picked tomatoes
hanging around waiting for me to do something with them. See, when we left the old house we stripped our plants of all their tomatoes, even the green ones. Which have now been slowly ripening off the vine (and some, rotting sadly). What initially started out as a whole box of green, I've-still-got-time-up-my-sleeve-so-don't-need-to-panic-tomatoes, in this heat quickly turned into a boxful of I'm-ready-to-be-eaten/cooked-
right-now-
so-
panic
tomatoes!
So I got cooking.
I made jars and jars of my Nana's famous tomato relish out of all
the big tomatoes
. I then thought briefly about making a wacky sweet tomato jam with the remaining cherry tomatoes, before realising that was a silly idea. Who would eat it after all?
Finally, I decided that the best way to get through such a large amount of cherry tomatoes was to roast them, shrinking them down in size while intensifying their flavour and leaving them all ready to add a burst of rich tomato flavour and pop of bright summer colour to salads like this.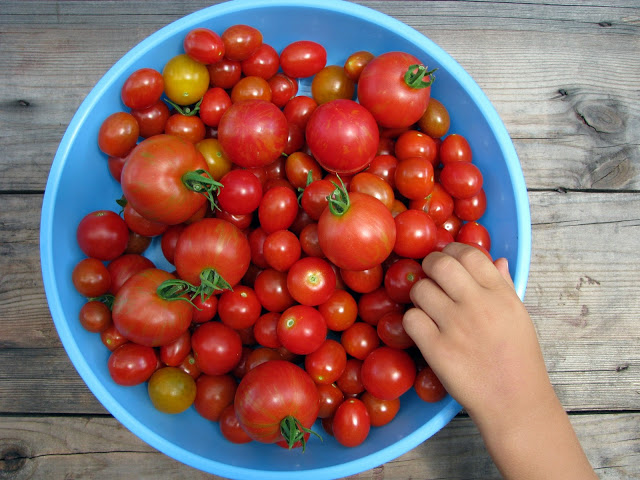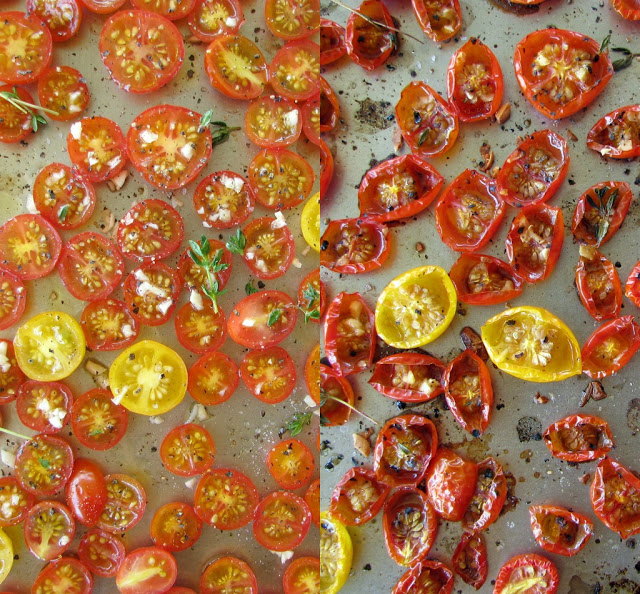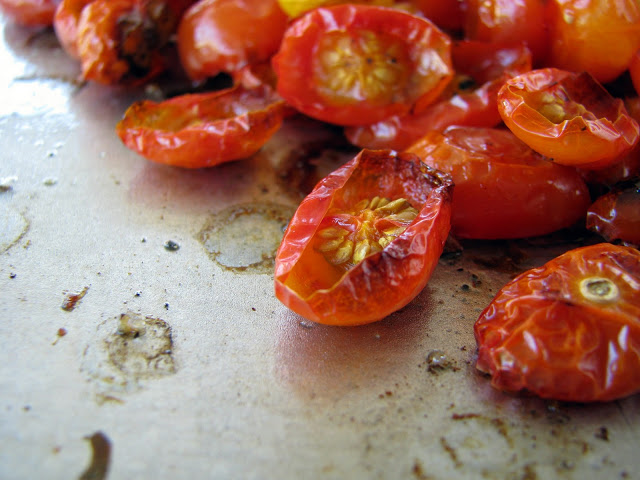 To play off that natural sweetness of the tomato I paired it with a salty kalamata olive dressing, spiked with lemon and honey to freshen things up. I laid off the feta-kick I seem to have
been
on
lately, but a little crumbling of that would also work wonders if that's your thing. With a scattering of freshly picked basil leaves from the garden, you have summer in a bowl!
Other ways to use up excess tomatoes:
~ freeze excess cherry tomatoes in bags, they are naturally free-flow so easy to add to stocks/soups/stews in the later months.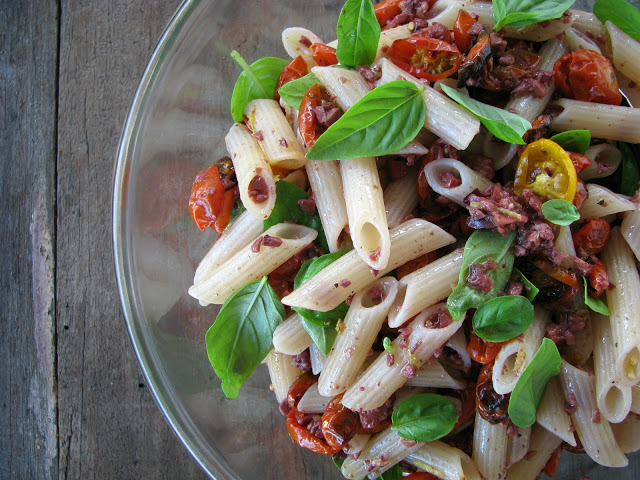 roasted cherry tomato pasta salad with kalamata olive dressing
I used mostly red cherry tomatoes with a few random yellow ones thrown in for good measure, but use what ever ones you have. Mini roma's would be lovely too! Use your favourite gluten-free pasta, mine is San Remo's.
Serves 6-8 as a side
500g cherry tomatoes, halved
2 cloves garlic, finely chopped
a few sprigs of thyme, torn roughly
2-3 tablespoons extra virgin olive oil
sea salt and freshly ground black pepper
250g gluten-free penne pasta
350g (1 generous cupful) kalamata olives, pitted
the zest and juice 1 medium lemon
2 teaspoons runny honey
1/4 cup (60ml) extra virgin olive oil
fine sea salt, to taste
1/2 teaspoon freshly ground black pepper
1 cup loosely packed basil leaves
Preheat oven to 180C/350F. Arrange halved tomatoes in a single layer on a large oven tray or two smaller ones. Scatter over garlic and thyme, drizzle with olive oil and season well with sea salt and freshly ground black pepper. Roast in the oven for 45-50 minutes or until dried out a little and the outside ones are turning golden. Remove from the oven and set aside to cool.
Cook pasta in plenty of boiling, salted water until al dente (cooked but firm to the bite). This can take anywhere from 8-12 minutes depending on which brand you are using.
Meanwhile to make the olive dressing; finely chop the pitted olives and set aside. Place the lemon zest, juice and honey into a bowl, whisk to combine. While still whisking slowly drizzle in the olive oil to form a lovely emulsified dressing. Add the finely chopped olives and black pepper. Taste, adding more sea salt if desired.
When the pasta is cooked, drain well and transfer to a bowl. Stir through the dressing and set aside to allow the pasta to cool to room temperature. Stir through the roast tomatoes and basil, taste and season more if needed before serving.