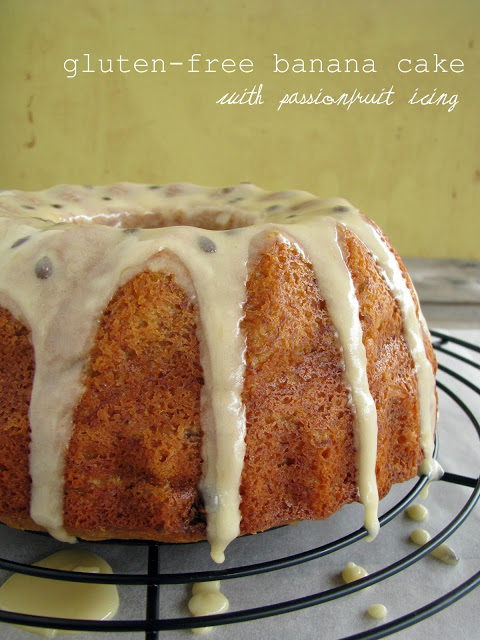 Bananas used to be one of those fruits we always seemed to have laying around, with at least one from every bunch ripening just a tad too much to make for pleasant eating, destined only for baking or freezing. But since moving to Perth where bananas were selling for $19kg last March they quickly became an absolute luxury. On the very few occasions I actually bought any, not one was ever wasted, meaning things like baking banana cakes, muffins and cookies became but a distant memory. It's taken Aussie banana growers this past year to recover from the devastating Brisbane floods and I'm now happy to say banana's are once again cheap as chips and happily rotting away in our fruit bowl...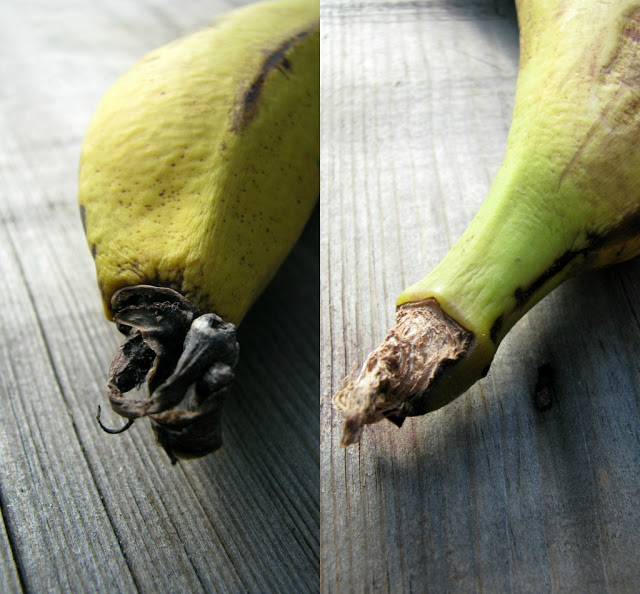 I've been meaning to make a banana cake since the prices dropped as it's one of Si's favourites and holds so much childhood nostalgia for me. The day before I baked this I was tossing up between making a peach or banana cake when I received a email from a reader asking if I had a nice gluten-free banana cake recipe... I took this as a sign, banana cake it was meant to be. The peach one would just have to wait.
This cake is super moist, full of rich banana flavour and not overly sweet thanks to the addition of quinoa flour. I could happily eat it un-iced but I couldn't go past the New Zealand/Australian classic of topping it with drippy tangy passionfruit icing.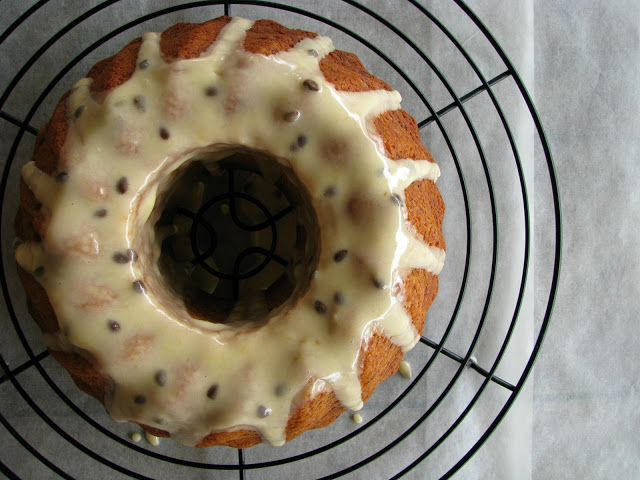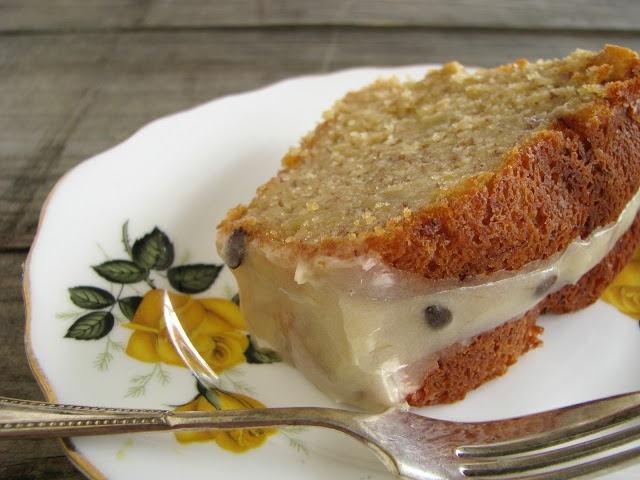 gluten-free banana cake w/ passionfruit icing
As I always mention, in NZ and Australia what we know as cornflour is actually known more widely as corn starch. Make sure it's gluten-free, along with the baking powder too. You will need approximately 1 1/2 cups mashed banana, use more banana's if yours are really small. We eat butter and yoghurt nowadays, but if you are completely lactose-free feel I'd use a natural dairy-free margarine and lactose-free or soy-based yoghurt for this recipe. I baked my cake in a 21cm kugelhopf cake tin, but you could use a similar sized regular or ring cake tin. Just watch out though as the cooking times may vary from mine.
Serves 10-12.


115g soft butter
1/2 cup (100g) muscovado/or dark brown sugar
1/2 cup (100g) organic raw sugar
1 teaspoon vanilla extract
2 eggs at room temperature
3 ripe bananas, mashed * see notes above
1/3 cup (80ml) plain yoghurt
1/2 cup (60g) quinoa flour
1/2 cup (60g) fine brown rice flour
1/2 cup (50g) gluten-free cornflour (corn starch)
3 teaspoons gluten-free baking powder
1/2 teaspoon fine sea salt
1 cup (110g) almond meal (ground almonds)
passionfruit icing
1 cup (160g) pure icing sugar (powdered sugar), sifted
2 tablespoons passionfruit pulp (from 1 passionfruit), or as much is needed
Preheat oven to 180 C/350 F. Grease a 21cm kugelhopf cake tin or similar sized regular or ring cake tin.
Cream butter and sugars until light a fluffy. Add vanilla and beat in eggs one at a time until well incorporated. Stir through mashed banana and yoghurt (the mixture will curdle at this stage, that's okay), then finally sift over the dry ingredients and stir until a smooth cake batter forms. Spoon mixture into the tin and bake for 45-55 minutes or until cooked. When a skewer is inserted into the centre of the cake it should come out clean. If you are baking in a regular cake tin times will vary from mine, so I'd start checking from around the 35 minute mark and go from there. When cooked remove from the oven and set aside to cool slightly in the tin, before turning out onto a wire rack to cool completely.
To make the passionfruit icing, place the sifted icing sugar into a bowl and add as much passionfruit pulp as needed to make a smooth runny glaze-like icing. If you prefer your icing thicker simply add less passionfruit. Ice the cake allowing the icing to dribble down the sides of the cake and serve.
This cake happily kept for 2-3 days, getting more and more moist and moreish as they days went by. Store airtight.