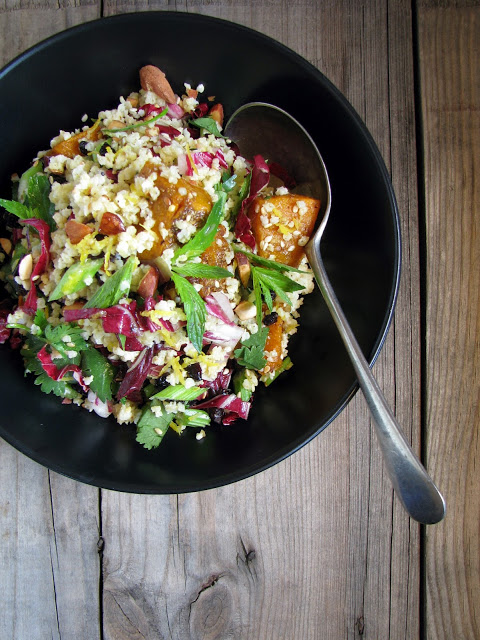 If you've been a reader of this blog since it began, firstly, thank you! That sure is a whole lot of reading you have done over the past year and a half! And secondly you may remember way back at the beginning when I shared a wonderful little independently published cookbook that was co-written by a friend of mine Rosie Percival? If you remember well done, if not, no worries here's a little refresher.
So the wonderful ladies behind Martha Goes Green: A Vegetarian Cookbook have just put out a limited edition Seasonal Recipe Calendar and I was lucky enough to be sent one hot off the press.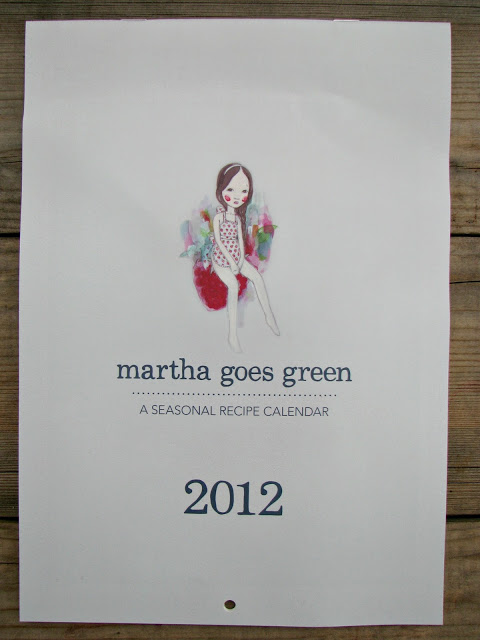 The featured recipes are simple, seasonal & fresh and although they are not gluten-free, many are naturally free of gluten, others can easily be adapted and all are vegetarian. Their minestrone soup caught my eye, with its use of pantry staples and the nutritious addition of quinoa and borlotti beans for added protein. There's also a vegan gingerbread loaf with fresh ginger and molasses that I'm keen to try out using 1 cup of almond meal (ground almonds) in place of the flours.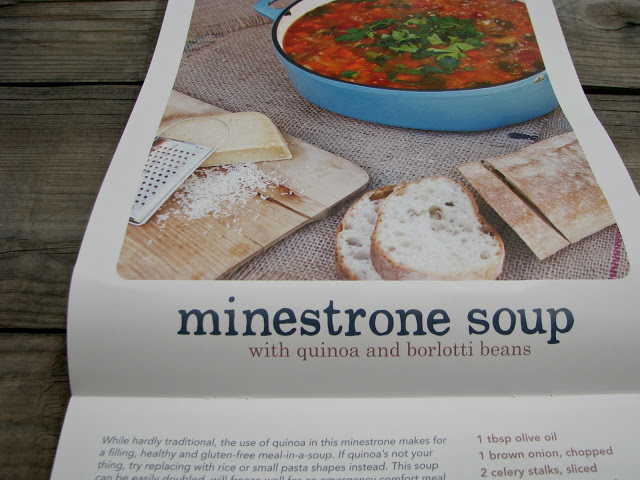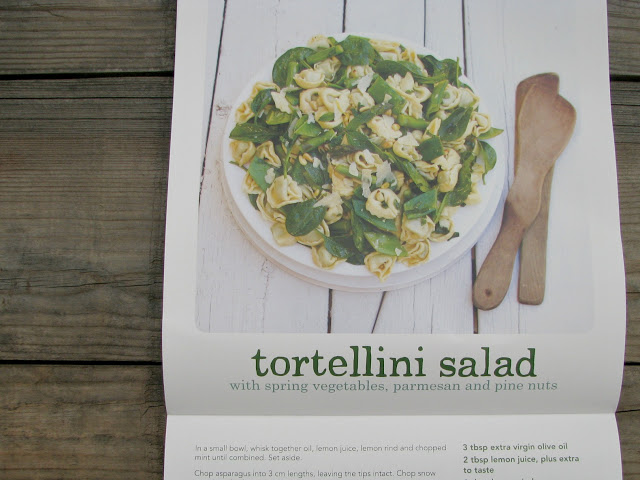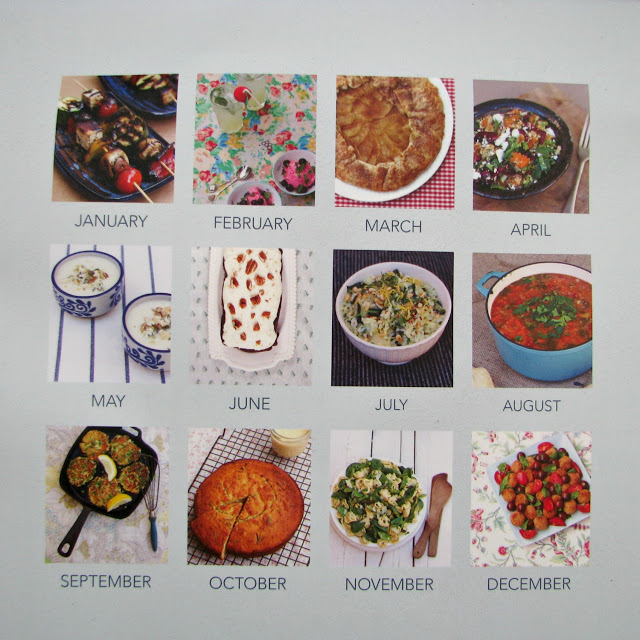 Now I usually cook with the seasons and well, the cracked wheat salad with spiced pumpkin and currants is the recipe for April. But it's the recipe that I was instantly drawn to and pumpkins of all the vegetables are actually just as nice out of season (if ripened and stored correctly) as in the peak season, so I just went for it anyways. Cracked wheat contains gluten so I used their recipe as inspiration and came up with a lovely version using millet instead. I bumped up the flavour a little by using freshly toasted and ground whole spices, but if you only have pre-ground spices at hand just use those. I also made a few other minor changes to the original recipe, adding in a little lemon zest, whole almonds instead of flaked (it's what I had) and using fresh mint from my pots in place of flat leaf parsley.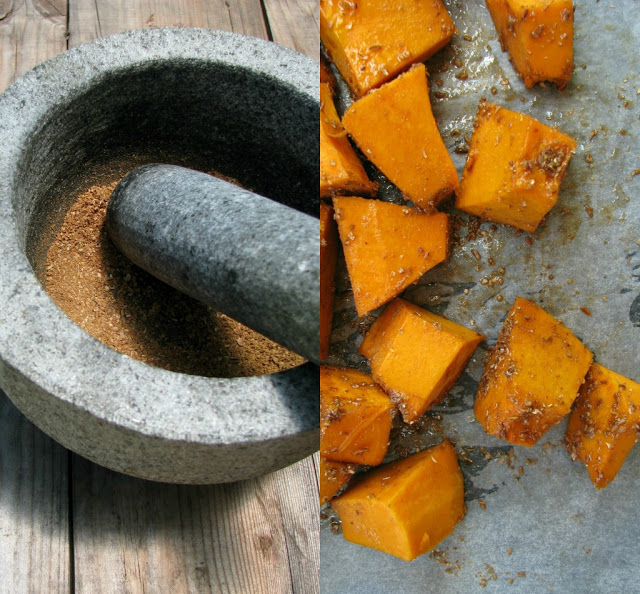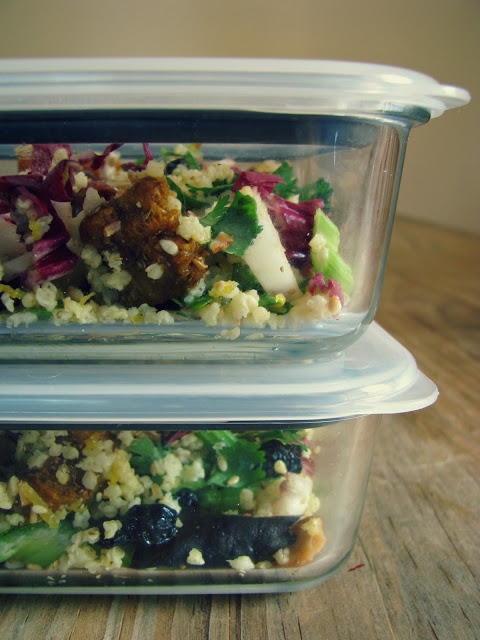 I also thought it was the perfect time to feature a recipe like this with the holiday season fast approaching, as it's a great make ahead recipe, perfect for entertaining and ridiculously healthy to boot! There's only so much pavlova and cream one can take right? All the components of the salad can be made in advance and mixed together at the last minute, or if you are heading out mix everything together except for the dressing, place the salad into a large container (I'm in love with my new glass based, plastic lidded containers picked up from Kmart recently, by the way) with the dressing in a screw top jar and dress just before you are ready to serve.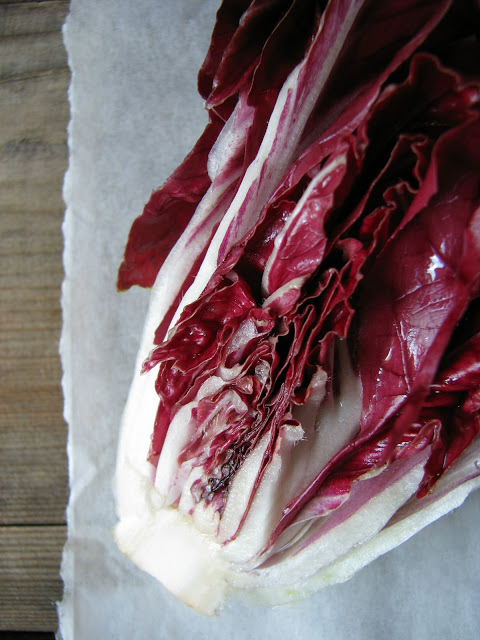 If radicchio isn't available where you live (I'd never seen it available to the public until moving to Perth!) the girls suggest using rocket in it's place. It doesn't have the same bitterness that radicchio has, but that peppery bite would be just perfect and add nice colour too.
The other recipe I tried from the calendar was their raspberry frozen yoghurt. It's super simple and uses ingredients I always have at hand. Just a little tip for if you make it and like me you leave it in the freezer overnight instead of the 4-6 hours stated in the recipe and end up with a block of frozen raspberry yoghurt... let it sit on the bench for 5 minutes before breaking it up into chunks and blending it in the food processor until smooth and creamy. That's what I did mere moments before it got devoured by the kids!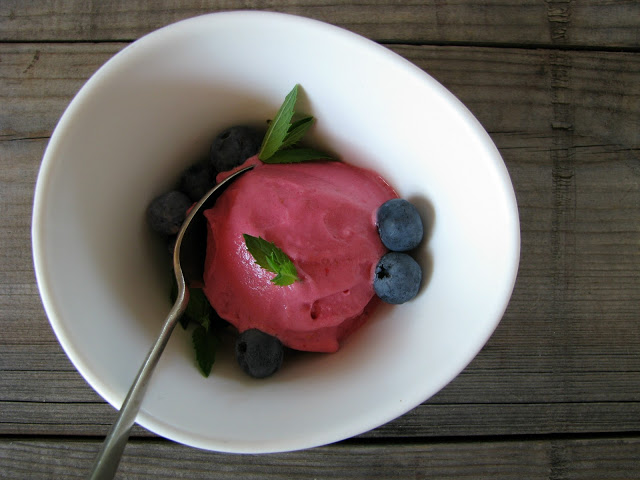 Inspired by a recipe from Martha Goes Green : A Seasonal Recipe Calendar.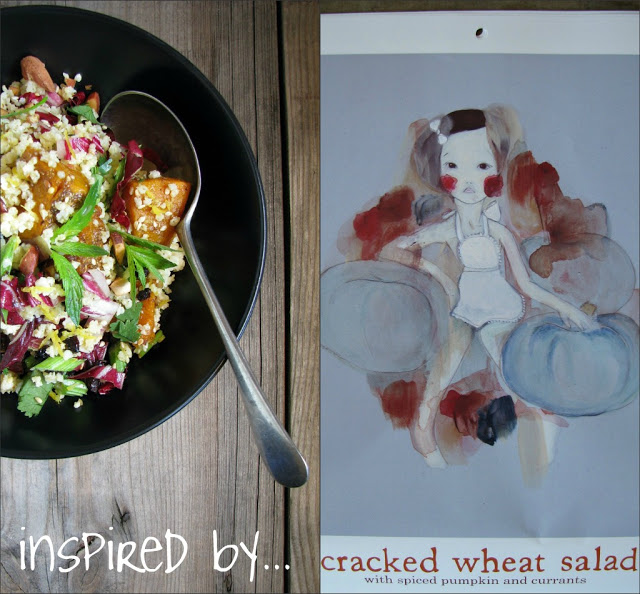 spiced pumpkin, millet & radicchio salad
I used Japanese pumpkin (aka Kabocha), but Queensland blue (Australia), Crown pumpkin (NZ) or butternut pumpkin (squash) would be perfect too. I use Kialla organic hulled millet. I prefer to use whole spices but if you have pre-ground at hand, just use those. No radicchio? Use rocket instead.
Makes enough to feed a small tribe (8-10)


500g pumpkin, seeded, peeled and cut into 2cm cubes
2 tablespoons olive or rice bran oil
1 teaspoon sea salt
3 teaspoons cumin seeds, dry roasted*
2 teaspoons coriander seeds, dry roasted*
1 tablespoon olive or rice bran oil
1 cup hulled millet
a good pinch sea salt
2 1/4 cups boiling water
2 stalks celery, finely sliced
1/2 small head radicchio, finely shredded
1/2 cup currants
1/2 cup toasted almonds*, roughly chopped
2 tablespoons sesame seeds, toasted*
1/2 cup coriander (cilantro) leaves, roughly chopped
1/2 cup mint leaves, roughly torn
the juice and zest of 1 lemon
1 tablespoon runny honey (for vegan option use agave nectar or raw sugar)
1/4 cup extra virgin olive oil
sea salt and freshly ground black pepper, to taste
feta cheese, to serve (optional)
Preheat oven to 200 C/400F.
Grind cumin and coriander in a mortar and pestle or spice grinder until fine. Place chopped pumpkin onto an oven tray, drizzle with oil and sprinkle with sea salt and ground spices. Mix well to evenly distribute the spices. Roast for 20-25 minutes, turning once or twice during cooking until pumpkin is tender and golden. Set aside to cool.
Meanwhile, heat the 1 tablespoon of olive or rice bran oil in a medium saucepan over med-high heat. Add millet and stir for 2-3 minutes until lightly golden and nutty smelling. Add boiling water and a good pinch of sea salt, partially cover with a lid, reduce heat to a simmer and cook for 20-25 minutes or until the water is absorbed and millet tender. Add a touch more water if needed. Remove from heat, fluff up with a fork and set aside to cool.
Transfer cooked millet to a large salad bowl, add cooled pumpkin, celery, radicchio, currants, almonds, sesame seeds, coriander and mint.
In a small bowl whisk together the lemon juice, honey (or agave/sugar) until dissolved. While whisking add the olive oil in a steady stream to form a lovely dressing. Add lemon zest and season well with sea salt and freshly ground black pepper. Pour as little or as much dressing as you like over the salad and mix thoroughly. Serve immediately topped with a little crumbled feta, if desired.
This salad can be prepared in advance, undressed and stored in a covered container. To serve simply pour over the dressing and scatter with a little extra mint and coriander.
*To dry roast spices, place in a dry pan over medium/high heat stirring continuously for 1-2 minutes until lightly coloured and aromatic.
*To toast the almonds, place them into a small oven-proof tray and pop them in the oven while the pumpkins roasting for about 5-8 minutes, stirring a few times during cooking until golden.
*To toast sesame seeds, dry roast like the spices above, stirring continuously until golden and evenly coloured.