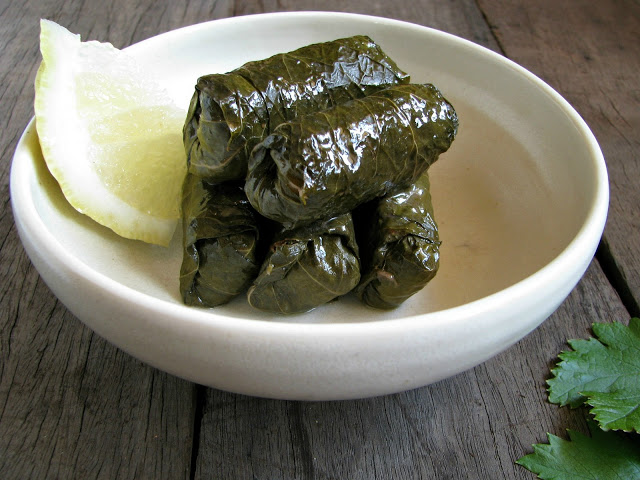 As I sit here typing, my mother-in-law is busy working away in the kitchen making her famous Vietnamese pickles. There are jars of carrot and daikon lined up along the bench as well as a whole sink-full of an Asian green I've never known the name of. It's a little hard to get in the mood to talk about Greek dolmades, but I will do my best, after all they are one of my most favourite things in the world to eat. So much so that I swear I was meant to have been born in Greece! Lemon, pine nuts, currants and mint are just a few of my favourite ingredients, along with feta, tomato and beans.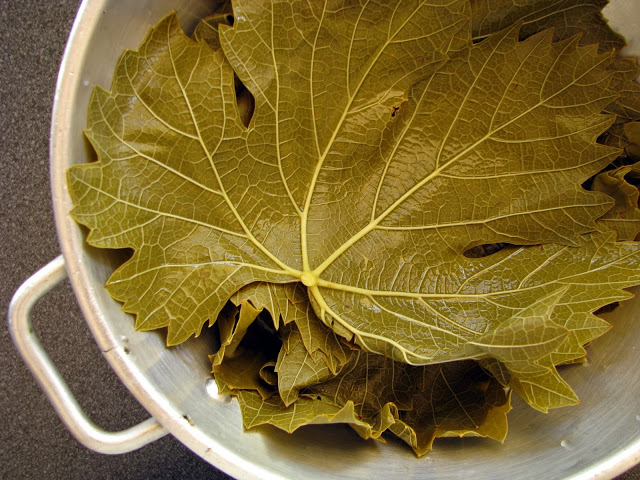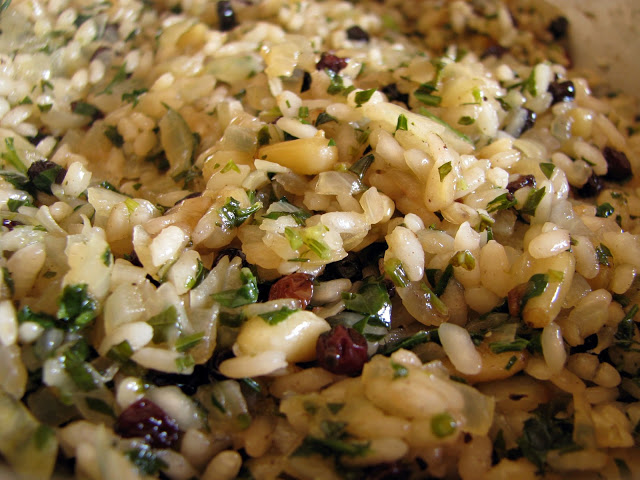 One of the first things I noted when we moved into our house was how the neighbours huge grapevine hung over our fence in great sprawling masses. I made a vow right there and then that come spring time I would use some of those leaves to make fresh vine-leaf dolmades. But just as I was about to make my first batch, our area was hit by a freakish hail-storm that ripped through the leaves, leaving them tattered and sad. The rest of our garden didn't fair to well either. Tomato flowers were blown to smithereens while the silver beet and capsicum leaves looked like they had little bullets holes where the forceful hail had pushed through. It was a little bit of a sad sight and for a minute I was worried we wouldn't be getting any early tomatoes this year and wouldn't have any grape leaves to make dolmades. But I never needed to fear, in this amazingly hot weather we've been having the plants have doubled, even tripled in size in a matter of weeks. There's no sign left of the hammering they took, with plenty of new flowers and loads of little tomatoes growing, the broad beans are forming and there's loads of fresh new growth on the grape vines.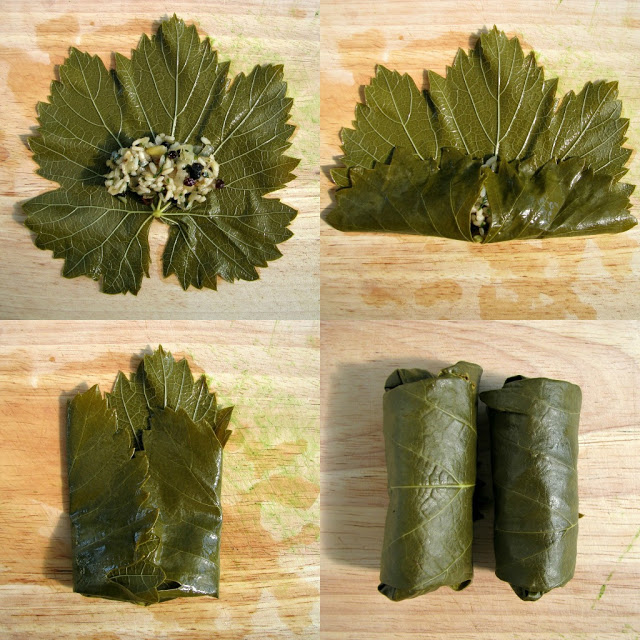 I made this batch of dolmades and almost everyday since have been picking a bundle of leaves to preserve in brine, that I will use over the coming months once the leaves have all become too tough to use straight from the vine. (I hope my neighbours haven't noticed!)
If you are lucky enough to have access to a grape vine or two look for the fresh, young, tender leaves, making sure you pick a few extra to use as the liner for the base and top of the frying pan before cooking. And never fear, if you don't have a grape vine, simply use store-bought preserved leaves and follow my instructions below before using them.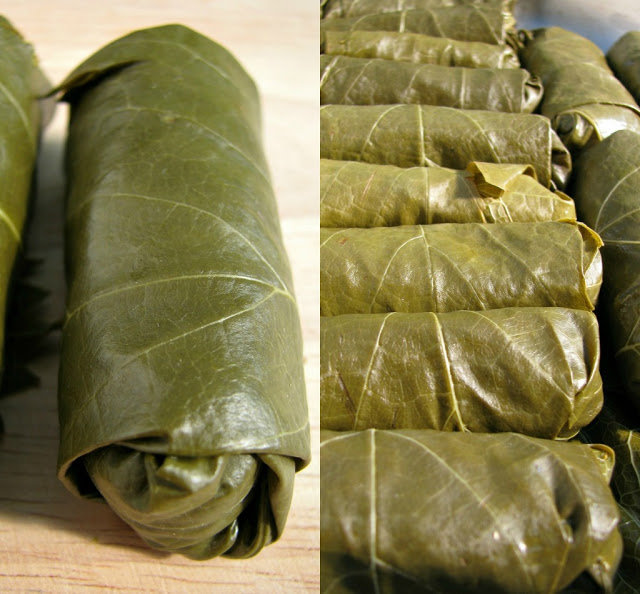 Recipe adapted from a Cuisine recipe I've been carrying around for years.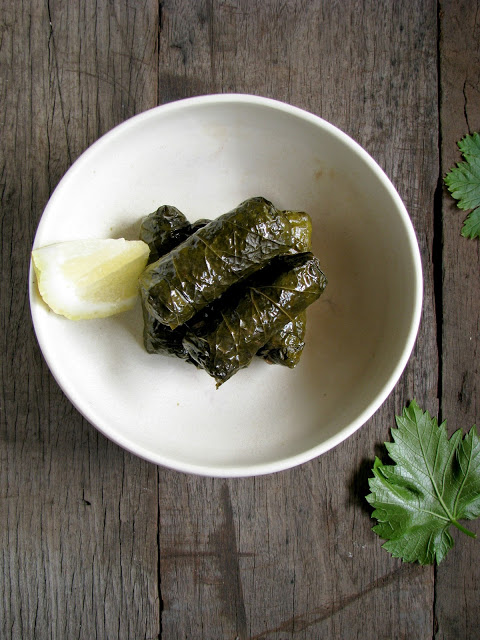 vegetarian dolmades
Remember to choose the youngest, freshest, most tender leaves you can see if picking your own.
Makes 15-20
22-25 fresh vine leaves (spray-free), or 400g jar of preserved vine leaves
3 tablespoons olive oil
1 large onion, finely chopped
1/2 cup (100g) medium grain rice, washed and drained
2 tablespoons pine nuts
2 tablespoons currants
2 tablespoons finely chopped flat-leaf parsley
1 1/2 tablespoons finely chopped mint
1/2 teaspoon fine sea salt
freshly ground black pepper
3/4 cup water
1 cup water, extra
the juice of 1 large lemon
3 tablespoons olive oil, extra
lemon wedges, to serve
Trim the stalks off the fresh vine leaves, then cook in boiling water for 5 minutes. Drain and rinse. If using preserved vine leaves carefully separate them under running cold water. Rinse well, then place in a bowl of cold water. Bring a saucepan of water to the boil and plunge several leaves in at a time, leaving them for 1-2 minutes before removing with tongs to a bowl of cold water. When all are done, drain, shake off excess water and snip off the stems.
Heat the first measure of olive oil in a frying pan over medium heat and cook the onion gently until soft and lightly golden, then add the rice. Cook for 1-2 minutes, stirring then add the pine nuts, currants, parsley, mint, salt and pepper to taste. Mix in the 3/4 cup water, then cover with a lid and cook very gently for about 12 minutes until all the water is absorbed and the rice is nearly tender.
Place the vine leaves smooth-side-down on a clean bench, a few at a time. Put a teaspoon of filling in the middle of each leaf. Fold the stem end up, followed by the sides (see pictures above), then roll up tightly to form a log shape.
Use any torn leaves to line the base of a small heavy-based frying pan, then put the dolmades in the pan, in one layer, seam-side down. Pack them as close as possible to prevent them unfolding during cooking. Cover the top with more leaves. Combine the 1 cup of water with lemon juice and the last measure of olive oil and pour over dolmades. Place a small plate over the top of them, to hold them in place then top with the lid. Bring to a gentle boil, then reduce to a very low simmer and cook for about 1 hour, or until they are very tender.
Remove from the heat and let sit, without taking the lid off until cool. When cool, transfer to a container, cover and chill until serving time. Serve with extra lemon, to squeeze over.
This recipe is linked to: