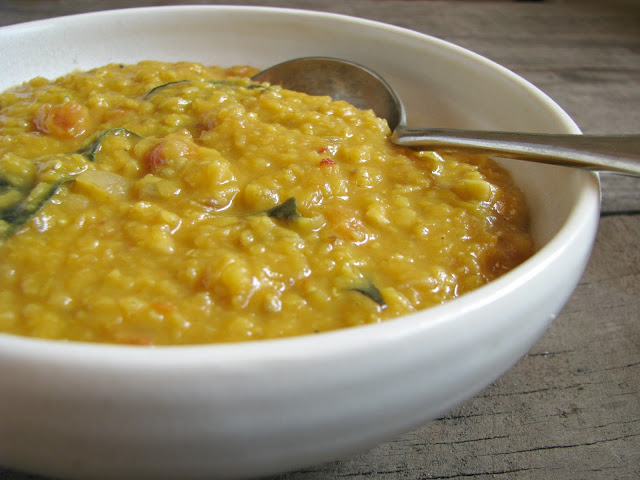 Recently I picked up Gordon Ramsay's~Great Escape, at a book sale in town. Now, I'm not usually one to be sucked into the whole 'celebrity chef thing', and with this book nothing has changed. I buy a book for its content over the name of the author any day. When I picked this book up and started flicking through it I was plesantly surprised at what I found inside. Great recipes and gorgeous photography of produce, finished dishes, Gordon cooking and daily Indian life. Sold.
The one thing that I will always say about Gordon Ramsay first and foremost is, he is an amazingly talented chef. Ridiculous angry-man behavior on television aside cannot change the fact that the guy is a pure genius in the kitchen. Full stop.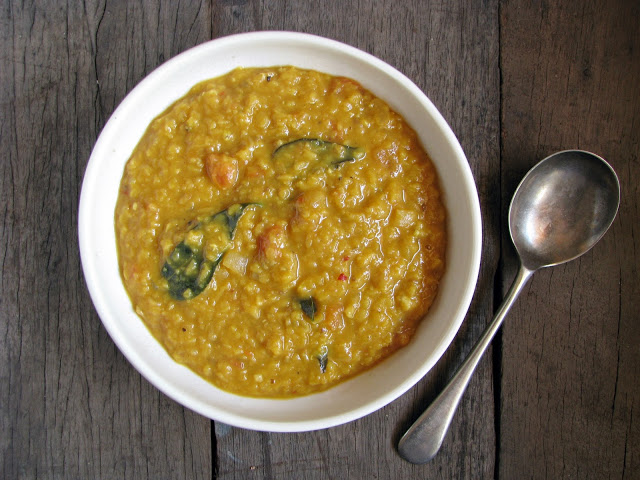 I've not seen the actual telly show that this book is based on but what I gather is, Gordon travelled around India, one of my favourite countries, learning and tasting some of the best foods on offer. He shares 100 of his favourite recipes in this book which is accompanied by some really, really beautiful photography. I own a lot of Indian cookbooks and generally tend to favour ones written by actual Indians, feeling like they have the real knowledge and experience to back up the recipes with authentic, proper flavours. But in this book Gordon has taken his skill and experience as a chef, to re-create some really fantastic dishes. Many are traditional ones, probably written exactly as he was taught by the many people who shared their knowledge with him, but there are also many more that Gordon himself has come up with, taking the essence of what he learnt and putting his own western twist on it.
I love a good dahl and make them often. So I was pretty excited to try out his recipe for tadka dahl and now that I have, I can quite honestly say it's one of the best dahl's I've tasted. Ever.
I changed things up just a little using red lentil in place of his split yellow peas and browning the onions for a lot longer than specified to give it the full bodied flavour I enjoy in curries. What you end up with is a beautiful, intensely flavoured dahl that's super easy to make, re-heat's well the next day and freezes well too. Serve with a little basmati rice for a simple, tasty dinner.
Recipe adapted from Great Escape by Gordon Ramsay.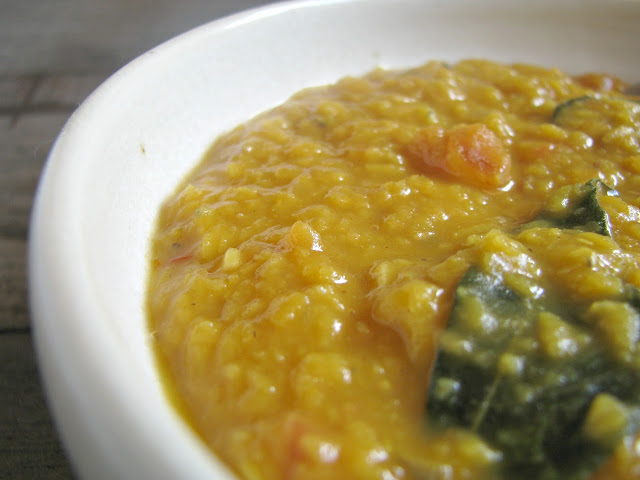 tadka dahl
Fresh curry leaves can be found at Indian grocery stores, some supermarkets and green grocers. They usual come in rather large bags, so if you aren't using them all at once, freeze the rest and use straight from frozen. This dahl freezes well, cool before portioning into lidded plastic containers and freezing. I prefer to use ghee when making dahl and other curries, the flavour is incomparable, but if you are vegan or strictly dairy-free just use vegetable oil.
serves 4
375g packet of dried red lentils
1 litre water
1/2 teaspoon ground turmeric
1/2 teaspoon ground coriander
1/2 teaspoon garam masala
1 stem fresh curry leaves
2 tablespoons ghee or vegetable oil
1 medium onion, peeled and finely diced
2 cloves garlic, peeled and finely chopped
1 teaspoon cumin seeds
3/4 teaspoon dried chilli flakes
4 medium tomatoes, skinned* and finely diced
sea salt and freshly ground black pepper
steamed basmati rice to serve
Rinse the red lentils well, drain and tip into a medium saucepan. Cover with the water and add turmeric, coriander, garam masala and curry leaves (stripped off the stem). Stir well and bring to the boil, reduce to a simmer and cook for 10-15 minutes until the lentils have reduced to mush. Add a little more water if they are drying out.
Heat the ghee/oil in a pan over medium heat. Add the onion and cook, stirring for 10 minutes until deeply coloured and fragrant (don't be tempted to skimp on this cooking time). Add garlic and cook for a further 2-3 minutes, stirring all the time. Add cumin seeds, chilli flakes and stir for 1 minute before adding the diced tomatoes. Season the mixture well with sea salt and freshly ground black pepper and cook over medium heat for 6-8 minutes.
Tip the tomato mixture into the pan of cooked red lentils and stir well. Bring to a simmer and cook for a further 10-15 minutes. If the dahl is too thick, add a little extra water and if too thin simply cook for a little longer to reduce. Taste and add more seasoning if needed. Serve hot with steamed basmati rice.
* To skin the tomatoes, remove the core with a small knife and make a cross slit on the top of each one. Plunge them into boiling water for 30-60 seconds then remove with a slotted spoon. Drop into cold water and peel the skin off. Chop into quarters, and then finely dice.