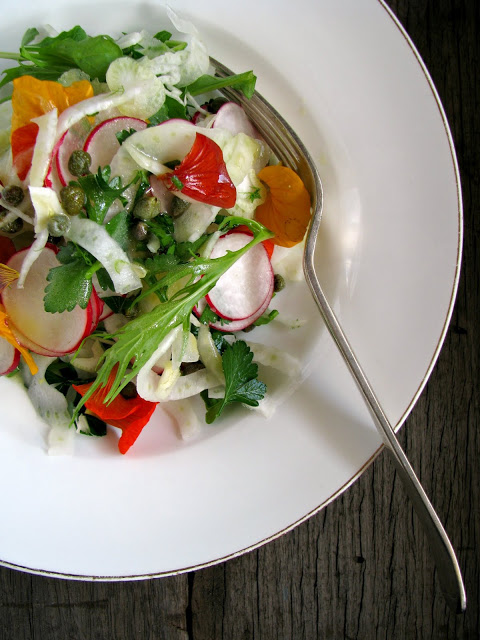 Fennel is one of my all-time favourite things to eat. Shaved thinly and dressed with a little lemon juice, extra virgin olive oil, sea salt and black pepper it's something I crave, often. It's all I yearned for while pregnant with Ada (okay, cottage cheese and tomato on toast also tasted like the best thing on earth) and it seems both our kids have developed a taste for fennel too. They fight over who has the biggest bowl of salad if it contains fennel, making me the proudest mum in the world!
Thankfully for us, fennel bulbs are ridiculously cheap in Perth. I pick up 3 large bulbs for only $5 from our local vege store and even though I do love them cooked, we generally eat them raw. I make salad most days and at the moment we are picking a large bowlful of fresh rocket and mizuna leaves everyday from
the garden
to add to these. I totally recommend growing salad greens, nothing beats the instant gratification you get from growing your own (all
within only 4 weeks of planting
!)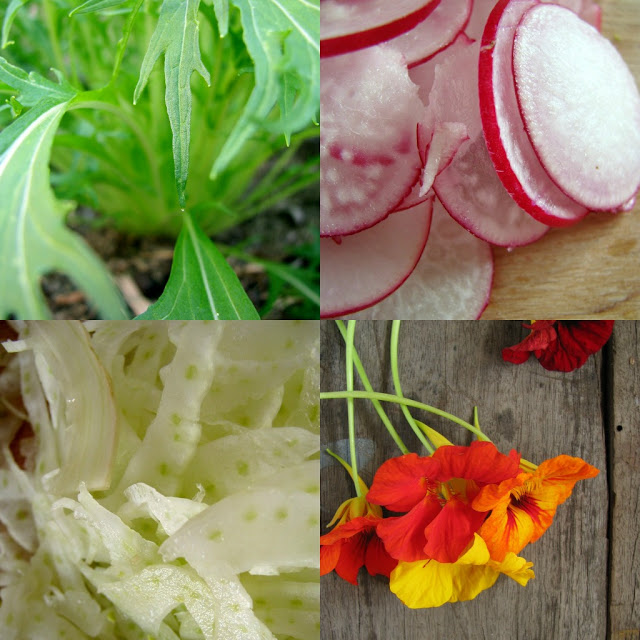 Along with the rocket and mizuna growing madly in the backyard we also have wild nasturtium flowers popping up everywhere. When I was little they grew all over our property, covering whole hillsides with their bright bursts of colour. I remember Mum used to always try and sneak the flowers into our salads and while they are beautiful and I'm a big fan now, I'm pretty sure we picked them out, every time. Just like my kids did with this salad.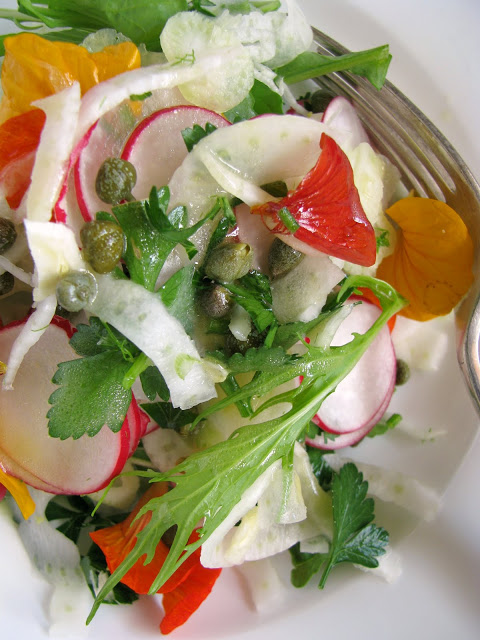 If you haven't eaten nasturtium before I'd liken it to watercress. They have a similar peppery taste that tingles on the tip of your tongue. They pair beautifully with the equally as peppery rocket and radish, the aniseed flavours of the fennel and mustard notes from mizuna. I decided to use a cider vinegar based dressing, but fresh lemon juice would be just as lovely, or even a combination if you can't decide. If you tolerate dairy I imagine a few shavings of Parmesan or a crumbling of feta wouldn't go astray.
Lastly thank you for all your well wishes in regards to Si's fractured ankle. It's been pretty full-on, but he now has a cast on and the specialist said it should heal fine in about 4-6 weeks. Also to Rach who asked which brand of gluten-free, dairy-free biscuits I used in the chocolate tofu peanut butter pie recently; I've now posted a link to the brand I use on that post.
You may also like:
spring fennel, pecan and pear salad
carrot, radish and moong dal salad with spiced dressing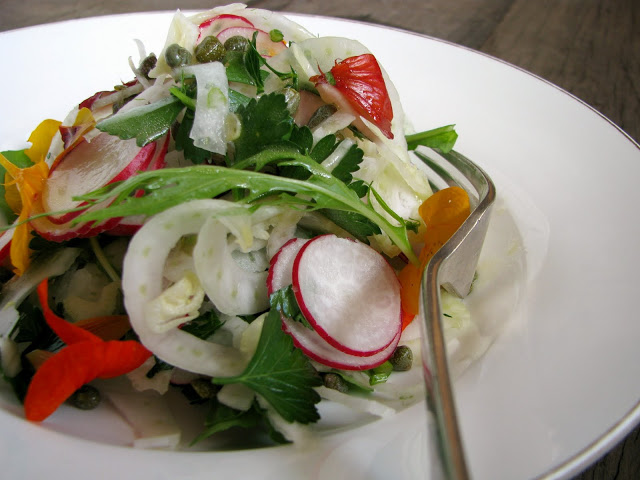 shaved fennel, nasturtium and radish salad
I use baby capers in wine vinegar, but regular ones would be fine. If you use salted capers, simply rinse before using. The nasturtium is a lovely addition, both for flavour and colour, but if you don't have any growing near you don't stress, just leave out. Check your Dijon mustard label to make sure it doesn't contain flour, some of the cheaper brands do.
serves 4 as a side
1 medium fennel bulb (approx 350g)
6 medium radishes
1 tablespoon capers (in vinegar)
fennel fronds, finely chopped
handful of flat leaf parsley, roughly chopped
2 good handfuls of rocket and/or mizuna
4-6 freshly picked spray-free nasturtium flowers, petals picked off and stems discarded
1 tablespoon Dijon mustard
1 tablespoon runny honey
3 tablespoons cider vinegar
6 tablespoons extra virgin olive oil
sea salt
Finely slice the fennel bulb (reserving a little of the top fronds to add too) and radishes on a mandolin or slice it as thinly as you can with a sharp knife. Place into a large bowl with the capers, finely chopped fennel fronds, chopped flat leaf parsley, rocket/mizuna and nasturtium petals.
To make the dressing mix the mustard and honey in a small bowl until smooth. Add the vinegar and whisk to combine. Slowly drizzle in the extra virgin olive oil, whisking to emulsify. Season well with sea salt.
To serve pour over enough dressing to lightly coat the salad and serve immediately. Any left over dressing can be stored in a glass jar in the fridge for up to 1 week.
This recipe is linked to Slightly indulgent Tuesday over at Simply sugar & gluten-free.