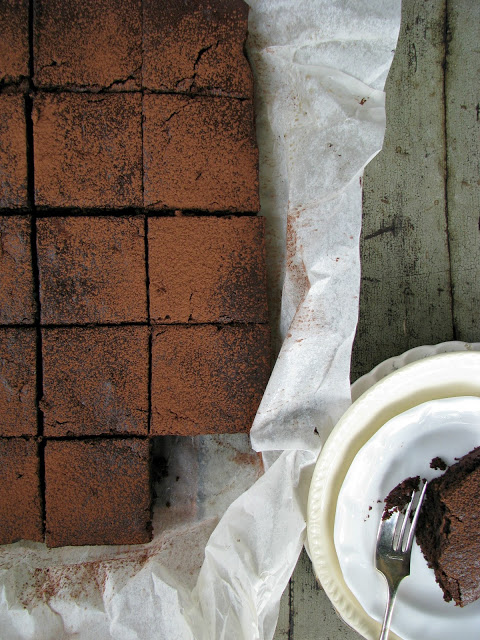 I made these black bean brownies a few weeks ago and have been hanging out to share the recipe ever since. I kept going to post it, but every time, another (more seasonal) recipe seemed to sneak in front. Actually, I'm not quite sure why it's taken me so long to make these, full stop. I mean,
chocolate, gluten-free, dairy-free
!
What was stopping me
? It's been on my ever expanding "to make" list for well over a year and at one point I even bought a tin of organic black beans while still back home in New Zealand with full intentions to bake. But it never happened and I think we either ate the beans for dinner one night in the mad blur of weeks leading up to our big move or I gave them away in one of the
many 
food boxes I prepared and divvied out to friends and family at the last minute after cleaning out the pantry. I don't remember. Anyway none of that matters now, I've made them and my god,
they are amazing.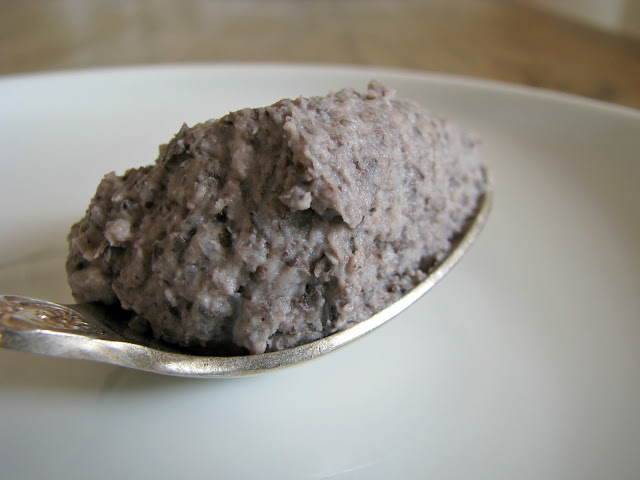 The week they finally got made I was on a little bit of a chocolate bender; it was the same week I cooked two batches of
these cookies
, trying to get them right. As you could imagine I was already pretty chocolated out by the time the brownie came out of the oven, so after 'testing' a few slices (and putting a few aside for the kids and Si) I took the rest to kindy that afternoon giving it to friends and Ada's teachers for an afternoon treat. I purposely failed to mention the secret ingredient to all but one of my friends… you know, to give the brownies a fair chance at being eaten
and
loved!
The next kindy day I asked them all if they could guess what the secret ingredient was… none of them believed me when I said black beans! (There really is no detectable 'bean' taste at all). And the only words that were used to describe them were yum, lovely, delicious, perfect! Coming from non gluten-free's, that's a pretty great result.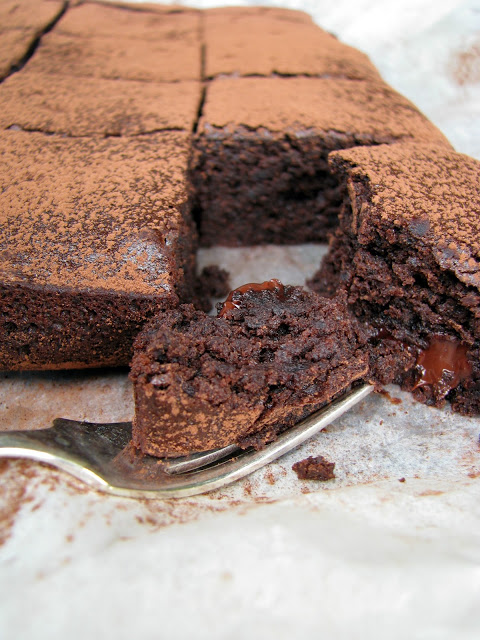 Not only are these possibly the highest protein brownie you may ever eat, but they are also rich, intensely chocolately and moist. Basically everything you could ever ask for in a good brownie. Cut into while just barely warm you are greeted with pockets of oozy chocolate, while a little chilling in the fridge turns it into a rich densely fudgey number. Both insanely good.
I've got into the habit of cooking a big pot of beans (lima beans, chickpeas, black beans, borlotti, black eyed beans, anything really) at a time, cooling them and freezing in small bags. This makes them super easy to defrost and use, while also taking the hassle out of remembering to soak beans the night before. (How many times have you forgotten to do that?!)
I decided to go for a simple pure chocolate flavoured brownie, but feel free to add some chopped nuts or other flavourings if you like. And do what I did- keep the black beans a secret until after the last chocolate stained finger has been licked... and wait to see the surprised looks that will surely come!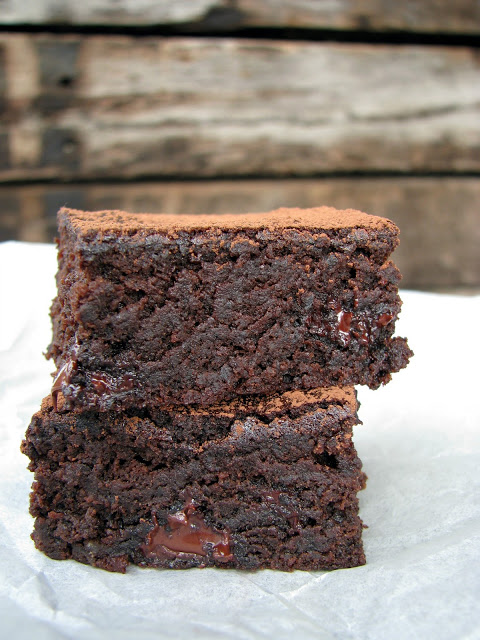 gluten-free, dairy-free black bean brownies
Soft brown sugar can be used in place of muscovado if you prefer and remember to make sure your baking powder is gluten-free, as some aren't. I use Whittaker's 50% dark block, which is dairy-free.
makes 12.
3/4 cup dried black beans, soaked overnight in plenty of cold water (or use 425 g can of tinned black beans, rinsed well and drained)
3 large free-range eggs
5 tablespoons (75 ml) virgin coconut oil or a light flavoured olive oil
1 cup (200 g) muscovado sugar
1/2 cup (55 g) cocoa powder
1/2 cup (55 g) almond meal (ground almonds)
1 teaspoon pure vanilla essence
1/2 teaspoon gluten-free baking powder
100 g (approx 3/4 cup once chopped) dark chocolate, chopped roughly
If using dried beans, drain soaked beans and cover with fresh water. Bring to the boil then reduce and simmer for about 1 hour until very soft, but still holding their shape. Drain and set aside to cool.
Preheat oven to 180 C/350 F. Grease a 18x28cm slice tin (rimmed) and line with baking paper.
Tip cooled beans into the bowl of a food processor and blend to form a smooth paste. Add the eggs and oil and pulse to combine. Add sugar, cocoa, almond meal, vanilla and baking powder. Process until smooth and well combined. Add chopped chocolate and pulse to evenly distribute. Spoon mixture into prepared slice tin and smooth the top off with the back of a spoon.
Bake for 30-35 minutes or until a inserted skewer comes out clean. Cool in the tin. Slice into 12 squares and serve. Store leftovers in an airtight container for 3-4 days (that's a guess as ours only made it to the second day!). It will firm up and go more fudgey if stored in the fridge.