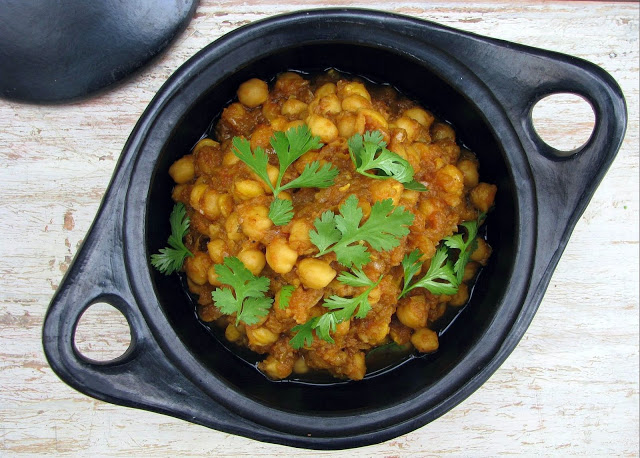 I thought it might be quite nice to post a savoury "dinner-type" recipe after all the sweetness of last month. You must all think that we live off sweets! It is actually far from the truth believe it or not. Yes I do bake often, but mostly just once a week, occasionally twice if I have a special reason to bake more. I would be lying if I said I didn't have a sweet tooth and love for nothing more than to set aside the morning to bake, but more than that it's practical right now for me to post mostly sweet recipes. See cakes, cookies and slices are forgiving. They don't freak out if left to cool for half the day before I get around to taking photos. They don't go limp or discolour. And it doesn't usually matter if half of them are eaten before the camera is pulled out; in those times just one or two of the end product are photographed!
You may even sometimes wonder if we ever eat a proper dinner as most of the savoury recipes I post are well, kinda light. Salads etc (usually made for my lunch). Here's the thing. We have two young children. And my fellow parents will know this well... kids don't wait for you to get "the shot" if they are hungry and need feeding, now. So while we do eat savoury foods 99% of the time and a cooked meal every night, I'm not mad enough to try and stand in the way of the kids and their dinner, taking photos so I can blog about it! That and I shoot using natural light, which is pretty much gone by dinner time.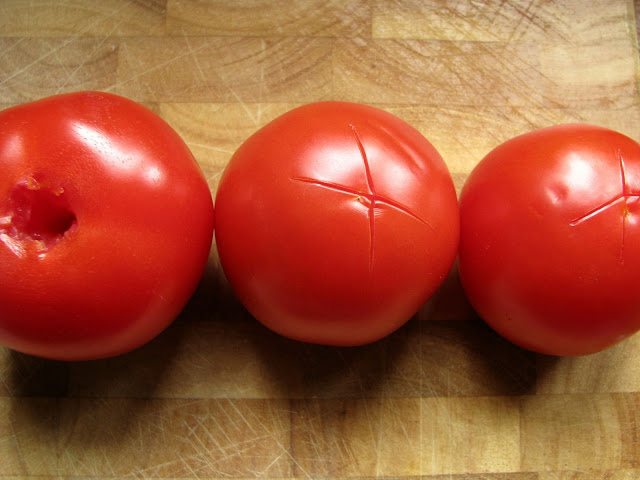 In a bid to be super-mum organised I will sometimes get dinner ready at lunch time so all that is needed to do later-on is put on a little rice and re-heat whatever was made earlier. On those days curries are my first choice. Not only do they keep and re-heat well later, but the flavours actually improve with a little time (also leaving me a little moment to take photos before the madness of mealtimes begin and the light disappears!). Chickpeas provide a high protein vegetarian (or vegan) meal and if you are caught out at the last minute tinned ones are a great alternative to dried. I always keep at least a few tins in the pantry for such times, just rinse them well before using to remove the salty brine.
As I wrote about in more depth in my
eggplant curry recipe
, please don't skimp on the time spent browning the onions. You are after a deep, rich,
golden brown
. Only a few shades off burnt! The flavour you get from doing this is insane and truly makes a good curry.
Adapted from
50 great curries of India by Camellia Panjabi
.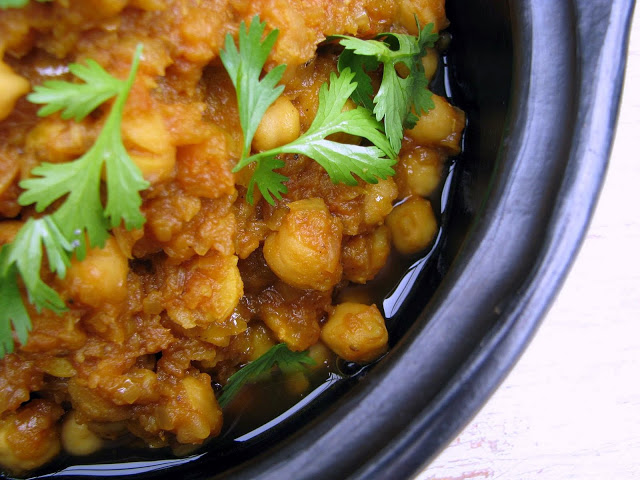 Chickpea curry recipe
Like I've said before, most curries actually improve in flavour on sitting. Making this the perfect do-ahead dish. Asafoetida (hing) is a yellowish powder made from the dried latex of a type of fennel. The powder I have actually has wheat in it. So if you are super sensitive to wheat or have coeliac disease try to track down the pure resin form, or just omit completely. It's used to make pulses and legumes more digestible and is sometimes used in place of onions and garlic. Keep it in an airtight container to avoid spreading the smell throughout the house! You will find it at Indian supply stores. You could also use ghee (which is lactose-free) in place of the vegetable oil for a richer taste. Serves 4-6 as a main with rice.
250g dried chickpeas (or use 2 x 440g tins, rinsed and drained well), soaked overnight in plenty of water
3 medium onions
1 x 2cm piece fresh ginger, peeled and grated
5 cloves garlic, peeled
3 tomatoes (350g), skinned and de-seeded*
1/4 cup (60ml) vegetable oil (I use ricebran oil)
1 teaspoon turmeric
1 teaspoon ground coriander
1 teaspoon ground cumin
1/2 teaspoon garam masala
1/4 teaspoon freshly ground black pepper
1/2-1 teaspoon sea salt
a pinch of asafoetida (optional)
the juice of 1/2 a lemon
fresh coriander (cilantro) leaves and basmati/brown rice to serve
Drain the chickpeas, cover with fresh water and cook for 30-50 minutes, or until soft. Drain and reserve cooking liquor.
Finely chop one of the onions. Puree the remaining two, along with the ginger and garlic in a food processor to form a smooth paste. Transfer to a bowl then puree the skinned and de-seeded tomatoes. No need to wash out the processor in between.
Heat the oil in a medium pot. Add the chopped onion and cook over low-medium heat for 10-15 minutes until really soft and deep golden brown (don't skimp on this time, it's important to add the beautiful depth of flavour we are after here). Add the onion, ginger and garlic puree and cook for a further 10 minutes, stirring often to stop sticking.
Add the turmeric, coriander, cumin, garam masala and freshly ground black pepper, stir thoroughly. Cook for 1 minute, stirring constantly. Add the pureed tomatoes and cook a further few minutes. Add the drained chickpeas and stir to coat in the sauce. Add 1/2 cup of the reserved cooking liquor (or water if you are using tinned chickpeas), sea salt to taste, asafoetida if using and the lemon juice. Cook for 5-10 minutes until the sauce has thickened and the chickpeas have heated through. Serve garnished with coriander (cilantro) leaves.
* To skin the tomatoes, remove the core with a small knife and make a cross slit on the top of each one. Plunge them into boiling water for 30-60 seconds then remove with a slotted spoon. Drop them into some cold water and then peel the skin off. Chop into quarters and then scrape out the seeds. (These are great to add to pasta sauces or vegetable stock if you are like me and can't bear to waste anything!)
Recipe linked to: Slightly indulgent Tuesdays @ Simply sugar & gluten free