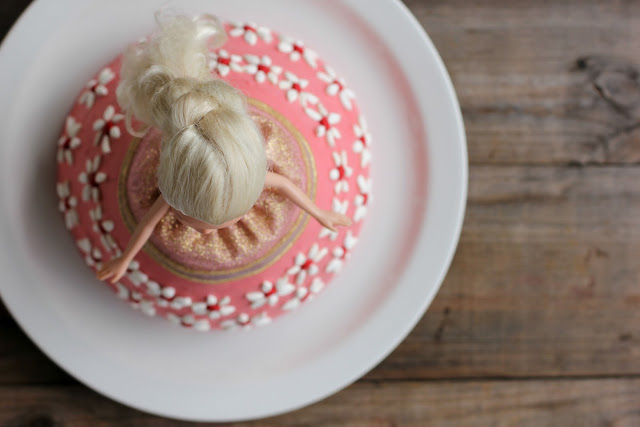 I was so close to calling this a "Barbie" cake, but it isn't really one is it? Ada was actually given the perfect Barbie doll for her birthday to use in a cake like this, but it seems the new dolls don't have removable legs like the old ones, where you could pop them out and place them back in again after. So rather than completely destroying her new doll, we opted to something that is more us anyway. We went out to the op-shop and bought a 2nd hand Brats doll, which had half her legs missing already.
So this past weekend we finally celebrated Ada's 5th birthday. Only three weeks late! You see Si was away up north working on her actual birthday and we couldn't well have it without him. Then when he came home it was raining and we wanted to go to the park… the following week we called it quits and with the rain still falling decided to have it at home. 16 adults, 15 kids. Phew. Ada loved it. She specifically asked for no party games (I never got the reason for that one out of her) so we simply made food, hung out and ate. Pretty perfect I say!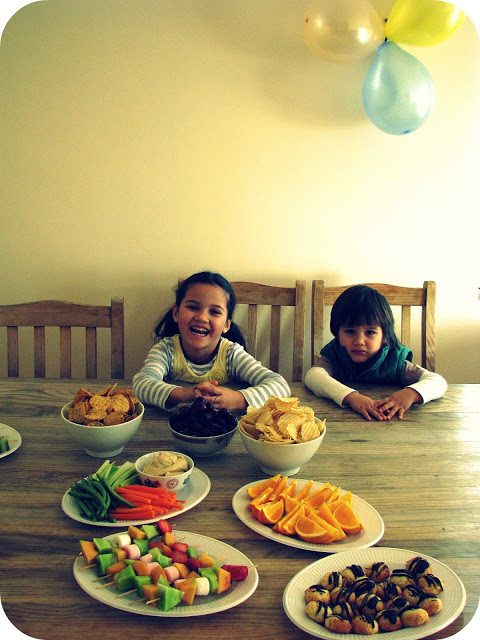 About a year ago while flicking through an old Australian women's weekly cake book, Ada spotted her first ever Barbie cake. She decided right there and then, that her 5th birthday cake would be a princess. I have no idea where this girly girl came from (I'm so not one), but hey who am I to stand in the way of a girl and her bright pink princess cake?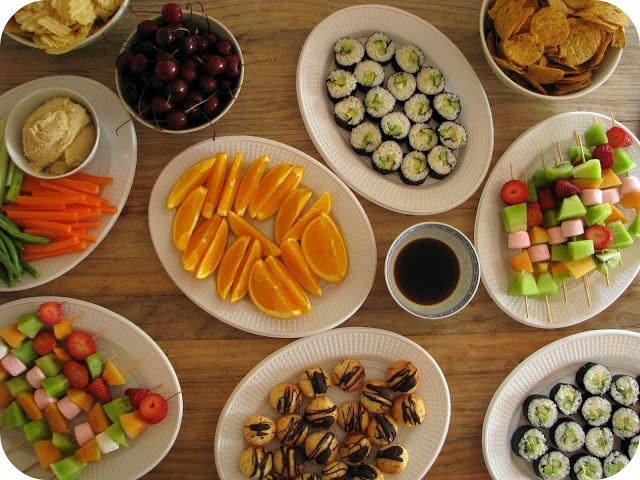 For her 1st birthday I made a large heart shape cake iced with deep pink icing (I did say I wasn't a girly girl before eh?) and covered in large marshmallow flowers (like the ones above, just bigger). You would have thought that I'd used food colouring if you'd seen this thing, but I don't go near the stuff. Intense does not even cut it. I iced that cake with an icing sugar, melted butter type icing and coloured it with berry puree (boysenberry if I remember rightly?). This year I wanted pink, but opted instead to use raspberries for a more pinky pink and used a butter-cream icing, just because. The mini marshmallows and m&m's were an after thought as I strolled around the supermarket. The idea seemed a little more delicate than the using regular sized ones, which was just the look I was going for.
It was all worth it when Ada gave me a hug that night and said you're the best cooker ever, mum. Xx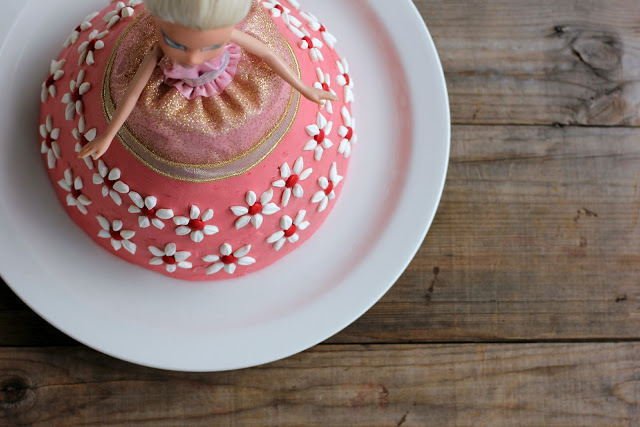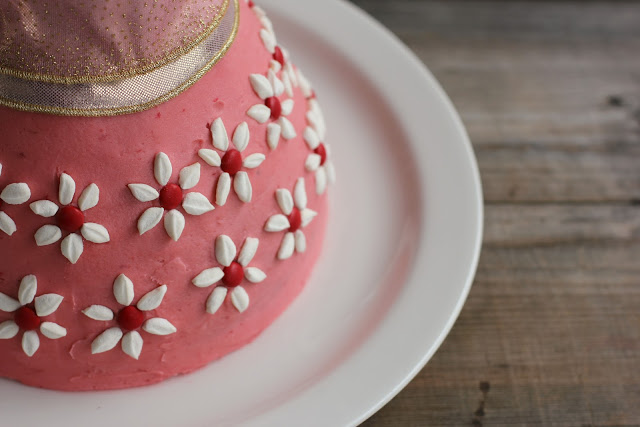 gluten-free princess cake with raspberry butter-cream icing
This cake is gluten-free and dairy-free. Use a dairy-free margarine in place of butter in the icing if preferred. You can buy Dolly Varden cake tins online, or do as I did and search your local op-shop. You never know what you may find!
Serves 18


To make the cake
I used my trusty gluten-free chocolate cake recipe, using brown sugar in place of raw (it's what I had, use either) and baked it in a 2.5 litre (10 cup) Dolly Varden cake tin. Bake at 180 C/350 for 1 hour 20 minutes or until a skewer comes out clean when pushed into the centre. Depending on your oven you may need to turn the temperature down a little towards the end if the top is getting too dark but the centre is still raw. Once cooked, remove from the oven, leave to cool 10-15 minutes in the tin before turning out onto a wire rack to cool completely.
Raspberry butter-cream
Be sure to check your icing sugar (powdered sugar) is "pure" if you are gluten-free; some brands contain wheaten cornflour (gluten).
135g butter (or use dairy-free margarine if preferred), softened
1 1/2 cups pure icing sugar (powdered sugar)
2 tablespoons raspberry puree*
Beat the butter in a medium bowl with electric mixer until light and fluffy; beat in the icing sugar and raspberry puree.
*To make the raspberry puree; use approximately 1/3-1/2 cup of fresh or frozen (defrosted) raspberries. Mash them and pass through a fine sieve to make a smooth puree, discarding the pips. You should get around 3-4 tablespoons, eat any extra!
To assemble
Place cake on a serving plate. Using a teaspoon, scoop out a little hole in the top of the cake (what was the bottom of the cake when cooking), big enough to fit your doll into. If you can remove her legs, you will only need a little hole, if you can't and are using a smaller doll like we did, with shorter legs and no feet, simply wrap the legs in tinfoil (aluminum foil) or plastic wrap before pressing gently into the cake. (Brat dolls have detachable shoes/feet that ours was missing... I know this because I have a little sister, 18 years younger than me that was obsessed with Brat's dolls for a minute there!)
I suggest you press the doll into the cake un-iced first, to make the hole big enough, then remove to ice before adding her back in after.
Spread the raspberry butter-cream all over the cake, working in long smooth strokes. Cut each mini marshmallow (I used just the white ones) into 3 thin slices using a sharp knife. Arrange yellow m&m's symmetrically around the cake placing 6 marshmallow petals around each one to make a flower. Gently push the doll back into the cake to waist level. I wrapped a little pink Barbie scarf around the join to disguise it.
Keeps 2-3 days, although like most cakes, it's best eaten within 1-2 days.
Recipe linked to: Slightly Indulgent Tuesdays @ Simply Sugar & Gluten-free