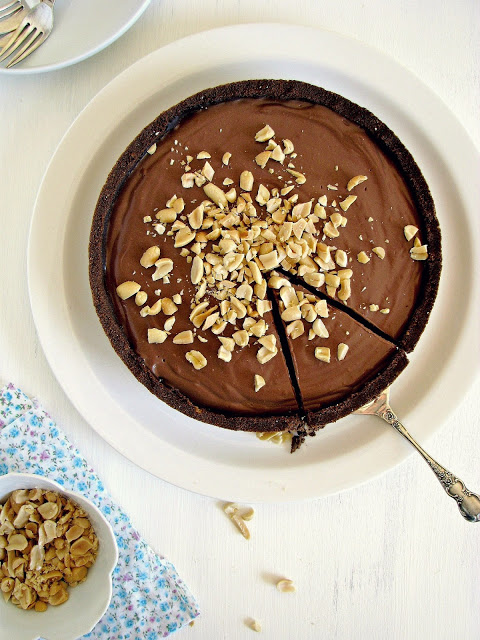 This month has been a hard one for me, for many reasons that I won't go into here. I've had my fair share of moments of feeling sad and overwhelmed, but at least when Si's working away we get phone calls every night to say sweet dreams, I love you, goodnight. And at the end of his shift, he comes home.
Sadly
Jennifer Perillo
and her girls don't have those things to look forward to anymore and my heart breaks every time I think about it. I only know her through reading her blog (one of the first ones I subscribed to via email and one that I read almost every post of) but hearing the news that her husband died of a sudden heart attack has shaken me, big time. I am lucky enough to have never had to experience grief, thus far. I have all my friends and family members still with me, including both sets of grandparents. I know this is rare and I am truly grateful for it every day.
I've scarcely been able to think of much else since I read via twitter of her life-shattering news. At first I didn't know who all the tweets were about, then I checked my email. Waiting there was Jennie's post
one last dance.
As I clicked through my heart sank. There were no words, but I got it. It all made sense now. I didn't know what to say. I mean what else can one say when they don't even know the person they are writing too, but feel they as though they do. What does one write when someone has just lost the love of their life? What does one write when as a mother of two you feel their pain as if it were your own, knowing how you too would feel if it were you, in their shoes.
I closed down the computer that night with a heavy heart, missing Si even more. The next day I read
Shauna's powerful words
. And sat there dumb struck. I was absolutely shocked when another
subscription update
appeared from Jennie in my inbox just a few days later, surely not?
She was asking everyone to make pie. Peanut butter pie. Mikey's favourite.


"Make a peanut butter pie this Friday and share it with someone you love. Then hug them like there's no tomorrow because today is the only guarantee we can count on."
I knew right away that I would make one, but wanting to wait until Si was home to share it with I've come in a little late. Each day I've checked in to read everyone's posts about
#apieformikey
. And every day I have been touched. First by
Shauna
, then
Aran
,
Tami
and
Helene
. Then
this came through
from Dianne and Todd. The tears started flowing. To top it all off,
tastespotting
dedicated their whole front page to #apieformikey. I've never been more proud to be part of this amazing food blogging community. How readily people from every corner of the world have come together to celebrate life, the best way we know how.
Something Ada said the other day totally blew me away, for some reason the kids have been mentioning death a lot lately even though I have not spoken one word of all this to them. (It could be to do with the National Geographic they are obsessed with reading at the moment, with a photo of a dead wolf in it?). When Kye asked "what happens when you die mum?", Ada replied "more people come (are born)".
Arohanui, much love to Jennifer and her girls ~emm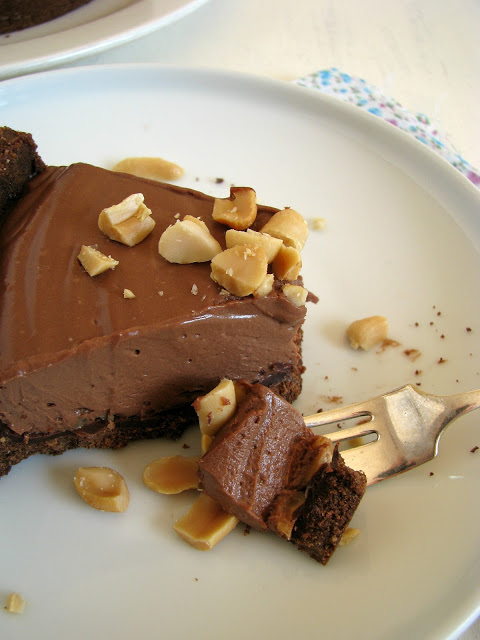 Gluten-free tofu peanut butter pie
I opted to use gluten-free, vegan ginger-nut biscuits to make this fully dairy-free also. (I just buy them from the supermarket. They sell them in pak 'N' save in NZ or coles and Woolworths in Australia). Feel free to use a similar biscuit if preferred, chocolate would be ideal, then omit the cocoa powder. I'm not 100% sold on deodorised coconut oil (it's heated to high temperatures to get rid of the coconut flavour so not really sure how much goodness is left?) but I accidentally grabbed some the other day thinking it was cold-pressed virgin... I still think it's probably a lot better for you than using margarine if you are dairy-free though and I found it was actually perfect in this pie as I wasn't really wanting the coconut flavour. Use melted butter or ghee if you tolerate dairy. I used Whittaker's 50% chocolate as it's dairy-free. Anything with a higher percentage of cocoa solids and I find it too rich in tofu mousse's like this. Oh yeah so that being said, the filling for this pie works equally as nice served as a mousse. Simply spoon into serving glasses/bowls and set in the fridge before serving.
base
2 x 155g packets gluten-free, vegan ginger-nut biscuits or similar
6 tablespoons deodorised virgin coconut oil, melted
3 tablespoons cocoa powder
115g dark chocolate, melted
1/4 cup roasted, unsalted peanuts, roughly chopped
filling
450g silken tofu, drained and patted dry
2/3 cup natural smooth peanut butter
pinch sea salt
1 teaspoon pure vanilla essence
2 tablespoons maple syrup or runny honey (if not vegan)
145g dark chocolate, melted
1/4 cup roasted, unsalted peanuts, roughly chopped
Line the base of a 22cm (9-inch) cake tin with baking paper (parchment).
Place the biscuits and cocoa into the bowl of a food processor. Pulse a few times before blending on high until finely ground. You may find that there will be a few random pieces that refuse to grind down. Help them along by breaking them up with your hands before pulsing a few more times. Add the melted coconut oil and blend until well incorporated. Press mixture into the lined cake tin, lining the base and coming up the sides by approximately 5 cm. Spread the melted chocolate over the base and spread a little up the sides too. Sprinkle with peanuts and set aside.
Place the tofu, peanut butter, a pinch of sea salt, vanilla essence and maple syrup into the food processor bowl (cleaned), blend on high until smooth, scrapping down the sides at least once to make sure it's all incorporated. Add the melted chocolate and blend until evenly distributed. Pour mixture into the pie case, smoothing off the top as you go. Chill in the fridge for at least 3-4 hours, preferably overnight.
Scatter the top with chopped peanuts and slice using a warm knife. Will keep for 4-5 days in the fridge... if it's not eaten before then!
This recipe is my submission to Sweet New Zealand that fellow NZ blogger Alessandra Zecchini is holding. She will do a round up at the end of every month, showcasing all the entries.