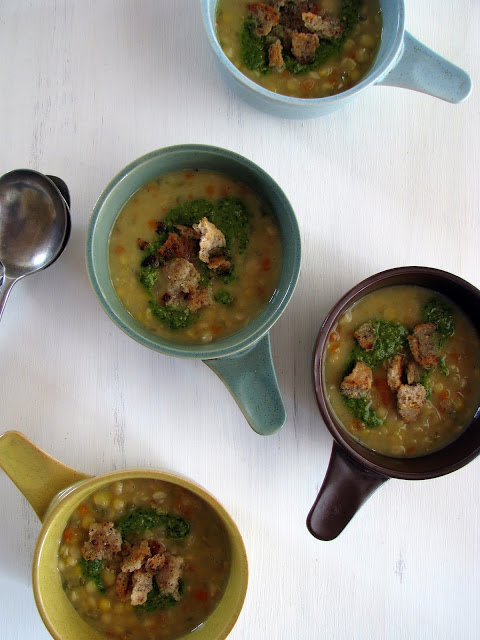 Okay, so now I feel silly. Here I was saying that
it's not very often I cook soup,
then I went right ahead and made... split pea soup. Go figure. Maybe it was all that talking about it that had me two days later craving it? I went with it, knowing full well that only Ada and I would eat it. That's okay, one pot will now last us months! We ate it for dinner, then lunch the next day (Kye even dipped his toast in mine!) and still have leftovers in the freezer that should now see us through winter.
I topped it with my favourite coriander (cilantro) and cashew nut pesto that I've been making since my first kitchen job. As I've always preferred Asian flavours over any other, the idea of coriander and cashews in place of the traditional basil and pinenuts, not only makes this a damn sight cheaper to make, but also a nice change from the usual.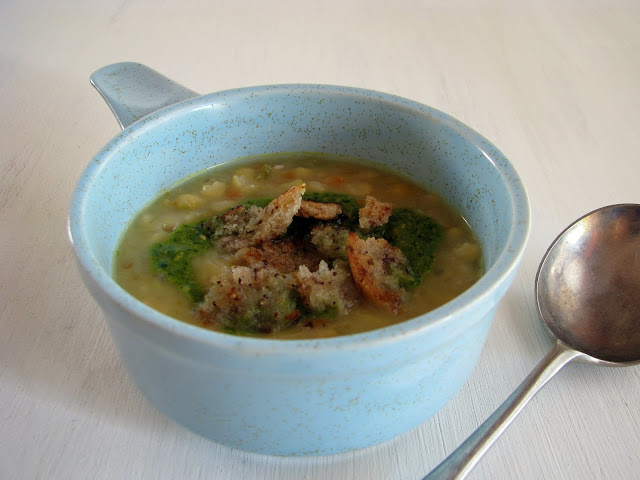 The split pea soup itself, is rather straight forward. Vegetable base, stock (
homemade
or store-bought) and soaked split peas… leave it all to simmer away while you get on with your afternoon, and come dinner-time you will have a lovely comforting bowl of goodness to wrap your hands around. The pesto livens up the somewhat simple nature of the split pea soup, while the rustic torn croutons (gluten-free or otherwise) add a nice bit of texture. If you are into leftovers, you can freeze the soup, minus the toppings for up to 3 months. I like to do this in small 500ml containers, the perfect serving size for Ada and myself. And as I have never and will never own a microwave I simply defrost it overnight in the fridge, if I'm organised. Or in a pan over a very low heat, if I'm not.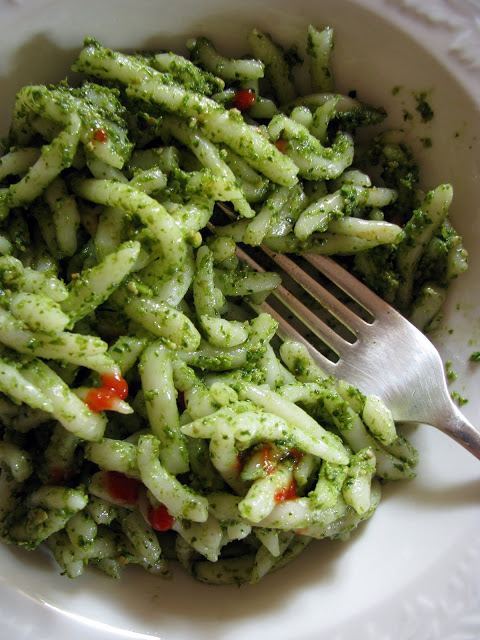 The pesto recipe I've given makes more than enough for this soup
and some
. It keeps great in the fridge, covered with a thin film of oil to keep the air out (and prevent discolouration) for up to 10 days. I like to smear it on toast and top with slices of tomato, or stir through pasta or rice noodles as I've done above. I found the cutest
hand-made fresh rice noodles
at our local Asian supermarket, cooked them in boiling water for a few minutes until soft, drained and tossed with a little pesto. For extra heat on mine I like to add a little
hot chilli sauce
on top. One of my latest food crushes. For someone like myself that is addicted to chilli but my kids not so, I can add the heat I crave after serving the kids up theirs. Perfect!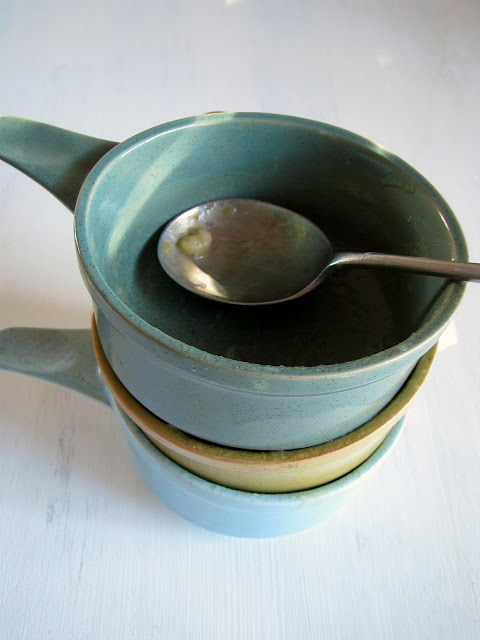 split pea soup with coriander and cashew nut pesto
This soup keeps well in the fridge for a few days, or you can freeze for up to 3 months. Make sure your stock is un-salted (homemade or store bought) or the peas won't soften. If you don't eat gluten-free by all means use regular bread for the croutons.
Serves 4-6
2 tablespoons olive oil
1 medium onion, finely chopped
2 cloves garlic, finely chopped
2 sticks of celery, finely chopped
1 large carrot, finely chopped
1 leek, finely chopped
500ml un-salted vegetable stock (or use extra water)
2 cups (250g) yellow split peas, soaked in plenty of cold water 1 hour
1.5 litres (6cups) water
sea salt and freshly ground black pepper
coriander pesto (recipe follows) and gluten-free croutons to serve*
Heat the olive oil in a large heavy-based pan. Add onion, cook for 1-2 minutes until tender. Add garlic and cook for a further 30-60 seconds. Add celery, carrot and leek and cook, stirring for 3-5 minutes until the vegetables have softened.
Add stock, drained split peas and water. Bring to the boil, skimming any foam from the surface. Reduce heat to a simmer and cook for 1 1/2 hours until the peas are very soft, stirring occasionally.
Season the soup well with sea salt and freshly ground black pepper, ladle into bowls. Drizzle with coriander pesto and serve with gluten-free croutons.
coriander (cilantro) pesto
I like to use the whole coriander plant; roots, stems and leaves. But feel free to just use the leaves if you prefer.
Makes approx 1 1/2 cups.
250g (2 small bunches) coriander (cilantro)
100g roasted un-salted cashews
1/2-1 long green chilli, de-seeded and roughly chopped
1 clove garlic, peeled
1 tablespoon grated fresh ginger
sea salt and freshly ground black pepper
olive oil or ricebran oil
Place washed coriander into the bowl of a food processor along with cashews, chilli, garlic, ginger and a few pinches of salt and pepper. Pulse 4-5 times to roughly chop. With the motor running, slowly drizzle in enough oil to form a smooth paste. Adding more or less depending on how thick/thin you want it.
Transfer to a container, drizzle a little extra oil over the top to cover and store in the fridge for up to 1 week.
*To make gluten-free croutons; roughly tear up a few slices of gluten-free bread and fry in a pan with a little olive oil and sea salt, stirring until evenly golden.